lots of lots
Welcome to the world's largest marketplace for fine art, antiques & collectibles.
Vintage Alphonse Mucha Lithograph "Morning star"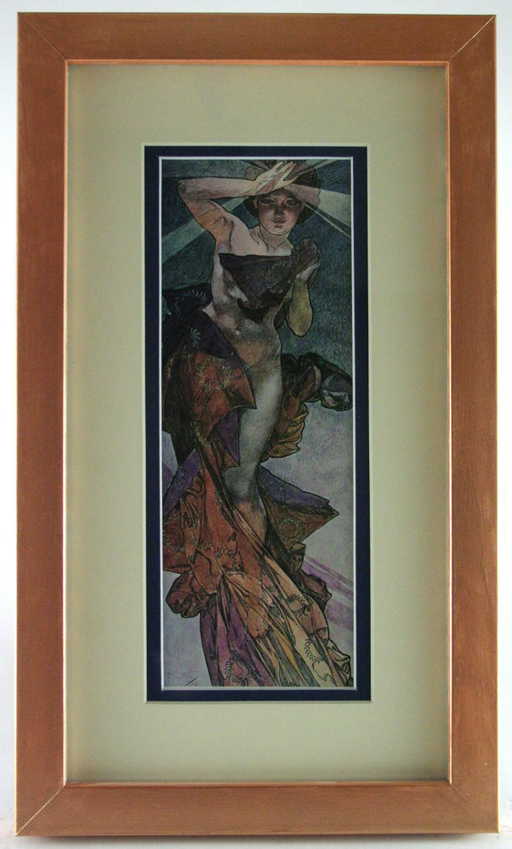 See Sold Price
Don't Miss Your Next Treasure.
Set up a search alert to hear when Alphonse Mucha Prints & Multiples items arrive.
Auction ended on January 12th, 2015 UTC
Vintage Alphonse Mucha Lithograph "Morning star"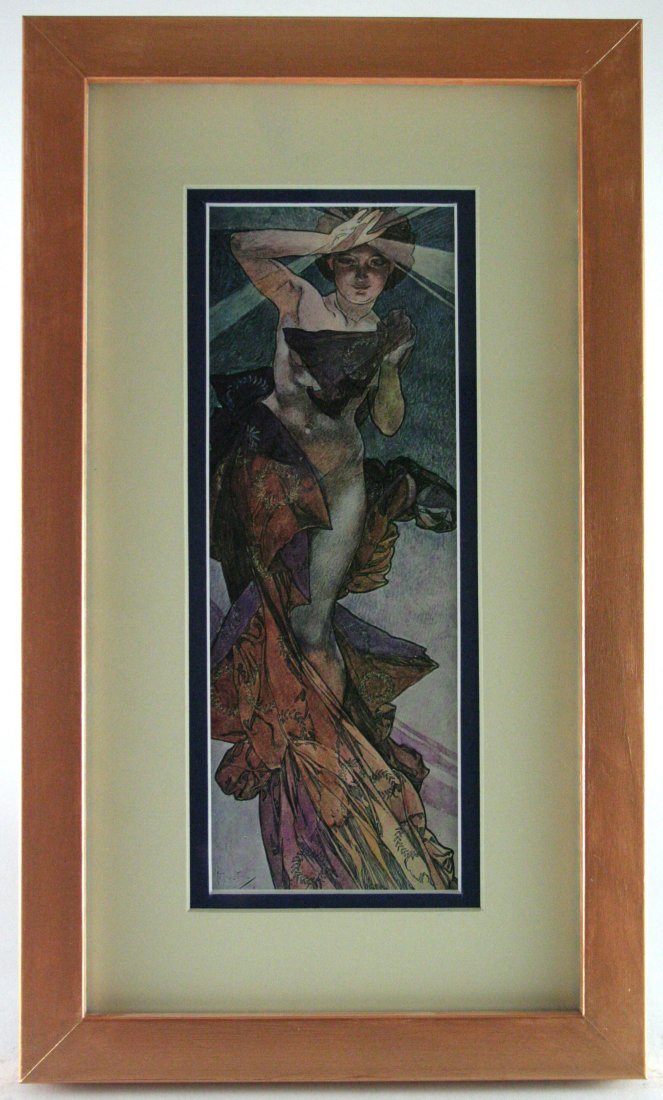 Vintage mid century reprint, Alphonse Mucha Lithograph "Morning Star" 8 x 13 1/2 inches, framed
Shipping
Buyer Pays Shipping Cost
Payment
Contact For Payment Details
Accepted payment methods
Terms
::::Reich and Koff LLC (Arkay Gallery)Terms and Conditions:::: The following are the terms and conditions as presented by ("Reich and Koff LLC" and/or "the auctioneer" also known as "Arkay Gallery" further defined in this document as "RK/AG"). These Terms and Conditions are applicable to all transactions taking place between you (the bidder) and RK/AG(the seller or "auctioneer") whether taking place via public or online bidding and/or private transactions. Any potential bidder who registers or bids publicly or privately on any item RK/AG offers for auction will be fully bound by these terms and conditions, this applies to all types of bids including live, telephone, written, absentee and or on behalf of another individual or any other method the bidder could utilize to purchase items from RK/AG. All bidders should read these terms very carefully as they are the only terms and Conditions which bidders will be bound by. Understanding and accepting the Terms and Conditions. If you (the bidder) registers and makes a bid on any item RK/AG offers for sale at auction or privately you are by that action bound to these Terms and Conditions. The bidder is then fully obligated to fulfill all obligation set forth in this document as well as any other obligations in regard to federal, state and local laws. All bidders may or may not be required to submit full name, email, home address and full credit card and or other payment information prior to bidding. RK/AG reserves the full right to reject any bid or any bidder for any reason it deems necessary. The system of bidding shall fall under the metrics set up by "liveauctioneers.com" and their automated bidding system, the highest accepted bid at the time of the final sale will take precedence over any other previous communications. RK/AG will in the event of any dispute hold the right to make any final judgement on the sale at our sole discretion. The highest bidder is deemed to be the buyer, upon acceptance of the buyers bid, the buyer has then entered into a legal contract and is then obliged to accept and pay for the lot in full within 7 days of the auction close. If the buyer fails to pay withing 10 days, we reserve full right to pursue a collection of payment through a third party debt collection service and/or report nonpayment to any relevant credit bureau. Under no circumstance will ownership be passed to the buyer prior to the balance (which may include shipping and import/export charges) being fully paid and received by RK/AG. The buyer does however assume all risks associated with fulfilling this contract including all shipping risks upon entering the winning bid at the close of the auction. RK/AG will have in its sole discretion complete control to determine the pre sale and pre auction as well as post sale post auction and any private sales outcomes as it sees fit including the full right to reject bids, reject bidders, withdraw lots, resell lots, mediate any buyer disputes before during and after any sale public or private, the judgment of RK/AG will be final above all claims made by any potential bidders. this includes and technical errors that may arise from potential issues associated with bidding online. :::::::::::::Terms and Conditions for Fine Art:::::::::: Any representation or statement of description given by RK/AG whether in digital catalog form, advertising or verbally as to the attribution, authorship, genuineness, origin, date of creation, provenance estimated value, opening bid price or final sale price are statements of opinion only. Any and all potential bidders are subject to buyers beware and must use their own judgement in regards to all of the above matters. RK/AG is not responsible whatsoever for for the correctness of said opinions. All property is sold "AS IS" with no representation of warranty of any kind. All bidders are advised to examine closely any item they wish to bid on prior to the auction. All dimensions are approximate, and most items including works of fine art, prints and the frames they come in are vintage or antique items that will show wear and tear associated with similar items of that age and the condition of said items is not guaranteed. ALL SALES ARE FINAL, ALL LOTS ARE SOLD AS IS. No lot returns will be accepted based on conditions or dissatisfaction of the bidder, in regards to the physical condition of the work in question or any issue arising from its authorship, creation or disputed attribution. RK/AG will do its best to provide all relevant information regarding the accuracy of lot descriptions prior to the sale and no bidders should assume any other insights may be gained to the authenticity origin or provenance of the work outside of the given description, if the buyer/bidder requires more information on the lot than has been offered via the catalog description and /or through verbal or written communication with RK/AG prior to auction date, it is highly recommended that the buyer/bidder not bid on said items as RK/AG will at no point from now until any future date hold any liability to any statement of opinion made in regards to above description Glossary of Descriptive Terms Terms used by RK/AG to describe items offered for sale in this catalog or any other platform are described as follows. 1. Edvard Munch (or "By") In our opinion, the work was done by the hand of Edvard Munch 2. Attributed to Edvard Munch In our opinion, the work is of the period of the artist, and may be whole or partially done by the hand of the artist 3. Studio, Circle of or Workshop of Edvard Munch In our opinion, the work is of the period of the artist and would bear a very close resemblance to the style and execution of a known original. The work could possibly have came out of the studio or workshop of the original artist. 4. School of Edvard Munch In our opinion, the work is by a pupil or close follower of the original artist. 5. Manner of Edvard Munch In our opinion, the work is of the style of the original artist. 6. After Edvard Munch In our opinion, the work is a copy of the artist, probably done at a later period. 7. Signed (and or dated) In our opinion, the work has a genuine signature done by the hand of the artist. 8. Bears signature (and or date) In our opinion, the signature or date may or may not have been signed by the artist and for intensive purposes this designation is made to encourage skepticism of the authenticity of such signatures. Payment Payment must be made in full within 7 days of the auctions close, no ownership transfers of any kind will occur whatsoever until the full balance plus and relevant shipping costs have been received in the full by RK/AG. Failure to pay for an item after 10 days will be considered a breach of contract and will result in a collection being sought for the full amount to the high bidder of said item, RK/AG reserves the right to charge any credit card on file the full amount of the balance due if not paid within 10 days of the auctions close by the winning bidder. Once made, these payments cannot be disputed by the winning bidder who at this point has consented to the charge by placing the high bid on said item. Shipping RK/AG provides professional in-house packing and shipping at market rates, a fee of $20 usd plus the cost of any shipping material (boxes foam padding ect) to be paid for by the buyer prior to shipment of said items. All shipping for items valued over $100 usd to is be insured at the expense of the buyer, RK/AG assumes absolutely no responsibility for loss and/or damage as a result of shipping and/or international customs/seizure laws which may be applicable to transit and/or destination countries. All shipping risk is assumed by the buyer who upon receipt of full payment to the seller (RK/AG) is now the full legal owner of said property. Any and all losses or damage that may be incurred during the shipping process should be mediated via the required insurance that will be paid for by the winning bidder. Errors and Omissions RK/AG is not responsible for typographical errors or omissions. Liability In now way shall RK/AG or it affiliates be liable for any lost profits or any incidental or punitive damages arising out of or in any way connected with our auctions or services including all statements and catalog descriptions, interruption of services or any kind of data transmission errors associated with bidding in online auctions. We also reserve the right to change or alter any of the above statements at any time in the future and if you continue to use our services you have agreed to accepting such changes in the Terms and Conditions October 2014
Discover Items You'll Love

Bid Anywhere, Anytime. Download the LiveAuctioneers App.
Available on the App Store
Android App on Google Play