1956 Gretsch Chet Atkins Black Sealed Top 6120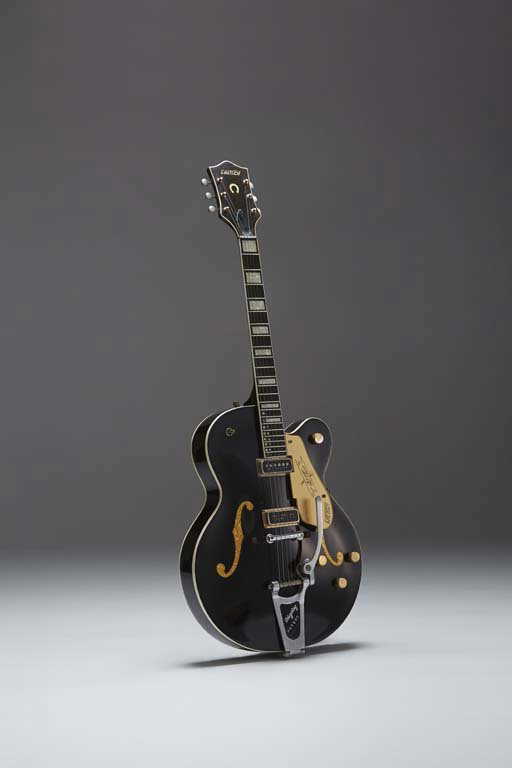 See Sold Price
Don't Miss Your Next Treasure.
Set up a search alert to hear when Movie & TV Memorabilia items arrive.
Auction ended on February 20th, 2015 UTC
1956 Gretsch Chet Atkins Black Sealed Top 6120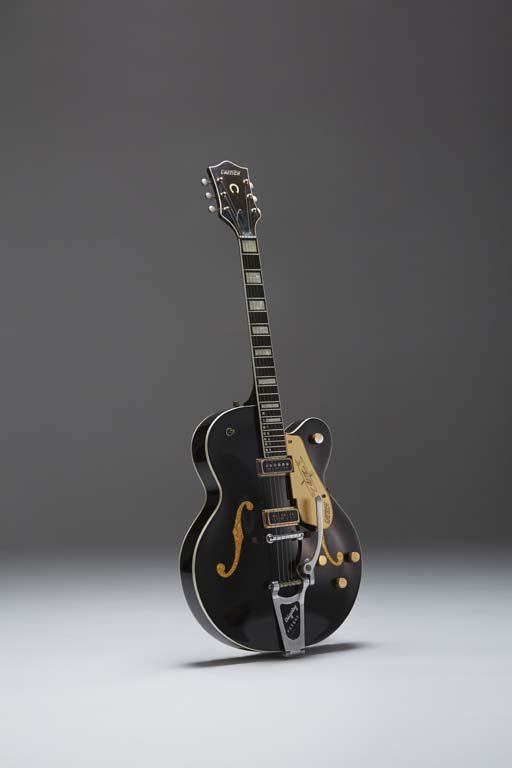 In addition to the other historically-significant items being offered from Tom Doyle's personal collection is the 1956 Gretsch Chet Atkins Black Sealed Top 6120 Prototype, more commonly known by fans worldwide as "Dark Eyes."


This one-off Black 6120 model was one of two prototypes Gretsch made for Atkins. (The other was the traditional orange). While Gibson enjoyed much success making a signature artist guitar that was openly used and endorsed Les Paul, by the mid-1950s Gretsch saw an opportunity to increase their own market share and wanted to also enlist the services of a celebrity. (Chet was already known to play a Gretsch Streamliner, thus making him the perfect candidate.) Although initially unsure of the project, the young Atkins consulted with Les Paul – an old friend and colleague – and Paul assured him this deal would result in nothing but positive strides in his budding career. Chet used the instrument as the benchmark for the many experiments and innovations that would eventually develop the 6120 Model for the mass market. This guitar served as a precursor for many of Gretsch's most popular models, including the Country Gentleman, the George Harrison model, and the Brian Setzer, among others.


With Chet as their new spokesman and with his name on their guitars, Gretsch's sales grew as did their reputation. The 6120 Chet Atkins Hollow Body and the 6121 Chet Atkins Solid Body were the first models produced with the artist's endorsement; yet aside from bearing his name, the guitars were constructed with very little input from Atkins himself. (His only suggestions at the time were the addition of the metal nut and metal bridge in order to sustain sound.) Chet was however actively involved in designing two early Gretsch electrics, and each were unique offerings to a guitar-loving public hungry for a new sound.

In collaboration with Gretsch in 1956, Atkins designed a pair of specially-constructed 6120 models, the second of which being the legendary Dark Eyes offered here from Tom Doyle's private collection. The first instrument had the same dimensions and Western style design as the 1955 Gretsch Chet Atkins 6120 Hollow Body; however, unlike the production model, it had a thick top measuring about half an inch and was entirely sealed. It featured painted outlines of f-holes in the place of real sound holes preventing feedback and enhancing sustainability of sound. Unfortunately for Atkins, this first model's thick top made it somewhat heavy and therefore uncomfortable to play. He asked Gretsch to make a second model that was easier to handle with a more understated design, and thus Dark Eyes was born.

Featuring a laminated maple top that was thinner than the previous guitar but still thicker than standard, the guitar was finished in a refined black color instead of orange like its predecessors. The fingerboard inlays were unembellished blocks and the cowboy decorations were gone except for a horseshoe inlay on the headstock with engraved nail holes. The guitar appeared to have f-holes that in reality were glued-on paper templates traced by Atkins off of his D'Angelico archtop. This second unique 1956 Gretsch Chet Atkins Black Sealed Top 6120 guitar was not only much more elegant than its first incarnation, but also much easier to play, and Chet started using it immediately.


Although Dark Eyes served him well, by the early 1960s the country music star began to use another namesake Gretsch model -- the 6122 Chet Atkins Country Gentleman -- more frequently than its predecessor. He gave his prized prototype to friend and RCA Records colleague Bill Porter, the audio engineer who famously recorded stars such as Elvis Presley, Roy Orbison, and Chet himself. Porter kept this legendary instrument in his possession for about thirty years until he finally sold it to the Guitar Emporium in Louisville, Kentucky in the early 1990s. Less than ten years later, Dark Eyes was purchased by internationally-recognized guitar collector Scott Chinery, who used it as a centerpiece in an extensive exhibit on display at the Smithsonian Museum of American History in 1999. Tom Doyle was the appointed head luthier, caretaker, and curator for The Chinery Collection at the museum and, being an avid Chet Atkins fan, Tom understandably took a special interest in Dark Eyes. Doyle remembers speaking to Chinery about the 6120 Black Sealed Top Guitar: "I always told Scott that I loved that Gretsch. It is a truly unique guitar that embodies Chet Atkins' spirit of innovation and experimentation. I knew it was a historically important guitar from the moment I first saw it. You can see that Chet used this guitar as a springboard for many of his greatest ideas." Chinery, aware of Doyle's fascination with Dark Eyes, offered it to him as a gift in October 2000. According to Tom he initially did not understand that the guitar was meant as a gift; he assumed that Scott was giving it to him to repair and therefore continued to ask him when he needed it returned or what he would like to be restored. After some convincing on Chinery's part, however, Dark Eyes became part of Tom Doyle's private collection. Tom recalls Scott uttering this exact phrase, "Tom -- knowing your background with Les and Chet – you should have this guitar!" It made the perfect "historical bookend" when paired with Les' Black Beauty. The pair represents the very essence of the beginnings of the development of the modern electric guitar for both Gibson and Gretsch. It is not lost on most collectors and aficionados that "Chester and Lester" and their two history-making guitars are back together again.

Gretsch's Senior Product Manager, Joe Carducci, was recently invited to inspect Dark Eyes and has confirmed that the guitar in Tom's collection is the original Chet Atkins 6120 Prototype. According to Carducci, Dark Eyes is "The Holy Grail of Gretsch guitars," an integral piece embodying the start of a long legacy between Chet Atkins and Gretsch Guitars. Atkins played the Black Sealed Top guitar on numerous television broadcasts, performing tunes such as "Alabama Jubilee" and "Dark Eyes," the latter of which became the 6120 model's nickname. There are a number of photographs showcasing Chet playing Dark Eyes at the Grand Ole Opry, some of which are the earliest images of the guitar being used on stage. Like Les Paul's Black Beauty, Dark Eyes too was a prototype that constantly underwent modification. In a photograph dated 1956, Chet is seen holding what looks like an incomplete version of the iconic instrument. Despite appearing unfinished, the bar bridge, horseshoe headstock, and simple block fingerboard inlays are consistently seen in later photographs, making them telltale signs of Atkins' preferences. The 6120 Black Sealed Top guitar in the early Grand Ole Opry photo also appears to have a short Gretsch pickguard, a "bent wire" Bigsby arm personally designed by Atkins, and prototype Ray-Butts Filter'tron humbucking pickups: the appearance of which notably predate the visible use of humbuckers on Gibson guitars by a year. In addition to public performances, The 6120 Black Sealed Top was used regularly during various recordings, most notably the sessions for the EP Mr. Atkins, if You Please in July 1957. A photograph of Chet with the Louvin Brothers, dated August 1957, shows Dark Eyes in a more recognizable form, with fine black finished sides, a flat handle Bigsby arm, a Gretsch Chet Atkins "signpost" pickguard, and a switch in place of the bridge pickup volume control. The paper templates were replaced with large standard Gretsch simulated f-holes made of gold sparkle Nitron. Photos from the late 1950's showcasing Chet Atkins at the Grand Ole Opry reveal that he would often change the handles on the instrument, alternating between the original "bent-wire" arm seen in 1957, a stainless-steel swing-away arm, and a flat handle.
Dark Eyes still retains traces of the modifications made by Atkins between 1957 and the early 1960s right before the guitar was given to Bill Porter. The instrument had been mounted with a short pickguard in 1956, but it was later replaced by various long Gretsch company pickguards. A pair of screw holes fitting the dimensions of a short Gretsch pickguard point verifies the early switch and also proves that the unfinished guitar with the short pickguard pictured with Chet at the 1956 Grand Ole Opry is in fact the same Dark Eyes as the one in Tom Doyle's collection. There are about four additional screw holes at the rear of the headstock, apparently left over from a time when Atkins had the guitar mounted on his studio wall. In the early 1960s before Chet gave Dark Eyes to Bill Porter, he replaced Ray Butts' Filter'Tron prototype pickups with two single-coil DeArmond pickups which remain on the instrument today. While switching out the pickups, however, Atkins unfortunately scratched the pole piece located on the bridge pickup. "I took a pair of wire pliers and broke the tips off the pickup magnets to try and reduce their pull and get a better balance, I don't think it helped any," Chet recalls in his book Me and My Guitar. The bridge pickup volume control mounting hole is completely absent of paint as a result of another one of Mr. Guitar's experiments in which he first installed a toggle switch and later an output jack.

It can be said that this 1956 Black Sealed Top 6120 prototype is truly the guitar that started it all for Gretsch, as well as having helped boost Chet Atkins into the limelight. The basis for many experiments both in the luthiery arts and sound technology, Atkins' collaboration with guitar manufacturer and later work with pickup pioneer Ray Butts resulted in the birth of many subsequent Chet Atkins models coveted by the likes of Elvis Presley, John Lennon, Lou Reed, David Crosby, Mike Campbell, Duane Eddy, George Harrison, Pete Townshend, and Brian Setzer to name a few. From the hands of Mr. Guitar himself to Bill Porter, Scott Chinery, and now Les Paul's personal friend/luthier/guitar tech Tom Doyle, Dark Eyes stands as veritable proof of the most prolific era in American music history.


Discover Items You'll Love