lots of lots
Welcome to the world's largest marketplace for fine art, antiques & collectibles.
35: Painted Dean ML Guitar by Munky of KORN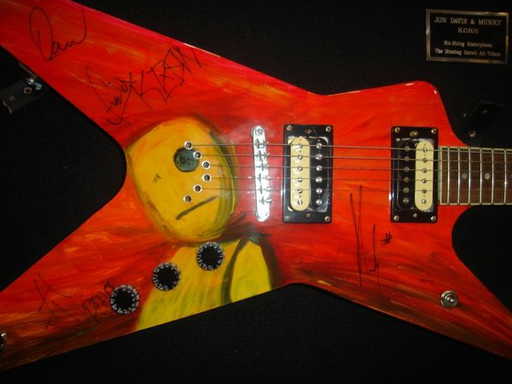 See Sold Price
Don't Miss Your Next Treasure.
Set up a search alert to hear when Guitars & Guitar Cases items arrive.
Auction ended on May 18th, 2007 UTC
35: Painted Dean ML Guitar by Munky of KORN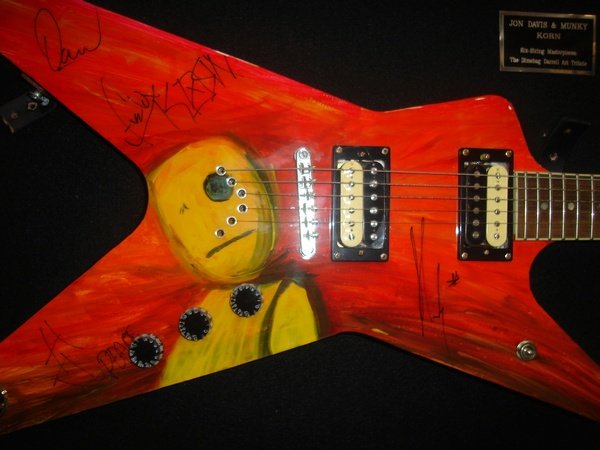 Munky of KORN, Painted Guitar Painted in acrylic by Munky, guitarist for KORN, and signed by the entire band. This guitar is a painted rendition of the artwork for KORN's "ISSUES" album. Munky was quoted in Guitar World magazine as saying that Dime had told him that his favorite Korn record was ISSUES, that he really liked the concept behind the album. That is why this Korn artwork was painted by Munky for this project. This is a one-of-a-kind full playable and displayable Instrument of Art. Complete with electronics, pick-ups, strings and hardware installed at Dean USA. It is hand-painted or otherwise decorated by the artist who's name is associated with the guitar. Proceeds from the auction of this guitar go to support LITTLE KIDS ROCK, one of the most exciting music education programs available to public schools in America. This guitar is one of over sixty pieces created for Six-String Masterpieces: The Dimebag Darrell Art Tribute.
Shipping
Buyer Pays Shipping Cost
Payment
Contact For Payment Details
Accepted payment methods
Charity Information
Proceeds from the sale of this guitar will benefit Little Kids Rock, a nonprofit organization that brings free instruments and lessons to low-income children in our public schools. For more information on this incredible charity, please visit: a hrefhttp:www.littlekidsrock.org www.littlekidsrock.orga
Terms
Six-String Masterpieces offers multiple methods to bid on the auction, including Paddle bidding for those in attendance, Absentee bidding, and Online bidding via Live Auctioneers. For more information on registering to bid please read our Frequently Asked Questions below. CONDITIONS OF SALE | F.A.Q This catalogue, as amended by any posted notices or oral announcements during the sale, is the entire agreement by and between Six-String Masterpieces/Dean Guitars/Little Kids Rock and the purchaser relative to the property listed herein. The following Conditions of Sale are the complete and only terms and conditions on which all property is offered for sale. The auction will generally use the following bidding increments: $50-$200 by $10 $200-$500 by $25 $500-$1000 by $50 $1000-$2000 by $100 $2000-$5000 by $250 $5000-$10,000 by $500 $10,000-$20,000 by $1000 $20,000-$50,000 by $2500 $50,000-$100,000 by $5000 $100,000-$500,000 by $10,000 1. All property is sold "AS IS" and neither we nor the Consignor may make any warranties of representations of the correctness of the catalogue or the other description of the physical condition, size, quality, rarity, importance, medium, provenance, exhibitions, literature or historical relevance of the property and no statement anywhere, whether oral or written, shall be deemed such a warranty or representation. Prospective bidders should inspect the property before bidding to determine its condition, size and whether or not it has been repaired or restored. Purchaser does not acquire reproduction rights in the property. If the proposed purchaser cannot attend the preview in person, please discuss individual items with the auction staff to ascertain conditions of sale, etc. We will do our best to answer your inquiry, and we encourage you to visit the auction preview at LaLuz DeJesus Gallery. CONDITION REPORTS AVAILABLE UPON REQUEST. 2. A buyer's Premium will be added to the successful bid price and is payable by the purchaser as part of the total purchase price. For live bidding on the auction floor the buyer's premium on auction pieces paid for with cash(In House Only), credit card or certified check will be 3% of the successful bid price per lot. For purchases made online via Live Auctioneers and E-bay.com the buyer's premium will be 5% of the successful bid price. The bids are being tabulated with 5% premium online so the terms need to reflect that. 3. Payment may be made with Cash(In House Only), Credit Card or Cashier's check ONLY. Personal checks will be accepted ONLY with prior approval. 4. The authenticity of the Authorship of the property listed in this catalogue is guaranteed by Six-String Masterpieces for one year from the sale date. All guitars are original works of art by the artist credited to the instrument. If within one year's time the purchaser returns the lot in the same condition as when purchased and gives us written proof from a recognized impartial expert which establishes beyond a reasonable doubt that the returned lot is in fact a counterfeit or a forgery intended to deceive and that this was not indicated by a fair reading of the catalogue or the auctioneer's comments at the time of sale, then we will rescind the sale and refund the purchase price. This non-assignable guarantee is applicable only to the receipt-bearing original purchaser. The guarantee does not apply to (a) lots with a heading or description which includes the word or words "after" or "attributed" or "manor" or "style" or "school" or "circle," or "collection" or "signed" (b) lots with a low estimate of $500 or less, (c) lots offered without an estimate. 5. We reserve the right to withdraw any property before the sale and shall have no liability whatsoever for such withdrawal. 6. We ACCEPT absentee bids in person, via fax or phone (with a signature). (See Absentee bid form for description of terms). We are able to accept bids throughout the actual auction and do our best to represent the buyer per our absentee bid rules. 7. We reserve the right to reject any bid. The highest bidder acknowledged by the auctioneer will be the purchaser. In the event of any dispute between bidders, or in the event of doubt on our part as to the validity of any bid, the auctioneer will have the final discretion either to determine the successful bidder or to re-offer and resell the article in dispute. If any dispute arises after the sale, our sale record is conclusive. Although at our discretion we will execute order bids as a convenience to clients who are not present at auctions, we are not responsible for any errors or omissions in connection therewith. 8. If the auctioneer decides that any opening bid is below the reserve of the article offered, he may reject the same and withdraw the article from sale, and if, having acknowledged an opening bid he decides that any advance thereafter is insufficient, he may reject the advance. 9. On the fall of the auctioneer's hammer, title to the offered lot will pass to the highest bidder acknowledged by the auctioneer, subject to fulfillment by such bidder of all the conditions set forth herein. Such bidder thereupon (a) assumes full risk and responsibility and therefore, (b) will pay the full purchase price upon notification that client is the successful bidder. In addition to other remedies available to us by law, we reserve the right to impose a late charge of 1.5% of the total purchase price per week if payment is not made within 5 business days following its sale. The purchaser at his/her expense must also remove all property from our premises, not later than 10 business days following the end of the tour on July 15, 2007. If property is not so removed, (i) a handling charge of 1% of the total purchase price per month until its removal, will be payable to us by the purchaser, with a minimum of 5% for any property not so removed within 60 days after the sale, and (ii) we may send the purchased property to a public warehouse at the risk and expense of the purchaser. If any applicable conditions herein are not complied with by the purchaser, in addition to other remedies available to us and the Consignor by law, including without limitation, the right to hold the purchaser liable for the total purchase price, we at our option may either (a) cancel the sale, retaining as liquidated damages all payments made by the purchaser or (b) resell the property at public auction without reserve and the purchaser will be liable for any deficiency costs including handling charges, the expenses of both sales and our commission on both sales at our regular rates. All other charges due hereunder and incidental damages. In addition, a defaulting purchaser will be deemed to have granted us a security interest and we may retain as collateral security for such purchasers obligations to us any property in our possession owned by such a purchase. In the event a purchaser pays a portion of the total purchase price, we may apply payment in our sole discretion to the lot we deem appropriate. We shall have all of the rights accorded a secured party under Florida State Law with respect to such property and we may apply against such obligations all monies held or received by us, or due from us, to the account of the purchaser. At our option, payment will not be deemed to have been made in full until we have collected good funds represented by checks, or, in the case of bank or cashier's checks, we have confirmed their authenticity. 10. Some lots are offered subject to a reserve, which is the confidential minimum price below which such lot will not be sold. We may implement such reserves by bidding, on behalf of the Consignor. 11. Unless exempted by law, the purchaser will be required to pay the Florida State sales tax or any applicable compensating use tax of another state on the total purchase price. Florida State sales tax is 7.00% 12. These Conditions of Sale, as well as the purchaser's and our respective rights and obligations hereunder, shall be governed by, construed and enforced in accordance with the laws of the State of Florida. By bidding at an auction, whether present in person, by agent or by other bid, the purchaser shall be deemed to have consented to the exclusive jurisdiction of the state courts and federal courts sitting in the State of Florida. 13. Six-String Masterpieces/Dean Guitars/Little Kids Rock IS NOT responsible for providing insurance for sold artwork. Successful bidders are responsible for making ALL shipping arrangements. Six-String Masterpieces will package the purchase in a roadcase and make it available for shipping based upon your shipping arrangements. We recommend shipping via FedEx. 14. We, Six-String Masterpieces/Dean Guitars/Little Kids Rock, are not responsible for the facts or omissions in our packing or shipping of purchased lots or other carriers or packers of purchased lots, whether or not recommended by us. Packing and handling of purchased lots is at the entire risk of the purchaser. 15. In no event will our liability to a purchaser exceed the purchase price actually paid. 16. During the auction, we will do our best to stay in the order of this catalogue, which is for the most part per lot. However, we are not strictly adhering to numbers or a specific order in this catalogue. These are to be used as references and the auctioneer will announce them as they come up in the auction block. Also, unsold items will be brought up upon request to open the bidding. FREQUENTLY ASKED QUESTIONS: Q: When is the auction? A: 5:30pm to 8pm, Thursday May 17, 2007 -------------------------------------- Q: Where will the auction and previews be held? A: The auction will take place at the House of Blues Sunset Strip in Hollywood, CA. The Live preview is taking place May 4 - 16 at La Luz De Jesus Gallery (4633 Hollywood Blvd) Los Angeles. An online catalogue is available for viewing at www.littlekidsrock.org/6string. Opening reception is 7pm on May 4th at La Luz De Jesus Gallery. -------------------------------------- Q: This is my first time bidding. How do I bid in this auction? A: All online buyers must complete a Live Auctioneers and Ebay Registration Form. You may register the day of the auction at House of Blues, although we highly recommend early registration. You may also register during the auction preview at La Luz De Jesus Gallery. Registration is free and open to the public. Once you have registered, you will be issued a Paddle number. Carefully review our Conditions of Sale. -------------------------------------- Q: I will be unable to attend the auction, can I still bid? A: Yes! If you are unable to attend the auction or stay for the duration of the auction, you may submit an absentee bid form and our auction staff will bid on your behalf. They will try to bid just as you would, obtaining the item at the lowest bid possible. Absentee bid forms can be downloaded off our site or found in our catalogue or from the auction gallery. You may also bid through a friend or agent. Online bidding registration is done through either Ebay Auctions or Live Auctioneers with approval taking an average of 24 hours to confirm. -------------------------------------- Q: What Payment Methods are accepted? A: Payment immediately after the auction may be made with Credit Card, Cash(In House Only) or Cashier's check ONLY. Personal checks may be accepted ONLY with prior approval. Cashiers Checks and Credit Cards are the accepted form of payment for purchases made online. -------------------------------------- Q: Do you provide shipping? A: Successful bidders are responsible for making ALL shipping arrangements by contacting the exhibit curator at action@actionartsagency.com. Purchased guitars will ship to you from Dean Guitars HQ in Tampa. FL. A $30.00 fee for a form-fitting road case is added to all shipping costs. The case is valued at $75.00 and is the best way to store or transport your purchase. All purchased pieces will be ready to ship 60 days after the auction, at the completion of the Six-String Masterpieces world tour.
Discover Items You'll Love

Bid Anywhere, Anytime. Download the LiveAuctioneers App.
Available on the App Store
Android App on Google Play