5298: John Kelly ETCHINGS DRAWINGS HAWAIIANS 1943 Hawai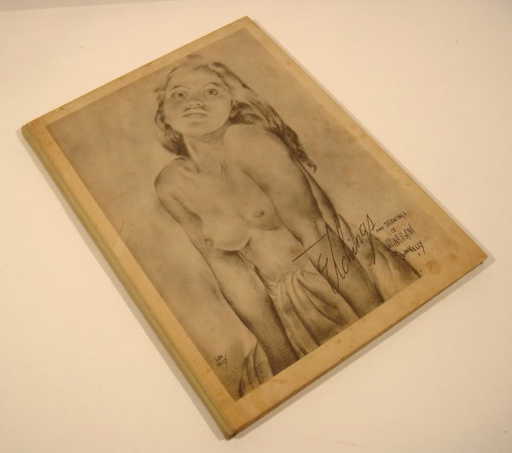 See Sold Price
Don't Miss Your Next Treasure.
Set up a search alert to hear when John Kelly Prints & Multiples items arrive.
Auction ended on May 13th, 2007 UTC
5298: John Kelly ETCHINGS DRAWINGS HAWAIIANS 1943 Hawai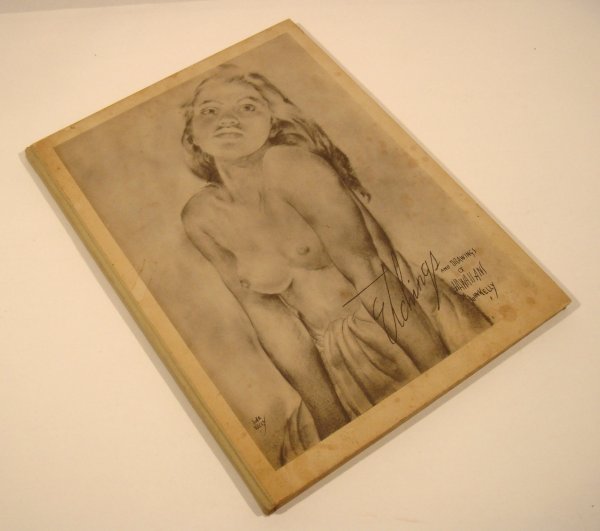 Title:
Etchings and Drawings of Hawaiians
Author:
John Kelly
Publisher:
Honolulu Star-Bulletin
Printing Year:
1943
Condition/Details: Bound in its original blindstamped paper-covered boards with graphic front cover, this art reference folio is a scarce chronicling of work by John Melville Kelly in Hawaii. The work is illustrated with full-page plates of Kelly's original work. The introduction reads as follows:
John Melville Kelly arrived in Honolulu in 1923 to take up a position with Town and Country Homes, Inc., a real estate development initiated by Charles R. Frazier. A background of over fifteen years with various advertising agencies in both New York City and San Francisco made Kelly an ideal man to introduce what Mr. Frazier termed "the first modern advertising campaign in Hawaii." After three years with Mr. Frazier, Kelly was put in charge of the art department of the Honolulu Star-Bulletin.
However, Kelly was more than a commercial artist. For many years he and his sculptress wife had their own studio in San Francisco and whether it was the cloud-banked skies of Hawaii that nourished the desire or just the stubborn Irish in him that demanded freer expression, Kelly left a relatively sure salary after about ten years in Honolulu and decided upon the courageously insecure living of the freelance professional artist. Since that time John Kelly has made for himself an everlasting place among the artists of Hawaii and created an enviable name in the wider field of American Art.
Born on an Arizona ranch, where he lived for twenty years, Kelly's formal art training took place almost entirely in San Francisco where, in addition to his advertising work, he held a position on the staff of the San Francisco Examiner. His long training and experience with the inner workings of the printers' art had made him thoroughly familiar with the effect of an inked plate on white paper and one would have expected him to become a printmaker. Actually he did no such work until 1924 when one day, watching his wife print a plate for a class she was taking at the University of Hawaii, Kelly decided to try his hand at this "Sunday occupation" and with this his career as a printmaker had begun.
This informal introduction into the mechanics of printmaking may account for some of the features of Kelly's work. He was never indoctrinated with the purist's idea of a print as a cleanly wiped plate on which the lines must do all the work. Strong as his lines are and sensitive as is his draftsmanship, Kelly was seldom content with line alone. In every print medium in which he has worked he has sooner or later found his greatest satisfaction in the modeling of form. In his earliest etchings which are usually wiped absolutely clean, one can see him adding line after line to achieve the desired effect. He could rarely leave an etched plate without adding a few lines of drypoint with its rich burr. As soon as he started to print his own plates he found that a tonal effect could be achieved by leaving some ink on the plate. Of course this meant that every print was not exactly like every other. It would be unfortunate and untrue, however, to give the impression that he never relied on line. Many of his finest prints are purely linear and, of course, fine draftsmanship is the sine qua non of all the graphic arts, but it is the search for the expression of from in printmaking that is the key to his whole work. It determined the formation of his style and dictated the choice of his media. It was perhaps this insistent desire fed by a deep sympathy for the Hawaiian people that led to his close association with them and to his choice of so many Hawaiians as subjects. The soft highlights on dark skin and the ample forms against a richly decorative tropical background made an appeal to the artist that could not be denied. His real understanding and love of Hawaiians has made him an ideal spokesman for an era in Hawaii that ended with the Japanese attack on Pearl Harbor.
Once started in printmaking, Kelly's adventurous mind kept him constantly experimenting with new techniques. He soon dropped etching for the richer effects of drypoint and around 1934 he found in aquatint a medium made to order for him – a method by which he could model in large areas. It was the possibilities seen in this kind of print that led to the experiments with color printing for which he is perhaps best known. Color printing is a technical problem the essence of which lies in the registration of two (and usually many more) plates so that the areas of color printed from each plate will exactly fill their allotted spaces. Kelly's mastery of this technique left him free again to express his sense of form. His first color prints are conceived in flat decorative areas reminiscent of Gauguin, but he soon learned to manipulate the color in such prints as "Hawaiian Chinese," for example, so that the backgrounds are toned and the figures modeled until their form is almost palpable. Kelly's latest prints are once again in black and white, but by a new method of wiping and burnishing the plate, they produce an effect of modeling comparable to that achieved in his color work.
Throughout all of his technical experiments John Kelly has never lost sight of "the substance of art." Sensitive and painstaking, he has never let the mechanics of printmaking come between him and his conception. There is a straightforwardness and a simplicity about all his prints that sets up an immediate contact with the spectator. And above all there is always that intensification of experience which raises mere paper and ink into the realms of immortality. – Edgar C. Schenck.
The volume shows some external age/wear concentrated at the extremities, and is solidly bound with bright pages. The book measures approximately 12.25" x 16.25". Shipping cost (within the U.S.) for this lot will be: $9.50
Discover Items You'll Love