Studio of Van Dyck, "Portrait of Archbishop Laud"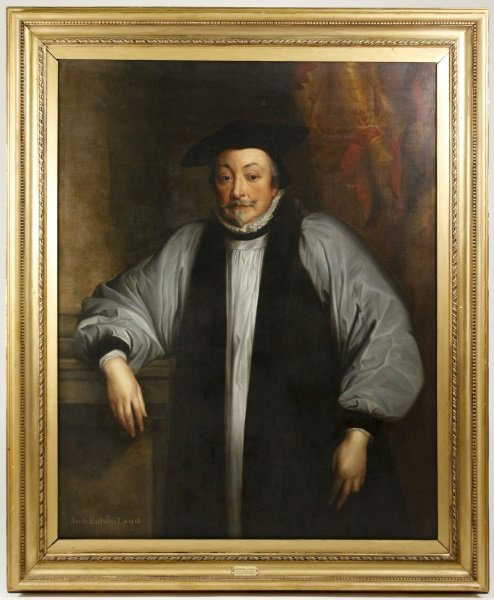 See Sold Price
Don't Miss Your Next Treasure.
Set up a search alert to hear when Paintings items arrive.
Auction ended on May 3rd, 2015 UTC
Studio of Van Dyck, "Portrait of Archbishop Laud"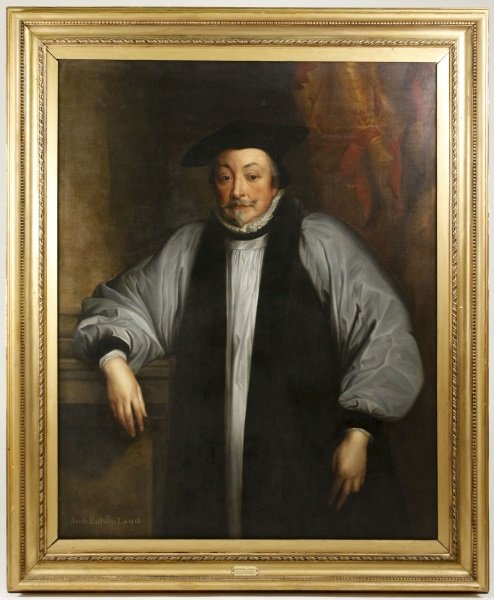 Studio of Sir Anthony Van Dyck (Netherlandish, 1599-1642), "Portrait of Archbishop Laud"-circa 1637-1638, oil on canvas, unsigned, title lower left corner "ARCH BISHOP LAUD". Verso of stretcher with numerous markings including chalk numbers and writing, an exhibition loan label from Maryhill Museum of Art noting Dr. Cosla as the provider of the painting, black stenciled numbers, and other marks that could refer to acquisition, sales and exhibition history. Framed approximately 57.5" x 47.25". Unframed approximately 48.25" x 38". The fine oil painting offered here is a formal Old Master portrait of Archbishop Laud (English, 1573-1645) produced by the studio of Van Dyck after the original that hangs in the Fitzwilliam Museum, University of Cambridge. The Most Reverend William Laud was a clergyman and academic. He served as Archbishop of Cantebury starting in 1633 during the rule of Charles I. Laud was known for his autocratic decisions, stanch support of ritual, favoritism of scholars and diminutive physical stature. In 1640, the Long Parliament accused Laud of treason, he was arrested the year following and kept in the Tower of London. The accusations and arrest were primarily for tactical reasons in the political struggle between Charles I and the English Parliament. The charges claimed that Laud was guilty of leading an ecclesiastic state within a state. His trial has since been called a "travesty of justice". At the time many believed, due to the elderly age of Laud, that he would be held in the Tower of London until dying of natural causes, instead he was executed by beheading in 1645.The work closes adheres to the original with some minor alterations--Laud's hand resting by his side portrays two fingers pointed while the original displays only his index finger extended with others tucked. Similarly, the work being auctioned here lacks some of the finer detail and handling found in face, drapery and background. While it is not as finely rendered as the work by the master artist, this painting shows a high level of painterly skill particularly in the weight and slight swelling of the man's hands (a typical element of Van Dyck's figural works) as well as the light and wispy handling of hair also demonstrated in Van Dyck's masterpieces. Due to the age of the work, fine rendering, and history behind the work, we believe that it could only have been produced by a studio member or members working closely with the master artist. It is important to note that Mr. Samuel J. Hardman in his 1999 scholarly publication, "Sir Anthony Van Dyck: The English Portraits" believes that this offered lot may be the original. He wrote of the lot offered here ("Portrait of Archbishop Laud" from the Collection of Dr. Daniel Byrd, Atlanta, Georgia), "As compared with the other known portraits of Laud, this work is of excellent quality. X-ray studies of this work show emphatic pentimenti in the head as well as in the hands." Additionally, this portrait is accompanied by copies of correspondence between Dr. Byrd and Mr. Samuel Hardman (dating to June of 1998) that show the scholar's belief that this work may be an original or prototype for the portrait held in the Fitzwilliam Museum at Cambridge. Mr. Hardman's opinion backed by his close and thorough study of the artist's English portraits is further supported in this documentation that notes that another scholar on Van Dyck, Mr. Erik Larsen agrees with Mr. Hardman's claims. Ahlers & Ogletree is pleased to have the X-ray images that Hardman notes in his book of the work available for interested parties to view in the gallery upon request. Provenance: According to the consignor, in the mid-17th century, this work was in the Collection of Sir Peter Lely (Dutch/English, 1618-1680) after the artist's death, the work became part of the Montague Family (Earl of Sandwich) collection--documented as part of Sandwich collection in archives at family estate in Hichingbrooke. While at Hinchingbrooke, a fire occurred at the property which caused the work to be thrown out of an upstairs window leading to damage to canvas and frame. The work remained in the Sandwich family collection after the fire. On March 4th, 1927, this painting was sold at Christie's, London for the Earl of Sandwich's family where it was purchased by Nicolae Radescu. Prior to World War II, Radescu sold this work to Dr. Oscar K. Cosla of Bucharest who brought his entire collection to the United States. In 1952, the painting was placed on loan to the Maryhill Museum of Art, Goldendale, Washington. After the death of Dr. Cosla in 1976, the work was acquired by R.L. Mitchell. Soon there after in December of 1976, the work was purchased by Dr. Daniel Byrd of Atlanta, Georgia.
Condition
Prior to bidding, please consult the additional photos provided and ask all pertinent questions (i.e. condition, size, etc.). Packing and shipping is the responsibility of the buyer, please see our website for a list of shipping companies. For a condition report, please email Condition@AandOauctions.com. For additional photos, please email Photos@AandOauctions.com.
Discover Items You'll Love