Justine Delahunty 8x10 Penthouse Headshot & Feb 1990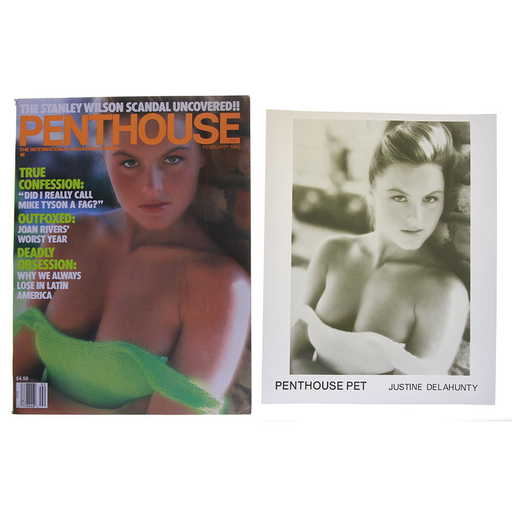 See Sold Price
Don't Miss Your Next Treasure.
Set up a search alert to hear when Photography items arrive.
Auction ended on May 12th, 2015 UTC
Justine Delahunty 8x10 Penthouse Headshot & Feb 1990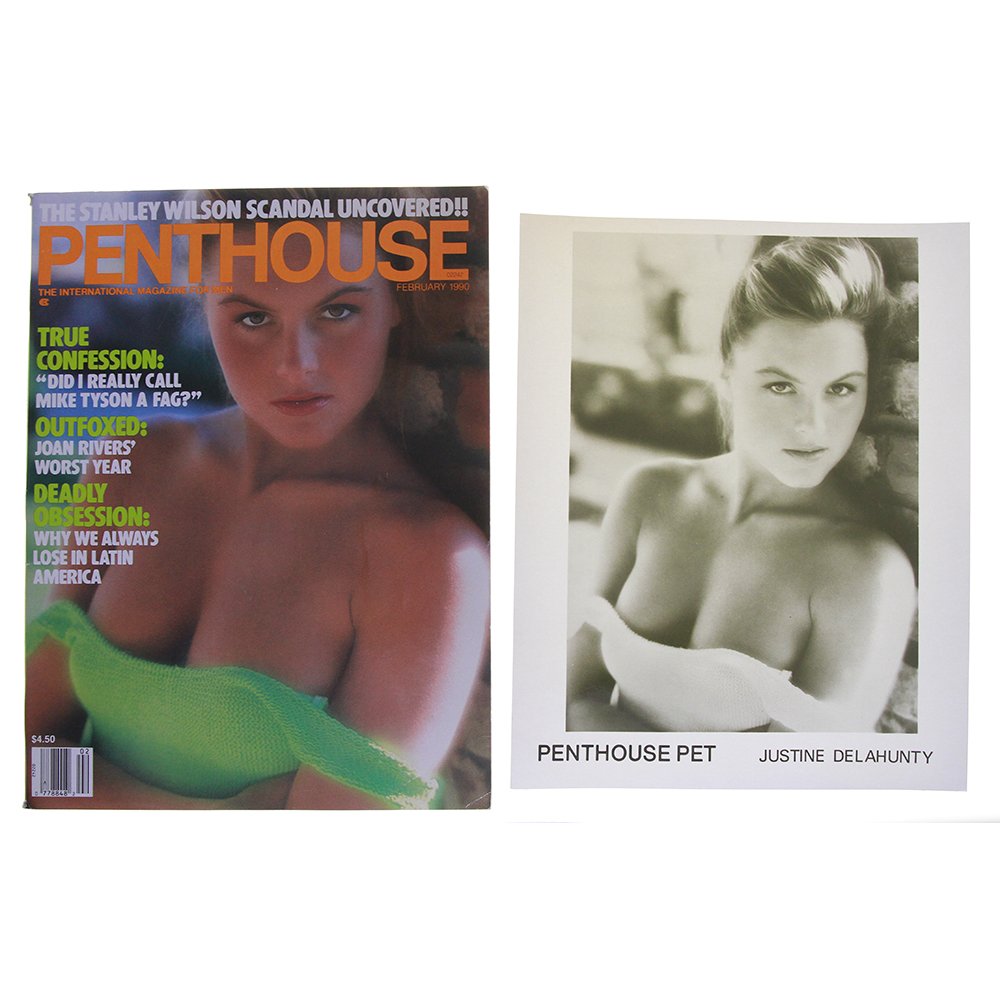 Justine Delahunty black & white Penthouse Pet 8 by 10 glamour publicity headshot, and Feb 1990 Penthouse Magazine. Model:
Think of California and warm, wonderful things come to mind-endless azure skies, the salt scented Pacific Coast Highway, succulent sun-kissed fruits, and now Justine Delahunty, our lovely February 1990 Pet of the Month. "My friends all tease me about being a typical California girl," the tanned, brown-eyed blonde admits. "But I don't mind. In fact, I'm actually proud of it. California's got it all-skiing, hot-air ballooning, surfing, mountain climbing. And talk about the breathtaking views! I once made love on a high mountaintop, with bright city lights below us on one side and the roaring ocean surf on the other." Justine is a dedicated sun-worshiper who enjoys Frisbee, soccer, and early-morning jogs with her puppy. "I've never learned to like the cold,'' she says."I like to be snuggly warm all the time. Not that I mind playing outside in winter but I have to be bundled up!" Although Justine gets her pleasure from the outdoors, it's also her main source of inspiration. "I believe that there are many things we don't understand that influence our lives. The environment is a prime example," she muses. "I was born the night of an eclipse on the first day of autumn. And Virgo is an earth sign. Maybe that explains why I'm so drawn to nature." In fact, after a few years of modeling, Justine plans to pursue a career in environmental science. For 36-24-35 Justine. her body is another source of amazement. "Sometimes something strange rushes through me that tells me I'll be making love with a man. When that happens, I simply put my feelings into action-subtly, of course." "I like the character Glenn Close played in Fatal Attraction, "Justine says with a mischievous giggle."Now there's a woman who really went with her emotions!". For 21-year-old Justine, who'll soon be completing her bachelor's degree in earth science, reading isn't confined to the classroom. "One of my favorite nighttime activities is to burn some exotic incense and settle back with a book by Steinbeck or Shakespeare." "I love A Midsummer Night's Dream," Justine says. "Earthly nature and human nature are so magically intertwined. And the title holds a special meaning-I was once surprised in the middle of a dream by my lover, who I thought was a thousand miles away." Who says life doesn't imitate art?Background:
Penthouse magazine began publication in 1965 in England and in North America in 1969, an attempt to compete with Hugh Hefner's Playboy. Guccione offered editorial content that was more sensational than that of Playboy, and the magazine's writing was far more investigative than Hefner's upscale emphasis, with stories about government cover-ups and scandals. Writers such as Craig S. Karpel, James Dale Davidson and Ernest Volkman, as well as the critically acclaimed Seymour Hersh, exposed numerous scandals and corruption at the highest levels of the United States Government.
The magazine was founded on humble beginnings. Due to Guccione's lack of resources, he personally photographed most of the models for the magazine's early issues. Without professional training, Guccione applied his knowledge of painting to his photography, establishing the diffused, soft focus look that would become one of the trademarks of the magazine's pictorials. Guccione would sometimes take several days to complete a shoot.
As the magazine grew more successful, Guccione openly embraced a life of luxury; his former mansion is said to be the largest private residence in Manhattan at 22,000 square feet (2,000 m2). However, in contrast to Hugh Hefner, who threw wild parties at his Playboy Mansions, life at Guccione's mansion was remarkably sedate, even during the hedonistic 1970s. He reportedly once had his bodyguards eject a local radio personality who had been hired as a DJ and jumped into the swimming pool naked.
The magazine's pictorials offered more sexually explicit content than was commonly seen in most openly sold men's magazines of the era; it was the first to show female pubic hair, followed by full-frontal nudity and then the exposed vulva and anus. Penthouse has also, over the years, featured a number of authorized and unauthorized photos of celebrities such as Madonna and Vanessa Lynn Williams. In both cases, the photos were taken earlier in their careers and sold to Penthouse only after Madonna and Williams became famous. In the late 1990s, the magazine began to show more "fetish" content such as urination, bondage and "facials." Featured Video:
Terms and conditions:
All items within this auction are original and come directly from the Filthy Gorgeous Media archives. Each item will be packaged with an item specific
certificate of authenticity
. Each certificate is customized according to lot and signed by the CEO of Filthy Gorgeous Media.
There is NO COPYRIGHT TRANSFER after purchase. Filthy Gorgeous Media retains copyright privileges for all imagery within this auction.
Upon winning an item at the end of an auction, please be sure to check the email account you have associated with your live auctioneers account for an invoice. Bidders are responsible for shipping charges. PayPal is our preferred method of payment. For questions or assistance feel free to call (201)258-3770 Monday - Friday between 9:00AM and 5:00PM EST.
Categories: Pictures, Photographs, Models, Images, Nude Photos, Negatives
Discover Items You'll Love