lots of lots
Welcome to the world's largest marketplace for fine art, antiques & collectibles.
4505: Stirn''sche Patent Camera: Spy Camera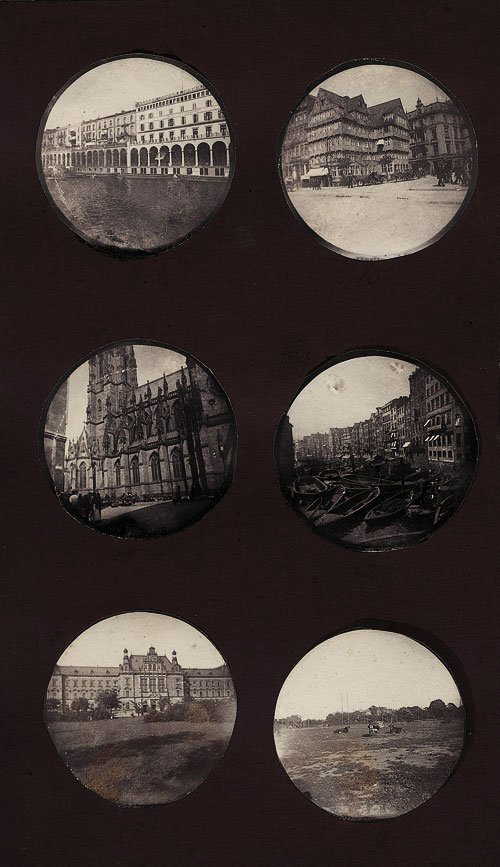 See Sold Price
Don't Miss Your Next Treasure.
Set up a search alert to hear when Cameras & Lenses items arrive.
Auction ended on June 21st, 2007 UTC
4505: Stirn''sche Patent Camera: Spy Camera
"Stirn'sche Patent Kamera" made 1886-1888, with company insignia, camera number No 7689 and patent number DRP 38391 engraved on back with company insignia.
One of the oldest spy cameras, this model was produced in Rudolf Stirn's small Berlin factory between 1886 - 1888 (10,000 cameras made). The camera was worn inside a vest, the lens being small enough to fit through a button hole. Pictures were then taken by pulling a thin thread attached to the shutter. - With: Album entitled: Sommer 1888 containing 76 round photographs taken using this camera showing views of Hamburg, some portraits and a short ship trip. - Camera in working order, some surface corrosion spots and surface rubbing on back, otherwise in very good condition.

Shipping
Buyer Pays Shipping Cost
Payment
Contact For Payment Details
Accepted payment methods
Taxes
Local Taxes Apply (only within the EU 7% Sales Tax)
Terms
Conditions of Sale 1. The Tilman Bassenge Photoauktionen GbR carries on business as commission-agent in its own name on behalf of its voluntary consignors. This auction sale is a public one in the sense of § 383 III BGB. 2. The auctioneer reserves the right to combine lots, to split lots or to withdraw lots before the actual final sale. 3. All objects put up for auction can be viewed and examined prior to the sale at the times made known in the catalogue. The items are used and sold as is. Catalogue descriptions are made with as much care as possible, but the descriptions do not fall under the statutory paragraph for guaranteed legal characteristics. The auctioneer is not liable for any defects. In case of a justified claim, however, he will accept the responsibility to make a claim for restitution on behalf of the buyer against the consignor within a period of 12 months, running from the fall of the hammer. In the event of a successful claim the auctioneer will refund the hammer price plus premium. 4. The highest bidder acknowledged by the auctioneer shall be deemed the buyer. In case of identical bids the buyer will be determined by drawing lots. In the event of a dispute the auctioneer has the absolute discretion to reoffer and resell the lot in dispute. He may also knock down lots conditionally. 5. In the case of a written bid the bidder commissions the auctioneer to place bids on his behalf during the auction. In cases where there is a discrepancy between number and title in a written bid the number shall prevail. 6. If a bidder applies to bid by phone (possible only for lots with an estimate of EUR 500,- or higher) then the bidder solely commissions the telephone operator to place bids with the auctioneer during the auction. The telephone operator is solely bound to the instructions of the bidder. Bids submitted through the internet (ebayliveauctions) in the lapse of time when the lot is called up by the auctioneer are treated accordingly. The auctioneer does not take any responsibility for technical failures or incorrect transmission. 7. On the fall of the auctioneer's hammer title to the offered lot will pass to the acknowledged bidder. The successful buyer is obliged to accept and pay for the lot. Ownership only passes to the buyer when full payment has been received. The buyer, however, immediately assumes all risks when the goods are knocked down to him. 8. A premium of 22.5% on the hammer-price and 7% VAT on the combined hammer-price plus premium will be levied. Buyers from countries of the European Union are subject to German VAT. Exempted from these rules are only dealers from EU-countries, who are entitled, under their notification of their VAT ID-Number, to buy on the basis of VAT-free delivery within the European Union. VAT ID-Numbers must be given to the auctioneer. For buyers from non EU-countries VAT will be exempted or refunded on production of evidence of exportation, or, if appropriate, importation to another country. These are taken for granted when the dispatch is effected by us. 9. In order to compensate claims of the Droit de Suite the buyer bears 1% of the hammer price on certain artistic photographs. 10. Auction lots will, without exception, only be handed over after payment has been made. Storage and dispatch are at the expense and risk of the buyer. Charges for dispatch, packing and insurance are billed separately. 11. The buyer is liable for acceptance of the goods and for payment. In case of delayed payment the purchaser will be held responsible for all resultant damages, in particular interest and exchange losses. In such an event the auctioneer reserves the right to annul the purchase contract without further notice, and to claim damages from the buyer for non-fulfillment, accordingly he can re-auction the goods at the buyer's expense. In this case the buyer is liable for any loss incurred, the buyer shall have no claim if a higher price has been achieved. He will not be permitted to bid. 12. The place of fulfillment and jurisdiction is Berlin. German law applies exclusively; the UN-Treaty (CISG) is explicitly excluded. 13. Prices attributed to lots are to be understood as estimates. 14. The after-sales is part of the auction in which the bidder places either by telephone or in written form (as stated in numbers 5 and 6) the order to bid a set amount. In the cases mentioned above the German law on Distant Sales ("Bestimmungen ueber Fernabsatzvertraege", §§312b - 312d BGB) do not apply. 15. By making a bid, either verbally in the auction, by telephone, written by letter, by fax, or through the internet the bidder confirms that he has taken notice of these terms of sale by auction and accepts them. Agents who act on behalf of a third party are jointly and separately liable for the fulfillment of contract on behalf of their principals. Should one or the other of the above terms of sale become wholly or partly ineffective, the validity of the remainder is not affected. In the event of a dispute the German version of the above conditions of sale is valid. Tilman Bassenge - Oeffentlich bestellter und vereidigter Kunst- und Buchversteigerer - attested public auctioneer ------- German: Versteigerungs-Bedingungen 1. Die Tilman Bassenge Photoauktionen GbR versteigert als Kommissionaer im eigenen Namen und fuer Rechnung ihrer Auftraggeber (Kommittenten), die unbenannt bleiben. Die Versteigerung ist freiwillig und oeffentlich im Sinne des § 383 III BGB. 2. Der Versteigerer behaelt sich das Recht vor, Nummern des Kataloges zu vereinen, zu trennen, ausserhalb der Reihenfolge anzubieten oder zurueckzuziehen. 3. Saemtliche zur Versteigerung kommenden Gegenstaende koennen vor der Versteigerung besichtigt und geprueft werden. Die Sachen sind gebraucht. Die Katalogbeschreibungen sind keine Garantien im Rechtssinne. Der Kaeufer kann den Versteigerer nicht wegen Sachmaengeln in Anspruch nehmen, wenn dieser seine Sorgfaltspflichten erfaellt hat. Der Versteigerer verpflichtet sich jedoch, wegen rechtzeitig vorgetragener, begruendeter Maengelraegen innerhalb der Verjaehrungsfrist von 12 Monaten ab dem Zeitpunkt des Zuschlags seine Ansprueche gegenueber dem Einlieferer (Auftraggeber) geltend zu machen. Im Falle erfolgreicher Inanspruchnahme des Einlieferers erstattet der Versteigerer dem Erwerber den Kaufpreis samt Aufgeld. 4. Der Zuschlag erfolgt nach dreimaligem Aufruf an den Hoechstbietenden. Der Versteigerer kann den Zuschlag verweigern oder unter Vorbehalt erteilen. Wenn mehrere Personen dasselbe Gebot abgeben und nach dreimaligem Aufruf kein hoeheres Gebot erfolgt, entscheidet das Los. Der Versteigerer kann den Zuschlag zuruecknehmen und die Sachen erneut ausbieten, wenn irrtuemlich ein rechtzeitig abgegebenes hoeheres Gebot uebersehen worden ist oder wenn der Hoechstbietende sein Gebot nicht gelten lassen will oder sonst Zweifel ueber den Zuschlag bestehen. 5. Im Falle eines schriftlichen Gebotes beauftragt der Interessent den Versteigerer fuer ihn waehrend der Versteigerung Gebote abzugeben. In schriftlichen Auftraegen ist bei Differenzen zwischen Nummer und Kennwort die Nummer massgebend. 6. Wuenscht ein Interessent telefonisch mitzubieten (erst moeglich ab Schaetzpreis von EUR 500,-), so beauftragt er ausdruecklich den im Saal anwesenden Telefonisten, seine Gebote an den Versteigerer, zum Zeitpunkt der Versteigerung, zu uebermitteln. Der Telefonist ist ausdruecklich an die Weisungen des Interessenten gebunden. Entsprechendes gilt fuer die unmittelbare, zeitgleiche uebermittlung von Geboten an Internet-Provider (ebayliveauctions). Die Tilman Bassenge Photoauktionen GbR uebernimmt keine Haftung fuer technische Maengel und fehlerhafte uebermittlung. 7. Mit der Erteilung des Zuschlages geht die Gefahr fuer nicht zu vertretende Verluste und Beschaedigung auf den Ersteigerer ueber. Das Eigentum an den ersteigerten Sachen geht erst mit vollstaendigem Zahlungseingang an den Erwerber ueber. 8. Auf den Zuschlagspreis ist ein Aufgeld von 22,5%, auf den Rechnungsendbetrag die Mehrwertsteuer von 7% zu entrichten. Von der Mehrwertsteuer befreit sind Ausfuhrlieferungen in Drittlaender (ausserhalb der EU) und - bei Angabe ihrer USt.-Identifikations-Nr. bei Auftragserteilung als Nachweis der Berechtigung zum Bezug steuerfreier innergemeinschaftlicher Lieferungen - auch an Unternehmen in EU-Mitgliedsstaaten, unter der Voraussetzung, dass sie fuer gewerblichen Gebrauch einkaufen. Alle anderen Kaeufer aus EU-Laendern unterliegen der Mehrwertsteuer. Auslaendischen Kaeufern ausserhalb der Europaeischen Union wird die Mehrwertsteuer erstattet, wenn binnen 4 Wochen nach der Auktion der deutsche zollamtliche Ausfuhrnachweis und der zollamtliche Einfuhrnachweis des entsprechenden Importlandes erbracht wird. Bei Versand durch uns gilt der Ausfuhrnachweis als gegeben. Waehrend oder unmittelbar nach der Auktion ausgestellte Rechnungen beduerfen wegen ueberlastung der Buchhaltung einer besonderen Nachpruefung und eventuellen Berichtigung (Irrtum vorbehalten). 9. Auf einige Originale von Lichtbildwerken seit Entstehungszeit 1900 leistet das Auktionshaus eine Folgerechtsabgabe (§ 26 UrhG) an die VG Bild-Kunst. Der Ersteigerer traegt von dieser Abgabe einen Anteil in Hoehe von 1% des Zuschlagspreises. 10. Die Auslieferung der ersteigerten Stuecke erfolgt in unseren Geschaeftsraeumen in der Erdener Strasse 5a in Berlin-Grunewald gegen Barzahlung. Die Aufbewahrung erfolgt auf Rechnung und Gefahr des Kaeufers. Der Versand wird ausnahmslos gegen Vorabrechnung des Rechnungsbetrages ausgefuehrt. Die Versandspesen sowie die Kosten fuer Versicherung gegen Verlust und Beschaedigung gehen zu Lasten des Kaeufers. 11. Der Zuschlag verpflichtet zur Abnahme. Der Versteigerer ist berechtigt, falls nicht innerhalb von drei Wochen nach der Versteigerung Zahlung geleistet ist, den durch den Zuschlag zustande gekommenen Kaufvertrag ohne weitere Fristsetzung zu annullieren, Verzugszinsen in bankueblicher Hoehe zu berechnen und von dem Ersteigerer wegen Nichterfaellung Schadenersatz zu verlangen. Der Schadenersatz kann in diesem Falle auch so berechnet werden, dass die Sache in einer neuen Auktion nochmals versteigert wird und der saeumige Kaeufer fuer einen Mindererloes gegenueber der vorangegangenen Versteigerung und fuer die Kosten der wiederholten Versteigerung einschliesslich der Gebuehren des Auktionshauses aufzukommen hat. Zu einem Gebot wird er nicht zugelassen, auf einen etwaigen Mehrerloes hat er keinen Anspruch. 12. Erfaellungsort und Gerichtsstand im vollkaufmaennischen Verkehr ist Berlin. Es gilt ausschliesslich deutsches Recht. Das UN-Abkommen ueber Vertraege des internationalen Warenkaufs (CISG) findet keine Anwendung. 13. Die im Katalog aufgefuehrten Preise sind Schaetzpreise, keine Limite. 14. Der Nachverkauf ist Teil der Versteigerung, bei der der Interessent entweder telefonisch oder schriftlich (im Sinne der Ziffern 5 und 6) den Auftrag zur Gebotsabgabe mit einem bestimmten Betrag erteilt. In den vorgenannten Faellen finden die Bestimmungen ueber Fernabsatzvertraege (§§312b - 312d BGB) keine Anwendung. 15. Sollte eine der vorstehenden Bestimmungen ganz oder teilweise unwirksam sein, so bleibt die Gueltigkeit der uebrigen davon unberuehrt. Tilman Bassenge - Oeffentlich bestellter und vereidigter Kunst- und Buchversteigerer - attested public auctioneer
Discover Items You'll Love

Bid Anywhere, Anytime. Download the LiveAuctioneers App.
Available on the App Store
Android App on Google Play