Carry On!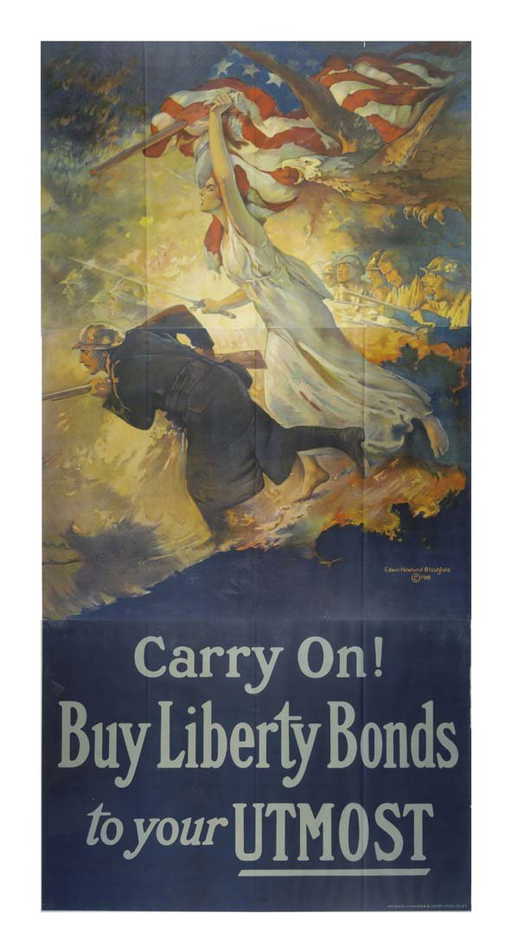 See Sold Price
Don't Miss Your Next Treasure.
Set up a search alert to hear when Advertisements & Signs items arrive.
Auction ended on June 30th, 2015 UTC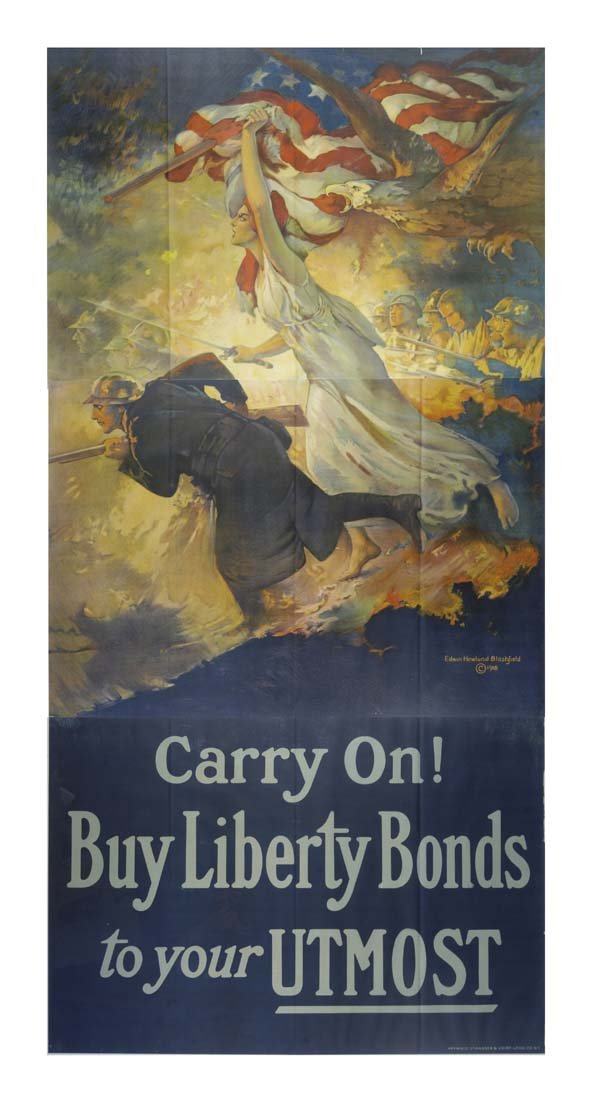 Edwin Howland Blashfield, 78"x39", USA, OF, PM-M 1st sheet and 2nd sheet,ST-T, WR-BR,Small tears in folds, invisible when pressed. Small circular marks in the middle fold on the last sheet.Three sheet, not joined.

Col. McCrahon Poster Collection Condition Guide

BT- Borders Trimmed

C- Creased

F- Faded Color

OF- Original Folds

LB-Linen Backed

PC- Poster Coated. In the 1920's, in preparation for various public exhibitions, a portion of the posters in this collection were protected with a clear coating. Unlike varnish (which tended to turn amber and brittle through the years) applied by some collectors many decades ago, the coating used on the Col. McCrahon posters remain clear and flexible. If anything, the coating has tended to intensify the original printed colors.

PM-Paper Missing

RE- Ragged Edge

SS- Slight Staining

ST- Small Tears

WD- Water Damage

WR- Wrinkled

VT- Visible Tears

Location of tears or ragged area:


B- Bottom

T- Top

M-Middle

L- Left Side

R- Right Side

Example- BT,RE-T,B = Borders Trimmed, Ragged Edge on the Top and Bottom.

In 1919, during the final stage of World War I, Colonel Edward H. McCrahon found himself in the devastated French village of Mieux. Among the war-scarred buildings, he came upon a Howard Chandler Christy poster nailed to a door depicting a smiling woman in a navy blue suit declaring "Yes, I wish I was a man, I'd join the Navy." McCrahon decided to take the poster as a souvenir and continued to collect more World War I posters over the next 16 years. By 1935 he had obtained thousands, making his Collection one of the largest privately-owned World War 1 poster collections in America. Today, the finest and most unique pieces in the Col. McCrahon Poster Collection are being offered at auction.


Although an American citizen, in 1915 Edward H. McCrahon joined the French Army working as an ambulance driver. He was released from French service in 1917 so that he was allowed to fight with the United States, who had just entered the war. Considering McCrahon's role in both the French and American militaries, respectively, it was no surprise that he chose to take the Howard Christy poster home with him from Mieux. When he first began actively collecting, he specifically sought out Allied posters created by French artists manufactured during the early stages of the war. As his Collection increased, he started to expand his scope, including prints from all the major nations in the war, both Allied and Central Powers. McCrahon would frequent antique shops and bookstores, searching for forgotten posters. He even went so far as to advertise in local newspapers. After 16 years compiling his Collection, Colonel McCrahon, along with his wife, made selected pieces of their poster collection public, exhibiting them in galleries, libraries, schools such as Middlebury College, and veteran groups such as the National Recovery Administration. Due to the rarity and delicacy of some of the prints in his touring exhibition, McCrahon mounted a number of posters on linen and coated them in a protective gloss finish of his own creation in order to preserve and protect them while they travelled. Many of the posters in the Collection also feature his initials "E.H.McC" on the back.


The size of McCrahon's World War I Poster Collection eventually landed him in John Hix's syndicated cartoon strip Strange as It Seems in 1935. By then, McCrahon had collected 3,000 posters from all over the world. In the February 2, 1936 issue of The Brooklyn Daily Eagle, McCrahon describes his assortment of posters as flaunting "catchy slogans and appeals from every vantage point in the world's cities, from lonely outposts of deserts, jungles and steppe, and in isolated villages." This fantastic Collection certainly represents one of the most complete compilations of World War I poster art. It features some of the most recognizable American and French posters, as well as those from countries as far away as China and Algeria. McCrahon's Collection also features posters by famed artists such as James Montgomery Flagg, Theophile Steinlen, Ludwig Hohlwein, and Howard Christy. The overwhelming themes of the Collection center on propaganda and military recruitment, but there are also advertisements for war loans and bonds, food rations, as well as appeals to join the Red Cross, YWCA, relief in the Near East, and for animal aid. Naturally, these wartime messages were represented in McCrahon's traveling collection in the 1930s. The posters served as a touring memorial for those who lived through the First World War, evoking the wartime sentiment that many had repressed as part of the nightmare, but also reminding the public of the nation's unity under one cause.

LINEN BACKING
Successful bidders will receive their posters in mylar sleeves. Most of the posters remain unbacked as they have always been in the McCrahon Collection. Some posters are linen-backed and are so indicated in the Condition Code provided.

M & W Graphics is a highly-regarded New York City poster restoration shop accustomed to providing museum-quality work. Guernsey's has worked with M & W in the past and can attest to that firm's expertise. M & W has agreed to linen back currently unbacked posters from the McCrahon Collection at a substantially discounted price. If you would like to take advantage of this service, please inform Guernsey's at the time you make arrangements to pay for and ship (or pick up) your posters. M & W's prices for linen backing for this event are: 1 sheet = $85 (this would be for a poster close in size to a standard 1 sheet measuring approximately 27" x 41"); 1/2 sheet = $65. Linen backing involves the use of only natural and archival materials; posters will be lightly cleaned with creases and folds pulled out. Naturally, more extensive work is available if necessary and buyers are free to contact M & W to discuss any such jobs they wish. M & W Graphics: 212-727-8320

SHIPPING
Over the years, Guernsey's has worked with many shippers. Currently we are recommending the services of a UPS-affiliated firm here in NYC that has consistently provided excellent shipping services at extremely fair rates. If you are a successful bidder and wish to have your purchases shipped, we will provide the contact info for this shipper although you are certainly welcome to use the services of any shipper you wish.
Discover Items You'll Love