9: RARE RADIGUET FRENCH PORTABLE STEAM ENGINE MODEL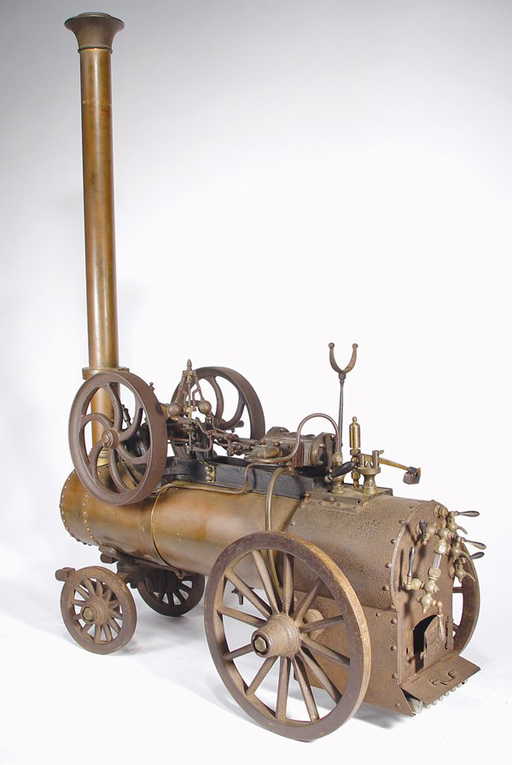 See Sold Price
Don't Miss Your Next Treasure.
Set up a search alert to hear when Home & Garden items arrive.
Auction ended on June 28th, 2007 UTC
9: RARE RADIGUET FRENCH PORTABLE STEAM ENGINE MODEL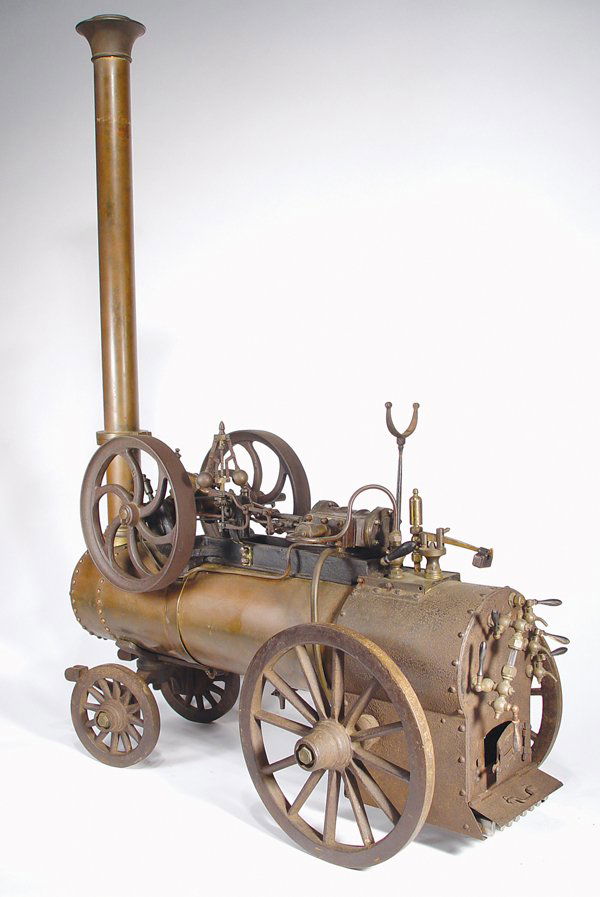 AN IMPORTANT, RARE LARGE RADIGUET FRENCH PORTABLE STEAM ENGINE BUILDER'S MODEL This circa-1895 live steam model is believed to be a one-off custom hand-built model by the French firm of Radiguet, built for the firm of Merlin et Cie, Vierzon, France. This highly detailed model incorporates appropriate scale and appointments built by Radiguet to museum standard. Details include a boiler top-mounted horizontal engine with a single brass cylinder of approximately 3/4" bore x 2 1/2" stroke, cylinder side-mounted valve chest with brass packing gland and butterfly valve from governor, the cylinder assembly with detailed heads and exhaust piping to smokestack and firebox. Other engine details include a forked connecting rod with pedestal-mounted piston rod and crosshead guide with ornate matching oiler, highly detailed crankshaft-driven eccentric strap and pump rod to a cylinder side-mounted ornate positive displacement boiler feed pump complete with check valves, adjustable packing gland, intake and output piping with output to boiler feed check valve, the 3/8" diameter crankshaft with center crank receiving connecting rod, large end brass adjustable bearing with matching oiler, twin cast frame-incorporated bearing pedestal with removable caps and matching oilers, crankshaft eccentric-driven valve rod with matching oiler, twin 53/4" diameter flywheels each with a 7/8" face and six beautifully orchestrated curvilinear spokes.
Finely detailed Watt-type pendulum governor with twin 1/2" diameter brass flyweights, the governor spring-loaded with beveled gears, top acorn finial, detailed drop arms and linkage, crankshaft belt-driven to a 7/8" diameter governor pulley, the working governor with linkage to steam chest butterfly valve. The engine complete and in excellent condition with matching oilers, each with removable threaded caps mounted on a heavy cast iron frame atop a heavy brass riveted 43/4" diameter locomotive design boiler. Boiler details include: a hinged fire door, hinged ash pit door, cast grates for coal or wood firing, three ornate water level valves each with wood handle, highly detailed water column with twin main column valves each with wood handle and blow-down valve with matching handle. The dry-leg firebox section of steel riveted to the 14 1/2" long brass boiler barrel. Other boiler details include a fill-plug, under-mounted main blow-down valve, inlet check valve, hinged 3" diameter smoke box door revealing internal crown sheet with single 1 1/4" diameter horizontal fire-tube flue, the protruding smoke box section with twin rows of brass rivets and top-mounted ornate 1 1/2" diameter x 4 1/2" chimney section with top-mounted two inch flange receiving a hinged 17" long x 1 1/2" diameter chimney with fluted chimney top all of brass construction hinged for lowering chimney to horizontal position with detailed firebox-mounted double tapered stanchion and yoke receiver. This feature is common on full-size portable engines for over road transport maintaining required height restrictions. Other fine boiler details include: an all-brass lever-operated firebox top-mounted steam whistle with a 3/8" diameter x 1" bell with acorn finial, lever and weight design safety valve, weight intact, hand lever throttle valve with wood handle, and numerous other fine details.
Under-carriage details include twin heavy cast 8" spoked wheels each with twelve concave, tapered spoke design and 1/2" wheel rim face, heavy firebox-mounted axle and detailed hubs with provision for removing wheels. The front steerable wheel section with twin 4" diameter heavy cast twelve-tapered spoke wheels each with 1/2" wheel face, highly detailed wheel hubs with provision for wheel removal, highly detailed cast steerable wheel axle and saddle with twin cast 3" brackets for attaching what would most likely be a pair of workhorses or other beasts of burden to pull the full-size approximately 8,000 lb. version.
The engine and boiler in original aged patina with unpolished brass all in what appears to be fine, working order, complete with exception of what would be approximately 3/4" diameter firebox-mounted steam gauge (Note: replicated model gauges available.)
It is believed to be the only known Radiguet builder's model of a portable steam engine extant. Dimensions: overall height to top of chimney extended - 30"; overall length - 22"; overall height to top of governor - 14"; overall height to top of flywheels - 13 1/4"; overall height to top of chimney yoke receiver - 14 1/2"; overall width over rear wheel shaft - 10 1/2". Estimated weight - 60 lbs. (See photos).

Discover Items You'll Love