lots of lots
Welcome to the world's largest marketplace for fine art, antiques & collectibles.
RARE HUBLEY DOORSTOP - "Asta", Art Deco Cast Iron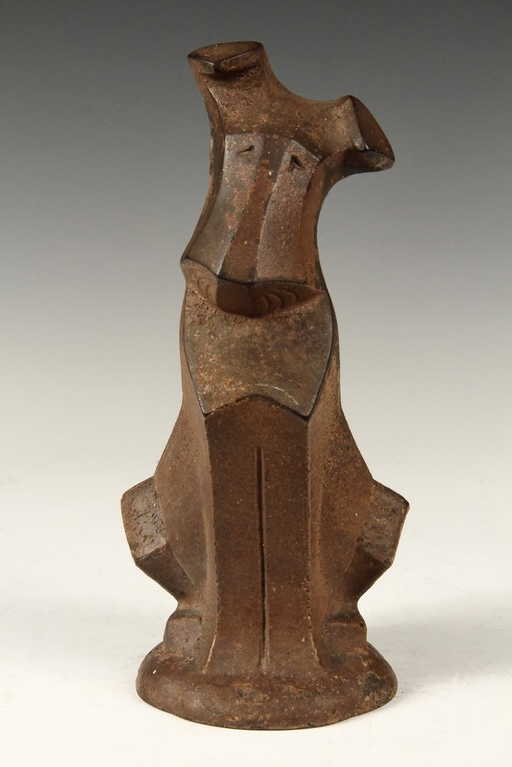 See Sold Price
Don't Miss Your Next Treasure.
Set up a search alert to hear when Hubley Manufacturing Company Doorstops items arrive.
Auction ended on August 30th, 2015 UTC
RARE HUBLEY DOORSTOP - "Asta", Art Deco Cast Iron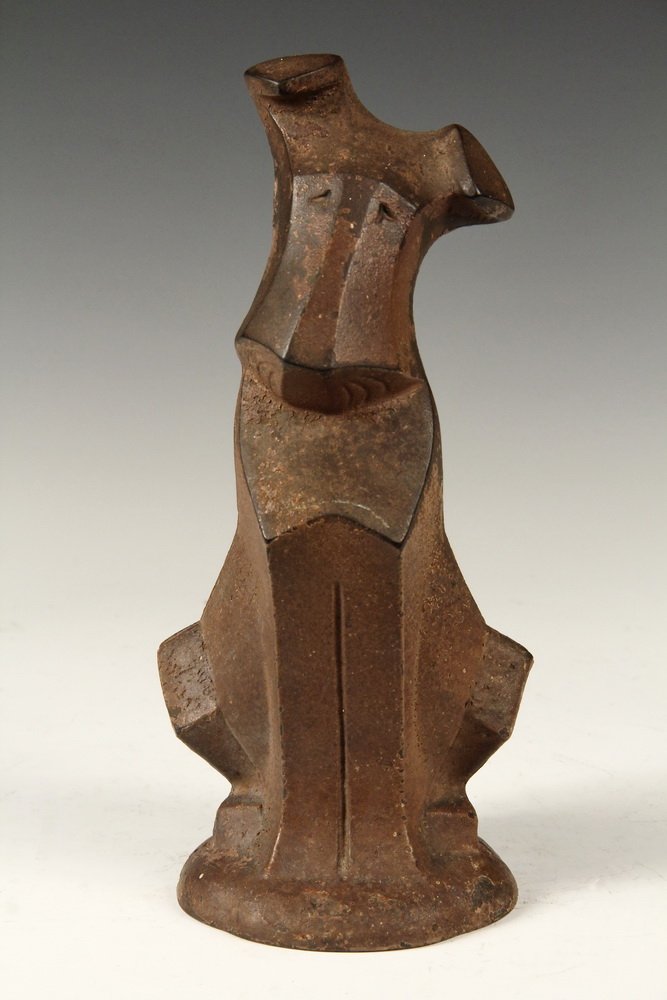 RARE HUBLEY DOORSTOP - "Asta", Art Deco Cast Iron Scottie Dog by Hubley, full-round, seated with the characteristic cocked head, maker marked on inside, in remnants of the original grey paint, 11" tall. Some corrosion. Even more rare than the cat mate to this piece.
Shipping
1) We have hired Global Packing Shipping (GPS) as our designated shipper. Shortly after the auction, you will receive an email from them with a quote for shipping. Quotes for shipping large items may take longer. For pre-auction quotes or other information please contact: Global Packing Shipping Phone: 207-596-2926 Email: globalmidcoast.com 2) Buyers are to pay GPS (or other shipper) directly for their services. Any damage or delivery issues (regardless of any assistance offered by TPAG) are between the buyer and GPS or other shipper chosen by the buyer. 3) Shipping will occur after all payments have been made. The shipper will have the most up-to-date shipping and tracking information. 4) Shipments will be insured for the full purchase price unless other coverage is requested. 5) Customers may make their own arrangements with a shipper other than GPS; however, there may be sales tax implications (see Sales Tax section). Your items will be released for shipping once full payment is received. 6) Items left at TPAG for more than 30 days after the date of the auction will be subject to a storage fee of 10 per dayper item unless prior arrangements have been made. 7) The inability to find an acceptable shipping option is NOT a reason for non-payment of an items full purchase price. 8) TPAG will not alter any catalog descriptions, or declare less than the full purchase price on any international customs paperwork. All international customs documents and costs are the responsibility of the buyer. 9) Those who choose to pick up their property from TPAG following the sale are requested to call 24 hours in advance to make arrangements.
Payment
Successful bidders will be notified by email, phone, fax or regular mail within 5 working days. Payment is expected within 7 days following notification. PAYPAL, cash, personal, business or certified checks and MasterCard, VISA, or American Express cards with proper identification. Bank wire transfers will be arranged upon request. A 15% buyer's premium will be added to the total sale price. TPAG reserves the right to hold merchandise until check payments clear.
Accepted payment methods
Terms
Before you participate in this auction, it is important that you read Thomaston Place Auction Galleries (TPAG) Terms and Conditions. Bidding is an indication of your acceptance of and agreement to all terms and conditions stated herein, including any changes/supplements added to the catalog, posted on our website, or posted in the auction gallery, without exception. Acceptance of these terms and conditions constitutes a legal and binding contract and will be executed without exception. If you have any questions, please be sure to seek clarification before you bid. TERMS AND CONDITIONS 1) Bidder recognition: The auctioneer shall only accept bids from properly registered bidders who may place bids live on the auction floor, by absentee bid, telephone bid, or online bid. The auctioneer shall acknowledge the top bidder as the winner. Successful bidders must pay in full for any and all lots won. In the event of a disputed bid, the auctioneer will have sole and exclusive authority to resolve the dispute and determine the winning bidder. 2) The auctioneer has sole discretion and reserves the right to: a. Reject or refuse to accept any bid or bidder that may be deemed inappropriate for any reason. b. Pass/withdraw any items in the auction which do not open at a price commensurate with the items? value. c. Open the bidding and bid up to, but not exceed, the reserve or opening bid amount on behalf of the seller. 3) Anyone 18 years of age or older and of good creditworthiness (as determined by TPAG), may bid at this auction, including the auction staff. 4) Bidding on behalf of others: Unless you are registered as a buyer?s agent prior to the start of the auction and we have written authorization from your buyer naming you as his/her appointed bidder, you are responsible for all the purchases under the terms and conditions of this bidding agreement. 5) Buyer's Premium: There will be a 15% buyer?s premium assessed for live, absentee, and phone bidders and an 18% buyer?s premium assessed for internet bidders on all items purchased in this auction. 6) Reserves: Some items in this auction may be offered subject to a reserve, which is a confidential, minimum price, below which the item cannot be sold. No reserve may exceed the pre-auction low estimate as stated in the item description. 7) Any dispute or litigation resulting from the sale of items in this auction will take place in the judicial system in the State of Maine. BIDDER REGISTRATION 1) Live Bidders: May register to bid any time during auction preview, and up to and during the auction. Unless you have previously registered with us, you will need to furnish at least one form of valid state or government issued identification. Your signature will be required to indicate acceptance of the Conditions of Sale. 2) Telephone and Absentee Bidders: May register in person, by fax, phone or email. Every bidder is required to provide complete contact information and a valid credit card number securing the bid, and acceptance of the terms and conditions of the auction. 3) Online Bidders: Must follow the registration steps required by the applicable bidding platform and are subject to both the terms and conditions of the online bidding company AND TPAG. 4) Telephone and absentee bids: a. Arrangements for these bids should be in our possession by 5:00 PM the day before auction in order to be properly processed. Bids on items less than $500 must be executed as absentee bids unless otherwise approved. Bids on items over $500 may be executed as either absentee or phone bids. b. Telephone, absentee, and online bidding are offered as a convenience to our clients. In the event that a bid is not executed as was intended by any bidder, neither TPAG nor any of its agents will be held liable for any actual or perceived losses. PAYMENT 1) Successful live bidders are expected to pay in full for all purchases immediately following the auction, including hammer price, buyer?s premium and applicable sales tax. 2) Successful absentee, phone, and online bidders will be notified of their purchases by email, phone, fax, or regular mail within 5 business days of the auction. Payment is due upon receipt of notification. Payment for packing and shipping is covered under the ?Shipping? section. 3) All payments must be in US Dollars. 4) Attention online bidders: Any items you have won during auction will not be available for pick-up until the first business day after the auction. 5) We accept payments in cash, by personal, business, bank or cashier?s check, Visa, MasterCard, Discover, American Express or PayPal and bank wire transfer. Payments in excess of $50,000 must be made by wire transfer unless otherwise approved. For international buyers, for payments in excess of $5,000, checks drawn on US banks or by wire transfer is preferred. 6) In the event payment in full is not received within 15 days from the date of the auction, any outstanding amounts will be charged to the credit card on file. 7) No items will leave TPAG until payment arrangements are finalized. 8) TPAG reserves the right to hold all merchandise until payments clear our bank. WARRANTY INFORMATION 1) Thomaston Place Auction Galleries makes every attempt to uphold the highest standards in the auction industry. Our goal to consistently deliver the highest level of products and services to our customers. Our catalog descriptions represent what we have deemed appropriate to identify each object. 2) It is the bidder's responsibility to inspect, research, and determine the authenticity of all items on which bids are placed. Determination of age, materials, condition, quality, authenticity, classification, purported history and perceived value, regardless of what is written or said by TPAG, are the sole responsibility of the bidder/buyer. 3) If you believe an item is incorrectly portrayed in our catalog, DO NOT BID ON IT. 4) Items may be considered for return under very specific conditions as outlined below: In the event we have made a significant attribution or disclosure of restoration error, such that the bidder has cause to be damaged as a result, we will review under the following circumstances: i. buyer must have paid for and taken possession of the item. ii. The buyer must, at his/ her own expense,have the item reviewed by an independent party who is approved by TPAG, and is a recognized expert within the field of the item in question. iii. The expert must provide a written report with specific and detailed reasons as to why the item is not as it was represented to be. The written report must be submitted to TPAG. iv. The timeline for this process is 30 days from the date of the auction. In the event a committee or review board must convene to review the item, TPAG must be notified in order to extend the time beyond the 30 day limit. Otherwise, after 30 days, ALL SALES ARE FINAL. v. Once TPAG has accepted the ruling of the expert/s, the buyer is to return the item to TPAG at buyer?s expense. In order to be eligible for a refund, the item must be returned in the same condition it was when it left our possession. Upon return of the item, TPAG will inspect the item, in order to make this determination. vi. In the event a refund is issued, an administrative processing fee of 3% will be deducted from the refund. The refund will be in the same form as the payment of the original transaction. 5) Timepieces: All timepieces are sold as-is and may require servicing. BREACH OF PURCHASE 1) Buyers must pay in full for any and all lots won at our auctions. If the buyer fails to pay the total purchase price for all items for which he/she was the highest bidder within 30 days from the auction date, TPAG may exercise any and all legal remedies including but not limited to; a. Retaining the services of a collection agency with any collection fees being charged to the buyer. b. Reoffering the bidder's items at auction without reserve and holding the buyer responsible for any deficiencies and processing fees. c. Reporting the buyer?s name to any auction firm that inquires regarding creditworthiness. d. Restricting the buyer from future bidding at TPAG. 2) All returned checks will be assessed a $25.00 processing fee.
Discover Items You'll Love

Bid Anywhere, Anytime. Download the LiveAuctioneers App.
Available on the App Store
Android App on Google Play