lots of lots
Welcome to the world's largest marketplace for fine art, antiques & collectibles.
George Platt Lynes, Richard Kroemer, 1947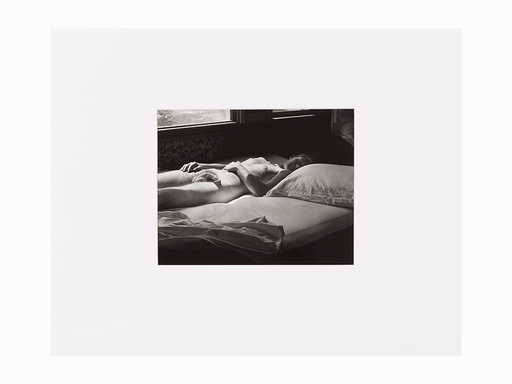 See Sold Price
Don't Miss Your Next Treasure.
Set up a search alert to hear when Auctionata U.S. lists new auctions.
Discover Related Items Available Now
Auction ended on August 27th, 2015 UTC
George Platt Lynes, Richard Kroemer, 1947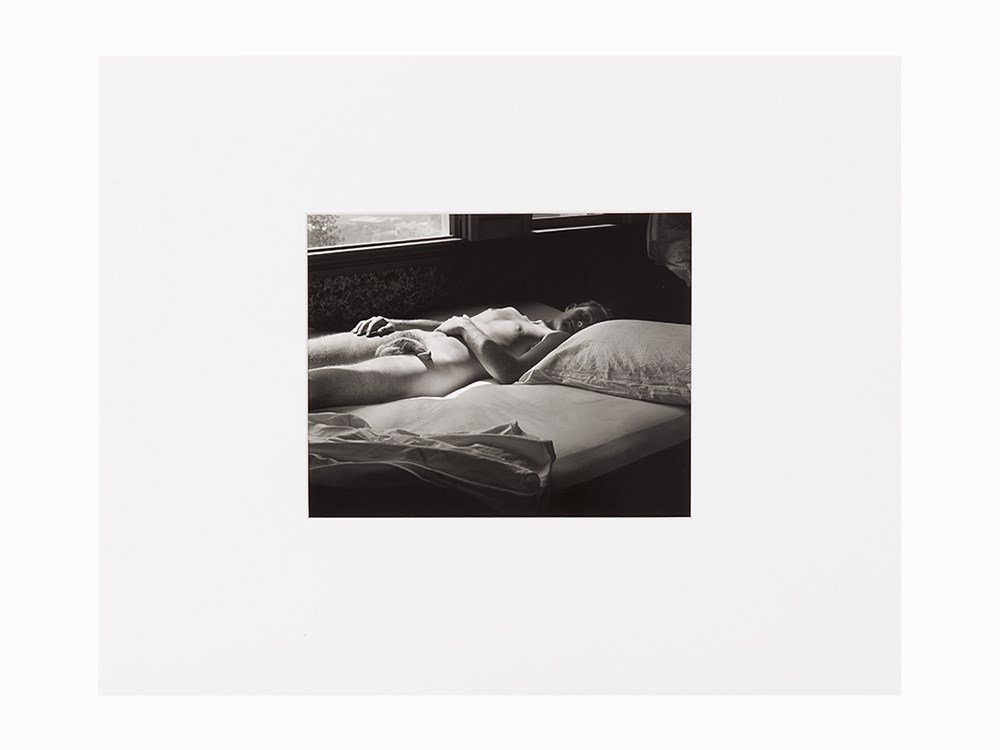 Gelatin silver print
USA, 1947, printed 2010
George Platt Lynes (1907-1955) American fashion and commercial photographer
A printers proof, aside from an unknown edition size
With printers and George Platt Lynes Foundation stamps verso
Printed by the Kinsey Institute, Indiana
Matted
Image dimensions: 9 7/8 x 10 in. (25.1 x 25.4 cm.)
Sheet dimensions: 11 x 14 in. (27.9 x 35.6 cm.)
Overall dimensions: 16 x 20 in. (40.6 x 50.8 cm.)
Good condition
Condition
Pencil inscriptions verso. Minor emulsion loss upper left corner and lower right margin. Fingerprint visible under raking light, lower center margin. Otherwise good condition.
George Platt Lynes (American, 1907-1955)
Self-taught photographer George Platt Lynes is most famous as a fashion and commercial photographer. Lynes shot many fashion photographs for clients such as Bergdorf Goodman and Saks Fifth Avenue and his celebrity portraits in Vogue and Harpers Bazaar created enough interest in his work that in 1933 he opened his own studio in New York. Throughout the 1930s his commercial success in portraiture and as a fashion photographer continued, including a collaboration with George Balanchines American Ballet company. Beginning in 1934, Lynes created one of the finest photographic documents of the great company, its productions and dancers. His first exhibition was held in 1933 by the Julian Levy Gallery, New York, and since then his works have been exhibited in galleries and museums in numerous cities.
Shipping costs excl. statutory VAT and plus 2,5% (+VAT) shipping insurance.
Shipping
Buyer is responsible for shipping costs
Payment
Contact For Payment Details
Accepted payment methods
Terms
Conditions of Sale The following Conditions of Sale govern the terms upon which Auctionata, Inc. ("Auctionata") and the Seller contract with the bidders and buyers. These conditions may be amended by notices posted on our website or by oral announcements made during the sale, whether at auction or via the Online Shop. All prospective buyers should review these Conditions of Sale carefully before bidding at auction or making offers via the Online Shop. Auctionata may be referred to in these Conditions of Sale as "we", "us", and "our"; bidders and buyers may be referred to as "you" and "your". 1. Introduction 1.1 All Property offered for sale and sold is subject to (a) these Conditions of Sale; (b) additional notices and terms posted in other places on our website; and (c) supplements to these Conditions of Sale and additional notices and terms in other places, in each case as amended by any addendum or announcement we make prior to or during any sale of the Property. 1.2 Auctionata will offer the Property for sale as agent for the Seller, unless otherwise indicated prior to or during the sale. 1.3 By bidding at auction or making an offer via the Online Shop, whether directly, through an agent, by written bid, by telephone bid or any other means permitted under these Conditions of Sale by us, bidders and buyers agree to be bound by these Conditions of Sale, as may be amended or supplemented. 1.4 These Conditions of Sale, as so amended or supplemented, contain all the terms on which Auctionata and the Seller contract with the buyer. 2. Descriptions and Condition of the Property 2.1 Property offered for sale is subject to the Limited Warranty as described in Section 12 of these Conditions of Sale, unless the description is amended or supplemented, as provided in Section 1. We do not provide any guarantee with respect to the Property except as otherwise provided under the Limited Warranty. The Property is sold "As Is." 2.2 Property is offered in the condition that it is in at the time of sale on the following basis: (a) You acknowledge and accept that our knowledge in relation to any Property is dependent, in part, upon information provided to us by the Seller, and we are not able to and do not carry out exhaustive due diligence on all Property. Notwithstanding the foregoing, we shall exercise reasonable care when making express statements about the Property. (b) All lots are available for inspection upon request and we encourage you to inspect the Property before making an offer or bidding. We accept bids and offers on the basis that you have inspected the lot prior to the sale and have satisfied yourself with respect to the condition of the Property and the accuracy of its description. (c) All statements we make with respect to the Property (whether oral or written, in any auction catalogue, Online Shop description, condition or other report, commentary or valuation, or elsewhere) are statements of opinion and are not to be relied upon as statements of fact. The opening bid for Property offered for sale at auction ("Starting Price") and the listed sales price for Property offered for sale via the Online Shop ("Offering Price") may not be relied on as a statement of the value of the Property or of any opinion of the value of the Property. We and the Seller shall not be liable for any difference between the Starting Price or Offering Price for any Property, and the actual price the Property is sold. (d) Descriptions of the Property may refer to particular damage, defects, imperfections, or restoration. Such references are for guidance only. The absence of any such reference shall not imply that an item is free from particular characteristics or any other faults not expressly referred to in any description. All dimensions are approximate. Illustrations are for identification purposes only and should not be used as precise indications of size or to convey full information as to the actual condition of the Property. We and the Seller are not responsible in any way for errors and omissions in any descriptions, or in any supplemental material concerning the Property. Descriptions and statements concerning the Property are further subject to our Limited Liability, as described in Section 11. 3. Bids and Offers 3.1 Prospective Buyer Registration and Participation Whether intending to purchase Property for sale at auction or via the Online Shop, you must register and provide identification prior to making an offer in the Online Shop or bidding at auction. We have absolute discretion to refuse your participation in any sale of the Property. In addition, we have absolute discretion to reject any offer or bid that you make 3.2 Prospective Buyer's Liability If you make a bid at auction or an offer in the Online Shop you accept personal liability to pay the Purchase Price as described in Section 4.1, and all applicable charges, including, but not limited to, shipping, storage, and insurance, unless otherwise explicitly agreed in writing with you or other individual acting on behalf of an entity or other identified third party acceptable to us, and that we will only look to the principal for payment. 3.3 Absentee Bids at Auction You may ask us to execute bids at auction on their behalf ("absentee bid"), which shall be subject to the following: (a) We have sole discretion to accept or reject any request to execute an absentee bid, and we may cancel any such bid placed up until the winning bid is accepted. We will not accept unlimited absentee bids from you. (b) We must receive requests for absentee bids at least 24 hours in advance of the auction. (c) Arranging and executing absentee bids is a free service that we provide to you. While we will exercise reasonable care in undertaking such activity, we do not accept liability for failing to execute an absentee bid, or for errors and omissions in connection with it. (d) Absentee bids are restricted to the Property and to the maximum bidding price for such Property that you specify in writing. The maximum bidding price is the maximum price you authorize us to bid, and if accepted as the winning bid, it will be included in the Purchase Price that you agree to pay for the Property. The maximum bidding price shall not be lower than the Starting Price and shall only constitute the Purchase Price (i.e., ultimate winning bid price), excluding the buyer's premium, costs of shipping and shipping insurance, any artists' rights royalty or applicable sales taxes. We shall charge for these additional costs and expenses separately. We will only bid up to the maximum bid price if there is another bidder. If no one else bids on the relevant Property, your bid will automatically be accepted at the Starting Price. (e) In the event that we receive identical absentee bids, the earliest one that we receive will take precedence. (f) If, despite having submitted an absentee bid, you wish to bid simultaneously in person (i.e., in the virtual auction room), or by telephone, for example, you must notify us in writing at least 24 hours before the commencement of the auction. In such case, we will treat the notification as a cancellation of the purchase order, which may be subject to a cancellation fee. Should you fail to notify us in accordance with the preceding sentence, we shall have the right to comply with the purchase order. (g) If any absentee bid results in the winning bid, you agree to enter into a purchase agreement resulting from that bid. 3.4 Telephone Bids at Auction You may ask us to execute bids at auction on your behalf by telephone ("telephone bid"), which shall be subject to the following: (a) Telephone bidding is available only for lots whose Estimated Value is at least $1,000. We have sole discretion to accept or reject any request to execute a telephone bid, and we may cancel any telephone bid up until the winning bid is accepted. (b) Arranging and execution of telephone bids is a free service that we provide to you. While we will exercise reasonable care in undertaking such activity, we do not accept liability for failing to execute a telephone bid, or for errors and omissions in connection with it. (c) We must receive requests to bid by telephone at least 24 hours before the auction begins. You may cancel your telephone bid at least 24 hours before the auction begins. If you cancel less than 24 hours before the auction begins, or after he auction has begun, we may charge a cancellation fee. Any cancellation must be made in writing. (d) Before the auction begins, we will attempt to contact you by telephone at the contact number you provide when you register. If we are unable to contact you after reasonable efforts to do so, we will execute your bid as if it was an absentee bid, and we will place bids up to the Starting Price. If no one else bids on the specified Property, your bid will automatically be accepted at the Starting Price. (e) The winning bid, even if at the Starting Price, shall constitute the Purchase Price, excluding the buyer's premium, costs of shipping and shipping insurance, any artists' rights royalty or applicable sales taxes. We shall charge for these additional costs and expenses separately. (f) We reserve the right to require written confirmation of a successful bid from a telephone bidder immediately after the bid is accepted. Telephone bids may be recorded, and by bidding by telephone, you consent to the recording of the conversation. 3.5 Employee Bidding Employees of Auctionata may bid at auction or submit an offer via the Online Shop by placing absentee bids provided that they do not know the reserve when submitting their absentee bids and otherwise comply with out employee bidding procedures. 3.6 Reserves & Sales at Auction (a) All Property offered at auction will be sold subject to a reserve, which unless we announce otherwise, the auctioneer will use as the Starting Price for bids at auction. The reserve will not exceed the Estimated Value of the Property as stated in the auction catalogue. (b) Subject to our discretion as otherwise described in these Conditions of Sale, the bidder who places the highest bid will be the buyer, and the striking of the auctioneer's hammer marks the acceptance of the highest bid and the conclusion of a contract for sale between the Seller and buyer. If there is only one bid for the Property during the auction, the winning bid price shall be the Starting Price. If there are no bids received before or during the auction, we can offer the Property for sale via the Online Shop for a post- auction sale. Any such post-auction sale in the Online Shop shall incorporate these Conditions of Sale. Risk and responsibility for the lot passes you as set forth in Clause 4.4 below. (c) The final sales price for Property sold at auction shall consist of the following: winning bid price, buyer's premium, costs of shipping to the buyer, shipping insurance, any artists' rights royalty, and sales taxes, if applicable 3.7 Offering Price & Sales via the Online Shop (a) The Offering Price for any Property offered for sale via the Online Shop is comprised of the following: Estimated Value, buyer's premium, costs of shipping to the buyer, shipping insurance, and any applicable sales tax. (b) You have the opportunity to submit to us a counteroffer to the Offering Place, which we shall be entitled to accept or reject in our discretion, or as otherwise agreed by Auctionata and the Seller. (c) The final sales price for Property sold via the Online Shop shall consist of the Offering Price, or the counteroffer that we accept. 3.8 Certain Discretionary Matters (a) In addition to the discretion otherwise described in these Conditions of Sale, we have absolute discretion at any time to reject any offers or bids, advance the bidding, withdraw or divide any lot of Property, combine any lots of Property, cancel the sale, or re-offer and re-sell the Property (including after we accept your offer to purchase Property in the Online Shop, or after the fall of the hammer for Property bid at auction) if we believe there is or may be error or dispute, and we may take such other action we deem reasonably appropriate. We shall have no liability whatsoever for any such action taken by our employees conducting the sale of Property at auction or via the Online Shop. (b) The individual with the highest offer or bid that we acknowledge will be the buyer. Notwithstanding the preceding sentence, in the case of error or dispute with respect to bidding, whether during or after the sale, we may determine the successful bidder. Should any dispute arise after the sale, our sale record is conclusive. 4. Payment and Transfer of Title 4.1 Terms of Payment Immediately following the sale of Property sold at auction or via the Online Shop, but no later than three business days after the sale, unless we otherwise agree, you are required to pay us the Purchase Price in full. You must confirm and provide us with your name, address, identification and any other information we request from you, including, but not limited to, applicable credit card information and details of the bank from which payment will be made. 4.2 Method of Payment Payment shall be made to us by either check, wire transfer, or for purchases of $10,000 or less by credit card or PayPal. For wire transfer, payment must be made according to the following details: Commerzbank AG 225 Liberty Street New York, NY 10281-1050 Swift-Code: COBAUS3XXXX ABA routing: 026008044 For the Account of: Auctionata, Inc. Account No.: 150112363700 4.3 Compensation of Third Parties We reserve the right to pay from our compensation an introductory commission to one or more third parties for assisting in the sale of Property sold at auction and offered via the Online Shop. 4.4 Transfer of title Title in any purchased Property will not pass to you until we receive the Purchase Price in full and cleared funds. We are not obligated to release Property to you until title has passed and you have provided appropriate identification. Any earlier release of the Property shall not affect the passing of title or your obligation to pay the Purchase Price. 5. Collection of Property 5.1 Release of Property We will not release any Property to you until we have received full and cleared payment of the Purchase Price, any outstanding amounts you owe us, and you have satisfied such other terms as we in our sole discretion shall require, including, but not limited to, appropriate identification from you or your authorized representative. Subject to your satisfying all of the foregoing conditions, you shall be responsible for collecting the purchased Property within five business days after Auctionata's receipt of good, cleared funds, unless we otherwise agree in writing. 5.2 Assistance with Collection We will, upon your request and at your expense, either provide packing, handling, insurance and shipping services or coordinate with shipping agents instructed by the buyer, to help facilitate such services for the purchased Property. Any such instruction, whether or not made at our recommendation, is entirely at your risk and responsibility, and we will not be liable for acts or omissions of third party packers and shippers. 5.3 Failure to Collect If you fail to collect the purchased Property within five days after the date of the sale, even if we otherwise agree in writing that the Property may remain at our facility for longer than five days, we may charge storage fees with respect to the Property, as further described in the current Overview of Fees, which may be found on our website. We may also charge handling, insurance, and any other costs incurred with respect to purchased Property that is not collected within five days after the sale. 5.4 Resale of Uncollected Purchases If purchased Property is paid for but not collected within three months of the sale, you authorize us , upon notice to you, to arrange a resale of the item, at auction, via the Online Shop, or by private sale, with Estimated Values and reserves to be set at our discretion. The proceeds of the sale will be applied to pay for storage charges and any other outstanding costs and expenses owed to us, and the remaining amount will be deemed abandoned by you unless you collect it within two years after the date of the sale. 6. Export and Import Licenses, Permits 6.1 Unless we otherwise agree in writing, you must pay the Purchase Price in the required time-frame explained in Section 4, and you must collect the Property as explained in Section 5 regardless of any intention to obtain or delay in obtaining an export or import license or other permit for such Property. 6.2 If you are considering the export or import of purchased Property, you should familiarize yourself with relevant regulations of the countries concerned prior to making an offer or submitting a bid. It is solely your responsibility to comply with these laws and to obtain any necessary licenses or permits. Failure to obtain a license or permit, or delay in doing so, will not justify cancellation of the sale, or relieve you from your obligations under these Conditions of Sale, including to timely pay the Purchase Price and collect the purchased Property. 6.3 We may charge interest on any late payment, and storage charges for any Property not timely collected. We shall not be obliged to cancel a sale or refund any interest or other expenses you incur under circumstances where an export or import license or other permit is required. 7. Transfer of Risk Risk and responsibility, including insurance, for Purchased Property passes to you on (i) the date you collect the Property from us (or the date we deliver it to you, if we according to this Section 5, provide shipping services), or (ii) five business days after the sale, whichever is earliest. Until risk passes, we will compensate you for any loss or damage to the purchased Property up to a maximum of the Purchase Price paid, subject to our exclusions for loss or damage to the Property under our insurance policy Risk and responsibility for any Property passes you when we received full and cleared payment from you or when you collect the Property from us, whichever is earlier. 8. Non-Payment by Buyer If you fail to make payment in full and cleared funds pursuant to Section 4 of these Conditions of Sale, we shall be entitled, in our absolute discretion, to exercise any or all of the following rights or remedies, in addition to asserting any other rights or remedies available to us by law: (a) cancel the sale and (i) resell the Property on terms we deem appropriate, at auction, via the Online Shop, or by private sale (it being understood and you acknowledge that you will remain liable for any shortfall between the total amount originally due to us and the price obtained upon resale, together with all costs, expenses, damages, legal fees, commissions, and premiums of whatever kind associated with all sales or otherwise arising from the default), or (ii) return the Property to the Seller; (b) hold you liable for the total amount due and commence legal proceedings to recover the amount, together with interest, legal fees, and costs to the fullest extent permitted by law; (c) where you owe us several amounts with respect to several transactions, apply any amount paid to discharge what is owed for any particular transaction; (d) set off the outstanding amount you still owe us against any amounts which we may owe you in any other transactions; (e) pay the Seller the amounts due from you up to the net proceeds payable, in respect of the amount of your offer or bid for the Property (it being understood and you acknowledge that in this circumstance, we shall have all of the rights of the Seller, however arising, to pursue you for the amount); (f) reject future bids and offers from you or render such bids and offers subject to payment of a deposit; (g) charge interest at such rate as we shall reasonably decide; (h) exercise all the rights and remedies of a person holding security in the purchased Property and in any property or money you own that is in or is coming into our possession (whether by pledge, security interest, or any other manner), to the fullest extent permitted by law, including, but not limited to, the Uniform Commercial Code. You shall be deemed to have granted such security to us and we may retain such property as collateral security for your obligations to us; and (i) take such other action as we deem necessary or appropriate. 9. Cancellation 9.1 We shall have the right, but not the obligation, to cancel a sale without notice to you if: (a) we reasonably believe that there is a material breach of the Seller's representations and warranties, or of the Limited Warranty described under Section 12; (b) where we believe the sale is or may be unlawful; (c) we determine in our sole judgment that the sale of the Property has subjected or may subject us and/or the Seller to any liability to anyone else or may damage our reputation; or (d) an adverse claim is threatened or made by a third party. 9.2 Upon notice of our election to cancel the sale, you shall promptly return the Property to us, and we will then refund the Purchase Price you paid. As described more fully in Section 12, the refund shall constitute your sole remedy and recourse against us and the Seller with respect to such canceled sale. 9.3 For purposes of this Section 9 and the terms throughout these Conditions of Sale, "cancel" shall include cancellation, rescission, and termination under the Uniform Commercial Code. 10. Data Collection and Privacy In connection with the management and operation of our business, or as required by law, you agree that we may collect, store and process your personal information, whether obtained from you or a third party permitted by law. [If we obtain information that is defined as "sensitive," you agree that we may use it for the above purposes. We will not use or process sensitive information for any other purpose without your express consent.] We will keep your personal information confidential in accordance with our privacy policy, which may be reviewed on our website. 11. Limited Liability Our liability is subject to the following terms, and as may be described elsewhere in these Conditions of Sale: (a) We agree to refund the Purchase Price in the circumstances explained in Section 12. In addition, and subject to the terms of this Section 11, the total liability of us and the Seller to you in connection with the sale of any Property shall be limited to the Purchase Price actually paid for the Property. Otherwise, we (including our officers, employees or agents) and the Seller are not responsible for: (i) the correctness of any statement of any kind concerning any Property, whether written or oral, (ii) any other errors or omissions in descriptions concerning any Property, whether written or oral; or (iii) any faults or defects in any Property. (b) Except as stated in Section 12, we (including our officers, employees, or agents), and the Seller do make no representations, warranties, guarantees, or assume liability of any kind, whether express or implied with respect to the Property (including, but not limited to, merchantability, fitness for a particular purpose, description, size, quality, condition, attribution, authenticity, rarity, importance, medium, provenance, exhibition history, literature or historical relevance, or as to whether the buyer acquires any copyrights or other such reproduction rights in the Property), and no statements regarding the Property shall be deemed such a warranty, representation, guarantee or assumption of liability. (c) We shall not be liable for the timely and correct submission of offers or bids, including where technical problems may arise. We shall assume no liability whatsoever for the permanent availability of our website. (d) Where technical problems prevent the continuation of a sale at auction or via the Online Shop, the following shall apply: (i) If Property is not sold prior to the technical problem arising, the Property will be offered for sale at a later point in time that we will determine and specify on our website or on any other website we operate [one week in advance] of the date the Property will be re-offered for sale at auction or via the Online Shop. (ii) All winning bids that were made before the arising of the technical problems shall remain valid. (e) We offer no guarantees that the Online Shop will be permanently available. (f) We accept no liability should our website be (i) limited in its functionality or operation for any reason including our need to perform maintenance work or technical security measures, and (ii) destroyed as a result of unforeseen events beyond our control, including but not limited to, strikes, war, armed conflict, acts of terrorism, acts of God, system malfunction or other external factors. Auctionata shall not be liable for loss or damage incurred through the lack of usability or inaccessibility of our website. (g) We accept no liability for the unauthorized access to our website and to personal data collected and processed on it, unless we willfully or through gross negligence failed to protect the data against access. 12. Limited Warranty Subject to the terms and conditions of this Section, we warrant the authorship, period, culture or origin (collectively, "Authorship") of Property offered for sale at auction and via the Online Shop for a period of 25 years from the date of the sale, as amended by oral or written notices and announcements we make, and subject to the exclusions and limitations set forth below: (a) We warrant the authorship only to the original buyer of record (i.e., the registered successful purchaser) of any Property, and the original buyer must have remained the owner of the Property without disposing of any interest in it to any third party. (b) This warranty is not assignable and does not extend to: (i) subsequent owners of the Property, including purchasers or recipients of the Property by way of gift from the original buyer, heirs, successors, beneficiaries and assigns; (ii) Property where the description in the Online Shop or auction catalogue states that there is a conflict of opinion about the authorship of Property; (iii) Property where our attribution of authorship was on the date of sale consistent with the generally accepted opinions of specialists, scholars, or other experts; (iv) Property where the description and identification of the Property in our Online Shop or in the auction catalogue is proved inaccurate by means of scientific methods or tests not generally accepted for use at any time during which we offered the Property for sale, or which at such time we deemed those means and tests to be unreasonably expensive or impractical, or to use them would likely in our reasonable opinion have caused damage or loss in value of the Property; or (v) there has been no material loss in value of the Property from its value had the circumstances in the previous subparagraph (iv) not occurred and the Property would have otherwise been accurately described and identified. (c) In any claim for breach of this warranty, we reserve the right, as a condition to cancelling any sale under this warranty, to require you to provide to us, at your expense, the written opinions of two recognized experts that we approve in advance. We shall not be bound by any expert report produced by you and we reserve the right to consult our own experts at our expense. If we agree to cancel a sale under this warranty, we shall refund to you the reasonable costs charged by the pre-approved experts that you commissioned. (d) Subject to the exclusions set forth in paragraph (a) and (b) above, you may bring a claim for breach of this warranty provided that (i) you have notified us in writing within [three months of receiving any information which causes you to question the authorship of the Property, specifying the sale in which the Property was sold and corresponding lot number and the reasons why the authorship of the Property is being questioned, and (ii) you return the Property in the same condition as it was at the time of its sale; and (iii) you are able to transfer good and marketable title in the Property, free and clear of all claims and encumbrances by third parties arising after the date you purchased the Property. (d) You understand and agree that the sole and exclusive remedy for any breach of this warranty against us and the Seller, in place of any other remedy which might be available to you as a matter of law, is the cancellation of the sale and refund of the original Purchase Price paid. Accordingly, we and the Seller shall not be liable for loss or damage beyond the remedy expressly provided by this warranty, whether such loss or damage is characterized as direct, indirect, special, incidental or consequential, or for the payment of interest on the original Purchase Price. 13. Copyright The copyright in all images, illustrations and written material produced by or for Auctionata relating to any Property, including the content in auction catalogues or in the Online Shop is and shall remain at all times the property of Auctionata and shall not be used by you, nor by anyone else without our prior written consent. We and the Seller make no representations or warranties that the buyer of any Property will acquire any copyright or other reproduction rights in it. 14. Miscellaneous 14.1 Notices All notices shall be in writing. Notices to us shall be in to the address indicated on the first page of these Conditions of Sale. Notices to you shall be addressed to the last address you provided to us. Notice by mail shall be deemed to have been given five (5) days after mailing to such address, or if by electronic mail or facsimile, such notice shall be deemed given the date of transmission. 14.2 Assignment These Conditions of Sale may not be assigned by any buyer without our prior written consent, and are voidable at our discretion, but they shall be binding upon the buyer?s heirs, executors, beneficiaries, successors and assigns. 14.3 Severability and Non-Waiver (a) If any provision or any portion of any provision of these Conditions of Sale is construed to be illegal, invalid, or unenforceable, the remaining portion of such provision and all other provisions of these Conditions of Sale shall continue in full force and effect. (b) The failure or delay of any party to enforce any portion of these Conditions of Sale, or to exercise any right or remedy herein shall not act as a waiver or release thereof in whole or in part. Buy 14.4 Governing Law and Jurisdiction These Conditions of Sale, and all matters arising out of or in connection with them, including but not limited to, the rights and obligations of the parties with respect to these Conditions of Sale, the conduct of the sale of Property, whether at auction or via the Online Shop, and any matters related to the any of the foregoing and to matters of validity, interpretation, legal effect, and performance shall be governed by and construed in accordance with, the laws of the State of New York, without regard or reference to its conflicts of law principles. By submitting an offer in the Online Shop or bidding at auction, whether directly, or by agent, by written bid, telephone, absentee bid, or other means, any person making an offer, bidding or purchasing shall be deemed to have submitted, for the benefit of Auctionata, to the exclusive jurisdiction and venue of the state or federal courts located in New York County, New York. All parties agree, however, that we shall retain the right to bring proceedings in a court other than the state and federal courts sitting in New York County, New York. All Sellers and buyers irrevocably consent to service of process or any other documents in connection with proceedings in any court by electronic mail, facsimile transmission, personal service, delivery by mail or in any other manner permitted by New York, at the last address of the prospective buyer or Seller known to us. 14.5 Arbitration Any controversy or claim arising out of or relating to these Conditions of Sale shall be settled by arbitration administered by the American Arbitration Association in accordance with its Commercial Arbitration Rules. A sole arbitrator shall conduct the arbitration in New York, New York. The arbitration award shall be final and binding on the Parties. Judgment on the award rendered by the arbitrator may be entered in any court having jurisdiction thereof. The arbitration shall be confidential, except to the extent necessary to enforce a judgment or to comply with a court order. 15. Amendments to the terms and conditions and final provisions 15.1 Auctionata reserves the right to amend the provisions of these terms and conditions with future effect at any time without citing reasons. Auctionata will announce such amendments on its website or by email. The amendments shall be deemed to have been accepted if the customer does not object to them within two weeks of receiving notice, or if he or she makes use of Auctionata's services again after the agreement has been amended. Auctionata shall present these terms and conditions to every customer before every Auction, so that amendments can be acknowledged before the conclusion of an agreement. If a customer objects to the amendment, Auctionata shall be entitled to terminate the agreement with the customer. 15.2 Third parties may enter into this agreement in place of Auctionata and wholly or partially assume the resulting rights and obligations subject to six weeks prior notice. The customer hereby consents to this in advance. 15.3 The place of performance for all of Auctionata's performance obligations that are derived from the contractual relationships between the contractual parties shall be the commercial residence of Auctionata, Inc.in New York, NY. 15.4 The legal venue for all claims arising from the disputes from the contractual relationships between the contractual parties shall be - insofar as the contractual parties are business persons, legal persons under public law or special foundations under public law - the commercial residence of Auctionata, Inc. in New York, NY. However, Auctionata may also alternatively take legal action against the contractual partner at his general or any other permissible legal venue. This shall not be valid if mandatory legal directives prescribe another legal venue. 15.5 US law shall apply exclusively for the contractual agreement and the resulting claims, regardless of the type and against whom they are asserted. This shall also apply to transactions against national borders. 15.6 Should one or more of the provisions of the Terms and Conditions be or become wholly or partly ineffective or should the Terms and Conditions be found to contain omissions, the validity of the remaining provisions shall remain unaffected. The parties undertake, in such cases, to replace the wholly or partly ineffective provision with one which is effective and whose economic purpose most closely reflects that of the ineffective provision. Terms and Conditions for Obtaining a Valuation 1. Preamble Auctionata is an auction house which offers high-quality goods on the Internet. They are auctioned off or offered for direct sale in the Online Shop. All auctions are transmitted in real time via streaming technology. Auctionata offers second-hand goods from the fields of art and antiques as well as sculptures, decorative art and design of the 20th century, jewelry, rugs, memorabilia, collector?s items, oriental artworks, tribal art, textiles, Islamic art, postcards, paintings, works on paper and graphic prints, numismatics, postage stamps, silver, porcelain, glass and ceramics, contemporary art and photography, rare wines and liquors, antique books, autographs, placards, vintage fashion, accessories, musical instruments, watches, vehicles, coins and many other luxury goods. Moreover, Auctionata offers valuations of second-hand art items and luxury goods.Integral parts of this Terms and Conditions shall be the Overview of Fees in their currently valid version as well as the tabular listing of the increments specified by Auctionata. B. Terms and conditions for obtaining a valuation 1. General provisions The following provisions shall apply to every valuation request, free valuation, valuation in return for remuneration and other act/service in connection with a valuation through the website (hereinafter "Website"). Auctionata will treat every valuation request with the utmost discretion. Auctionata shall be entitled to make use of the services of third parties for contractual fulfillment. 2. Conclusion of the agreement; number of free valuations 2.1 A free valuation can be requested using our online form or by sending an email to usvaluations@auctionata.com. Before submitting the valuation request, in both cases, the customer must enter a brief description along with photographs and the customer?s contact details, and must agree to these terms and conditions and the privacy statement. 2.2 Once the valuation request has been received, the customer will receive an email in which Auctionata confirms or rejects the request for a valuation. If Auctionata accepts the order, an agreement has been formed concerning the preparation of a valuation free of charge. Auctionata reserves the right to reject requests for a valuation, however; under no circumstances shall Auctionata be obliged to accept a request. 2.3 Customers can have a maximum of five items valued free of charge within 12 months. From the sixth item, the customer will receive an offer for a valuation in return for remuneration by email from Auctionata. The interested party must accept this offer by fax, email or letter. Auctionata shall be free to offer individual customers more than five valuations free of charge. 2.4 The valuation shall be free of charge from the sixth item if the valued items are presented to Auctionata for sale by way of a commission-based transaction between the customer and Auctionata within 12 months of the date of valuation. In this case, the costs of each valuation in return for remuneration will be refunded to the customer. 2.5 Submitting a valuation request or entering into an agreement concerning the preparation of a valuation free of charge shall not create a contractual obligation for the customer to enter into a subsequent commission-based transaction with Auctionata; the aforesaid shall also apply in cases of valuation in return for remuneration. 3. Information and photos for the valuation As a general rule, the experts will prepare the valuations on the basis of the information and photos submitted by the customer. In the event that Auctionata requires additional information and/or additional photos in order to make a valuation, Auctionata will contact the customer and request the information and/or photos. If the customer rejects Auctionata?s request, Auctionata shall be entitled to reject the valuation request. In the event that Auctionata considers it necessary to inspect the item, Auctionata will contact the customer to arrange an inspection or to arrange for the item to be sent to Auctionata. If the customer does not consent to an inspection being carried out by Auctionata, Auctionata shall be entitled to reject the valuation request. 4. Valuation number, status query and notification of the valuation 4.1 Auctionata will allocate a valuation number to each valuation request. In the event of a free of charge valuation, the customer will be sent this number by email together with the order confirmation. In the event of a valuation in return for remuneration, the customer will receive the valuation number in the email containing the offer to conclude an agreement. He or she can use this valuation number to query the status of the valuation by replying to the email. The customer will then receive notification of the status of the valuation request by email from Auctionata. 4.2 Finally, the customer will receive a link to the completed valuation on Auctionata's website. When the customer has received the valuation, he or she can decide whether he or she wishes to sell the item through Auctionata (?commission-based transaction?). No right to enter into a commission-based transaction shall exist, however. 5. Object of service and warranty 5.1 A valuation prepared by Auctionata include a determined estimation of value and brief details of the item (e.g. date, material, size, artist etc.) The Auctionata experts will always make valuations to the best of their knowledge. Unless it has been expressly agreed otherwise in writing (email is sufficient) in individual cases and a direct inspection has taken place, the valuations prepared for customers shall always constitute so-called "remote valuations". This means that the Auctionata experts have prepared the catalog description "remotely", i.e. without having inspected the items directly. It follows from this that the valuation constitutes a conditional and provisional arrangement until Auctionata conducts a final direct valuation of the items, and that Auctionata does not, therefore, supply any information about the condition free from any doubt. 5.2 For this reason, every item will be inspected again closely by the Auctionata experts in the event of delivery for sale in the online shop or by Auction. This inspection may lead to a subsequent alteration of the previously determined provisional estimation value. The Consignor will, of course, be notified of this as soon as possible. 5.3 We therefore wish to expressly inform you that valuations provided by Auctionata do not constitute an Appraisal and should be used as such. The content of a valuation based on a remote valuation is used by the customer at its own risk. Customers should not, therefore, base any far-reaching decisions such as the making of a gift, sale to a third party or similar on the valuation. Auctionata shall assume no warranty for the valuation service(s) provided. Achieving direct or indirect economic success is not the object of the service provided by Auctionata. 6. Remuneration, Maturity and Terms of payment 6.1 The remuneration for obtaining fee-based valuations depends on the current Overview of Fees. The amount of remuneration depends on whether a "remote valuation" or a valuation through direct inspection is commissioned. 6.2 The remuneration for the fee-based valuation is to be paid in advance. The customer must pay the remuneration immediately upon receipt of the invoice. Payment on delivery is excluded. The customer may effect payment by bank transfer, PayPal or credit card. Auctionata shall not charge any fees for this. 6.3 A customer shall enter into payment default if he has not rendered payment within 10 days after the payment due date and receipt of an invoice; the relevant date is the date that Auctionata receives the payment into its account. In the event of payment default, interest shall accrue during the payment default period in the amount of 5% points above the respectively valid base lending rate. The interest shall be calculated per year and charged to the current account. 7. Liability Except in cases of intent or gross negligence, liability on the part of Auctionata shall be excluded. This shall also apply in cases of slightly negligent breaches of duty by legal representatives or vicarious agents unless the case involves the culpable violation of material contractual obligations. If there is no intentional breach of contract, the liability for damages shall be limited to the foreseeable, typically occurring damage. 8. Revocation Instruction Right to revoke You have the right to revoke this contract within 14 days without giving any reason. The revocation period will expire after 14 days from the day of the conclusion of the contract. To exercise the right to revoke, you must inform us of your decision to revoke this contract by a clear statement (e.g. a letter sent by post, fax or e-mail). You may use the attached model revocation form, but it is not obligatory. To meet the revocation deadline, it is sufficient for you to send your communication concerning your exercise of the right to revoke before the revocation period has expired. If you revoke this contract, we will reimburse to you all payments received from you, including the costs of delivery (except for the supplementary costs arising if you chose a type of delivery other than the least expensive type of standard delivery offered by us). We will make the reimbursement without undue delay, and not later than 14 days from the day on which we are informed about your decision to revoke this contract. We will make the reimbursement using the same means of payment as you used for the initial transaction, unless you have expressly agreed otherwise; in any event, you will not incur any fees as a result of the reimbursement. If you requested to begin the performance of services during the cancellation period, you shall pay us an amount which is in proportion to what has been performed until you have communicated us your cancellation from this contract, in comparison with the full coverage of the contract End of revocation instruction 9. Termination The agreement concerning the preparation of free of charge valuations may be terminated by either party in writing (including by email) at any time without giving reasons. In the case of valuations in return for remuneration, the customer may terminate the agreement without giving reasons at any time until the valuation is complete. In this case, Auctionata shall be entitled to demand the agreed remuneration for the services provided with regard to the valuation(s) not yet complete. 10. Data protection Auctionata?s privacy policy shall apply. 11. Amendments to the terms and conditions and final provisions 11.1 Auctionata reserves the right to amend the provisions of these terms and conditions with future effect at any time without citing reasons. Auctionata will announce such amendments on its website or by email. The amendments shall be deemed to have been accepted if the customer does not object to them within two weeks of receiving notice, or if he or she makes use of Auctionata?s services again after the agreement has been amended. Auctionata shall present these terms and conditions to every customer before every Auction, so that amendments can be acknowledged before the conclusion of an agreement. If a customer objects to the amendment, Auctionata shall be entitled to terminate the agreement with the customer. 11.2 Third parties may enter into this agreement in place of Auctionata and wholly or partially assume the resulting rights and obligations subject to six weeks prior notice. The customer hereby consents to this in advance. 11.3 The place of performance for all of Auctionata's performance obligations that are derived from the contractual relationships between the contractual parties shall be the commercial residence of Auctionata, Inc.in New York, NY. 11.4 The legal venue for all claims arising from the disputes from the contractual relationships between the contractual parties shall be - insofar as the contractual parties are business persons, legal persons under public law or special foundations under public law - the commercial residence of Auctionata, Inc. in New York, NY. However, Auctionata may also alternatively take legal action against the contractual partner at his general or any other permissible legal venue. This shall not be valid if mandatory legal directives prescribe another legal venue. 11.5 US law shall apply exclusively for the contractual agreement and the resulting claims, regardless of the type and against whom they are asserted. This shall also apply to transactions against national borders. 11.6 Should one or more of the provisions of the Terms and Conditions be or become wholly or partly ineffective or should the Terms and Conditions be found to contain omissions, the validity of the remaining provisions shall remain unaffected. The parties undertake, in such cases, to replace the wholly or partly ineffective provision with one which is effective and whose economic purpose most closely reflects that of the ineffective provision.
Discover Items You'll Love

Bid Anywhere, Anytime. Download the LiveAuctioneers App.
Available on the App Store
Android App on Google Play