1870s RARE PR CHRISTIAN FISCHER HARD PASTE FRENCH VASES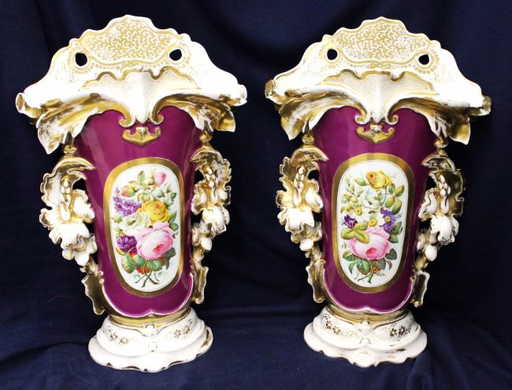 See Sold Price
Don't Miss Your Next Treasure.
Set up a search alert to hear when Hard-paste Porcelain Vases & Garnitures items arrive.
Auction ended on November 7th, 2015 UTC
1870s RARE PR CHRISTIAN FISCHER HARD PASTE FRENCH VASES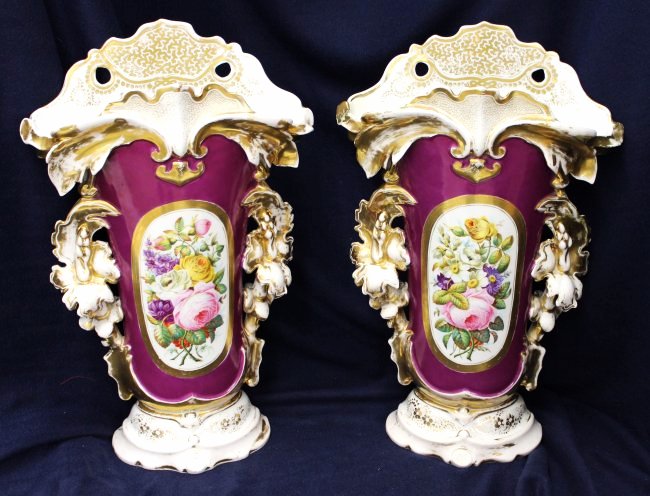 The following treasures are from the living estate of Ailene & Buddy Ford; noted dealers and lifelong collectors of valuable antique & vintage heirlooms. xxxxxxxxxxxxxxxxxxxxxxxxxxxxxxxxxxxxxxxxxxxxxxxxxxxxxxxxxxxxxxxxxxxxxxxxxxxxxxx The AEAA is extremely proud to showcase this Giant pair of signed 1870's, C.F., Christian Fischer magnificent floral medallion vases, finished in the late 19th century tradition. These incredible antiques feature exceptional maroon & Ivory grounds, with brilliant tea rose + spring flower bouquet medallions, gorgeous sculpted floral and berry handles, fine gilding, and a special Coral Reef pattern tiara style rear crown. The designer & artist was undoubtedly Maler A. Carrier (see history below) who worked for Christian Fischer in Paris from ca. 1870, and for several years (at the Saxony factory) past the time of Fischers passing ca. 1878. Carrier was SOLELY RESPONSIBLE for bringing 1780'S French designs and artistry to Christian Fischer! Our original capital block C.F. was used by Christian Fischer from ca. 1846 to ~ 1880. Many sources wrongfully date these French impressed C.F. pieces 1846-1857 because someone else (who doesn't know his ears from his nose) said so! The wild card is the total French package that Maler A. Carrier brought with him in ca. 1870, working under contract, until he opened up his own studio in 1874. These mammoth floor vases measure 11.75 x 5.5 x 18.5 inches tall, and weigh a whopping 13# 8 oz., while both are in wonderful condition! ***** QUICK NOTE: PLEASE OBSERVE THE ACCENTUATED HIGH DOMED BASES, AND THE THICK TO THINNER TO THICK ECCENTRIC SEATING RIMS. THE HIGH DOMES WERE USED TO TRY AND MAINTAIN A FLAT SEAT. SOME POTTERS IN THE 1860'S -1880'S ALSO USED A DOUBLE BASE RING TO MAINTAIN RIGIDITY. xxxxxxxxxxxxxxxxxxxxxxxxxxxxxxxxxxxxxxxxxxxxxxxxxxxxxxxxxxxxxxxxxxxxxxxxxxxxxxxxxx. Pirkenhammer is a porcelain manufactory started in 1802 by Friedrich Hocke and J.G. Lilst. It was located in Carlsbad Bohemia, now Brezova, Czechoslovakia. The company made tablewares usually decorated with views and flowers. In 1811 the dilapidated factory was sold at a low price to Johann Martin Fischer and Christof Reichenbach from Erfurt. Martin Fischer was a merchant, while Reichenbach was the technical director of the company. The factory was initially in a pitiful state, and encompassed only 3 buildings on narrow strip at the foot of a steep mountain, and much of the iron and machinery had been stolen. The factory acquired the clay from just behind the property, extracting Zettlitzer kaolin and feldspar from a reddish brown and a white, quartzose sandstone. As early production increased markedly, Fischer and Reichenbach were favored with the benefits of the formal state power plant on 21 June 1822. xxxxxxxxxxx.When Martin Fischer passed in 1824, his widow Sophie Friederike ran the business with young son Christian and Reichenbach. By this time the porcelain of Pirkenhammer was called the best was produced in Bohemia. In particular, it was more translucent than that of other factories, and the finish was so spectacular, that it could compete with the best French porcelain, accounting for highly successful sales. In 1828 Fischer and Reichenbach, prepared for their first major exhibition in Prague. At the Prague exposition in 1829 the Pirkenhammer factory was awarded a bronze medal. By 1831, the Fischer & Reichbach staff had reaches 130, and products were sold through the factory directly to Vienna, Prague, Brno and other cities of the former monarchy. xxxxxxxxxxx. In 1833 Johann Christian Gottlieb Fischer, who had now come of age joined the company full time, and married the daughter of Johann Friedrich Ludwig von Mieg from Ludwigsburg. Christian Fischer had prepared himself thoroughly for his profession. He was a clever chemist and excelled in all the branches of the natural sciences. Under his direction, the quality achieved such a level, that the director of the State Sèvres, Bronguiart, visited the factory in 1836, expressing his appreciation for the operation, its director and its brands. Ca. 1849 Winning a Gold medal in Vienna in 1939 was followed with a prestigious honor in 1845, and was named a member of Central Hofkommission, which was to be regarded as the highest honor. In 1846 Reichenbach retired and sold his shares for 110,000 florins to Christian Fischer, who remained the sole owner until 1852 In that year his daughter Wilhelmine married her cousin Ludwig von Mieg, who became co-owner of the factory, with the name changing to Fischer & Meig. Christian Fischer gave up active involved in 1853, and concentrated on his own factory he had acquired in Saxony. xxxxxxxxxx.From 1868, a monumental change took place in the design & hand painting of Christian Fischer items. Special contributions to the promotion of the French art of design & painting at Pirkenhammer were the provence of the noted Parisian painter A. Carrier, who worked for vboth Christian Fischer & Pirkenhammer (Ludwig von Meig) from 1868 to the early 20th century. He built a factory in 1874, plus a studio in Paris, and worked there for many years in the service of Christian Fischer and Ludwig von Meig, with countless designs and ideas approximating the treasures design & finish of the early 1780s and later exqusite French hard paste porcelains. Major recognition was given to the porcelain factory Pirkenhammer. Included here are the most important awards, which were awarded foreign expositions & Worlds Fairs. Paris 1855: Medaille 11. Klasse, Paris 1867: Silberne Medaille, Paris 1878 (right about the time of Fischers passing): Goldene Medaille, Paris 1900: Goldene Hors concours-Medaille, Rio de Janeiro 1922: Grand prix Paris 1925. By mid-1918, the Fischer & Meig factory was incorporated into the Pirkenhammer Group EPIAG, which also included porcelain factories in Elbogen, Dallwitz, Aich and Altrohlau. EPIAG survives to this day, as an excellent quality producer of china.
Condition
XA - P136 - Excellent condition
Buyer's Premium
15% up to

$100.00

15% up to

$10,000.00

15% above

$10,000.00
Discover Items You'll Love