Pamela Green by Harrison Marks -Mixed Media on Wood 2x4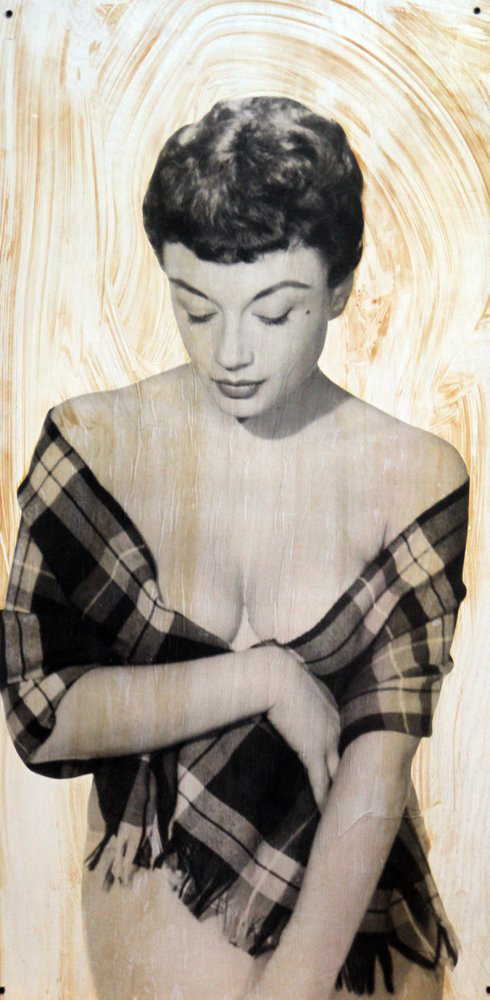 See Sold Price
Don't Miss Your Next Treasure.
Set up a search alert to hear when Wood Mixed Media & Collages items arrive.
Auction ended on September 12th, 2015 UTC
Pamela Green by Harrison Marks -Mixed Media on Wood 2x4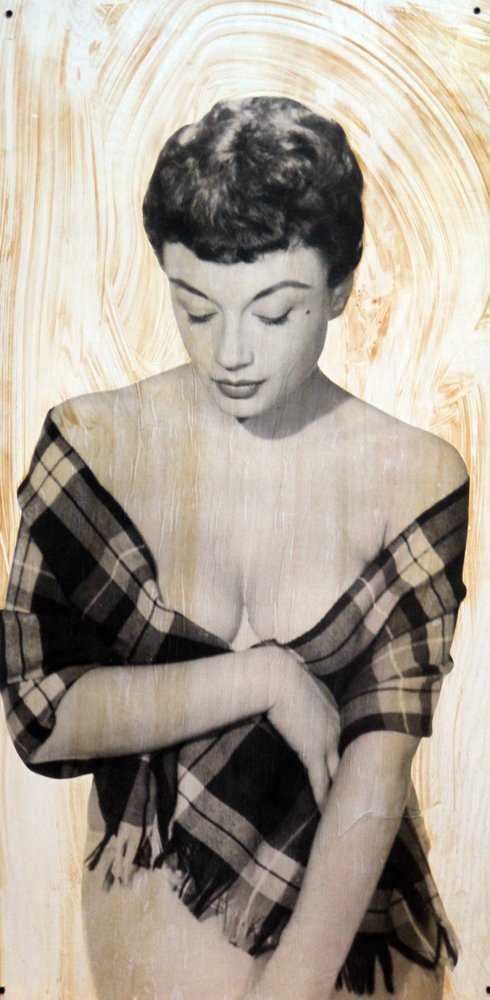 This production set piece featuring a photograph of Pamela Green by Harrison Marks.It was designed by the CEO of Filthy Gorgeous Media, and created in house for a film tentatively titled: "Miss Filthy Gorgeous." Directed by fashion photographer Indrani. Trailers and previews are available on the Filthy Gorgeous Media website. The Panels were used during filming in 2013.The images used are originally from George Harrison Marks' Cheesecake Pin-up collection.
Model:
Pamela Green, born Phyllis Pamela Green, was an English glamour model and actress, best known at the end of the 1950s and early 1960's. She modelled for Zoltán Glass, Horace Roye, Jean Straker, Joan Craven and John Everard.
In 1954 Pamela started to supply the bookshops and newsagents of London's Soho with her own postcard sets of glamour photographs, to supplement her work as a photographer's model. In 1955 Luxor Press published a pictorial monograph on Pamela featuring the photographs of George Harrison Marks, entitled Pamela.
Her first film appearance was in 1960, when she starred in Michael Powell's psychological thriller Peeping Tom, which included her in a nude scene. In the scene, a model (Green) lies naked on a bed to be photographed. In one scene one of her breasts is exposed very briefly. The scene is regarded as the first female nude scene in a postwar English language mainstream feature film. The film was panned by the critics at the time and it destroyed Powell's career in the United Kingdom. In 1961, Green appeared in the nudist film Naked as Nature Intended (released in the United States as As Nature Intended), written and directed by Marks. She appeared in other sex and nude films produced by Kamera.
Photographer:
George Harrison Marks was an English glamour photographer and director of nudist, and later, pornographic films, who was active in these fields for several decades. Marks founded the Kamera group of magazines with model and actress Pamela Green. Marks was also the photographic consultant for the film Peeping Tom, which featured Green in a cameo role.
In 1958, as an offshoot of his magazines, Marks began making short films of his models undressing and posing topless, for the 8 mm film market. These were popularly known as "glamour home movies". An episode of the BBC's Balderdash and Piffle attributed the earliest use of the word "glamour" as a euphemism for nude modelling/photography to Marks' 1958 publicity materials. One Marks 8mm glamour film was The Window Dresser (1961), in which Pamela Green starred as a cat burglar who hides from the law by posing as a display mannequin in a lingerie shop. Marks appears in the film as the shop's owner; Green performs a striptease in the store's display window. Clips from The Window Dresser were used in a 1964 piece on the glamour film scene in the Rediffusion programme This Week. These clips showed Pamela Green fully unclothed; the ensuing controversy resulted in Green having to defend the film on the BBC Light Programme's Woman's Hour. After a judge threw out an obscenity charge against The Window Dresser, Marks continued to make 8 mm glamour films throughout the 1960s.
Medium:
Mixed Media and Wood Panel.
Dimensions:
It measures 2x4ft.
Featured Video:
Terms and conditions:
All items within this auction are original and come directly from the Filthy Gorgeous Media archives. Each item will be packaged with an item specific
certificate of authenticity
. Each certificate is customized according to lot and signed by the CEO of Filthy Gorgeous Media.
There is NO COPYRIGHT TRANSFER after purchase. Filthy Gorgeous Media retains copyright privileges for all imagery within this auction.
Upon winning an item at the end of an auction, please be sure to check the email account you have associated with your live auctioneers account for an invoice. Bidders are responsible for shipping charges. PayPal is our preferred method of payment. For questions or assistance feel free to call (201)258-3770 Monday - Friday between 9:00AM and 5:00PM EST.
Categories: Pictures, Photographs, Models, Images, Nude Photos, Negatives
Discover Items You'll Love