A Highly Important Ancient DZi One Eye Agate Bead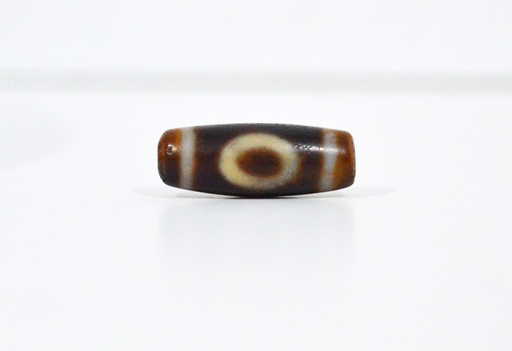 See Sold Price
Don't Miss Your Next Treasure.
Set up a search alert to hear when Agate Loose Stones & Beads items arrive.
Auction ended on September 20th, 2015 UTC
A Highly Important Ancient DZi One Eye Agate Bead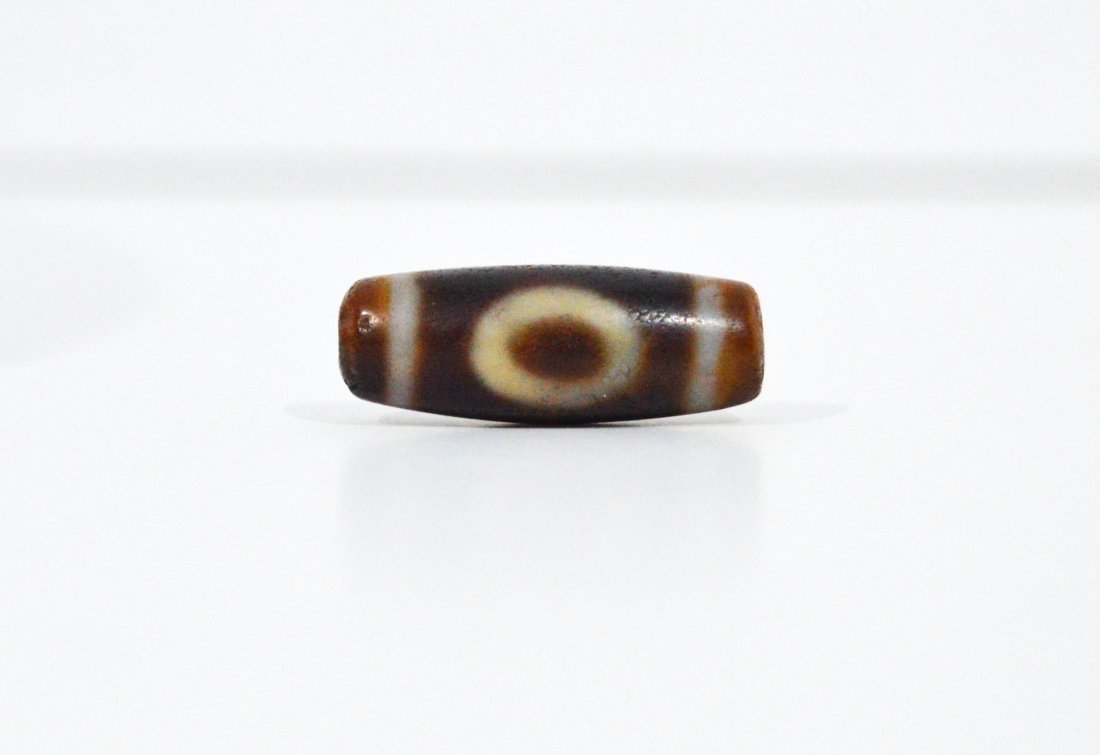 A Highly Important Ancient One Eye Agate DZi Bead , Sakor Namkor dZi Ancient Earth Door / Sky Door dZi with extensive medicine digs , Very Nice Quality & Extremely Rare Piece . Circa Over 2500 Years Old , Indo Tibet or Himalaya .The meaning of the Tibetan word "dzi" [གཟི།] translates to "shine, brightness, clearness, splendor." In Chinese, the bead is called "heaven's bead" or "heaven's pearl" (天珠).Dzi stones are made from agate, and may have decorative symbols composed of circles, ovals, squares, waves or zig zags, stripes, lines, diamonds, dots, and various other archetypal and symbolic patterns. Colors mainly range from brown to black, with the pattern usually in ivory white. Dzi beads can appear in different colours, shapes, and sizes; the surface is usually smooth and waxy, presumably from wear over a long period of time. Sometimes the natural patterns (usually "layered" swirls) of the agate can be seen underneath or behind the decorative symbols and designs, and sometimes not.Cinnabar dots as seen on an ancient dzi.Some dzi beads sport what are referred to as "blood spots," which are tiny red dots in the white areas, indicative of iron content. This is highly desirable, but relatively rare.[citation needed] Another desirable effect is "Nāga skin," in which the surface of the bead exhibits tiny circular weathering marks that resemble scales. Some dzi beads are simply polished agate, with no other decoration than the natural banding of the stone.The number of "eyes," circular designs on the stone, is considered significant. The symbolic meaning of these beads is based on the number and arrangement of the dots. The highest number of eyes on ancient dzi is twelve. One thirteen-eye bead has been reported from a Taiwanese collector but its authenticity has not been confirmed. Dzi beads with more than twelve eyes are considered non-traditional. Any accompanying story or benefit tale is assumed to be fake as well, and a mere marketing strategy for the lucrative feng shui item market.Dzi stones made their first appearance between 2000 and 1000 BC, in ancient India: a few hundred thousand were supposedly brought back by Tibetan soldiers from Persia or ancient Tajikistan during a raid. The malicious effect of the "evil eye" was taken very seriously by these people. Dzi were considered to counteract the evil eye. The artisans who made the dzi created amulets with "eyes" on them as a "fight fire with fire" form of protection. Artisans used agate as the base stone, and then embellished the beads lines and shapes using ancient methods that remain mysterious. Treatments may have included darkening with plant sugars and heat, bleaching and white line etching with natron, and protecting certain areas with grease, clay, wax or a similar substance. After the bead was decorated, the artisan would drill a biconical hole length-wise though the stone, which was arduous work done with a bow drill.Although the geographic origin of dzi beads is uncertain, it is accepted that they are now called "Tibetan beads," just like "Tibetan coral," which also came to Tibet from elsewhere. Tibetans cherish these beads and consider them hereditary gems. In this way they have survived thousands of years, being worn by hundreds of individual people. Dzi are found primarily in Tibet, but also in neighbouring Bhutan, Nepal, Ladakh and Sikkim.[citation needed]Sometimes shepherds and farmers find dzi beads in the soil or in the grasslands. Because of this, some Tibetans traditionally believe or believed that dzi are naturally formed, not man-made[citation needed].Since knowledge of the bead is derived from several differing oral traditions, the beads have provoked controversy regarding their source, their method of manufacture and even their precise definition.[citation needed] In Tibetan culture these beads are believed to attract local protectors, dharmapalas or deities or maybe beneficial ghosts, ancestors or even bodhisattvas. Because of this, dzi beads are always treated with respect.
Condition
With A Hair-Line Crack , Otherwise Intact
Buyer's Premium
14% up to

$10,000.00

12% up to

$20,000.00

10% above

$20,000.00
Discover Items You'll Love