1267: 1963 Watson "Leader Card 500" Indy Roadster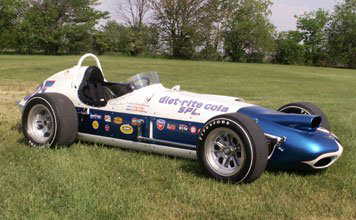 See Sold Price
Don't Miss Your Next Treasure.
Set up a search alert to hear when RM Auctions lists new auctions.
Auction ended on August 17th, 2007 UTC
1267: 1963 Watson "Leader Card 500" Indy Roadster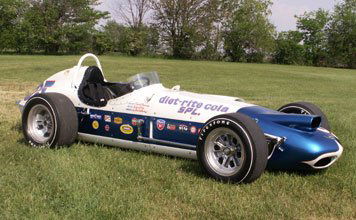 Specifications:
168 cu. in. dual overhead camshaft Offenhauser four-cylinder engine with fuel-injection, an on-board starter, tubular steel chassis with solid axles and torsion bar suspension, dual shock absorbers, four-wheel disc brakes.Legendary Los Angeles car builder A.J. Watson was the most successful Indy car constructor of the late 1950s. Watson, now a fit looking 80+ year old, first visited Los Angeles as an Air Force navigator and returned there after the war. He went to Glendale College on the G.I. Bill and worked at Lockheed Aircraft but his life changed forever after he attended the car races at Saugus Speedway in 1947. His first race car was a Ford based Hot Rod set up for oval track racing. A year later, in 1948 he arrived at the Indianapolis Motor Speedway as a mechanic. Two years later the talented and ambitious Watson had built his own car for the 1950 500! Unfortunately, the cost of campaigning this car for friend and fellow hot-rodder Dick Rathman drove Watson back to the assembly line at Lockheed Aircraft. One day, just before the 1951 500, Watson laid down his tools and walked out without punching the time clock. He would now work only in automobile racing, concentrating his efforts in the top echelon of the United States Auto Club Championship. A.J.'s big break came at the end of the 1954 season when he signed on as the chief mechanic for John Zink Jr.'s team. He modified a Kurtis Roadster, incorporating his own improvements and Bob Sweikert won the 1955 Indy 500 in this car. For the 1956 "500" Watson built a roadster of his own design, offsetting the engine, gearbox, drive shaft and rear end some 12 inches to the left in order to improve weight distribution and cornering speeds. Pat Flaherty proved the concept as he put A.J.'s design on the pole at a record 145.596 mph and then went on to win the race! By 1958, he headed the Leader Card Team and the combination of builder, Watson, owner, Wilke and driver, Rodger Ward became the trio to beat in USAC racing. In total A.J. Watson built 23 Indy roadsters including the cars that won the "500" in 1959-60, 1962 and 1963.The 1963 season saw for the first time, Leader Card Racers organized into three teams under A.J. Watson's general supervision; Rodger Ward with Watson as crew chief made up one team, Don Branson with his crew chief Jud Philips made up a second team and Oregon racer Len Sutton and his new chief mechanic, Sonny Meyer comprised the third team in our auction-featured car. Car problems plagued Sutton and Meyer throughout the month long qualification process and for the first time a new Watson was bumped from the Indianapolis starting field. "I don't understand it to this day" Len Sutton remarked almost forty years later. "We did everything we knew how to do and just couldn't make that box go any faster." (Rodger Ward and Don Branson finished fourth and fifth respectively in that year's Indy 500).Speedway problems, whatever they may have been, did not continue at the June Milwaukee 100 where Len Sutton was the sixth fastest qualifier and finished in the same position. In his last race for Leader Card, Sutton finished 12th in the Tony Bettenhausen 200 in Milwaukee in August. The car was refurbished in 1964 and entered as Rodger Ward's back-up car for the 1964 Indy 500 race. With Rodger Ward safely qualified in the starting field in his new rear engine Watson Ford, Chuck Stevenson put the # 95 roadster, now called the Diet-Rite Cola Special in the 29th starting position for the race. Stevenson was caught up in the horrible second lap accident on race day and finished in 28th place. Repairs to the car were finished in time for the 200 mile event at Trenton in September where Bobby Grim broke a cam bearing in practice and failed to qualify. In November, at Phoenix, Grim spun out late in the race, finishing 12th. In 1965, Bobby Grim qualified ninth and finished eight at Milwaukee 200. He started sixth at Trenton and finished third overall. At Atlanta he crashed on his fourth lap, finishing in 28th. In the Milwaukee 200, Grim started ninth and finished sixth. He closed out the season at Trenton with a respectable 7th place finish.The car had a few more championship races left in it for 1966. Grim managed another seventh place at Trenton. Arnie Knepper placed 14th with the car at Milwaukee and 8th at Atlanta. At Langhorne he finished 12th. Greg Weld took over for the Milwaukee 200 and finished 14th. Don Branson was at the wheel for the car's last championship appearance at Trenton.In 1965 or 1966 the car was purchased by Jack Conley of Brighton, Michigan who, in turn, sold it to Canadian supermodified owner/driver Kenny Andrews of Burlington, Ontario. Andrews changed the paint scheme, added a roll cage, installed a Chevrolet V8 and raced the former roadster on short tracks in southeast Canada and the northeastern United States, becoming a regular at Oswego, New York. In 1969, Andrews won five features at Oswego and became the track's first Canadian Champion.Andrews retired the car at the end of the 1970 season and stripped it for parts for a new car. The original Watson frame was sold to Ray Fournier in Canada. Our Watson roadster frame/chassis was then acquired by American's premier Indianapolis racing car collector/restorer Bob McConnell who also obtained most of the original suspension, running gear and intact Watson body panels from Kenny Andrews. The original Watson fuel tank was purchased from Jack Conley. McConnell subjected the roadster to a complete and technically accurate restoration to the "Diet Rite Cola Special" livery as it appeared at the Speedway in 1964 driven by Chuck Stevenson. This was done by the team that does much of this work for him, Steve Miller and Classic Craft Motorsport.McConnell's commitment to the history of American open-wheel racing borders on obsession and his collection numbers dozens of Indy 500 cars ranging from a 1923 "Fronty" Ford to the famous Al Unser 1993 car. Despite such a variety, McConnell is fondest of his perfectly restored Watson roadsters, "There were 23 of these built and I've got eight of them", he proudly proclaims. Bob seldom, if ever, sells these cars from his collection, so RM Auctions is pleased to have been selected to market his historic Watson roadster, the "Diet Rite Cola Special".Fresh from the 2007 Amelia Island Show Field, this immaculately restored Watson roadster presents the unique opportunity for the enthusiast who wants to experience the thrill of driving a period Indy car from the glory days in organized track events."
Discover Items You'll Love