Banthrico Mack Truck 1906 Diecast Metal Coin Bank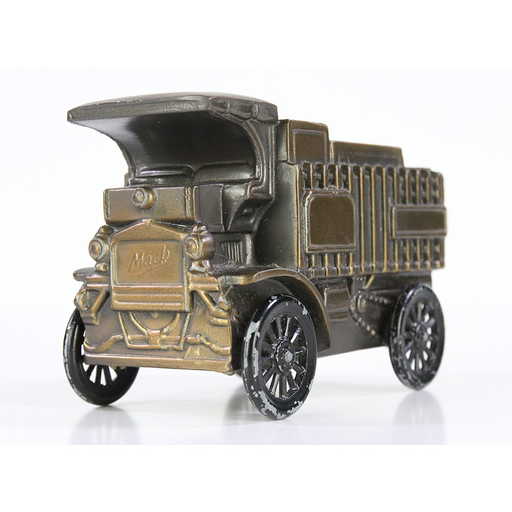 See Sold Price
Don't Miss Your Next Treasure.
Set up a search alert to hear when Metal Banks, Registers & Adding Machines items arrive.
Auction ended on September 23rd, 2015 UTC
Banthrico Mack Truck 1906 Diecast Metal Coin Bank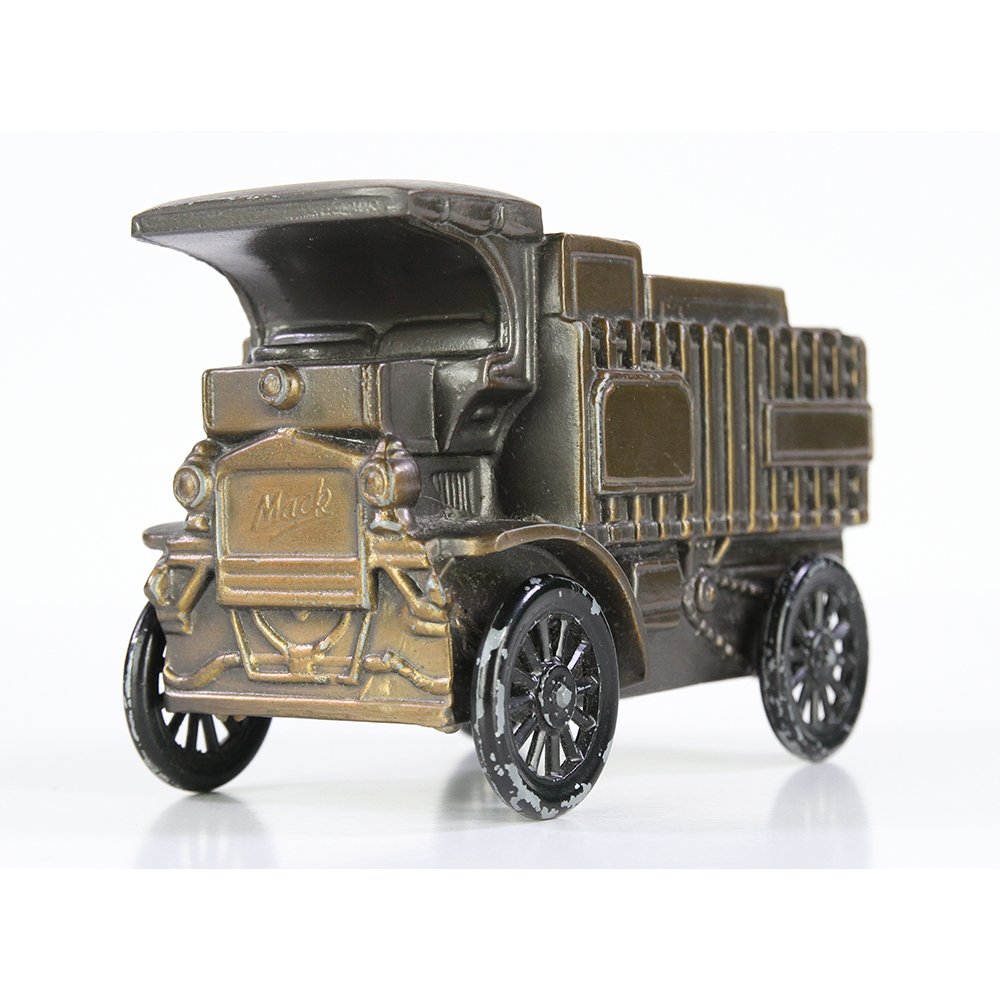 Banthrico Americana Collection 1906 Mack Truck diecast metal coin bank. This 5" long and 3.5" tall bronze colored vintage truck bank has wheels that turn.
Background:
The Chicago, Illinois, firm started life as Banker's Thrift Corporation in 1914. Their core product consisted of small, personal home-use coin banks; one of the notable ones at the time being the small "book" bank. Shaped and bound like books of the period, it could be "hidden" with relative ease in a bookcase. Small-scale versions of everything from famous politicians to household items, as well as animals and buildings, were part of the firm's catalog by the time it--along with its subsidiary, Stronghart--was purchased in 1931 by Jerome Aronson and Joseph Eisendrath, who promptly created a new business by shortening the original name to Banthrico.

Known as "The Coin Bank People," Banthrico's staff of roughly 75 highly skilled employees, by all accounts, had crafted over 900 varieties of monetary storage molds through the ensuing decades. Within that list were modes of transportation, including the automobile.As was the case with most of their products, including the 1937 Rolls-Royce we recently discovered, the autos were hand-cast using white metal (95 percent zinc, five percent aluminum and traces of lead, brass and copper). Molds were poured individually; imperfections were later eliminated through a variety of methods before being sealed in a clear lacquer. The most popular finishes were pewter and antique brass, and each featured a keyed trap door and coin slot on the underside.

Featured Video:The Corporate Culture Grading System: Annual Reports, Magazines, & Collectibles
Mint - An item that is new with no signs of shelf wear. Annual report or magazine cover will be crisp and the colors bright without tears or marks; the edges and spine will be clean, straight with no bends and pages will be clean and crisp. A collectible has no chips, stains, tears, missing parts, and come with original packaging if applicable.

Very Good - An item that is close to being new-like but has a few blemishes. Item may present normal shelf wear from storage. Annual report or magazine with shelf wear will reduce the item from truly new-like appearance but will still be a fine item to read and retain. Overall, items will have minor blemishes such as small tears or creases. A collectible may present some wear from storage, but do not have any chips, tears, stains, or missing parts. A collectible that no longer has it's original box/packaging and has no flaws or defects will reflect new-like appearance will be considered "Very Good".

Good - An item that shows wear (and maybe tears). There may be markings, damage to a few pages, or very soiled cover. Overall, the annual report or magazine is still a good read. A collectible shows wear from age or storage. There may be markings, scratches, stains, tears, or fading paint. A collectible looks like it has been used/played with, and is still a good representation of the original item.

Fair - An item that shows heavy wear. Annual report or magazine has all it's pages, but there may be marks on the cover or inside pages, pages have been underlined in ink, or the soft cover has been significantly torn. "Fair" books frequently have been heavily used. A report or magazine with water damage on numerous pages is generally classified as fair. A collectible has fading or chipped paint, stains, scratches, is torn or creased, may have missing parts, and has been heavily used. Fair quality items can be a great bargain.

Poor - Generally means an item is not really in usable condition. Annual report or magazine contains pages that may be loose or missing, and it's cover severally damaged. These items often are purchased for re-purposing such as covers for new paper journals, or pictures and illustrations for art projects. A collectible that is severely damaged and has missing parts that is no longer usable. These items are usually used as parts for restoration of other collectibles in better condition or used for art projects.

Terms and conditions:
All items within this auction are original and come directly from The Corporate Culture archives. Each item will be packaged with an item specific certificate of authenticity. Each certificate is customized according to lot, signed and reviewed by The Corporate Culture.

There is NO COPYRIGHT TRANSFER after purchase. The Corporate Culture retains copyright privileges for all imagery within this auction.

Upon winning an item at the end of an auction, please be sure to check the email account you have associated with your live auctioneers account for an invoice. Bidders are responsible for shipping charges. PayPal is our preferred method of payment. For questions or assistance feel free to call (201) 258-3770 Monday - Friday between 9:00AM and 5:00PM EST.
Condition
Very good. Some discoloration from age. The paint is starting to chip on all four of the wheels from being rolled. The back of the truck has no bank's insignia on it.
Discover Items You'll Love