RARE JEAN SIBELIUS AUTOGRAPHED FINLANDIA SCORE
Don't Miss Your Next Treasure.
Set up a search alert to hear when Charleston Estate Auctions lists new auctions.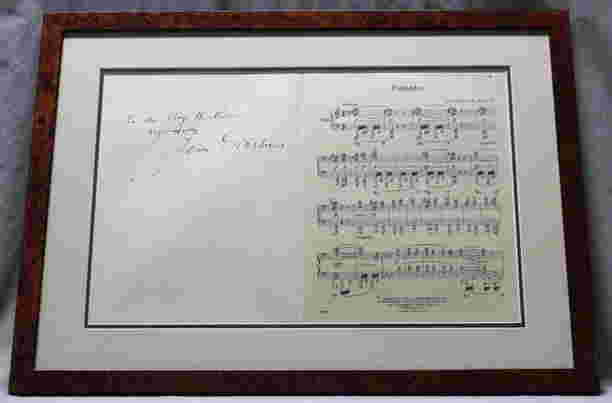 Lot 0062 Details
Description
Rare important autographed musical score Finlandia by Jean Sibelius. Signed respectfully Jean Sibelius to a Mr. Ange B. Nilson. Professionally framed under glass, in frame measures 23.50x18x.75. Weight 6 pds. PROVENANCE: The Estate of noted NYC attorney, author and well known political advisor Edward N. Costikyan (1924-2012). Finlandia, Op. 26 is a symphonic poem by the Finnish composer Jean Sibelius. It was written in 1899 and revised in 1900. The piece was composed for the Press Celebrations of 1899, a covert protest against increasing censorship from the Russian Empire, and was the last of seven pieces performed as an accompaniment to a tableau depicting episodes from Finnish history. In order to avoid Russian censorship, Finlandia had to be performed under alternate names at various musical concerts. Titles under which the piece masqueraded were numerous, a famous example being Happy Feelings at the awakening of Finnish Spring, and A Scandinavian Choral March. Sibelius later reworked the Finlandia into a stand-alone piece. This hymn, with words written in 1941 by Veikko Antero Koskenniemi, is one of the most important national songs of Finland. Finland's Jean Sibelius is perhaps the most important composer associated with nationalism in music and one of the most influential in the development of the symphony and symphonic poem. Sibelius was born in southern Finland, the second of three children. His physician father left the family bankrupt, owing to his financial extravagance, a trait that, along with heavy drinking, he would pass on to Jean. Jean showed talent on the violin and at age nine composed his first work for it, Rain Drops. In 1885 Sibelius entered the University of Helsinki to study law, but after only a year found himself drawn back to music. He took up composition studies with Martin Wegelius and violin with Mitrofan Wasiliev, then Hermann Csillag. During this time he also became a close friend of Busoni. Though Sibelius auditioned for the Vienna Philharmonic Orchestra, he would come to realize he was not suited to a career as a violinist. In 1889 Sibelius traveled to Berlin to study counterpoint with Albert Becker, where he also was exposed to new music, particularly that of Richard Strauss. In Vienna he studied with Karl Goldmark and then Robert Fuchs, the latter said to be his most effective teacher. Now Sibelius began pondering the composition of the Kullervo Symphony, based on the Kalevala legends. Sibelius returned to Finland, taught music, and in June 1892, married Aino Järnefelt, daughter of General Alexander Järnefelt, head of one of the most influential families in Finland. The premiere of Kullervo in April 1893 created a veritable sensation, Sibelius thereafter being looked upon as the foremost Finnish composer. The Lemminkäinen suite, begun in 1895 and premiered on April 13, 1896, has come to be regarded as the most important music by Sibelius up to that time.
In 1897 the Finnish Senate voted to pay Sibelius a short-term pension, which some years later became a lifetime conferral. The honor was in lieu of his loss of an important professorship in composition at the music school, the position going to Robert Kajanus. The year 1899 saw the premiere of Sibelius' First Symphony, which was a tremendous success, to be sure, but not quite of the magnitude of that of Finlandia (1899; rev. 1900).
In the next decade Sibelius would become an international figure in the concert world. Kajanus introduced several of the composer's works abroad; Sibelius himself was invited to Heidelberg and Berlin to conduct his music. In March 1901, the Second Symphony was received as a statement of independence for Finland, although Sibelius always discouraged attaching programmatic ideas to his music. His only concerto, for violin, came in 1903. The next year Sibelius built a villa outside of Helsinki, named "Ainola" after his wife, where he would live for his remaining 53 years. After a 1908 operation to remove a throat tumor, Sibelius was implored to abstain from alcohol and tobacco, a sanction he followed until 1915. It is generally believed that the darkening of mood in his music during these years owes something to the health crisis.
Sibelius made frequent trips to England, having visited first in 1905 at the urging of Granville Bantock. In 1914 he traveled to Norfolk, CT, where he conducted his newest work The Oceanides. Sibelius spent the war years in Finland working on his Fifth Symphony. Sibelius traveled to England for the last time in 1921. Three years later he completed his Seventh Symphony, and his last work was the incidental music for The Tempest (1925). For his last 30 years Sibelius lived a mostly quiet life, working only on revisions and being generally regarded as the greatest living composer of symphonies. In 1955 his 90th birthday was widely celebrated throughout the world with many
performances of his music. Sibelius died of a cerebral hemorrhage in 1957. The Finnish 100 mark bill featured his image until 2002 when the euro was adopted. Since 2011, Finland has celebrated a Flag Day on December, 8, the composer's birthday, also known as the Day of Finnish Music. In 2015, the 150th anniversary of the composer's birth, a number of special concerts and events have been planned, especially in the city of Helsinki.
Buyer's Premium
15% up to $50,000
10% up to $1,000,000
5% above $1,000,000
RARE JEAN SIBELIUS AUTOGRAPHED FINLANDIA SCORE
Estimate $1,200 - $1,500
Dec 06, 2015
Shipping, Payment & Auction Policies
Ships from
Mt. Pleasant, SC, United States