Rare Wood and Metal Life-Size Mannequin Skeleton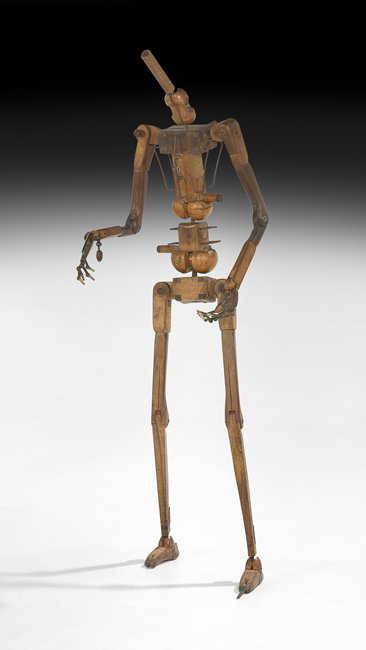 See Sold Price
Don't Miss Your Next Treasure.
Set up a search alert to hear when Metal Mixed Media & Collages items arrive.
Auction ended on December 5th, 2015 UTC
Rare Wood and Metal Life-Size Mannequin Skeleton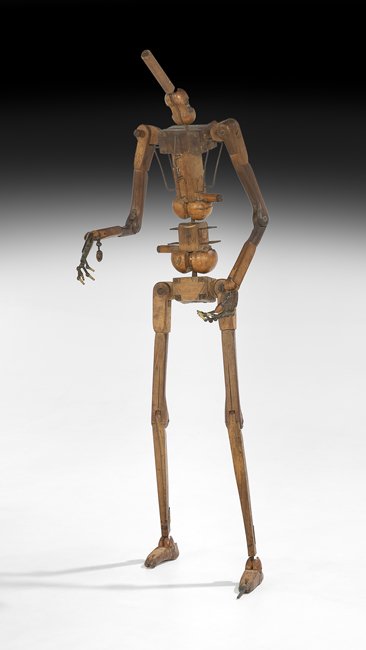 Exceptionally Rare French Carved Wood and Metal Life-Size Mannequin Skeleton, ca. 1760, fully articulated, the anatomically correct model with complex iron peg and double brass and mixed metal ball joints allowing for full pronation and supination of limbs, torso and neck, the rib cage and dorsal area fitted with iron ribbing to support musculatory padding, h. 67-1/2", w. 18", d. 9". Provenance: By repute, the artist Thomas Gainsborough; then by descent to his daughter Margaret; Christie's, London, estate sale of the late artist, May 11, 1799; Arthur Davidson Ltd., London, November 6, 1985; The Flatt Collection. Lay figures/mannequins are truly the "silent partners" in the history of art. It is purported that they were employed as anatomical aids by Ancient Greek sculptors, though no true evidence of them predates the Italian Renaissance, during which they were used by some of the most talented artists of the time. Michelangelo used them in his commission of the Sistine Chapel to better register, light, shadow and perspective, while lying on his back on a ceiling scaffold, and Fra Bartolomeo, according to Giorgio Vasari, was the first artist to devise a fully articulated life-size lay figure in wood. As Jane Munro states in her book Silent Partners: Artist and Mannequin from Function to Fetish, lay figures were never "artistic 'props' designed to assist artists of limited conceptual and technical abilities". Since the Renaissance, the smaller lay figures/maquettes, made of secondary woods like pine and walnut/fruitwoods, were used to reherse a movement of pose, in much the same way sculptors use modelli. As lots 356-367 illustrate, they were typically androgynous and came in a range of sizes generally under twenty-four inches. Horses, like the one offered in lot 351, were widely sought after by artists, particularly history painters, because capturing a horse in motion is an incredibly difficult feat. Larger life-size figures were almost exclusively used for modelling drapers (see lots 353-356). An anatomically correct form, with an impressive skeletal structure, would have been key for the articulation of this in the absence of a costly model or a difficult pose that a person could not sustain for long periods, for this reason, life-size lay figures were germane to major art schools, since 18th/19th century student were not allowed to matriculate to painting, until they first mastered drawing anatomy, and then draped forms. In 1768, the Royal Academy commissioned a "Mr. Robert Addison" to produce an anatomically correct layman to "have the motions" and "be complete in every respect". Addison's contemporaries in France, namely Francois Guillois, a mechanic by trade, was also courting the government and top art schools for bids to create technologically advanced lay figures. In 1793, Guillois presented a prototype, not dissimilar in description to the one Gainsborough owned, to the Bureau des Consultation des Arts et Metiers and to the Lycee des Arts that possessed the same brass/metal joints with extreme range of dexterity and movement - arms and legs were constructed of two or more wooden bones to replicate the ulna and tibia, as well as their radius of movement, even the fingers moved at each joint. Guillois' prototype, though widely admired for its mechanized wonder, was deemed too expensive and complex to produce. Six years later, a more economical model was presented to the Academie Royale; it too was rejected, not because of its capabilities, but rather because the Academy could not speculate as to whether the intendant skin/musculature and padding would impede range of mobility. No one knows what became of Guillois' skeletal masterpieces or if they were ever "fleshed" out. Almost two centuries later, a wooden mannequin resembling the extant description of Guillois' academy prototype, bearing a small metal label with his name on it, emerged in a Parisian antique store. It was quickly purchased by the Ecole des Beaux Arts, and is currently on display at the Fitz William Museum in Cambridge as part of its mannequin/lay figure exhibit "Silent Partners", after which Munro's book/catalogue was written. The Guillois' mannequin is striking in its similarities to the one offered here. Is it possible that Gainsborough purchased an early Guillois model? He certainly had the resources and means. Though life-sized, articulated, wood mannequin skeletons of this craftsmanship and ingenuity are rare, as they were not mass produced, there is also evidence of generic patters being used, moreover appropriated, by other English and Continental inventors capable of courting the highest academies and artists for the recognition and patent of their mannequin/lay figure design. References: Munro, Jane. Silent Partners: Artist and Mannequin from Function to Fetish. New Haven: Yale U.P., 2015, pp. 4-7, 49-52; "Classe Mannequin au Musee Bourdelle". Le Beau Vice. http://le-beau-vice.blogspot.com; Barillet, E.J. Sur le Mannequin. Discours dans lequel On Traite de Son Inventions. Paris, 1809, pp. 15-18.
Condition
No visible repairs or significant damages are present. There are four small 1/4"-1/2" losses to the following respective areas: the right side of neck, the central ball joint in the abdomen, to the left knee, and to the back of the right heel. The toe clip in the right foot is lacking, as are several of the cosmetic wooden fingertips on the metal jointed fingers. Nicks, scuffs, a few shrinkage cracks and minimal wormhole damage are scattered throughout. Condition is consistent with age and utilitarian use. The figure is structurally sound, intact and in overall very good condition.
Discover Items You'll Love