lots of lots
Welcome to the world's largest marketplace for fine art, antiques & collectibles.
10k Gold & Diamond Claddagh Ring Sz6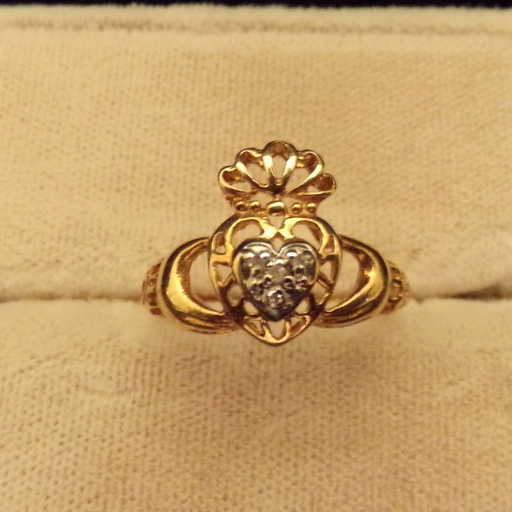 See Sold Price
Don't Miss Your Next Treasure.
Set up a search alert to hear when 10k Gold Rings items arrive.
Auction ended on January 30th, 2016 UTC
10k Gold & Diamond Claddagh Ring Sz6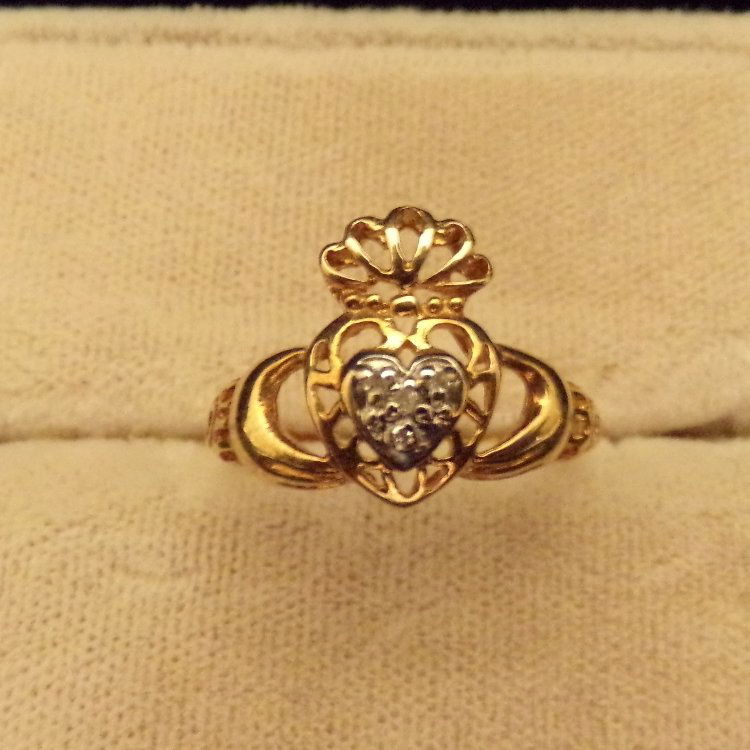 10k Yellow Gold Claddagh Ring With Diamonds Marked JCM (Jacmel Jewelry Co). Size 6. 1.6gr.
Shipping
Shipping and Handling: WE WILL *NOT* SHIP TO ANY ADDRESS BESIDES THE ADDRESS ASSOCIATED WITH YOUR CREDIT CARD UNDER ANY CIRCUMSTANCES!
If bidding on-line, your credit card will be billed at the end of the auction for your purchases, buyer's premium and applicable sales tax. Shipping will be billed separately.
We are NOT responsible for shipping, but offer the services of a local shipper for your convenience. Shipping, insurance, packaging and handling of purchased lots is at the risk and expense of the purchaser. Unless you specify another shipper, for your convenience, we will use a local shipper named Lordco Pack, Ship and Post, who will add the shipping charges to your credit card on file within 7 to 14 days after your payment for purchases clears. If you have any questions or need to contact them, their phone number is 352-637-1699. They may attempt to call you to discuss shipping. If you do not answer their call, this may delay your shipping. We offer this shipper to you as a suggestion only, and we are not liable for the actions by the shipper. You are welcome to send your own agent to pack and ship your merchandise. Shipping antiques can be expensive due to extra packing materials and insurance. Shipping fees are non-negotiable.
If you wish to use your own carrier, notify us in advance. For larger items, we recommend www.cratersandfreighters.com or 800-736-3335, who will pack, crate, and mail to you. You must arrange shipment and payment directly with them.
Items left at our gallery after 10 days will be subject to storage fees. Costs vary based on weight and destination.
Payment
bIMPORTANT INFO: WE DO NOT ACCEPT PAYPALBR PAYMENT IN FULL IS DUE IMMEDIATELY AT THE END OF THE AUCTIONBRbrb ANY BILLS NOT SETTLED WITHIN 5 DAYS AFTER CLOSE OF AUCTION WILL BE PROSECUTED TO THE FULLEST EXTENTBR BRWE REQUIRE BIDDERS TO FILL OUT OUR CREDIT CARD AUTHORIZATION FORM PRIOR TO APPROVAL FOR BIDDING with no exceptions. It is located at http:www.charliefudge.comcc%20auth%20without%20link.pdf OR you can call us at 352-795-2061 for additional info. BRBRLIVE AUCTIONEERS DOES NOT PROVIDE US WITH YOUR CREDIT CARD INFO OR ANY OTHER ID so you must provide it to us to us directly. brb IF YOU DO NOT PROVIDE A VALID CREDIT CARD AUTHORIZATION FORM PRIOR TO THE AUCTION,or contact us to make other arrangements, YOU MAY BE REFUSED THE RIGHT TO BID. Potential bidders not meeting these criteria will be approved on a case-by-case basis and ONLY after contacting Auction Gallery at 352-795-2061 regarding the status of their pending application.BRBR -IF YOU DO NOT INTEND TO PAY -- DO NOT BIDb
Accepted payment methods
Terms
Important Information For All Bidders! All bidders must read the following before registering. By placing a bid, this creates a contract between the bidder and seller and means that the bidder agrees to the terms and conditions of this auction as contained herein and announced during the auction. WE DO NOT ACCEPT PAYPAL OR INTERNATIONAL CREDIT CARDS. **International Bidders ** must provide a U.S.. Credit card. All credit cards will be verified, and merchandise must be shipped to the billing address associated with the credit card on file. Payment is due immediately after the auction! ALL BIDDERS must fill out the credit card authorization form that will be emailed to you when you register and is available on our website at www.charliefudge.com. Please complete the form and return it to us in order to be approved for bidding. Your card will be used to pay for your purchases and applicable fees such as buyer's premium and taxes (if any) immediately after the auction ends. Please call 352-795-2061 with any questions. If you do not agree to pay at the conclusion of the auction, please do not bid. If you do not provide a valid credit card authorization form prior to the auction, or contact us to make other arrangements, you may be refused the right to bid. Potential bidders not meeting these criteria will be approved on a case-by-case basis and ONLY after contacting Auction Gallery at 352-795-2061 regarding the status of their pending application. OUR AUCTIONEERS MOVE VERY QUICKLY - SO PLEASE DO NOT HESITATE TO EXECUTE YOUR BID. Internet connection speeds can not always keep up with the pace of the auctioneer during the live auction. A slow connection can result in the auctioneer calling "Sold" before we see your bid on our liveauctioneers bidding console. For this reason, it is not in your best interest to wait until the last moment before bidding ? or you may find the item has closed and the win went to another bidder. Besides bidding early during the auction, another way to ensure your bid is recognized, is to place an absentee bid online (see explanation below). If you have not placed an absentee bid or you do not bid in time, the hammer may go down before we receive your bid. This can result in a disappointed internet bidder - so please BID EARLY! And use the absentee feature. The winning bidder is always the one whom the auctioneer acknowledges as such when he puts the hammer down and declares ?sold?. If your bid is delayed by slow internet speed and comes into the Live Auctioneers bid console AFTER the auctioneer declares the item sold (even though you may feel you have 'placed' your bid first), you will not be declared the winning bidder. Abensentee and Pre-Bidding *Absentee bids or Pre-bids on Live Auctioneers are treated just like floor bids and they are integrated in between floor bidding and liveauctioneers bids. We do NOT start with your highest bid. Due to Liveauctioneers.com's policies and software, we can not even see your highest bid, so this feature is a really good way to protect an item you wish to purchase at a certain price (if no one else bids higher). If you wish to participate in absentee bidding through our gallery, your bids must be placed prior to 5pm on Friday prior to the auction. Please be kind and do NOT call our auction phones during the auction. We use the phone lines for absentee and phone bidding. If you wish to discuss condition or bidding, please call prior to 5pm on Friday evening. Jewelry, Gold, Silver Guarantee Gold and Silver Content is guaranteed to be at least the carat or content we have described it to be. We also guarantee whether or not a Diamond is Genuine, but will not speculate on its color or clarity. In addition, we are not jewelers or gemologists and can not state whether or not other gemstones are genuine or synthetic. Watch functions and accurate time keeping is not guaranteed on timepieces. Tie Bids All auction sales are final on the fall of the Auctioneer's hammer to the highest bidder acknowledged by the auctioneer. If there is a tie between an on-line bidder and a floor bidder, the tie goes to the floor. Once the auctioneer declares an item "sold", the purchaser becomes responsible for the purchased property and their credit card on file will be charged. Tie bids when both bidders are in-house result in a second auction between the two high bidders. All auction sales are final on the fall of the Auctioneer's hammer to the highest bidder acknowledged by the auctioneer. Shipping Shipping and Handling is under a separate heading entitled the same. Shipping fees are non-refundable. Conditions The purchaser assumes full risk and responsibility for said property, including costs & expenses of handling or shipping. The consignor is not responsible for loss or damage of said property after an item has been declared "sold". Any sales made, whether at live auction or privately between purchaser & Auctioneer or Sales Representative, shall be subject to all of the terms & conditions stipulated herein. Payment will not be deemed to have been paid in full until credit card payment has cleared. By placing a bid on any item (lot) in a sale conducted by Professional Appraisers & Liquidators Auction Gallery, either in person, by phone, absentee bid or via the Internet, buyer/bidder signifies that he or she has examined the item as fully as he or she desires or deems necessary or prudent or that he or she has chosen, for whatever reason, not to examine it. Bidders who bid off-site or via the Internet, acknowledge that they may not be able to inspect an item as well as if they had examined it in person prior to the auction. YOUR BID IS A CONTRACT, BIDDERS WHO HAVE NOT MADE PAYMENT IN FULL WITHIN 3 DAYS AFTER AUCTION WILL BE PROSECUTED TO THE FULLEST EXTENT! If any payment is not paid when due or within 3 business days thereafter, or if a Buyer defaults in its dealings with Professional Appraisers & Liquidators LLC or breaches Buyer?s obligations, Buyer agrees to pay to Professional Appraisers & Liquidators LLC all damages and attorneys fees and expenses, administration, handling, storage, attorney's fees, commissions, incidental damages and any other costs relating to bidders failure to complete their transaction together with interest at the highest rate allowed by law or 21 percent per annum. Professional Appraisers & Liquidators LLC may impose, and purchaser agrees to pay a monthly storage charge of 1.5 percent of the purchase price as well as a monthly interest charge of 1.5 percent for any lot or item not paid for or removed by purchaser within 10 days of the sale. Professional Appraisers & Liquidators LLC shall have no liability for any damage to property left on its premises after the date of sale. In addition, Professional Appraisers & Liquidators LLC may charge such damages, costs and expenses to any credit card that Buyer has identified to Professional Appraisers & Liquidators LLC and Buyer hereby authorizes Professional Appraisers & Liquidators LLC to do so We are not responsible for errors or omissions in the catalog, or in written or oral condition reports. All measurements are approximate. We make every effort to accurately describe our merchandise, but in the event that errors occur, we cannot be held responsible. It is the bidder's sole responsibility to be well informed before bidding. We sell clocks and lamps only for their decorative value. They are not represented to be in working order, but they may be. Bidding in our auctions indicates that you accept these terms and any announcements on the day of the sale. Buyers are advised to carefully examine all items offered for sale at auction and the photos provided and to satisfy themselves regarding authenticity, authorship, genuineness, attribution, provenance, weight, count, size, measure, period, value, culture, source of origin, medium or condition before bidding or purchasing. If a buyer/bidder requires absolute certainty in all areas of authenticity, and the results of his or her evaluation leave any uncertainty in his or her mind whatsoever, we strongly recommend that the prospective buyer/bidder have an expert examine the lot on his/her behalf. Catalog descriptions & auctioneer's or representative's statements are only opinions. There are no conditional sales. All sales are absolutely final (with the exception of Gold, Sterling Silver and Diamond guarantees as stated above) and the successful bidder, whether by internet bid, telephone bid, advanced written bid, or in-house bidding during an auction, shall be obligated to complete the transaction within 3 days after the close of auction. We suggest that prospective bidders take advantage of the ample time provided during auction preview to determine the condition of offered lots. Ceramics offered in this sale are free of repairs, chips or cracks post production unless otherwise noted. Crazing, surface scratches, bubbles, areas where glaze crawls, firing flaws and base flakes will be noted if we feel that they are worthy of mention. Many of these flaws may have occurred when made. Most ceramics can be crazed, we generally will not mention it. Some pieces will be dirty or stained, this will usually not be mentioned. In any case, if you are particular about minor flaws, you should examine pieces in person or send an expert to evaluate for you. Any comment or statement made by the auctioneer or other person associated with Professional Appraisers and Liquidators concerning the authenticity, authorship, period, value, medium or condition of any item should be taken only as an opinion of the person making the statement and in no way constitutes a warranty, express or implied, concerning the item sold. You are advised to determine all of these for yourself. Ample time is allotted during preview to examine the merchandise. We advise you to take advantage of this opportunity. Professional Appraisers & Liquidators exercises the utmost care and caution in accurately describing and identifying all items listed. Condition reports & descriptions are provided as a courtesy to the prospective bidder, and are our OPINION and not a conservator's evaluation. Although we make every effort to ensure accuracy, Professional Appraisers and Liquidators makes no warranty, express or implied, as to the authenticity, authorship, period, value, medium or condition of any item sold. We have endeavored to accurately describe all items being sold. All items are sold as is, where is, with all faults. There are no warranties or representations of merchantability, of fitness, nor of any other kind, express or implied. All items are available for your examination prior to bidding. Your bidding will signify that you have examined the items as fully as desired, or that you have chosen not to examine them. Also, imperfections from the photography process can include reflections and variations in color due to digital processing. Professional Appraisers and Liquidators shall have no responsibility for any error or omission. The absence of a condition statement does not imply that the lot is in perfect condition or completely free from wear, imperfections or aging. Any statement made by the auctioneer during the auction supersedes written advertising or other written matter. There will be no refunds or returns (except as stated otherwise in the above paragraph regarding the authenticity of diamonds, or gold & silver content). All sales are final. The final decision regarding returns or refunds is at the sole discretion of the auctioneer. If a refund is offered, the purchaser will have no further recourse against Professional Appraisers & Liquidators and they shall not be liable for damages of any nature suffered by the purchaser. All information was derived from sources believed to be correct but is not guaranteed. All announcements at sale take precedence over any printed matter. Professional Appraisers and Liquidators, LLC Auction Gallery strongly encourages in person inspection of items by the bidder. Statements by our auctioneers regarding the condition of objects are for guidance only and should not be relied upon as statements of fact and do not constitute a representation, warranty, or assumption of liability by Professional Appraisers and Liquidators, LLC. All lots offered are sold "As Is / Where Is". Thank you for your continued patronage. If you have any further questions, please feel free to ask. We are always buying and accepting quality consignments! Call 352-795-2061 or email us at cfudge47@outlook.com for further information.
Discover Items You'll Love

Bid Anywhere, Anytime. Download the LiveAuctioneers App.
Available on the App Store
Android App on Google Play