Ephemera Tijuana Bibles, group of 200 examples various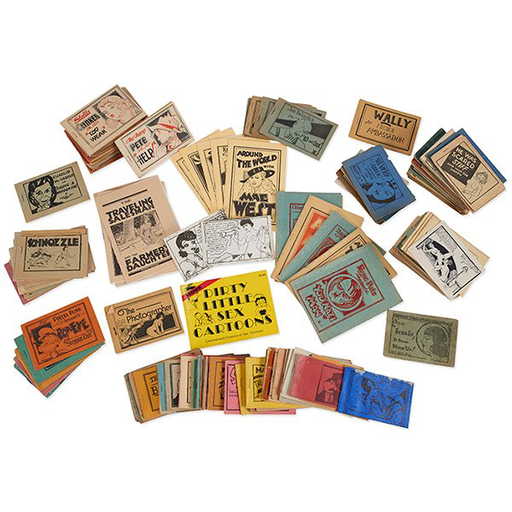 See Sold Price
Don't Miss Your Next Treasure.
Set up a search alert to hear when Collectibles items arrive.
Auction ended on February 6th, 2016 UTC
Ephemera Tijuana Bibles, group of 200 examples various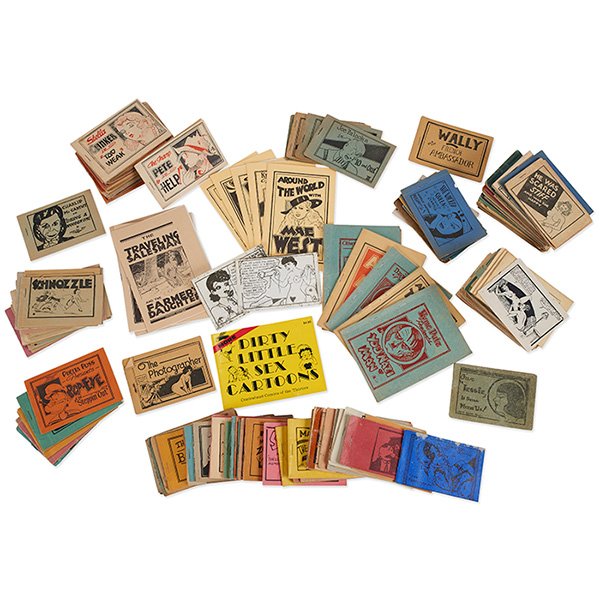 Ephemera, Tijuana Bibles, group of 200 examples, together with 6 larger examples, 11 re-prints and a cartoon book, various sizes
Condition
The majority appear to be in overall good condition and complete (some with a few possible missing pages). Small examples include the following titles: Sno White in "The Prescription", 2. The Wicked Queen Who Started This Wole Damened Business!, 3. Grumpy and Snow White in "A Changed Man!", 5. "Doc" Gets all Tangled Up!!, (2) Wally and the French Ambassador, Charlie McCarthy in "using a Wooden One" by Feelma Box, Our "Tessie" is Still With Us! Keep Going Boys!, (2) Joe Palooka in "10 and Out" III., (4) Poop-deck Pappy in "Bolls" I., Moon Mullins in "Nerts" IV., (3) The Photographer, Killer! Beetle Bailey's Buddy 4, The Green Arrow and Speedy 4, Plastic Man in the Stretch 4, Ella Cinders in "Tsk-Tsk" VII., The Taxi Driver 7, Phelta Puss Presents Pop-Eye in "Steppin' Out", (2) Dick Tracy in The Evidence!, Saltydick Inc. Presents Little Annie Rooney and Zero by Edmer Zilck, (2) Root N. Kunts Present Dick Tracy "Official Business", Dick and Sam Get the Payoff 1, Dick Tracy in "A Sight Misunderstandin'" 10., (2) Stoop N. Takit Present Joe Palooka with Knobby by Elmer Zilck, Phoney Nurse, The Adventures of a Fuller Brush Man "Hot Nuts" 3., The Adventures of a Fuller Brush Man "Dizzy Desires" 6:, Winnie Winkle Finds a Job, Winnie Winkle, (2) Schnozzle, The Cherry Picker, Moon Mullins Produced by Herman Snatch, (2) Harold Teen, (2) Andy Gump, (4) Major Hoople in "Phht" X., The Tramp Pete in "Help!" 4., Judge Puffle in "Paid" 5., Stella Clinker in "Too Weak" 8., "Eugene" the Jeep in "Precaution" 10., (2) Miss Annibelle in "Drink-Up" 1., (2) J. Wellington Wimpy in "Brrrrp" VIII., Jones Twins, Wally and the Page Boy, Wally in the Bath, Wally and the Sultan, Today I am a Man!, Rudy Valley in "Sold Out" VI., Strange as it Seems, Dick Powel in The Crooner, Joe Palooka by Jose Clapjob 7, Boots, (3) Ginger Rogors in "Hot Panties", Katherine Hepbern in "Belle of the Hills", Moon Mullins in "The 9-G, Pullout" by Joe Siff, They Didn't Get That Mad!", The Perfect Host, Astra Girl of the Future, Overpaid, Maw and Paw by I. Will Pissmore, Harold Teen in "What a Wicked Drive", Never at a Loss for "Love" by Iva Holopen, Dumb Waiter "Special" Pecker-Burger, Boy What a Dream!, Dixie Dugan in "Dildoed" VII., Gertie Gulp Presents Needlenose Noonan in "Heavy Duty", Wash Tubbs and Easy in "Captured", She Asked for a Small Piece- but, A Lesson in Salesmenship by a Fuller Brush Man "An What a Man", It Happened on the Flying Trapeze, Tony Didn't Forget Her Sausage After All, (2) It Started in the Subway - and Ended in the Bronx, Oh Doctor!, "Gert" Gabbo, Brenda Breeze, Dingle-Hoofer und His Dog Adolph, Smokey, Mr. Bailey and the "Steno", Fritzi Ritz in "Insult" VIII., Jose Pennor in "Just a Dreamer" IX., Phil Harass in "Phenogled" III., The Baron in "Vass you Dere Sharlie?" I., Sammy Cohen in "Little Guys Have Big Ones!", She Lost it at the Astor, Fritzi Ritz in "Kisses for Sale", (2) Mutt and Jeff, by Leke E Cox Smitty in An Office Idyll, Skippy in Hot and Hairy I, Ima Pushover Presents Betty Boop in "Improvising", Fritzi Ritz in "Straight from the Shoulder" 4., Popeye in Paris (or) The Sailor Gets it French Style / The London Press / London England, Priscilla's Pop in My Boy 6, Penny in I Said it and I'm Glad 4, (2) Red Ryder in Injun'Affair 6, Katherine Heartburn in "Perverted?", Bad Bill Snatches a Piece of Plunder, Ramit Home Presents Gordo in "Your as Youn as you Feel" 1, Bunky in "The Nurse-Maid" III., Laurel and Hardy in "Doing Things", Joe Palooka, Jiggs in "Wotta Dream" IV, The Adventures od a Fuller Brush Man "A Tempting Torso" 7., Ping Crospy in "Wrong Number" II., Jane Arden in "The Warden" VI., Moon Millins in Gallen, Sweeney and Son in "Sonny Fucks Around" N1, Harold Teen Featuring Shadow in Gets His First Piece of Ass T1, The Rubber Salesman, The Auto Salesman, How to Keep from Growing Old, Joan Crawford says That Fun Begins at Home!, The Farmer's Daughter I, The Green Arrow and Speedy, (2) Mille Zonga The Fan Dancer Get's an Encore, She was Dumb Like a Fox: Just Married Do Not Distrub, Mae Givitt Presents Pete in "No Help Needed", Pete The Tramp, The Gumps Oh Min!, Dick Tracy in Crime Pays! 2, Victor Mature in Samson and the Lion, Barney Google, Popeye the Sailor in "A Pisser of an Episode" J1, (2) Iona Douche-Bag Presents Tillie in "Foul Ball", Sad Sack in "The Wet Dream" E1, William Powell and Myrna Loy in "Nuts to Will Hays!" by Hardon Eyer, (2) Appo in "Haunted" 28, by Wanda Please Etta Kett in "Love Daughter Love Mother", Jiggs and Maggie, Smitty in "Thrilling Moments", Little Sport in Who's Show is This? 8, Little Iodine Mott Does 1, Popeye, J. Wellington in "Beg Pardon", Mister Breger in Fucked Again, Harold-Teen Featuring Shadow in "Trapped", Freckles "And His" Girl, Joe Palooka in The Loosing Fight, His Wife was Right He was Drunk - and How!, Mavis The Manicure Gets Neatly Clipped!, Dixie Dugan in "My Pal" II., (2) Somebody's Stenog in "Fired" X., Winnie the Waitress Never Waits Long!, Smitty in "Thrilling Moments", Smilin' Jack in "Close Up" Burning Desire Prod. H1, (2) Judge Puffle in "Paid", Smitty in "Rapist", Ella Cinders and Blackie, Harold Teen, Smitty Featuring Herby in "Riding High" P1, Benny Does it Without Words!, Clowning Circus Clown, Dick Tracy Meets Peuck-Face L1, Harold Teen "Gets His First Piece of Ass at Hotel La Whore.", Boots Gets Hot in the Pants I., Ramit Home Presents Blonde in "Doin it the Hard Way" 1, Iva Wopper Presents Snuffy, Blondie, Peter B. Hard Presents Moon Mullins in Help!, Polly and Her Pals in "No Fun for Pa!" by Friggem Young, The Babysitter Starring Penny 4, Tillie The Toiler in "Ooooh - Hmm - Daddy" II., She Fell Out of Bed When he Hit the Spot! (Century of Progress World's Fair interest), Smitty "The Office Boy", The Nudist Colony in "Line Up Girls" 25, Phil Fumble 28, Dagwood in "The Facts of Life" by Luke Atmine, Superboy in Big Bet 4, along with 6 others and some loose cards from others that have fallen apart. Most, but not all, of the larger examples appear to be reprinted versions and titles include: Hyme Putz Presents "You Nazi Man", (2) Around the World with Mae West, Mae West "The Sod-Buster", Mae West and Popeye, David Coppafeel Presents Snuffy in "Wild Oats", (2) Amos 'n Andy with Madam Queen Ruby Taylor in "Tight Spot", (2) Oliver Droopydrawers Presents Boots in "Hot Panties", "Blow me Down" Popeye th' Sailor, Knottso Hott Presents Tillie the Toiler in "Ravished", The Original Major Hoople, Moon and Uncle Willie Mullins, The Traveling Salesman and the Farmer's Daughter, Urns & Ballen in "Little Can You've Had a Busy Day" by Lotta Tocas, G. Howitt Hoyts presents The Big Bad Bear in "Up Yer Gi-Gi". Also comes with a Dirty Little Sex Cartoons booklet.
Discover Items You'll Love