Arms, John Taylor (American, 1887-1953) Etching Print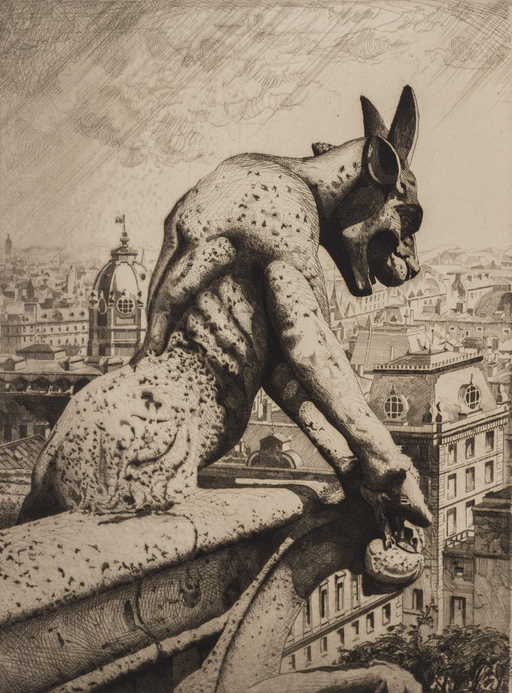 See Sold Price
Don't Miss Your Next Treasure.
Set up a search alert to hear when Myers Fine Art lists new auctions.
Auction ended on March 13th, 2016 UTC
Arms, John Taylor (American, 1887-1953) Etching Print





Arms, John Taylor (American, 1887-1953) Etching Print. "The Gargoyle and His Quarry, Notre Dame. 1920". Signed lower right John Taylor Arms. In good condition. Image size 7 " x 5 ". Sheet size measures 8 7/8" x 6 7/8".

From Askart: One of the more famous printmaker of the early 20th century, John Taylor Arms was known for his medieval architectural etchings that combined precise realism with a sense of soaring spirituality. He believed that Gothic architecture was man's greatest achievement, uniting spiritual and aesthetic values, and was best known for his renderings of gargoyles and European churches. He was remarkably prolific, considering that he worked slowly and deliberately and spent much time traveling, writing, and lecturing. He was born in Washington D.C. and studied law at Princeton University. He then transferred to the Massachusetts Institute of Technology to study architecture, earning a masters degree in 1912. For five years after his graduation, he worked for Carrere and Hastings, an architectural firm, and became a partner in another firm named Clark and Adams. In 1913, he made his first etching, and by 1927 he began exhibiting his architectural etchings at the National Arts Club and the Salmagundi Club in New York. He also worked in aquatint and often combined the two mediums. In addition to medieval architecture, he etched scenes of Maine and a series of American cities. He was a member of principal art organizations, including the National Institute of Arts and Letters, and he wrote several books on prints and printmaking including Handbook on Printmaking and Printmakers.

Biography from Birger Sandzen Memorial Gallery: John Taylor Arms was, without question, was one of the most respected American printmakers in the first half of the 20th Century. His etchings are in most of the major print collections in the United States and Europe. Additionally, Arms' involvement in organized efforts to promote printmaking includes serving as president of the Society of American Etchers and publishing the Handbook of Print Making and Print Makers in 1934. The most distinctive characteristic of an etching by John Taylor Arms is the exquisitely fine detail he developed. In many cases, a magnifying glass is needed to adequately appreciate the artist's work. Of special note are his depictions of Gothic architecture from Europe. Both Birger Sandzn and his son-in-law, Charles Pelham Greenough, were captivated by Arms' etchings, and this exhibition features thirty-four of the finest examples from their respective collections. John Taylor Arms was born in Washington, D.C. in 1887. His family of businessmen, clergymen and teachers descended from a knitter of stockings who settled in Massachusetts in the seventeenth century. In 1907, upon graduation from Lawrenceville School in Washington, D.C., Arms transferred to the Massachusetts Institute of Technology to study architecture. He received a Master of Science degree in 1912 and that year joined the firm of Carr and Hastings in New York as a draftsman. He stayed with the firm for two years, after which he went into partnership with Cameron Clark, a well-known designer of houses in the Colonial Revival style. Arms soon tired of the day-to-day paperwork routine of his profession that did not satisfy his need for creative expression. He began spending evening hours on drawings he was not able to do at the office. In 1913, Arms married Dorothy Frothingham Noyes. She gave him a small etching kit for Christmas, which brought about his first print in 1914, titled Sunlight and Shadow. In 1916 he dissolved his partnership with Clark and joined the Navy as a navigational officer on convoy duty during World War 1. Upon discharge in 1919 he decided to make etching his life's work. The romance and nostalgia for old buildings and churches drew Arms to Gothic architecture imagery. He developed a plan to record the major Gothic churches in prints. During the 1920s, he began three of his most important series of etchings: The French Churches, The Spanish Churches, and The Italian Series. Arms continued to travel in Europe in the 1930s. He and his wife were particularly fond of Venice, with its intricate buildings and bridges combining Gothic and Byzantine architecture. Toward the end of the decade, the Arms' found a new home-away-from-home in England. There he made many etchings of the small village churches until 1937. In the late thirties and during World War II, when travel in Europe became difficult, Arms and his family traveled to Mexico. He studied and drew Pre-Columbian ruins and Spanish Baroque architecture with his customary attention to detail and local color. Arms developed his etchings from drawings made on location. After he had settled into a location, he would select a spot with a view of the subject he found satisfying and, perched on his camp stool, would spend ten days to two weeks on one drawing. These drawings were used as preparatory plans, with details added later, sometimes with the use of photographs. To begin an etching, he used the main areas of his drawings to trace an outline on a grounded etching plate. The transferred lines appeared as distinct red markings and served as a guide when he began to draw with the etching needle on the plate. Arms often used ordinary sewing needles set in wooden handles to draw through the ground, exposing the plate surface. Once the image was satisfactory, he would print an edition of prints from the plate. Occasionally he used a magnifying glass to draw the closely packed dots and lines that suggest tonal values of sunlight and shadow on stone. The most difficult prints to make were the miniature images, with their extreme detail. Henry Noyes Arms, the son of John Taylor Arms, characterized his father as a man who felt he had been "born to draw Gothic architecture." Arms wanted those who saw his prints to have the same emotional experience he enjoyed in the presence of the great cathedrals and other imagery he represented.
Discover Items You'll Love