Sekula, Sonia (American, 1918-1963) 1947 Oil Painting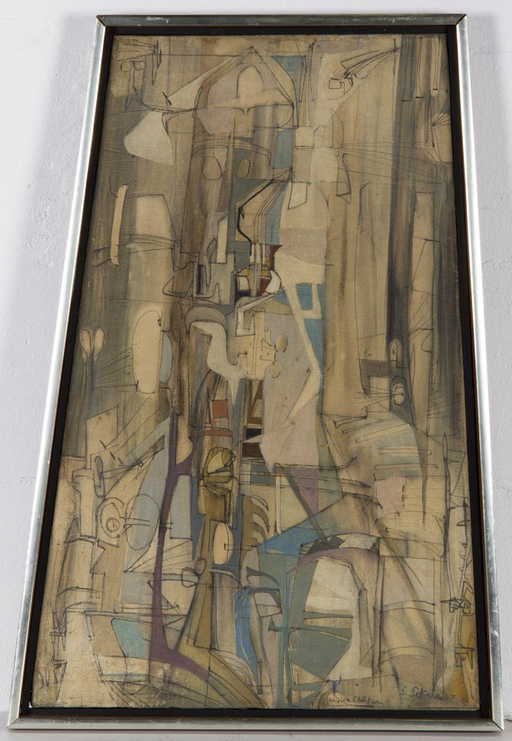 See Sold Price
Don't Miss Your Next Treasure.
Set up a search alert to hear when Oil Paintings items arrive.
Auction ended on March 13th, 2016 UTC
Sekula, Sonia (American, 1918-1963) 1947 Oil Painting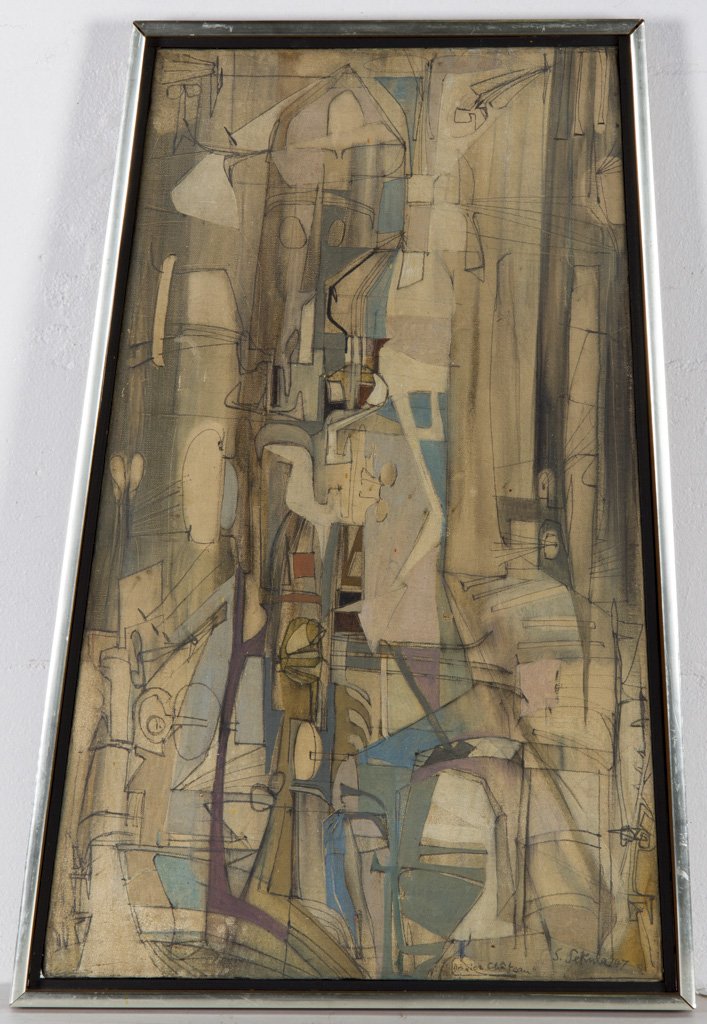 Sekula, Sonia (American, 1918-1963) Oil Painting. "Les Dernier Chateau" (The Last Castle). Oil painting on canvas. Signed and titled lower right S. Sekula '47 "Les Dernier Chateau" (The Last Castle). Painting is numbered in pencil on back of canvas, #90. Stretcher is numbered and titled with a Leo Rehfeld framers label, NY. In good condition with three small pinholes. In trapezium form, painting measures 24 " x 12 1/2" at top and 16 " at the bottom. Framed with wooden strip and faced with aluminum trim.

From a NYTimes article by Grace Glueck : If ever an artist started out right, it was Sonja Sekula (1918-1963). Born in Switzerland, the only child of well-to-do parents, she moved to New York City with them in 1936, and in the family's Park Avenue apartment met a wide range of European artists and writers exiled by the war. Thus launched in cultural circles, Sekula -- an ethereal, ''poetic'' young woman who studied art at Sarah Lawrence College and at the Art Students League -- became, in the 1940's, a sort of golden girl of the Surrealists and Abstract Expressionists; a lovely butterfly bathed in the aura of such friends and sometime collaborators as Andre Breton, Max Ernst, Jackson Pollock and Robert Motherwell. She was much influenced by their work and by the Surrealist concept of automatic writing, which played a key role in the development of Abstract Expressionism. She showed at two of Manhattan's hottest spaces at the time, the Peggy Guggenheim and the Betty Parsons galleries; published a text in the Surrealist magazine VVV and got to know the composers Morton Feldman and John Cage and the choreographer Merce Cunningham (for whom she designed costumes). ''She was unusually gifted; her work had conviction, an authenticity that made you wonder who this person is and what is going to happen to all this talent,'' Feldman said in a 1971 interview. What did happen is a poignant story. Emotionally fragile, Sekula had her first psychotic breakdown at the age of 21, and for the rest of her life was in and out of mental institutions. Nagged by doubts about her work, she was unable to produce for long periods. The financial strain of her illness forced the family back to Switzerland, where she had to live with her parents. Finally, at the age of 45, cut off from the New York art world, her friendships and her resources worn thin, she hanged herself in her studio. Now, neglected even in feminist annals, Sekula's work has undergone something of a revival in her native country. The exhibition now at the Swiss Institute New York is an abridgement of a retrospective organized earlier this summer at the Kunstmuseum in Winterthur, Switzerland by the museum's director, Dieter Schwarz. It is the first Sekula show in the United States since a 1971 exhibition at the Finch College Art Gallery in Manhattan. Turning away, like others of her circle, from the cliches of French Cubism, Sekula relied heavily on automatic writing, a kind of doodling in which the pen or brush, guided by the subconscious, is allowed to roam freely over the surface, making marks theoretically liberated from prevailing modes. From this, her work took on a strong linear structure. ''African Moonsun'' (1945), the earliest canvas in the show, in subdued ''night'' colors of blue, brown and black, is a vigorous, intense synthesis of biomorphic and tree- or boat-shaped forms, accented, outlined and tied together with an irregular network of white lines. Another potent influence was American Indian culture, especially that of the Northwest coast. You can see it in ''Le Bon Dieu (the Prophet)'' (1947-48), a thinly colored totemic painting that echoes tribal images.These influences were filtered through the work of other artists, among them the Chilean-born Roberto Matta, in whose spacey metaphysical canvases biomorphic forms seem to float in infinity; Wifredo Lam, a Cuban whose paintings were based on African sculpture and primitive mythology, and Mark Tobey, an American noted for his linear calligraphy, or ''white writing.'' Close to their concepts are such Sekula paintings as ''Mechanics, With Sentiments'' (1948) and ''Under the Bridges'' (1949), each a composition of intricately drawn linear verticals climbing through space, accented by small painted passages in pale colors. Unlike the Abstract Expressionist stars she knew, Sekula never really developed a big ''signature'' style of her own. But if her work is derivative, she absorbed the lessons well. And her best paintings -- of the late 1940's and early 50's -- have a vibrancy and elegance all their own. They are distinguished by overall calligraphic markings and incidents on painted grounds, as in ''Silence'' (1951), a large canvas in misty grays. Thin white lines course down the surface like gentle rain; delicate black scribbles and symbols march over them like random graffiti. A particularly beautiful smaller work on paper is ''Grace'' (1952), a Klee-like drawing that incorporates fragments of writing along with disk and crescent shapes in white on red and black grounds. ''Premonition'' (1956), another arresting work on paper, deploys overtly religious symbolism, white crosses and steeples drawn on a black ground with patches of blue. As her world diminished, Sekula's work became more modest in scope, less publicly oriented and more inward-looking. Of no small interest here are the collages, sketchbooks, haiku and poem-drawings of her last years, as she shook off the art world and entered into a vivid dialogue with herself. ''Sonja Sekula (1918-1963): A Retrospective remains at the Swiss Institute New York, 495 Broadway, near Broome Street, SoHo, through Oct. 26.
Discover Items You'll Love