lots of lots
Welcome to the world's largest marketplace for fine art, antiques & collectibles.
qing-dynasty Peking glass vase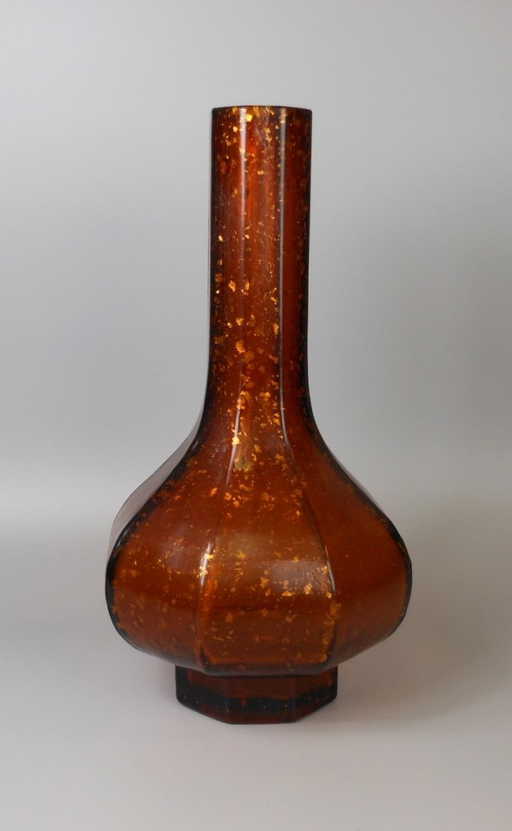 See Sold Price
Don't Miss Your Next Treasure.
Set up a search alert to hear when Glass Vases & Garnitures items arrive.
Auction ended on May 14th, 2016 UTC
qing-dynasty Peking glass vase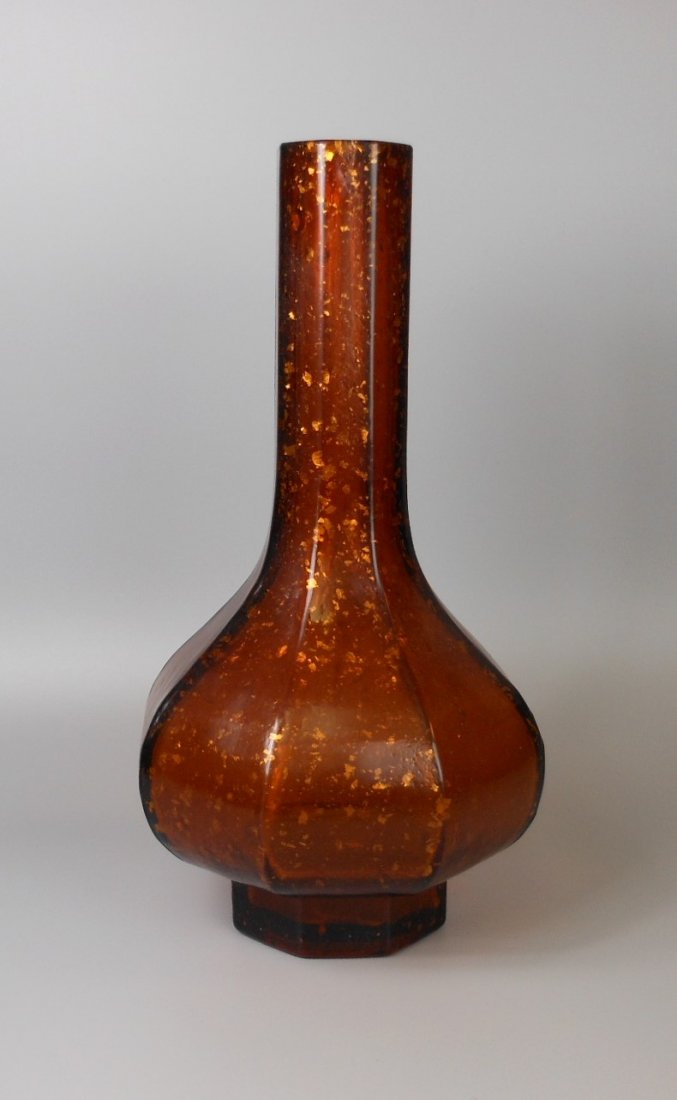 Chinese qing-dynasty amber style Peking glass vase, of octagonally faceted and ribbed bottle form. H 30.5cm. Fidelity, within 30 days, such as the three experts point out that different from the description, full refund 清末,仿琥珀洒金八角玻璃长颈瓶,高30.5厘米。(保真,30天以内,如有三个以上专家指出与描述不同,全款退还)
Shipping
Buyer Pays Shipping Cost
Payment
Contact For Payment Details
Accepted payment methods
Terms
Terms and ConditionsTHE FOLLOWING DESCRIBES THE TERMS AND CONDITIONS ON WHICH LIVEAUCTIONEERS LLC ("LIVEAUCTIONEERS") PROVIDES AUCTION HOUSES, DEALERS, AND SELLERS OF PROPERTY AN ONLINE VENUE FOR THE LISTING AND SALE OF PROPERTY, AND THE MARKETING OF SERVICESIntroductionWelcome to the LiveAuctioneers User Agreement ("Agreement"). This Agreement contains terms and conditions applicable to your participation in the listing and sale of property and the marketing of services on LiveAuctioneers' websites. By using the services on any LiveAuctioneers' website (i.e., LiveAuctioneers.com and any other related websites where this Agreement appears), you are agreeing to the following terms and conditions, including those available by hyperlink, with LiveAuctioneers LLC, as well as our subsidiaries and affiliates.Before you may become a participating seller on any LiveAuctioneers' website, you must read and accept all of the terms and conditions in, and referenced by, this Agreement, the Participation Requirements (see Exhibit A), the Live Auction Agreement (see Exhibit B), the fee schedule for your chosen account level ("Fee Schedule"), and our Privacy Policy (whether such terms and conditions are contained in the primary document itself or are hyperlinked to related documents)(collectively, the "Terms of Use").We strongly recommend that, as you read this Agreement, you also access and read all linked information, as well as the listing of Auction Terminology (which can be found at http://www.liveauctioneers.com/terminology.html). Some LiveAuctioneers-branded websites, or sites that we operate, may also be governed by separate user agreements and privacy policies that you should also read and accept.You acknowledge and agree that we may amend this Agreement in our sole discretion at any time, and from time to time, by posting the amended terms on our website. Unless, and only to the extent, expressly stated to the contrary herein, all amended terms and conditions shall automatically be effective on a prospective basis once they are posted on our site. Accordingly, your use of LiveAuctioneers' website and services shall be subject to the most current version of our Terms of Use in effect at that time, and you are encouraged to periodically review our Terms of Use for any recent changes and/or amendments.1. DEFINITIONS.(a) "Company" means the entity or individual which will own Property, or obtain Property in consignment, to be sold through the LiveAuctioneers Site.(b) "Consignor" means the person, authorized agent, or entity that consigns goods to an auction house or auctioneer for sale.(c) "Information" means all information about the Property to be offered for sale, including, but not limited to, text, images, written descriptions and any other information provided by Company under this Agreement, including information related to provenance, history, age, authorship, period, culture, source of origin, quality, rarity, existence of copyright or other proprietary or intellectual property rights pertaining thereto, condition/damage reports, and estimates of value and reserves.(d) "LiveAuctioneers Marks" means the LiveAuctioneers' domain names, trademarks, logos and other branding elements used in furtherance of the LiveAuctioneers Services and/or in performance of this Agreement.(e) "LiveAuctioneers Services" means the online Internet web site service provided by LiveAuctioneers that promotes the sale of items by allowing sellers to place Property up for bid and buyers to enter the amount they are willing to pay for such Property, and thereupon, allocates the highest bid and notifies the seller of the highest bidder through an automated bid proxy system.(f) "LiveAuctioneers Site" or "Site" means the online venue through which Live Auctioneers offers auction houses, dealers, and sellers the ability to list and sell their Property and market their services.(g) "Live Auction" means an auction wherein LiveAuctioneers' customers can bid either through absentee bids or real time bids through the internet using LiveAuctioneers' technology on Property being auctioned on the floor of an auction house or in another such live event.(h) "Online Service" means the services and technology provided by LiveAuctioneers or LiveAuctioneers' affiliates to enable Company to inventory, promote, organize online, and sell Property through the LiveAuctioneers Services, including, but not limited to, the use of Live Auctions and the tools associated with LiveAuctioneers.(i) "Property" means the goods and/or services that auction houses, dealers, and sellers list for sale through LiveAuctioneers.(j) "Terms of Use" means all the collective terms and conditions that all sellers (including Company) who use LiveAuctioneers Services must agree to, and abide by, including, but not limited to, those contained in the LiveAuctioneers User Agreement, the Participation Requirements (see Exhibit "A"), the Live Auction Agreement (see Exhibit "B"), the Fee Schedule, and the Privacy Policy.2. LISTING PROPERTY FOR SALE ON LIVEAUCTIONEERS.The LiveAuctioneers Site provides a venue for Company to conduct online auctions of Property. Company agrees that LiveAuctioneers will not be a party to any consignment agreements between Company and Consignors or other third parties to obtain such Property. Company may list Property on the LiveAuctioneers Site, subject to the Terms of Use. Company shall be responsible for obtaining Property through its own resources, properly authenticating and warranting Property, the consignment and sale of Property sold in auctions on the LiveAuctioneers Site, monitoring the conduct of its Consignors for compliance with the Terms of Use, and administering the pre-approved marketing of Live Auctions by Company, as well as its Consignors' respective advertising and marketing plans in all media, print, and electronic mailings or otherwise.(a) Preparing Property Descriptions. Company shall prepare its Property descriptions, Company Conditions of Sale (as such term is defined in Section 3(a) herein), and all Information contained therein, accurately and in accordance with the Terms of Use.(b) Responsibility for Information. Company is solely responsible for the content of the Information it provides. Company agrees that the Information it posts on the Site or any additional Information that Company (or its licensed auctioneer) provides to prospective bidders with respect to Property will be accurate, complete, and not misleading. LiveAuctioneers may use information, including, but not limited to, images, text, and prices realized, of lots being sold or that have been sold (the "Auction Product Information") by the Company in any online auction and may incorporate such information into LiveAuctioneers' databases, advertisements, and other promotional and post-auction materials, either of an auction-specific or general commercial nature. In connection therewith, and in consideration of LiveAuctioneers providing the services pursuant to this Agreement, the Company hereby provides a royalty-free, worldwide license to LiveAuctioneers (i) to distribute, make available for retrieval, sublicense and otherwise market the Auction Product Information, including to third parties; (ii) use the Auction Product Information for internal purposes, including development, help desk support, marketing, sales, and demonstration purposes; and (iii) store the Auction Product Information for archives. LiveAuctioneers shall identify the Auction Product Information as being sold via the Company's auction house. It is understood that LiveAuctioneers shall not charge the Company for such advertising or post-auction exposure.(c) Restricted Property. Company will refrain from offering or selling any Property on the Site that is prohibited by the Terms of Use or would otherwise violate any applicable laws or regulations, or which would subject LiveAuctioneers or its suppliers to potential liability. LiveAuctioneers may, in its sole discretion, remove any Property or Information that LiveAuctioneers determines, in its sole discretion, to have been posted on the LiveAuctioneers Site in violation of the Terms of Use, or which otherwise may expose LiveAuctioneers to potential liability or the threat of litigation. In such event, LiveAuctioneers may immediately cancel the listing for such Property without prior notice to the Company and without any liability for such cancellation.(d) Compliance with Laws. Company acknowledges and agrees that the use, purchase, distribution, promotion, advertising, and sale of certain products are subject to federal state, and local regulations, including, but not limited to, firearms, Indian artifacts, recalled products, children's products, alcoholic beverages, coins and currency. Company further acknowledges and agrees that LiveAuctioneers' role with respect to the sale of products is solely limited to providing a conduit through which a prospective purchaser may participate in an auction. LiveAuctioneers does not review or evaluate the products auctioned or verify the descriptions given, or claims made, by Company regarding the products. Company expressly represents that it shall comply with all applicable federal, state, and local laws, statutes, ordinances, and regulations relating to its promotion, advertising, sale, and distribution of any products that it offers for sale or sells through LiveAuctioneers (the "Regulations"), including, but not limited to, (i) the Gun Control Act of 1968 and all regulations promulgated by the Bureau of Alcohol, Tobacco, Firearms, and Explosives (collectively, the "Firearms Regulations"), (ii) the Consumer Products Safety Improvement Act of 2008 and all regulations promulgated by the U.S. Consumer Products Safety Commission, and (iii) the Indian Arts & Crafts Act of 1990 and any additional laws and regulations applicable to the sale of Indian arts and crafts. Company shall at all times defend, indemnify and hold LiveAuctioneers, its shareholders, members, partners, officers, directors, employees, agents, parent, subsidiaries, affiliates, joint venturers, and successors and assigns, harmless from, and against, any and all causes of action, suits, claims, demands, judgments, liabilities, losses, damages, awards, penalties, fines, costs and expenses (including, but not limited to, reasonable attorney's fees) of any nature or kind, arising under or resulting from: (i) Company's promotion, advertising, sale, or distribution of any products in violation of any Regulations; (ii) Company's use of LiveAuctioneers in connection with the sale of any products subject to any Regulations; and (iii) Company's alleged or actual violation or breach of any Regulations.(e) No Solicitation. Company will advise Consignors that, except for answering questions about items offered, and obtaining information to conclude a sale, there shall be no contact with buyers that are registered users of LiveAuctioneers.(f) Third Party Agreements. Company shall insure that Company's agreements with Consignors, Conditions of Sale, and all other third party agreements pertaining to the sale of items shall be in compliance with the Terms of Use and all applicable laws.3. CONDITIONS OF SALE.(a) Conditions of Sale. Company agrees that the Information provided by Company in the online catalogue information page will contain, at a minimum, a link to the contractual terms under which Company will sell the Property to the successful bidder, as well as any additional terms required to consummate the sale (for example, shipping fee, insurance, taxes, etc.) (the "Company Conditions of Sale"). The Company Conditions of Sale will be binding upon Company and the successful bidder and must include, at a minimum, a warranty of clear title, a warranty of the right to convey clear title, and a warranty that the Property conforms to the Information.(b) No Disclaimer. Company shall not modify or disclaim the Company Conditions of Sale (or the Standard Conditions of Sale, if applicable) or any warranty provided as part of the Information in any invoice, statement or other written or oral communication. Company agrees that LiveAuctioneers will not have any responsibility or liability for the content or accuracy of any Information provided by Company, and Company shall remain solely liable for any misleading or inaccurate Information it provides, as well as any other grounds upon which a successful bidder may seek to rescind a sale.4. ONLINE SERVICE.(a) License Grant. Subject to the Terms of Use, LiveAuctioneers hereby grants to Company a non-exclusive, non-sublicenseable, non-transferable, royalty-free license to access and use the Online Service for Company's internal business purposes as set forth in this Agreement.(b) Security. In order to participate in the Site, Company will receive a User ID and a password to list items, and may receive additional User IDs or passwords in connection with online tools or customer software designed to facilitate Company's participation in the Site. Company will be responsible for protecting its passwords and changing such passwords periodically. Company shall be responsible for actions taken by individuals who have access to Company's User IDs and passwords and agrees not to disclose the passwords to any third party. If Company discovers that any password is no longer confidential, it shall inform LiveAuctioneers immediately. Company agrees to select and use a single User ID in connection with any posting or customer contacts and agrees that such User ID shall appropriately identify Company and not be misleading or confusing in any respect.5. LIVE AUCTIONS.(a) Licensing Laws. Company is required to follow its local state/country auctioneering licensing laws, or must hire a licensed auctioneer to conduct its Live Auctions who will act as Company's agent with respect to those auctions. Company must comply at all times, and will cause its licensed auctioneer to comply at all times, with the Terms of Use while conducting or participating in a Live Auction through the LiveAuctioneers Site. Company must provide proof of license (if required by local law) prior to the auction, as well as an official business license, proof of good standing, and Tax ID number, via facsimile to: Attn: Support at (212) 947- 0184.(b) Sale Removal. Sales that have been posted and that have bids registered against them cannot be removed unless the sale is completely canceled at the Auction venue; however, the sale date can be rescheduled and the listing fee, if applicable, redeemed for that sale if posted again.(c) Bid Execution. The Company shall, to the best of its ability, execute all live and absentee bids generated by LiveAuctioneers during the auction. Internet bidders will have the same opportunities as floor bidders to participate in the auction, and the Company will have Conditions of Sale that are fair and equitable to both floor and internet bidders.6. TRADEMARK LICENSE.(a) Trademark License. Subject to the Terms of Use, LiveAuctioneers hereby grants to Company a non-exclusive, nonsublicenseable, non-transferable, royalty-free license to use LiveAuctioneers Marks in links to advertisements and promotions for Company offerings on the LiveAuctioneers Site. Company hereby grants to LiveAuctioneers a non-exclusive, nonsublicenseable, non-transferable, royalty-free license to use Company's domain names, trademarks, logos and other branding elements on the LiveAuctioneers Site, and in links to, and advertisements and promotions for, the LiveAuctioneers Site.(b) Trademark Restrictions. The owner/licensor of Marks may terminate or limit the foregoing license if, in its reasonable discretion, the licensee's use of the Marks tarnishes, blurs, or otherwise dilutes the quality or goodwill associated with the Marks and such use is not cured within ten (10) days of receipt of a written notice thereof. In limiting such license, the owner/licensor may specify certain pages of the licensee's website or promotional materials that may not contain the Marks. Title to, and ownership of, the Marks will remain with the owner/licensor. The licensee will use the Marks exactly in the form provided and in conformance with any trademark usage policies provided by the owner/licensor of the Marks. The licensee will not take any action inconsistent with the owner's/licensor's ownership of the Marks, and any benefits accruing from the use of such Marks will automatically vest in the owner/licensor. The licensee will not form any combination marks with the owner's/licensor's Marks.7. CUSTOMER DATA.Company agrees not to use or disclose any personally identifiable information of any LiveAuctioneers' user that Company obtains through the LiveAuctioneers Site or through any LiveAuctioneers' or LiveAuctioneers-related communication or LiveAuctioneers' or LiveAuctioneers-facilitated transaction ("Customer Data") except for the purposes of completing the transaction with the successful bidder ("Buyer") and fulfilling its obligations under this Agreement. Company agrees to (i) disclose and obtain the consent of the Buyer if Company wishes to add the Buyer to Company's customer list or make any use of the Buyer's information, and (ii) provide the Buyer with the ability to opt-out of such inclusion. So long as Company has not actively solicited or encouraged (as part of Company's Information posted on the Site) LiveAuctioneers' users to register with Company, and in any registration the user is informed (x) that he is affirmatively registering with Company, and (y) what the privacy policies of Company are with respect to that user's information, then such information will not be deemed "Customer Data" under this Agreement. Company agrees not to target (nor to encourage or facilitate the targeting by any third party of) LiveAuctioneers' users for any promotion or activity of Company or any third party. Company agrees not to spider the LiveAuctioneers Site or otherwise collect user information for any purpose without the express written permission of LiveAuctioneers.8. NON-EXCLUSIVITY AND COMPETITION.(a) Unless otherwise agreed in writing, this Agreement is entered into on a non-exclusive basis with LiveAuctioneers, thereby permitting Company to list its catalogued auctions and/or to conduct absentee and live online bidding with any competing platform or competitor of LiveAuctioneers. Notwithstanding the foregoing, it is expressly understood and agreed that, in consideration of such non-exclusivity, any "active client" of LiveAuctioneers shall be prohibited from entering into an exclusive agreement with any such competing platform or competitor of LiveAuctioneers to list its catalogued auctions and/or to conduct absentee and live online bidding on its behalf. For purposes of this provision, an "active client" shall mean any individual or company (including, without limitation, an auction house) that currently uses, or within the last twelve (12) months has used, LiveAuctioneers to list its catalogued auctions and/or to conduct absentee and live online bidding on its behalf. Further, in the event Company lists any items for auction or sale on any competing platform or competitor of LiveAuctioneers during the next twelve (12) months, Company agrees that LiveAuctioneers shall have the right, but not the obligation, to list such items for auction and/or sale, as relevant, on LiveAuctioneers' website on terms, as viewed from LiveAuctioneers' perspective, no less favorable than those offered to the competing platform or competitor.(b) Company expressly warrants and represents that by entering into this Agreement it will not violate any contractual obligations or agreements that Company has with any third party.(c) In the event that Company determines that it does not wish to continue utilizing LiveAuctioneers to list its catalogued auctions and/or to conduct absentee and live online bidding, it is understood that all of the Company's archived sales will be hidden from the LiveAuctioneers' search database and its account shall be deactivated.(d) It is expressly understood and agreed that any breach by Company of any of the terms and conditions contained in paragraphs (a) and (b) above may cause LiveAuctioneers to suffer irreparable harm for which there is no adequate remedy at law. Accordingly, LiveAuctioneers shall be entitled to the issuance of an injunction, restraining order, or other equitable relief, without the necessity of posting a bond, to restrain Company from committing, or continuing to commit, any such breach. Any right to obtain an injunction, restraining order, or other equitable relief shall not be deemed to be a waiver of any other right or remedy to which LiveAuctioneers may be entitled at law or in equity. Additionally, it is further agreed that any monetary damages to which LiveAuctioneers may be entitled as a result of such breach shall expressly include consequential damages, including, but not limited to, lost revenue and profit (including, by way of illustration and not by way of limitation, any lost revenue and profit that occurs due to a third-party's claim that Company is subject to an exclusive agreement).(e) Company agrees to defend, indemnify and hold LiveAuctioneers, its shareholders, members, partners, officers, directors, employees, agents, parent company, subsidiaries, affiliates, joint venturers, successors and assigns, harmless from, and against, any and all causes of action, suits, claims, demands, judgments, liabilities, losses, damages, awards, penalties, fines, costs and expenses (including, but not limited to, reasonable attorney's fees), arising out of, relating to, or resulting from, Company's breach of any of the terms and conditions contained in paragraphs (a) and (b) above.9. FEES FOR LIVE AUCTIONS.(a) To LiveAuctioneers. Unless otherwise agreed in writing, Company shall pay LiveAuctioneers fees for its Online Service in conformance with the Fee Schedule currently in effect, which shall be posted at www.liveauctioneers.com.(b) Buyer's Premium Fee. Company may, in its sole discretion, charge the Buyer a buyer's premium in accordance with LiveAuctioneers' policy, except if Company has subscribed to "Online Only" for any given auction, in which case no buyer's premium may be charged for that auction. It is expressly understood and agreed that online bidders and floor bidders shall be given equal opportunities to participate in auctions, and to that end, Company agrees that any buyer's premium charged by the Company shall be the same for both online and floor bidders, and any discounts of the buyer's premium offered to floor bidders shall be likewise offered to online bidders.(c) Right to Change Fees. LiveAuctioneers reserves the right to change its Fee Schedule at any time, and from time to time, by posting the new fee schedule on our website, which shall be automatically effective on a prospective basis once posted on our site. Accordingly, you are encouraged to periodically review our Fee Schedule for any changes thereto.(d) Taxes. Company will be liable for collecting any sales, use, value added tax (VAT), ad valorem, import, excise or other tax which may be imposed by the taxing authorities at Company's location for the sale of Property. Company agrees to be fully responsible for, and shall indemnify, defend, and hold LiveAuctioneers, its shareholders, members, partners, officers, directors, employees, agents, parent company, subsidiaries, affiliates, joint venturers, successors and assigns, harmless from, and against, any such taxes and duties.10. CONFIDENTIAL INFORMATION.(a) "Confidential Information" is defined as any confidential or proprietary information of LiveAuctioneers and its suppliers (including, without limitation, this Agreement, the Terms of Use and the various policies referred to therein, including, but not limited to, those contained in the Participation Requirements), and any other material disclosed to Company by LiveAuctioneers in a writing marked "confidential" or, if disclosed orally, identified as confidential at the time of such disclosure. Company will hold LiveAuctioneers' Confidential Information in confidence and will not disclose such Confidential Information to third parties nor use LiveAuctioneers' Confidential Information for any purpose other than as required to perform its obligations under this Agreement. Such restrictions will not apply to Confidential Information which (a) is known by Company before the date of disclosure, (b) becomes, through no act or fault of the recipient, publicly known, (c) is received by Company from a third party without a restriction on disclosure or use, or (d) is independently developed by Company without reference to the Confidential Information.(b) In the event that Company is required or compelled by law or court order to make any disclosure of Confidential Information, Company shall provide LiveAuctioneers with prompt written notice of such requirement prior to such disclosure (to the extent permitted by law) so that LiveAuctioneers may seek a protective order or other appropriate relief. Subject to the foregoing, Company may furnish that portion (and only that portion) of the Confidential Information that it is legally compelled or otherwise legally required to disclose.11. PUBLICITY.Company will not issue any press release or make any similar public statement regarding this Agreement, the activities contemplated under this Agreement, LiveAuctioneers, or the LiveAuctioneers Site without LiveAuctioneers' prior written approval and prior coordination with LiveAuctioneers' public relations department. Company agrees to reasonably cooperate with LiveAuctioneers' public relations department with respect to LiveAuctioneers-related activities.12. REPRESENTATIONS, WARRANTIES AND COVENANTS.(a) Power and Authority. Company represents and warrants that: (i) Company has the right, power, and authority to place consigned Property for sale and to enter into this Agreement and to perform all of its obligations hereunder; (ii) that such Property is, and, until sold, shall remain free and clear of all liens, encumbrances, and claims of third parties of every kind or nature whatsoever; (iii) good and clear title to such Property will pass to the Buyer upon sale; and (iv) there are no restrictions on LiveAuctioneers' right to reproduce photographs or images of such Property. Further, the individual entering into this Agreement on behalf of Company represents and warrants that he or she is entitled to enter into this Agreement as an authorized representative of Company and to bind Company to the terms and conditions of this Agreement.(b) Power to Bind Third Parties. Company represents and warrants that it has all necessary rights and powers to act on behalf of, and to contractually bind, any third party on whose behalf Company submits an item listing or other Information.(c) No Conflict. Company represents and warrants that entering into, and performing, this Agreement, will not conflict with, or constitute a breach of, any other agreement, arrangement, or obligation to which Company is now, or will become, a party.(d) Third Party Performance. Company guarantees that the performance of any third party that Company uses to supply any Property, Information, or fulfill any aspect of a related sale or service, will comply with the terms of this Agreement.(e) Representations and Warranties Regarding Property. Upon the posting of any Property for sale on the LiveAuctioneers Site, Company represents and warrants that it has no knowledge of, nor reason to believe, that the Property is counterfeit or not authentic; and Company further represents and warrants, if applicable, that the Property has been lawfully imported into the jurisdiction in which it is currently located, and has been lawfully and permanently exported as required by the laws of any country (including any laws or regulations applicable in the European Union) in which it was located previously, and that required declarations upon the export and import of the Property have been, or will be, properly made and any duties and taxes on the export and import of the Property have been, or will be, paid prior to the transfer of the Property to the Buyer.(f) Representations and Warranties Regarding Intellectual Property. Company represents and warrants that the posting and/or sale of the Property and/or the Information will not violate the intellectual property rights of any third party, including, without limitation, any trademark, trade dress, trade secret, patent, copyright, or right of publicity rights.(g) Additional Company Representations, Warranties and Covenants. In addition to any other covenants and agreements set forth in this Agreement, Company and its licensed auctioneer will: (i) refrain from (a) targeting LiveAuctioneers' users to solicit such users for any activity outside of the scope of consummating the transactions on the LiveAuctioneers Site as set forth in this Agreement; (b) using any information derived from Company's participation on the LiveAuctioneers Site for any purpose other than in connection with such participation; and (c) disclosing or providing such information to any third party; (ii)13. NO WARRANTY.COMPANY EXPRESSLY ACKNOWLEDGES AND AGREES THAT, TO THE MAXIMUM EXTENT PERMITTED BY APPLICABLE LAW, THE LIVEAUCTIONEERS SITE, THE ONLINE SERVICE, THE LIVEAUCTIONEERS SERVICES, LIVE AUCTIONS AND ANY OTHER SERVICES PROVIDED BY LIVEAUCTIONEERS OR LIVEAUCTIONEERS' AFFILIATES UNDER THIS AGREEMENT ARE PROVIDED "AS IS", WITHOUT ANY WARRANTY OR CONDITION OF ANY KIND, EXPRESS, IMPLIED, OR STATUTORY, INCLUDING, WITHOUT LIMITATION, ANY IMPLIED WARRANTIES OF TITLE, NON-INFRINGEMENT, MERCHANTABILITY OR FITNESS FOR A PARTICULAR PURPOSE. LIVEAUCTIONEERS DOES NOT REPRESENT OR WARRANT THAT THE LIVE AUCTIONS, THE LIVEAUCTIONEERS SITE OR SERVICES WILL MEET COMPANY'S REQUIREMENTS OR THAT THE OPERATION OF THE LIVE AUCTION, THE LIVEAUCTIONEERS SITE OR ANY SERVICES WILL BE UNINTERRUPTED OR ERROR FREE. SOME JURISDICTIONS MAY NOT PERMIT THE EXCLUSION OF CERTAIN WARRANTIES, THE LIMITATION OR EXCLUSION OF IMPLIED WARRANTIES, OR LIMITATIONS ON HOW LONG AN IMPLIED WARRANTY MAY LAST. IN SUCH EVENT, COMPANY ACKNOWLEDGES AND AGREES THAT SUCH LIMITATIONS AND EXCLUSIONS SHALL APPLY TO THE MAXIMUM EXTENT PERMITTED BY LAW.14. LIMITATION OF LIABILITY.(a) Company acknowledges and agrees that LiveAuctioneers, its agents, and suppliers act only as a passive conduit for the dissemination and publication of the Information and content and assume no liability for such Information and content. Additionally, Company acknowledges and agrees that LiveAuctioneers and its agents have no control over the identity, quality, or ability of bidders to buy items and they assume no liability because of a successful bidder's rescission of a bid or purchase. It is expressly understood and agreed that LiveAuctioneers and its agents do not promise or guarantee that a bidder will actually complete a transaction, and they shall have no liability in the event that a successful bidder fails to consummate a transaction. Company acknowledges and agrees that it has sole and complete responsibility for reviewing and vetting the bidding and payment histories of all bidders, and for approving and declining bidders, and assumes all risks associated with auction bidders, including, without limitation, that a successful bidder may rescind a bid, fail to pay for an item, or otherwise fail to complete a transaction.(b) In no event shall LiveAuctioneers, its shareholders, members, partners, officers, directors, employees, agents, suppliers, parent company, subsidiaries, affiliates, joint venturers, and successors and assigns, be liable under this Agreement to the Company or any third party for any indirect, special, incidental, punitive or consequential damages (including, but not limited to, damages for loss of goodwill, work stoppage, computer failure, delays in training, or malfunction, lost profits, lost business or lost opportunity), or any other similar damages under any theory of liability (whether in contract, tort, strict liability or any other theory), even if the Company has been informed of the possibility thereof.(c) The total amount of LiveAuctioneers' liability for any loss, cost, claim or damages of any kind arising out of, or related to, this Agreement, shall in no event exceed the amount of the fees paid by the Company to LiveAuctioneers during the twelve (12) months prior to the event giving rise to such loss, cost, claim or damages.(d) LiveAuctioneers reserves the right, in its sole discretion and without prejudice to its other remedies, to remove the Information or content or withdraw any items sold by the Company from LiveAuctioneers.com if LiveAuctioneers determines that the Information or content or any item up for bid is not accurately described or if LiveAuctioneers determines that any of the Information or content or any item submitted for online bidding will violate any law or regulation or subject the Company to potential liability.15. INDEMNIFICATION.Company agrees to defend, indemnify and hold LiveAuctioneers, its shareholders, members, partners, officers, directors, employees, agents, parent company, subsidiaries, affiliates, joint venturers, successors and assigns, and any Buyer of Property offered for sale by Company, harmless from, and against, any and all causes of action, suits, claims, demands, judgments, liabilities, losses, damages, awards, penalties, fines, costs and expenses (including, but not limited to, reasonable attorney's fees), arising out of, relating to, or resulting from: (i) any claim of ownership, right to possession, or quality of any of the Property offered or sold by Company; (ii) any alleged breach by Company or its licensed auctioneer of any promise, covenant, obligation, representation or warranty set forth in this Agreement, including,without limitation, the representations in Paragraph 12(f); (iii) Company's alleged unlawful actions or conduct, or alleged violation of the rights of any third party; iv) any attempted or actual rescission of a purchase made by a Buyer; (v) the alleged negligence or misuse of the live bidding technology; or (vi) the Information that Company provides. The foregoing provision shall apply regardless of whether the individual/entity asserting the claim, action, damages, etc. is ultimately able to substantiate said claim, action, damages, etc.16. INSURANCE.Company agrees to maintain over the term of this Agreement insurance in such sums and types necessary and reasonable in the industry. Such insurance shall cover all items listed on the LiveAuctioneers Site and be in an amount necessary to cover any possible rescission of a sale.17. LINK POLICY.When selling on LiveAuctioneers, Company may not include:(i) links or URL's to websites or pages that offer to trade, sell, or purchase goods or provide services outside of LiveAuctioneers; (ii) links or other connections to live chat systems; (iii) links to videos hosted on other websites without the prior written consent of LiveAuctioneers; (iv) links to subscribe to non-LiveAuctioneers newsletters or mailing lists; (v) links to websites or pages that host material deemed to be inappropriate for general audiences; (vi) links that instruct bidders to register for platforms outside of LiveAuctioneers.18. UNAUTHORIZED ADVERTISING.When selling on LiveAuctioneers, Company is strictly prohibited from:(i) including its name or watermark on photos and images of Property offered for sale during a Live Auction and/or through the LiveAuctioneers Site; and (ii) engaging in advertising, marketing, or self-promotion when using the seller's console to send customized messages to the bidding audience and/or when utilizing any other component of the Online Service to communicate with the bidding audience.19. NO AGENCY.No agency, partnership, joint venture, employee-employer or franchiser-franchisee relationship is intended or created by this Agreement.20. NOTICES.Any notice, demand, request or other communication which Company may desire or be required to give to LiveAuctioneers hereunder shall be in writing and shall be given by certified mail, return receipt requested (with postage prepaid) or by Federal Express or other similar overnight delivery service (with fees prepaid), and addressed to LiveAuctioneers LLC, 220 12th Avenue, 2nd Floor, New York, NY 10001, or at such other address that we may designate in writing in the future. Any notice, demand, request or other communication which LiveAuctioneers may desire or be required to give to Company shall be in writing and shall be given by email to the email address that Company provided to LiveAuctioneers during the registration process, or by certified mail, return receipt requested (with postage prepaid), or by Federal Express or other similar overnight delivery service (with fees prepaid), addressed to Company at the address provided to LiveAuctioneers during the registration process. All notices given by e-mail shall be deemed given as of 5:00 P.M. eastern standard time on the business day following the day oftransmission. All notices given by mail shall be deemed to have been given three (3) business days after mailing and all notices delivered by overnight delivery service shall be deemed given when delivered.21. FORCE MAJEURE.No party shall be liable for any failure or delay in performing any obligation under this Agreement that is due to a Force Majeure event, such as Acts of God (including fire, flood, earthquake, storm, hurricane or other natural disaster), war, invasion, act of foreign enemies, hostilities (regardless of whether war is declared), civil war, rebellion, revolution, insurrection, military or usurped power or confiscation, terrorist activities, nationalization, government sanction, blockage, embargo, labor dispute, strike, lockout or interruption or failure of electricity or telephone service). If a Force Majeure event occurs, the affected party will notify the other party and make commercially reasonable efforts to mitigate the adverse effects of the Force Majeure event on the performance of this Agreement. However, this provision does not excuse Company's obligation to pay for services actually received.22. ARBITRATION.If a dispute, controversy, claim or cause of action arises out of, or in connection with, this Agreement or any breach or alleged breach thereof (the "Dispute"), and if the Dispute cannot be settled through direct discussions, we mutually agree to endeavor first to settle the Dispute by mediation administered by the American Arbitration Association under its Commercial Mediation Procedures then in effect (or under any other form of mediation mutually acceptable to the parties involved) before resorting to arbitration. Any unresolved controversy or claim relating to the Dispute shall be settled by arbitration administered by the American Arbitration Association in accordance with its Commercial Arbitration Rules then in effect (or under any other form of arbitration mutually acceptable to the parties involved), and judgment on the award rendered by the arbitrator may be entered in any court having jurisdiction thereof. If all parties to the Dispute agree, a mediator involved in the parties' mediation may be asked to serve as the arbitrator. The mediation and arbitration, if any, shall take place in the City, State, and County of New York (unless another location is mutually agreed to by the parties involved). Any award rendered shall be final and conclusive upon the parties. The costs and expenses of the mediation and arbitration shall be borne equally by the parties, provided, however, that the arbitrator shall award to the prevailing party, if any, the reasonable costs and attorneys' fees incurred by the prevailing party in connection with the mediation and arbitration. If the arbitrator determines that a party was the prevailing party on some but not all of the claims and counterclaims, the arbitrator may award the prevailing party an appropriate percentage of the reasonable costs and attorneys' fees incurred by the prevailing party in connection with the mediation and arbitration. In the event this mediation/arbitration provision is found to be unenforceable or inapplicable for any reason, then any dispute, controversy, claim or cause of action arising out of, or in connection with, this Agreement or any breach or alleged breach thereof, shall be brought in the state or federal courts in the City, State, and County of New York, and Company irrevocably consents and submits to the jurisdiction of such courts for the purpose of litigating any such action and waives trial by jury. The prevailing party in such action shall be entitled to recover its reasonable costs and attorneys' fees incurred in connection therewith, and if it is determined that a party was the prevailing party on some but not all of the claims and counterclaims, such party may be awarded an appropriate percentage of the reasonable costs and attorneys' fees it incurred in connection therewith.23. MISCELLANEOUS.(a) This Agreement (and all documents and exhibits incorporated by reference herein), constitutes and sets forth the entire agreement and understanding of the parties pertaining to the subject matter hereof, and supersedes all prior or contemporaneous written or oral agreements, understandings, undertakings, negotiations, promises, discussions, warranties or covenants that are not specifically contained herein. In the event of an inconsistency between the terms of this Agreement and any other document which forms a part of this Agreement, the terms of this Agreement will govern.(b) The headings, sections, or titles of the various paragraphs of this Agreement are inserted merely for the purpose of convenience and do not expressly or by implication or intention, limit, define, extend or affect the meaning or interpretation of this Agreement or the specific terms or text of the section so designated. All personal pronouns used in this Agreement shall include the other genders, whether used in the masculine, feminine or neuter gender, and the singular shall include the plural and vice versa, whenever, and as often as may be, appropriate.(c) This Agreement shall be governed in all respects, whether as to validity, construction, interpretation, capacity, performance or otherwise, by the laws of the State of New York, without regard to principles of conflicts of laws. It is expressly understood and agreed that the United Nations Convention on Contracts for the International Sale of Goods ("CISG") shall not govern or apply to this Agreement, and the parties hereby exclude application of the CISG.(d) If any provision of this Agreement is found invalid or unenforceable by a court of competent jurisdiction, then such provision shall be deemed stricken herefrom and the remainder of this Agreement shall remain at all times in full force and effect. Such invalid or enforceable provision shall, to the extent legally permitted, be replaced by a valid and enforceable provision that comes closest to the parties' intent underlying the invalid or unenforceable provision.(e) It is understood that any accrued but unpaid financial obligations, and any other terms related to such financial obligations, shall survive the expiration or termination of this Agreement.(f) No waiver of any breach, privilege or provision of this Agreement will be construed as a waiver of any rights or remedies arising from any other or future breach, privilege or provision.(g) Company will not assign or transfer this Agreement, or any of its rights and obligations hereunder, without LiveAuctioneers' prior written consent. Any attempted assignment or transfer in violation of the foregoing will be null and void. However, LiveAuctioneers may, in its sole discretion, assign or otherwise transfer its obligations under this Agreement to a third party.24. AMENDMENTS AND FUTURE TERMS.LiveAuctioneers may amend, modify, add or remove any of these terms and conditions at any time, and from time to time. If we do so, we will post such changes on http://www.liveauctioneers.com/ ermsandconditions.html. IF ANY FUTURE CHANGES TO THESE TERMS AND CONDITIONS ARE UNACCEPTABLE TO COMPANY, COMPANY SHOULD DISCONTINUE USING THE SERVICES. COMPANY'S CONTINUED USE OF THE SERVICES NOW, OR FOLLOWING THE POSTING OF NOTICE OF ANY SUCH CHANGES, WILL INDICATE COMPANY'S ACCEPTANCE OF THESE TERMS AND CONDITIONS, AND OF ANY SUCH CHANGES.EXHIBIT AParticipation RequirementsThe following participation requirements lists some of the guidelines and requirements (the "Participation Requirements") with which Company must comply in order to participate on the LiveAuctioneers Site and Live Auctions, and is incorporated by reference into the Agreement between Company and LiveAuctioneers.(a) Linking Back. (i) Conditions of Sale: The Information that Company posts about the Property on the catalogue information page must refer to the Company Conditions of Sale, as defined in Section 3(a) of the LiveAuctioneers User Agreement ("Agreement"). (ii) Auctions and Retail: Company shall not link from the Information to any online listing services, nor may Company promote other online listing services or auctions (whether offered by Company or third parties) from the Information. Company may not provide links to any sites offering the same merchandise for the same or lower price than that included in the information, or to any sites offering merchandise prohibited on LiveAuctioneers. Company may not provide links to any retail site from Company's "View Item" page on LiveAuctioneers.(b) Prohibited Items. Company agrees not to offer any Property on the LiveAuctioneers Site or through a Live Auction if the offering or sale of such Property violates any policy set forth in the Terms of Use (as defined in the Agreement), any applicable laws or regulations, or may otherwise subject Company, LiveAuctioneers, or the buyer to potential liability. Company will be responsible for determining whether the offering or selling of Property may violate applicable laws or regulations. Without limiting the foregoing, Company agrees not to offer (a) any product of a plant or animal species that is protected as endangered or threatened under applicable national or local law; (b) pornographic or obscene material; (c)(c) Unauthorized Advertising. Company understands and agrees that it is strictly prohibited from including its name or watermark on photos and images of Property offered for sale during a Live Auction and/or through the LiveAuctioneers Site. Company also agrees not to engage in advertising, marketing, or self-promotion when using the seller's console to send customized messages to the bidding audience and/or when utilizing any other component of the Online Service to communicate with the bidding audience.(d) Deletion of Listing. LiveAuctioneers may remove a listing without any notice to the Company for any Property if, in LiveAuctioneers' sole discretion (i) there is doubt as to the accuracy of the Information, (ii) Company has breached or is about to breach any provision of the Terms of Use, whether because of such listing or otherwise, (iii) there is doubt as to clear title, or the right to pass clear title, to the Property, or (iv) such listing may expose LiveAuctioneers to potential liability or the threat of litigation. LiveAuctioneers shall not have any liability for removal of property pursuant to this section and the need for such removal shall be grounds for LiveAuctioneers to immediately terminate the Agreement.(e) Removal of Company Information. LiveAuctioneers reserves the right to take any action, including, without limitation, modification or removal of Information, as LiveAuctioneers deems necessary or appropriate if, in LiveAuctioneers' absolute discretion, the publication of the Information (i) may create liability for Company and/or LiveAuctioneers, or may cause LiveAuctioneers to lose (in whole or part) the services of LiveAuctioneers' Internet business partners; (ii) infringes upon or violates any third party's intellectual property rights or rights of publicity or privacy; (iii) violates any law, statute, ordinance or regulation; (iv) is defamatory, libelous, illegally threatening or harassing; (v) contains obscenity, pornography or is otherwise inflammatory; (vi) contains a virus or other damaging programming, or (vii) in any way violates the Terms of Use.(f) Updating Information. Company may add additional Information to the Property description posted on the Site, so long as such additions are immaterial to the value of the Property.(g) Customer Support and Interaction. Company agrees to provide prompt and courteous support to users of the LiveAuctioneers Site, and to strive to respond to users' inquiries within twenty-four (24) hours.EXHIBIT BLive Auction AgreementThe following describes the terms on which LiveAuctioneers offers Company access to Live Auctions. LiveAuctioneers may amend this Live Auction Agreement at any time, and from time to time, by posting the amended terms on our website. Unless, and only to the extent, expressly stated to the contrary herein, all amended terms and conditions shall automatically be effective on a prospective basis once they are posted on our site. Accordingly, your use of LiveAuctioneers' website and services shall be subject to the most current version of this Live Auction Agreement in effect at that time, and you are encouraged to periodically review this Live Auction Agreement for any recent changes and/or amendments.(1) LiveAuctioneers is Only a Venue. LiveAuctioneers is not a certified Auction House and therefore does not conduct the Live Auctions. The Live Auction allows Company to list items in Live Auctions run by certified auctioneers. LiveAuctioneers is solely a passive conduit to facilitate communication between Company and prospective buyers. LiveAuctioneers reserves the right, in its sole discretion, to change some or all of its services at any time.(a) Control. LiveAuctioneers and its agents have no control over the identity, quality, or ability of bidders to buy items and they assume no liability because of a successful bidder's rescission of a bid or purchase. LiveAuctioneers and its agents do not promise or guarantee that a bidder will actually complete a transaction, and they shall have no liability in the event that a successful bidder fails to consummate a transaction. Company shall have sole and complete responsibility for reviewing and vetting the bidding and payment histories of all bidders, and for approving and declining bidders, and assumes all risks associated with auction bidders, including, without limitation, that a successful bidder may rescind a bid, fail to pay for an item, or otherwise fail to complete a transaction.(b) Placement. Placement of catalog/item listings and links are at the discretion of LiveAuctioneers. LiveAuctioneers reserves the right not to list catalog/item listings and links on its homepage as it sees fit, in its sole discretion.(2) Listing Terms for a Live Auction. In addition to the requirements set forth in Sections 2 & 3 of theLiveAuctioneers User Agreement ("Agreement")(including, but not limited to, Preparing Property Descriptions, Responsibility for Information, Restricted Property, and Conditions of Sale) and the Participation Requirements set forth in Exhibit A, which are all incorporated by reference herein, Company agrees to the following additional terms for Live Auction listings:(a) All conditions of sale shall be fair and equitable to both floor and internet bidders.(b) Company will disclose expected bid increments in the catalog listing. Notwithstanding the foregoing, the Company may deviate from those bid increments during the Live Auction event.(3) Shill Bidding is Prohibited. Shill bidding (bidding by Company or its representative(s) on items listed for auction by Company to artificially inflate prices) is strictly prohibited by LiveAuctioneers. Violations of this policy may result in a range of actions, including, but not limited to: (a) catalog listing cancellation; (b) forfeiture of fees paid to LiveAuctioneers (c) referral to Law Enforcement.(4) Bidding, Buying and Conditions of Sale. Company is required to post the terms and conditions listed above in accordance with the Agreement and to maintain the terms throughout the auction period and for three months thereafter. Company agrees to be bound by its posted bidding terms and conditions of sale. If Company acts as an auctioneer, it has the final determination with respect to the bidding on Property, the sale of the item, and the resolution of disputes between bidders. Company agrees to treat online and floor bidders fairly and in accordance with the Agreement and this Live Auction Agreement. Company shall be responsible for, and agrees to defend, indemnify and hold LiveAuctioneers, its shareholders, members, partners, officers, directors, employees, agents, parent company, subsidiaries, affiliates, joint venturers, successors and assigns, harmless from, and against, any and all causes of action, suits, claims, demands, judgments, liabilities, losses, damages, awards, penalties, fines, costs and expenses (including, but not limited to, reasonable attorney's fees), arising out of, relating to, or resulting from, the actions of the auctioneer, including, but not limited to, the acceptance of bids and the translation of bids.(5) Computer Terminals. Company agrees to provide, at its own cost and expense, a computer terminal with a high speed internet connection and a representative to monitor only LiveAuctioneers' online bidding console and to communicate bids for online bidders at each Live Auction. Company agrees to have a back up computer terminal and internet connection in the event of technical difficulties.(6) Video and Audio. LiveAuctioneers will offer Company access to audio and video for the purpose of offering web casts. Company may choose to use those services at their sole discretion for a per diem fee plus equipment rental fee. Company must agree to pay all fees relating to audio and video broadcasting, which it understands shall be greater than the regular per auction fee. If the Company utilizes Audio/ Video services, the Company may not have any signage, logos, telephone numbers, website addresses or other promotional materials or images in the video. Only the name and/or logo of Company will be allowed. LiveAuctioneers reserves the right to monitor the video, and in its sole discretion, to terminate the video if LiveAuctioneers deems there to be an abuse of it.(7) No Guarantee. LiveAuctioneers does not guarantee that Live Auction technology, the LiveAuctioneers Site or any related services will meet Company's requirements or be uninterrupted or error-free. LiveAuctioneers does not guarantee real-time performance of any service or that LiveAuctioneers will execute all absentee bids.By Clicking this checkbox you are stating that you are authorized to, and do hereby, accept the Agreement, Participation Requirements, and Live Auction Agreement on behalf of your Company.
Discover Items You'll Love

Bid Anywhere, Anytime. Download the LiveAuctioneers App.
Available on the App Store
Android App on Google Play