lots of lots
Welcome to the world's largest marketplace for fine art, antiques & collectibles.
WWII CHELSEA SHIPS RADIO ROOM CLOCK
See Sold Price
Don't Miss Your Next Treasure.
Set up a search alert to hear when Collectibles items arrive.
Discover Related Items Available Now
Auction ended on August 14th, 2016 UTC
WWII CHELSEA SHIPS RADIO ROOM CLOCK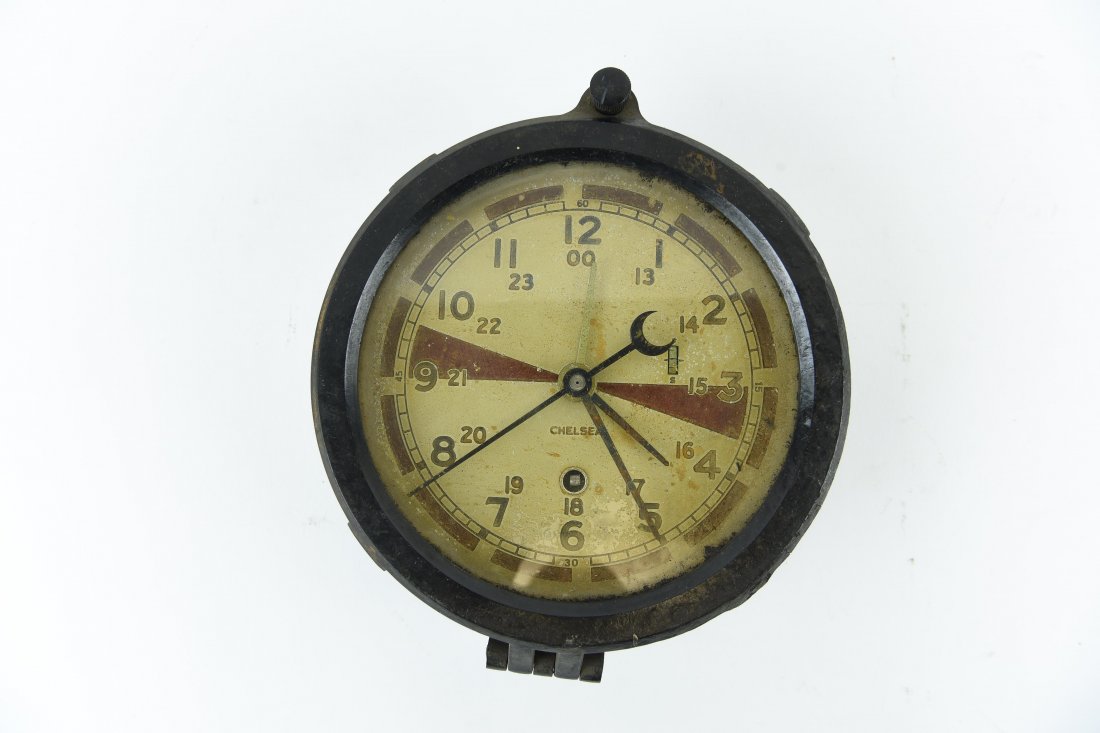 Bakelite case, H 2.5" x D 7.5"
Condition
All items are sold as-is and are untested. This is a hoarder liquidation sale, all items were as found and grouped accordingly with no prior history on the items, please use the photos or preview in person to make sure an item is complete and not missing any parts, assume that an item may need repair to function correctly. Also please note that the preview and pickup of items will be at a storage facility in Hawthorne, New York. The actual auction will take place live from our gallery in Westport, CT and online. All items must be picked up by Friday Aug 26th
Shipping
ITEMS ARE LOCATED OFF-SITE FROM OUR GALLERY AT: 200 Saw Mill River Rd Hawthorne, New York. WE DO NOT PACK YOUR ITEMS, WE WILL REFER YOU TO LOCAL PACKAGING EXPERTS THAT CAN PICK THE ITEM UP FROM US ON YOUR BEHALF CHECK OUR WEBSITE FOR A LIST OF SHIPPERS> Shipping: all items not being picked up at 200 Saw Mill River Road Hawthorne, New York & can be shipped by companies from our suggested list of shippers. Or you can find a shipper and have them pick the item up at that location. Westport Auction does not handle any shipping. Buyer must contact the shipping company directly after the auction to arrange shipment and payment for shipping. We recommend The Ups store 2490 Black Rock TPK Fairfield, CT 06824 203-374-3354 store0185theupsstore.com For larger items: USHIP.COM or plyconvanlines.com
Payment
YOU MUST PAY WITHIN 15 DAYS OR WILL BE DISPUTED Buyers will have 15 days after the auction date to contact Westport Auction if there is a discrepancy on the items. Westport Auction will not be responsible for any items after 15 days from the auction date. Payments accepted; -Cash (in house only) - Credit cards (MasterCard, Visa) (subject to 3 percent convenience fee) - Money order, certified check, approved personal or business check with proper identification. We reserve the right to hold item(s) until checks are clear.
Accepted payment methods
Terms
INTERNET AUCTION TERMS & CONDITIONS The Terms & Conditions set forth pertain to you (The Buyer/Bidder) bidding at any/all auctions, managed by Westport Auction BIDDER REGISTRATION: (See Register To Bid) In order to begin the process of bidding on the internet, you must register in advance and be approved by us. (See Register To Bid) No bids whatsoever will be accepted without requesting to register and then filing out our bidding authorization form and sending it back to us. All property is sold "As Is." The Consignor makes no warranties or representations of any kind with respect to any property offered for sale. The Auctioneer makes no warranty of title, warranty of merchantability or fitness for a particular purpose, or any other warranty or representation of any kind or nature with respect to the property. In no event shall either be responsible for the correctness of descriptions, dimensions, weights nor deemed to have made any representation or warranty of description, genuineness, attribution, provenance or condition of the property and no statement by anyone, statements in the catalogue, in any advertisement, in the bill of sale or invoice, or elsewhere, shall it be deemed such a warranty or representation or an assumption of liability. All bidders acknowledge their right to have made full inspection of any and all properties prior to sale and agree to be charged with all matters such inspection may have disclosed or indicated. Westport Auction retains all rights to copyright or other intellectual property contained in this auction. All photos are the property of Westport Auction and are not to be used by anyone else without written permission. BUYERS PREMIUM (BUYERS PREMIUM DEFINITION: The Buyers Premium is that portion of the commission(s) which is being paid by the buyer. It is clearly understood and agreed by both the buyer and the Seller that the Auctioneer and Broker represent the Seller only.) Bid & Won By??Payment Method??Premium Internet Bidding with Credit Card? 28% Internet Bidding?Cash, Check,*Wire?? 25% 1st day after the sale only all payments after that monday must be done by credit card with the extra 3% fee to come out to 28% (*Bank Wire incurs $25.00 bank fee) SALES TAX: - Buyers are required to pay the associated CT sales tax (6.35%) on the total sales price, including the Buyers Premium. The only exceptions are if a valid sales tax exemption certificate is supplied Westport Auction prior to checkout or invoicing or if the item(s) are shipped to a State other than the state in which the auction is held. In the latter case, a Tangible Personal Property For Resale By A Non-Resident (of auction state) Dealer will need to be signed by the Buyer, and adequate evidence of authority to do business in the Buyer's home state is required. Westport Auction will not refund any sales tax once collected. PAYMENT METHODS: - Cash, Bank Wire Transfer, Cashiers or Certified Bank Checks, Master Card or Visa Credit Cards (You will be required to fill out and send back a form with your signature through email to process a credit card payment. This is easy to do. BY scanning or even taking a picture with a smartphone and emailing). At the close of the sale of any item(s), title to the property immediately transfers to the successful bidder, who in turn, becomes the owner of the property. Buyer assumes full risk and responsibility for the purchased property, including all costs and expenses of handling, shipping, insurance, taxes, export and otherwise, and is liable for the full purchase price, plus Buyers Premium and applicable taxes. Payment must be made either on the day of the auction or within (7) seven business days from the close of the auction. Checks only accepted the day after the auction at our gallery and must be dated and bankable on the day of purchase; they will not be held for any period of time and must clear through our bank before merchandise is released. A $30.00USD fee will be added for returned checks. All Buyers paying by credit card are limited to a maximum of $5000.00USD per auction with balances over that amount to be paid in cash or bank wire transfer, absolutely no exceptions. If you are the successful bidder, and do not remit payment as specified, the amount owed will be charged to your credit card together with such charges set forth in these terms of sale. Bidder agrees if paying by credit card that they shall not attempt a chargeback for any reason whatsoever. Under no circumstances will any item be released for shipping until full payment is received and cleared. CONDITION REPORTS: - Detailed condition reports are not offered by the auctioneer Westport or the Consignor. The absence of a condition statement does not imply that the lot is in perfect condition or completely free from wear and tear, imperfections or the effects of aging. It is the responsibility of the bidder to examine lots in person, through an agent and/or by visiting and viewing the many photos available on each item being offered for sale. Any condition report given, as a courtesy to a potential bidder, is only an opinion and should not be treated as a statement of fact. All counts, weights and measurements are approximate. The Auctioneer shall bear no responsibility for any error or omission. PREVIEW: - Time to physically view the items offered for sale is offered before the auction at 200 Saw Mill River Road, Hawthorne, New York, Monday thru Saturday, 9AM-3PM starting on August 8th - 13th. No Preview during Auctions on Sunday August 14th. PICK-UP SCHEDULE: Items fully paid for may be removed from 200 Saw Mill river Road Hawthorne, New York. Pickup begins the day after the close of the auction and continuing Monday-Friday, 9am-3pm for ten days after close of the auction. Items not removed within ten days shall be deemed abandoned and will be disposed of at the buyers expense unless prior arrangements have been made for deviation. PACKING, SHIPPING & INSURANCE: - The Buyer is responsible for the removal/shipment of all purchased property purchased which is located at: 200 Saw Mill River Road Hawthorne, New York in the time specified herein. Westport Auction is not responsible for any damage or loss that occurs while your objects are in another's care. If loss or damage should occur during shipment, it is incumbent upon the Buyer to file for recovery with shipper. Westport Auction shall not be responsible for any damage or loss. Westport Auction will not be held responsible for choosing a shipper in the event of any act and/or omissions in packing. All international customs, duties and other tariffs are the responsibility of the Buyer. Shipping & Insurance charges are a separate charge from your auction purchase charge. Westport Auction shall not be shipping any items whatsoever. TRUCKING FOR OVER-SIZED PURCHASES: We recommend Uship.com or plyconvanlines.com for all trucking needs. You can obtain a competitive shipping quote and lock it in. In addition, we can provide a list of local shippers. BUYER DEFAULT: - If any of the Terms of Sale are not fully complied with by the Buyer, The Buyer will be in default without the need of notice by Westport Auction. The Buyer shall be liable to Westport Auction and the Consignor for the total purchase price, including all premiums, charges, and expenses specified in the Terms of Sale. Interest shall accrue at the rate of 18% per annum commencing with the date of the auction. In addition to other remedies available to Westport Auction by law, Westport Auction may, at its option, a)cancel the sale of the lot(s) on which the buyer defaulted and any other lots sold to the defaulting Buyer at the same or any other Auction(s) and retain as liquidated damages all payments made by the Buyer, b) resell the purchased property, whether at public auction or private sale, or c) pursue any combination of a) and b) above. In the event of default, the Buyer will be responsible to Westport Auction and the Consignor for any deficiency, any and all costs and expenses, including reasonable attorney's fee, collection fees and expenses, late charges and other damages. Westport Auction may, at its discretion, apply any proceeds of the sale otherwise due to the Buyer or monies of the Buyer in Westport Auction's possession to reduce or satisfy the Buyer's obligation. ENDANGERED SPECIES & CITES PERMITS: (Convention on International Trade in Endangered Species) - The export of a lot from the United States or import into certain countries may be subject to export and import regulations, licensure and/or other restrictions; in particular, lots containing animal material such as ivory, rhinoceros horn, tortoise shell, coral or whalebone may require the granting of one or more export or import licenses or may be banned from import altogether by some countries. Lots that contain these aforementioned materials may also not be eligible for exportation if they are not over one hundred years of age. It is the buyer's responsibility to investigate any such restrictions and to obtain any relevant export or import licenses. Please note that this process is governed by local authorities and may take considerable time. Regardless of any delay in the obtaining of an export or import license or denial of a license's issuance, purchased lots shall be paid for in accordance with the Conditions of Sale, and any such delay or denial shall not serve as the basis for cancellation of any sale. Prospective buyers are advised to obtain information from the relevant regulatory authorities regarding export and import restrictions, requirements, and costs prior to bidding. There is no assurance that any necessary licenses can be obtained. AUCTIONEER'S DETERMINATION FINAL: - A lot will be sold to the highest bidder as determined in the sole and exclusive judgment of the auctioneer, Westport Auction. The auctioneer will also have the sole and exclusive power and authority to a) resolve any disputes between bidders, b) determine whether to pass or re-offer a lot for sale, c) reject or challenge any bid or advance in the bidding, d) exclude any bidder from the sale and e) otherwise regulate the bidders, the bidding and its increments. WITHDRAWAL OF PROPERTY FROM SALE: Westport Auction reserves the right to withdraw property from the sale for any reason and with no liability whatsoever for such withdrawal. RESCISSION OF PROPERTY: - In the event that Westport Auction receives notice of an adverse claim with respect to purchased property, he shall have the right (but not the obligation), in his sole and absolute discretion, to rescind the sale to the Buyer, upon written or email notice to the Buyer. Upon such notice, the Buyer will promptly return the purchased property to Westport Auction in the same condition as when purchased. The purchase price will then be promptly refunded to the Buyer, including Buyer's premium and applicable taxes paid. Buyer will have no further recourse against Westport Auction, the Auctioneer, or the Consignor, nor shall they be liable for any damages of any nature suffered by the Buyer. SEVERABILITY & WAIVER: - If any provision or portion of these Terms & Conditions of Sale shall be deemed unlawful, void, or unenforceable under applicable law, that provision or portion shall be stricken and severed from the remaining provisions, which shall remain in full force and effect. Failure to enforce any of the provisions in the Terms & Conditions of Sale shall not be deemed a waiver of the right to enforce any other provisions of these Terms & Conditions of Sale. NO ASSIGNMENT: - Unless Westport Auction consents in writing, buyers may not assign their rights or any other of their obligations related to an auction or other sale by Westport Auction NO MODIFICATIONS: - These Terms & Conditions of Sale may not be changed unless Westport Auction and the Buyer have agreed to do so in a written agreement signed by both parties, or in an electronic agreement via email. NOTE: Registration to Bid Constitutes Acceptance of These Terms & Conditions of Sale
Discover Items You'll Love

Bid Anywhere, Anytime. Download the LiveAuctioneers App.
Available on the App Store
Android App on Google Play