lots of lots
Welcome to the world's largest marketplace for fine art, antiques & collectibles.
Revell, 10 Autos (BMW u.a.)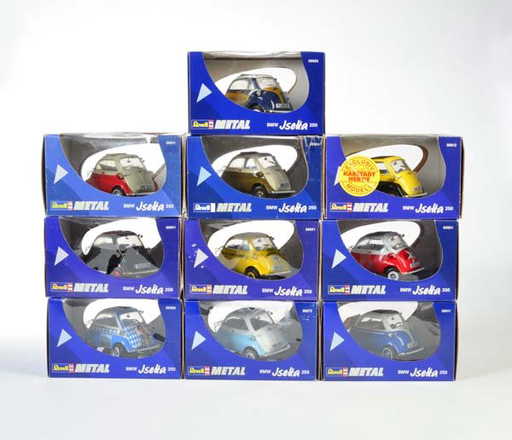 See Sold Price
Don't Miss Your Next Treasure.
Set up a search alert to hear when Antico Mondo Auktionen lists new auctions.
Discover Related Items Available Now
Auction ended on September 2nd, 2016 UTC
Revell, 10 Autos (BMW u.a.)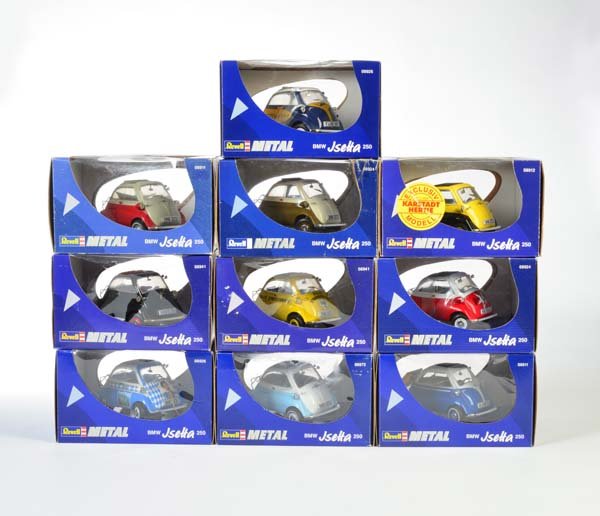 Revell, 10 Autos (BMW u.a.), 1:18, Druckguss, Okt Z 1-2, Z 1
Condition
Revell, 10 Cars (BMW a.o.), 1:18, diecast, box C 1-2, C 1
Shipping
Buyer pays Shipping Cost. For shipping within Germany the costs amount to 10 Euro netto, within Europe to 25 Euro netto, for international oversea packages we invoice the shipping charges at cost. Shipping of the goods is insured. The insurance premium is 0.5 % of the invoice amount. On request uninsured shipping is possible. Shipping charges of bulky, heavy oder very valuable items within Germany and Europe will also be at cost. For international oversea packages and packages to Switzerland with an invoice amount above 1000 Euro customs handling fees of 50 Euro will be invoiced to the buyer.
Payment
Paypal is only possible till amounts of 150,00 Euro, in all other cases please use wire transfer, check or internation al money order
Accepted payment methods
Terms
The following terms shall be in force for bids, absentee bids and aftersale: 1. The auction shall be held on a voluntary basis on behalf of and for the account of a third party. 2. The auction shall be carried out according to the numbering in the catalogue. The catalogue text shall be binding, however, if he deems it to be suitable, the auctioneer shall be entitled to separate, combine, bring forward, put aside or withdraw any item from the auction. 3. The lot to be auctioned may be inspected before the auction at the preview times listed in the catalogue. During viewing and auctioning each visitor shall be held responsible for any damage he may cause. 4. The auctioneer has the right to exclude any person from the auction for any reason. 5. The descriptions in the catalogue are made with great care and to the best of the auctioneers? knowledge and belief. They shall be not binding expressions of opinion and shall not be regarded as assured properties according to §§ 459ff of the BGB (German Civil Code). The lot to be auctioned shall be auctioned as inspected. 6. The auctioneer shall first call up each item by its limit price stated in the catalogue. These limit prices shall not be remained under. Bidding will increase in regular increments of approximately 10 % unless determined otherwise by the auctioneer. 7. The highest bid having been called three times and no overbid being placed is the winning bid. Should more than one person make an equally high bid, the winner is determined by drawing lots. In case of any dispute or if a higher bid has been missed, a new call shall be made. Once the auctioneer?s hammer falls, a sales agreement between the selling party which is represented by the auctioneer and the successful bidder is completed. 8. The winner of the lot, shall be obliged to pick up the item and pay the purchase price to the aucitoneer immediately. 9. The purchase price comprises the hammer price and the buyer's premium of 23 % plus the applicable value added tax of 19 % only on the buyer's premium (total of 27,37 %) for bidding with liveauctioneers. For personnally attending bidders the total amount shall become due immediately and shall be paid in cash; for absentee bidders with a written purchase order this applies within 10 days after the date of invoice. The ownership shall only be transferred after full payment. 10. Should any buyer fail to pay the purchase price in time he shall lose his rights as successful bidder. Such items may then be auctioned at his cost at one of the next auctions without any previous notice to him. In such a case the delinquent customer shall be liable for the reduction in turnover and the costs for the repeated auction including fees. He shall not be entitled to any surplus profit. The auctioneer shall be entitled to collect or sue out purchase money, purchase money arrears and/or secondary obligations on behalf of the consignor. 11. In case of buying by written purchase order, reclamations shall only be accepted if a description is substantially and obviously incorrect. Any notice of reclamation shall be given immediately. Should such a reclaim be accepted, the buyer shall be entitled to claim the total buying price. Any other claims shall be excluded. If a lot comprises three or more items, a reclamation for minor defects of individual items shall not be accepted. Lots being described with certain defects shall not be reclaimed for other defects. 12. Written purchase orders (also called absentee bids) shall only be accepted if received by the auctioneer at least one day before the auctioning date. They shall be handled carefully but without any guarantee. The prices stated therein do not yet contain the buyer?s premium nor the VAT. The auctioneer shall handle absentee bids safeguarding the bidder?s interest, this is, the highest absentee bids are only used to overbid the second highest by only one increment. Moreover, the auctioneer shall be obliged to maintain secrecy on written absentee bids until the hammer falls. 13. Buyer pays Shipping Cost. For shipping within Germany the costs amount to 10 Euro netto, within Europe to 25 Euro netto, for international oversea packages we invoice the shipping charges at cost. Shipping of the goods is insured. The insurance premium is 0.5 % of the invoice amount. On request uninsured shipping is possible. Shipping charges of bulky, heavy oder very valuable items within Germany and Europe will also be at cost. For international oversea packages and packages to Switzerland with an invoice amount above 1000 Euro customs handling fees of 50 Euro will be invoiced to the buyer. 14. Lots not auctioned can only be bought in the after sale up to approximately 14 days after the auction day. 15. The auctioneer shall be entitled to reject bids if the corresponding securities are not submitted. 16. Place of jurisdiction and performance for all parties involved shall be Cologne/Germany. 17. The bidder declares his explicit acknowlegement of the auction terms by placing a bid or a written absentee bid. 18. Should items from the time from 1933-1945 come to sale, they serve the purpose to elucidate and/or represent art and sience. 19. The functions of the items are not inspected, when not indicated. The descritions in the catalog are reports and information on the items. 20. Court of jurisdiction and place of fulfilment is Cologne, Germany. Should any of the above mentioned provisions be or become invalid completely or in part, all other obligations shall remain unaffected thereby. Common abbreviations in the Catalogue: C 1 ) very good condition, mint, no traces of use, there can be age-related traces of storage C 2 ) good condition, slight traces of use, paint imperfections or discolorations C 3 ) good but used condition, strong traces of use, rusty, dents, paint abrasion, small parts missing C 4 ) strongly used condition, poor, defect, important parts missing, heavily damaged, repainted, rusty bat. drive = battery drive paint d. = paint damage rust d. = rust damage cw = clockwork -------------------------------------------------------------------- Bei Abgabe eines Gebotes, eines schriftlichen Kaufantrags und für den Nachverkauf gelten folgende Bedingungen: 1. Die Versteigerung erfolgt freiwillig in fremdem Namen und auf fremde Rechnung. 2. Die Versteigerung erfolgt in der Reihenfolge der Katalognummerierung. Maßgeblich ist der Katalogtext. Jedoch ist der Versteigerer berechtigt, falls es ihm zweckmäßig erscheint, Positionen zu trennen, zu vereinigen, vorzuziehen, zurückzustellen oder von der Versteigerung zurückzuziehen. 3. Die zu versteigernden Gegenstände können vor der Versteigerung zu den im Katalog angegebenen Zeiten besichtigt werden. Bei der Besichtigung und Versteigerung haftet jeder Besucher für von ihm verursachte Schäden. 4. Es bleibt dem Versteigerer vorbehalten, Personen aus besonderen Gründen von der Versteigerung auszuschließen. 5. Katalogbeschreibungen erfolgen mit größter Sorgfalt und nach bestem Wissen und Gewissen des Versteigerers. Sie stellen unverbindliche Meinungsäußerungen dar und sind keine zugesicherten Eigenschaften im Sinne der §§ 459ff BGB. Die Versteigerungsgegenstände werden versteigert wie besichtigt. 6. Der Aufruf beginnt mit dem im Katalog angegebenen Limitpreis (auch Mindestpreis genannt.) Diese Limitpreise können nicht unterschritten werden. Gesteigert wird in der Regel um ca. 10 %. Der Versteigerer ist jedoch berechtigt, andere Steigerungsraten zuzulassen. 7. Der Zuschlag erfolgt, wenn nach dreimaligem Aufruf des Höchstgebotes kein Übergebot gegeben wird. Geben mehrere Personen ein gleichlautendes Höchstgebot ab, so entscheidet das Los. Bei Uneinigkeit oder falls ein höheres Gebot übersehen worden ist, erfolgt ein erneuter Aufruf. Mit dem Zuschlag kommt ein Kaufvertrag zwischen dem Einlieferer, vertreten durch den Versteigerer, und dem Ersteigerer zustande. 8. Der Zuschlag verpflichtet zur sofortigen Abnahme und sofortigen Bezahlung des Kaufpreises an den Versteigerer. 9. Der Kaufpreis für Liveauctioneers-Bieter setzt sich zusammen aus dem Zuschlagpreis und dem Aufgeld von 23 % zuzüglich der gesetzlichen Mehrwertsteuer von 19 % nur auf das Aufgeld (total 27,37 %). Für Saalbieter ist der gesamte Betrag sofort fällig und in bar zu bezahlen; für Fernbieter bei schriftlichem Kaufantrag innerhalb von 10 Tagen nach Rechnungsdatum. Das Eigentum wird erst nach vollständiger Bezahlung übertragen. 10. Gerät der Käufer mit der Zahlung des Kaufpreises in Verzug, so verliert er seine Rechte aus dem Zuschlag. Die Positionen können dann ohne weitere Benachrichtigung auf seine Kosten auf einer der nächsten Versteigerungen versteigert werden. In diesem Falle haftet der säumige Käufer für einen Mindererlös und für die Kosten der wiederholten Versteigerung einschließlich der Versteigerungsgebühren. Auf einen eventuellen Mehrerlös hat er keinen Anspruch. Der Versteigerer ist dazu berechtigt, Kaufgelder, Kaufgeldrückstände und/oder Nebenleistungen im Namen der Einlieferer einzuziehen oder einzuklagen. 11. Reklamationen bei Erwerb durch schriftlichen Kaufantrag sind nur bei offensichtlichen Falschbeschreibungen möglich. Reklamationen müssen sofort mitgeteilt werden. Bei anerkannten Reklamationen hat der Ersteigerer Anspruch auf Rückerstattung des vollen Kaufpreises. Weitere Ansprüche sind ausgeschlossen. Enthält eine Position drei oder mehr Modelle, so kann eine Reklamation wegen geringer Mängel einzelner Modelle nicht berücksichtigt werden. Positionen, die mit Mängeln beschrieben sind, können wegen eines anderen Mangels nicht reklamiert werden. 12. Schriftliche Kaufanträge (auch Ferngebote genannt) müssen bis zum Vortag der Versteigerung vorliegen. Sie werden sorgfältig bearbeitet, jedoch ohne Gewähr. Die darin genannten Preise enthalten noch nicht Aufgeld und Mehrwertsteuer. Der Versteigerer behandelt Ferngebote interessenwahrend, d.h. höchste Ferngebote werden nur soweit ausgeschöpft, um das zweithöchste Gebot um eine Steigerungsstufe zu überbieten. Zudem verpflichtet sich der Versteigerer, über schriftliche Ferngebote bis zum Zuschlag Stillschweigen zu bewahren. 13. Bei Fernbietern werden die Verpackungs- und Versandkosten als Pauschale in Rechnung gestellt. Der Versand erfolgt per Paket auf Gefahr des Käufers. Für Sendungen innerhalb Deutschlands betragen die Kosten 10,- ?, innerhalb Europas 25,- ?, für Übersee je nach Aufwand. Hierin sind Portokosten, Verpackung und anfallende Bankspesen enthalten. Versandkosten größerer, besonders schwerer und sperriger Artikel oder besonders wertvoller Artikel nach Aufwand. Versicherter Versand erfolgt nur auf Wunsch gegen Kostenerstattung. Für Übersee Pakete und Pakete in die Schweiz mit einem Rechnungswert von über 1000 Euro werden dem Käufer zusätzlich 50 Euro Zollabwicklungsgebühren in Rechnung gestellt. 14. Auf der Versteigerung nicht veräußerte Gegenstände sind im Nachverkauf erhältlich. 15. Der Versteigerer kann Gebote zurückweisen, falls keine entsprechenden Sicherheiten vorgelegt werden. 16. Gerichtsstand und Erfüllungsort ist für alle Beteiligten Köln. 17. Durch Gebotsabgabe oder Erteilung eines schriftlichen Kaufantrags erkennt der Ersteigerer die Versteigerungsbedingungen ausdrücklich an. Sollte eine der vorstehenden Bedingungen ganz oder teilweise unwirksam sein, so bleiben alle anderen davon unberührt. Wichtige Hinweise Eigenware ist im Katalog mit Einlieferer-Nr. 0 gekennzeichnet. Katalogetiketten auf Originalkartons bitte mit einem warmen Fön vorsichtig ablösen, um die teilweise seltenen und teuren Kartonagen und Bedruckungen nicht zu beschädigen! Sofern Objekte des Dritten Reiches versteigert werden, erfolgt dies allein zu Zwecken der staatsbürgerlichen Aufklärung, der Abwehr verfassungswidriger Bestrebungen, der Kunst oder der Wissenschaft, der Forschung oder der Lehre, der Berichterstattung über Vorgänge des Zeitgeschehens oder der Geschichte oder zu ähnlichen Zwecken. Die Funktionen der einzelnen Stücke, so nicht besonders vermerkt, wurden nicht überprüft! Die im Katalog dargestellten Berichte sind Erläuterungen zur Ware. Gerichtsstand und Erfüllungsort ist für beide Teile Köln. Gängige Abkürzungen Z 1 = Sehr guter Originalzustand. Es können altersbedingte Lagerspuren vorhanden sein. Z 2 = Guter Originalzustand mit leichten Spielspuren, Lackfehlern oder Ausbleichungen Z 3 = Guter, aber bespielter Originalzustand. Hier können stärkere Spielspuren, Rostansatz, Beulen, Dellen, Lackabrieb vorhanden sein oder Kleinteile fehlen. Z 4 = Stark bespielt Zustand, neu lackiert, stärkerer Rost, fehlende Teile bzw. als Ersatzteilspender zu verwenden LM = Lackmängel RS = Rostschäden Okt. = Originalkarton Lith. = Lithographiert ? Farbaufdruck UW = Uhrwerk VK = Vorkrieg Kst = Kunststoff GemBw = Gemischtbauweise
Discover Items You'll Love

Bid Anywhere, Anytime. Download the LiveAuctioneers App.
Available on the App Store
Android App on Google Play