lots of lots
Welcome to the world's largest marketplace for fine art, antiques & collectibles.
Britains Set #71 Turkish Cavalry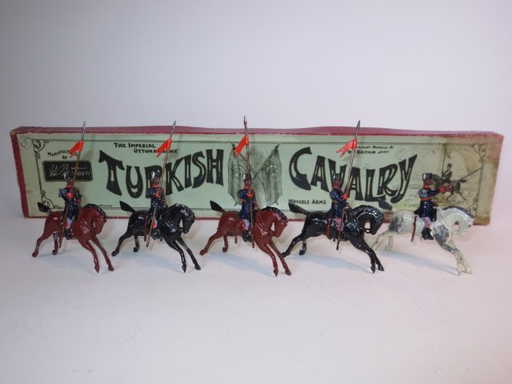 See Sold Price
Don't Miss Your Next Treasure.
Set up a search alert to hear when Collectibles items arrive.
Discover Related Items Available Now
Auction ended on October 8th, 2016 UTC
Britains Set #71 Turkish Cavalry
1st version, unembossed, circa 1910. In original Whisstock box and tie card. 5 Pieces. Condition Excellent , Box Very Good.
Shipping
Buyer Pays Shipping Cost
Payment
Contact For Payment Details
Accepted payment methods
Terms
OLD TOY SOLDIER AUCTIONS GUARANTEE THEIR TROOPS: To provide Old Toy Soldier Customers with an exciting and rewarding auction experience. We guarantee the items are as described. If an error was made you will be refunded fully upon the return of the lot. You MUST contact Old Toy Soldier Auctions within 7 days of receiving the item in order to receive a refund. After 7 days the items are sold AS IS and are NOT RETURNABLE. Items must be paid for within 30 days. CONDITION OF ITEMS: We have spent much time and energy assuring the items are well cataloged and photographed in order to represent them as accurately as possible. The conditions of each item as noted in the descriptions. Boxes R.O.A.N.- Regiments of All Nations AOW- Armies of the World References used for Britains descriptions have been taken in part from Regiments of All Nations and Armies of the World by Joe Wallis. CONDITION GRADES: MIB Mint in Box Mint-M 99% Near Mint-NM 98% Pristine 97-96% Excellent-EX 95-92% Very Good-VG 87-80% Good-G 79-70% Fair-F 69-60% Poor-P Less Than 60% INVOICING: LiveAuctioneer bidders will be emailed an invoice by the Wednesday after the sale. METHOD OF PAYMENT: MC, Visa, American Express, Discover, Money Order, PayPal or Check SHIPPING: Old Toy Soldier Auctions USA will arrange for the packing and shipping of your items. Items will be shipped in a timely manner in the order that payment has been received. Orders typically go out within 10 days of payment. Occasionally, we get behind in schedule due to the volume of figures needing our attention. Our priority is to make sure the items are properly packed to avoid damage. Please be understanding if shipment exceeds our goal. Items purchased on Day 1 will be sent separately and at a different time than items purchased on Day 2 of the sale. Domestic Shipping: Orders will be shipped by the USPS. A fee of $9 per lot will be charged for shipping and handling. Insurance is included for total orders under $500. Total orders over $500 will require additional insurance at a rate of $1 per 100. Total orders over $3,000 will be sent by US Express Mail which may be tracked and will require a signature upon delivery. If you would like to arrange shipment by FedEx or UPS, please arrange when making payment. Foreign Shipping: Orders will be shipped by the USPS. A fee of $25 per lot will be charged for shipping and handling. Insurance is included for total orders under $500. Total order over $500 will require additional insurance at a rate of $2 per $100. Total orders over $1,000 will be sent by US Express Mail which may be tracked and will require a signature upon delivery. If you would like to arrange shipment by FedEx or UPS please arrange when making payment. OLD TOY SOLDIER AUCTIONS USA: CONDITIONS OF SALE: 1. Old Toy Soldier Auctions USA acts as an agent for the seller. The contract of the sale of the property is between the seller and the buyer. No statements made within this catalog or made by a representative of or employee of Old Toy Soldier Auctions shall be deemed to be a warranty, representation, or assumption of liability with respect to the propertys age, condition, size, quality, variety, importance, provenance, or historical relevance. All property is sold as is 7 days after delivery and/or 30 days from sale date. 2. Buyers are responsible for satisfying themselves concerning the condition of the property. 3. The Auctioneer will be solely responsible for determining the bidding increments. 4. The Auctioneer will be the final judge in deciding which bidder has won an item. In the event of a dispute, the auctioneer at his discretion, shall decide whether to reopen bidding or not. 5. If an error in the catalog has been made, we sell by the item photographed (pictured). If you have any doubt, contact the auctioneer prior to bidding. 6. Absentee Bids: We are authorized to execute bids on your behalf. Complete an Absentee Bid Form and return to Old Toy Soldier Auctions BEFORE the absentee bid deadline. We cannot accept Buy bids. In the event that two identical bids are received, the first bid form received by Old Toy Soldier Auctions will have preference. 7. In order to bid, you must first register on LiveAuctioneers website. Old Toy Soldier Auctions reserves the right, in our sole discretion, to refuse your registration or participation in the auction or to revoke your permission to participate before, during or after the sale. 8. Submit all questions regarding upcoming auction items at least 48 hours prior to the date of auction. We will make every effort to answer all submitted questions in a timely manner. However, we cannot guarantee that questions submitted within 48 hours of the auction date will be answered prior to the auction. 9. All sales are final. 10. A 26% buyers premium will be added to all successful bids. A 3% discount will be applied for payment by check or cash if paid within 15 days. Discount only applied to payment made within this time frame. Purchases through Liveauctioneers.com will incur an additional 3% buyers premium. OTS Auctions reserve the right to hold all merchandise paid by check until payment has been cleared by the bank. 11. There will be a $50 charge added to all wire transfers. 12. In the event property is not paid for in full, Old Toy Soldier Auctions may pursue one or more of the following rights or remedies. A) charge interest at 2% per month of the unpaid balance. B) hold the defaulting buyer liable for the total amount due and commence legal proceedings for its recovery together with interest, legal fees and costs to the fullest extent permitted under applicable law. C) Cancel the sale D) resell the property E) Or to take such other action as we deem necessary or appropriate. 13. Items not claimed within three months of sale date will be considered forfeited and will become the property of Old Toy Soldier Auctions, USA. 14. Old Toy Soldier Auctions has the capability to ship to international bidders. By law, Old Toy Soldier Auctions cannot, and will not, declare lesser values for any international purchases and all shipments will include the invoice with purchase totals including the buyers premium and shipping cost. All international bidders are responsible for knowing their countrys laws on importing items and for paying all customs and duties on the items. 15. Old Toy Soldier Auctions are not responsible for any typographical errors or omissions in this catalog or price key. Photographs in this catalog are of the actual objects being sold but are not shown to scale. 16. Old Toy Soldier Auctions reserves the right to withdraw any property before, during and after the sale and shall have no liability whatsoever for such withdrawal. 17. In no event will our liability to a purchaser exceed the purchase price actually paid. Old Toy Soldier Auctions will not be responsible for any errors or failures to execute bids placed online or for any errors or omissions in connection therewith including, without limitation, errors or failures caused by (i) a loss of connection to the internet or the LiveAuctioneers Online Platform software by either Old Toy Soldier Auctions or the client; (ii) a breakdown or problem with Old Toy Soldier Auctions or LiveAuctioneers Online Platform software; or (iii) a breakdown or problem with a clients Internet connection, mobile network or computer 18. Old Toy Soldier Auctions content on LiveAuctioneers Online Platform (Web Site or Platform) is published and maintained by LiveAuctioneers. If you are a registered user of LiveAuctioneers, the LiveAuctioneers Privacy Policy governs your agreement with LiveAuctioneers with respect to LiveAuctioneers collection, use, storage, and disclosure of your personal information. Old Toy Soldier Auctions does not control and is not responsible for the information and privacy practices of LiveAuctioneers on the LiveAuctioneers Web site, which is operated entirely by LiveAuctioneers. You agree that Old Toy Soldier Auction?s and its affiliates will not be responsible for, and that you release Old Toy Soldier Auctions and its affiliates from, any and all claims, liabilities, damages, losses and expenses related to unauthorized access to or use of, or any security breach relating to or affecting, LiveAuctioneers collection, use, storage, and disclosure of your personal information. 19. If any part of these Conditions of Sale are found by any court to be invalid, illegal or unenforceable, that part shall be discounted and the rest of the conditions shall continue to be valid to the fullest extent permitted by law. 20. By bidding at auction, by written bid, telephone or other means, the buyer indicates acceptance of these Conditions of Sale. 21. The rights and obligations with respect to the Conditions of Sale shall be governed by the laws of the state of Pennsylvania. OLD TOY SOLDIER AUCTIONS USA: CONDITIONS OF SALE Copyright 2016, Old Toy Soldier Auctions, Ray Haradin. All rights reserved. Entire contents copyright 2016. Copyright includes, but not limited to, print, media, microfilm and electronic media, such as CDROMs and online computer services. HOW OLD TOY SOLDIER AUCTIONS U.S.A. WORKS: 1 Lot # - The item to be sold. Typically we sell 80 lots per hour. 2 Set # - The reference number used by the manufacturer. 3 Name of the Set 4 Description- Description of the set including estimated date of production and number of figures. 5 Manufacturer- Manufacturer of the lot. 6 "from"- Indicates that the lot does not have the exact composition or figure count as listed in the reference books. It may contain more or less figures than originally issued. If "from" is not used, the set is complete. 7 Condition of Figure- Applies to paint. Structural damage and or anomalies are listed in italics and within parenthesis. Condition of boxes is similarly described. 8 Estimate- This is the USD amount that has been assessed by the Old Toy Soldier Auctions appraiser and is based on the desirability, rarity and condition of each lot. This is provided for guidance only. Generally a bid within the estimated range has a 50% chance of winning the lot, a bid of the high estimate 70% and a bid of the low estimate 30%. HOW TO BID AT OLD TOY SOLDIER AUCTIONS USA: 1 Decide on the amount you would like to bid for the lot of interest. 2 Use the Bidding Increment Chart to determine your maximum bid. Bids not on the increments will be rounded down to the next increment. 3 Leave absentee bids online. 4 Bid live online. We recommend registering to bid 24 hours before the sale. FAQ: 1 If I bid $50 does the item open at $50? No, the item opens at one increment over the next highest bid. If you bid $50 and the next highest bid is $30 your bid will open the lot at $35. 2 Why did my bid of $53 not win the lot? Your bids are rounded to the nearest lower increment. Your bid of $53 was executed as a $50 bid. Please use the chart to help set your bids. 3 Why did I not win the lot that was sold for $50 when my bid was $50? There are two possibilities. The bids are executed in the order they are received. Many people bid the high estimate, if we have multiple bids at $50, the winner is the person whose $50 bid was received first. Or your bid was wrong footed meaning that your bid was an increment off. If you leave a bid of $50 and the lot opens at $30 to someone else, you then bid $35, another bidder bids $40 you then bid $45 and unfortunately someone comes in on your bid of $50 and the item sells to them. It is impossible to predict or plan your initial bid. You may give us a plus 1, plus 2 or even a plus 3 bid which allows us to bid 1, 2 or 3 increments over your high bid. However, we cannot accept a Buy bid, you must provide us with a number. 4 How much should I bid? We provide estimates for each lot based on our experience. We tend to be conservative with our estimates. Generally a bid within the estimate has a 50 percent chance of winning the lot. A bid of the low estimate has a 30 percent chance of winning the lot and a bid of the high estimate a 70 percent chance of securing the lot for the bidder. It is not uncommon for an item to go several times the high estimate if there are two or more parties with serious interest.
Discover Items You'll Love

Bid Anywhere, Anytime. Download the LiveAuctioneers App.
Available on the App Store
Android App on Google Play