lots of lots
Welcome to the world's largest marketplace for fine art, antiques & collectibles.
18K GOLD 2 ROWS NECKLACE W/ 7.00ct. DIAMOND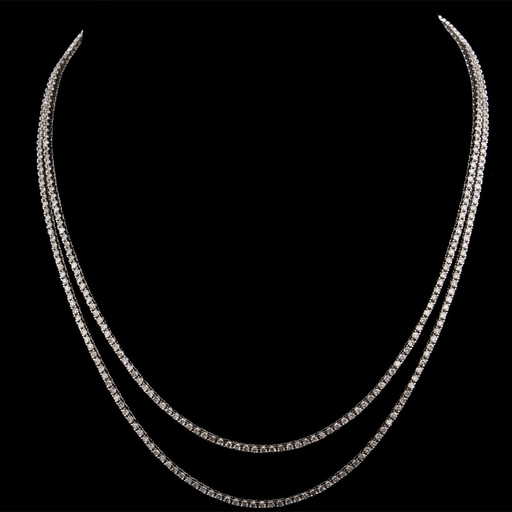 See Sold Price
Don't Miss Your Next Treasure.
Set up a search alert to hear when 18k Gold Jewelry items arrive.
Auction ended on October 1st, 2016 UTC
18K GOLD 2 ROWS NECKLACE W/ 7.00ct. DIAMOND
REF: DAH2-358-PV47520-2282
METAL: 18K WHITE GOLD
WEIGHT OF ITEM: 23.30 grams
LENGTH: 16 INCHES
MANUFACTURED IN: U.S.A
CONDITION: BRAND NEW

DETAILS OF STONE(S)
TYPE: NATURAL DIAMONDS
SHAPE: ROUND BRILLIANT CUT
QUANTITY: 416 PIECES
CARAT WEIGHT: 7.00 CARATS
COLOR: H-I
CLARITY: SI3-I1
MOHS HARDNESS: 10
CUT: VERY GOOD
Shipping
Buyer Pays Shipping Cost
Payment
Contact For Payment Details
Accepted payment methods
Terms
DEVONSHIRE AUCTION HOUSE (DAH) TERMS and AGREEMENT The below terms and condition of this agreement, can be changed by any notices or announcements at any time including during the sale and constitutes the entire terms and conditions on which the jewelry and time pieces are listed in the catalog shall be offered for sale or sold by Devonshire Auction House (DAH). BIDDER AGREEMENT WITH DEVONSHIRE AUCTION HOUSE: USING THE WEBSITE OF DEVONSHIRE AUCTION HOUSE OR ANY OTHER WEB RELATED SITE TO DEVONSHIRE AUCTION HOUSE CONSTITUTES THE BIDDER AGREEMENT TO ALL TERMS, CONDITIONS, AND NOTICES AND UPDATES, CONTAINED HEREIN OR OTHERWISE POSTED ON THE WEB SITE. (THE CONTENT OF SUCH AGREEMENT, INCLUSIVE OF THE TERMS AND ALL SUCH ADDITIONAL CONDITIONS AND NOTICES, ARE TOGETHER REFERRED TO HEREIN AS THE "AGREEMENT.").BY BIDDING ON THE ARTICLES OFFERED BY ?DAH?, YOUR ARE AGREEEING TO ALL THE TERMS AND CONDITIONS CONSTITUTED BY ?DAH? Properties where is as is : All jewelry and time pieces sold are AS IS, WHERE IS and neither DAH nor the consignor makes any warranties or representations of any kind or nature with respect to property or its value, and in no event shall be responsible for the correctness of description, genuineness, attribution, provenance, authenticity, authorship, completeness, condition of property or estimate of value. No statement (oral or written) in this catalog, during the sale, or elsewhere shall be deemed such a warranty or representation, or any assumption of responsibility. All measurements are approximate. Measurements and sizes: All measurement and sizes are approximate. SALES AND REFUNDS: All items are available for VISUAL INSPECTION ON LINE prior to bidding. Written and oral descriptions are our opinions and should in no way be construed as a guarantee of any kind as to authenticity, age, condition, materials or any other feature of items being sold. DAH attempts to PRESENT every lot correctly and will attempt to point out any defects but will not be responsible or liable for the correctness of the catalog or other descriptions of the lot. We recommend prospective bidders examine all items in which they have an interest. By placing a bid, in any manner, either by phone, absentee or via the Internet, you signify that you have examined the items as fully as you desire to or that you have chosen not to examine them. If you require absolute certainty in all areas of authenticity, and the results of your evaluation leave uncertainty in your mind, we recommend you have an expert examine the lot for you or do not bid on the item in question. ALL SALES ARE FINAL: All sales are final and and no return and or exchange is offered to successful bidder(s) SALES TAX: For all residents of California, 9.00% sales tax will be added to your invoice. SUCCESSFULL BIDDER: The successful bidder is the highest bidder acknowledged by the auctioneer. In the event of any dispute between bidders, or in the event of doubt on DAH?s part as to the validity of any bid, the auctioneer will have the final discretion either to determine the successful bidder or to re-offer and resell the article in dispute. If any dispute arises after the sale, DAH?s sale record is conclusive. THE RIGHT TO REJECT: ?DAH? reserve the right to reject and refuse any bid at any amount during and after each auction. PAYMENT: PayPal & Bank Wire. PayPal payments only up to $12,000 are accepted. International clients must submit payment thru Bank Wire ONLY, NO Exception. For items purchased online, you will be emailed an invoice within 24 hours after the auction. It is your responsibility to contact us or email us at Sales@DevonshireAuctionHouse.com if you have any other questions regarding payment. DAH reserves the right to hold all purchases until the payment has cleared to the satisfaction of DAH and its bank. If we are prevented by fire, theft, or any other reason whatsoever from delivering any property to the purchaser, our liability shall be limited to the sum actually paid, by the purchaser for such property. WITHDRAWAL FROM THE AUCTION: Devonshire Auction House RESERVES THE RIGHT TO WITHDRAW OR PASS ANY LOT AT ANY TIME BEFORE, DURING, OR AFTER the auction. LOW AND HIGH ESTIMATES: The actual selling price can not be predicted and or estimated from the range and estimated high and low given prices. FINAL DECISION: Auctioneer has final discretion on sale of an item regardless of any related terms and condition to the sale. OWNERSHIP AND RESPONSABILITY: Upon the winning of each auctioned item by highest bidder, ownership of the offered lot will pass to the highest bidder acknowledged by the auctioneer, subject to payment by such bidder, and agreeing to all the conditions set forth herein, and such bidder thereupon assumes full risk and responsibility thereof, but not limited to, insurance, fire, theft, removal and storage or damage from any and all causes, and will pay the full purchase price thereof or such part as we may require. In addition to other remedies available to us by law, we reserve the right to impose a late charge of 1 % per month of the total purchase price if payment is not made in accordance with the conditions set forth herein. REGARDING ANY PURCHASER WHO IS REPRESENTED BY A BIDDER: BIDDERS ARE PERSONALLY AND INDIVIDUALLY RESPONSIBLE FOR ANY OBLIGATIONS OF THE PURCHASER SET FORTH IN THE TERMS AND CONDITIONS OF SALE. If any applicable conditions herein are not complied with by the purchaser, in addition to other remedies available to us and the Consignor by law, including, without limitation, the right to hold the purchaser liable for the total purchase price, we at our option may either, cancel the sale, retaining as liquidated damages all payments made by the purchaser, or resell the property at public auction without reserve, and the purchaser will be liable for any deficiency costs including handling charges, the expenses of both sales, our commissions on both sales at our regular rates, reasonable attorney?s fees, incidental damages, and all other charges due hereunder. In the event that such a buyer pays a portion of the purchase price for any or all lots purchased, DAH shall apply the payment received to such lot or lots that DAH?s, in its sole discretion deems appropriate. In the case of default, purchaser shall be liable for legal fees and expenses. In addition, a defaulting purchaser will be deemed to have granted us a security interest in, and we may retain as collateral security for such purchaser?s obligations to us, any property in our possession owned by such purchaser. Confidential reserve and bidding: many of the lots in this sale are offered subject to a reserve. The reserve is a confidential minimum price, below which the lot will not be sold agreed upon by the consignor and DAH. In most cases, the reserve will be set below the estimated range, but in no case will it exceed the estimates listed. A representative of DAH will execute such reserves by bidding for the consignor. In any event and whether or not a lot is subject to a reserve, the auctioneer may reject any bid or raise not commensurate with the value of such lot.: This auction permits bids to be placed by the auctioneer, an employee of the auctioneer, or the seller or an agent on the seller?s behalf. In accordance with UCC 2-328, this auction is permitted to engage in this activity by providing this clear disclosure to you, the bidder. RESTOCKING FEE: BY BIDDING ON THE ITEMS OFFEREDBY ?DAH? YOU HAVE AGRRED TO ALL TEMS AND CONDITIONS AND BY AGREEING TO THE TERMS OF THIS AUCTION, THERE ARE NO REFUNDS OR EXCHANGES. IN THE EVENT THAT YOU REQUEST AND ARE GRANTED BY DAH A RETURN, CANCELLATION, OR REFUND, YOU AGREE THAT YOU ARE STILL RESPONSIBLE TO PAY A 25% RESTOCKING FEE BASED ON THE FINAL SALE PRICE (I.E. THE HAMMER PRICE) OF EACH ITEM THAT IS RETURNED  AS WELL AS ALL OF THE SHIPPING/HANDLING CHARGES. Competing bids: The auctioneer may or may not be accepting bids for an item from other sources such as, bids from an in-house audience, telephone bids, book bids, absentee bids, emails and other bidding platforms including the auctioneer or an agent of the seller(s) & consignor(s) bidding to protect the reserve of an item. Right of cancellation: In the event of any inaccuracy in data and or related images on any auctioned items ,The auctioneer reserves the right to cancel that particular or any related lots in any transaction. Indemnification: If you are not in agreement with this agreement and any of the terms and portions of this agreement DO NOT use the website to make or cause to make any purchases . In case of dissatisfaction ?DAH?shall not be liable for any special or consequential damages or any damages including ,without limitation damages such as loss of use ,loss of profit,or any other related losses arising from the use of website and consequential purchases. By using the website you hereby indemnify ?DAH? and the owners and emplyees of ?DAH? of any damages ,consequential damages and punitive damages. Shipping ,insurance and handling fees: · All gold and diamond Jewelry (Rings, Necklaces, Bracelets, Gemstones etc..): $55.00 FedEx Priority with Signature confirmation. $95.00 FedEx Priority Service for any International shipment. (Shipping can be combined for Jewelry purchases on each invoice) Third Party appraiser: Regarding Appraised Jewelry and Loose Stones: Devonshire Auction House sends them out to a third party for Retail Replacement Value Appraisals, which are the most common. These types of evaluations are written for insurance needs. This would be the cost to replace the jewelry with an item of equal quality and kind, considered to be the current market price or the replacement value. This type of appraisal is done to protect you in the event of damage or loss of a valuable item. Our appraisals are conducted by independent 3rd Party appraisal firms that utilizes Certified GIA Gemologist. Appraisals should be used for verification of gemstone and/or metal weight, size, and grade only, not actual value. Appraisal value should be considered for insurance purposes only, not actual value, as price varies greatly from retail locations thru out the world. Items should not be purchased with the expectation to resell for appraisal price, or for profit. All rights reserved. No part of this publication may be reproduced, distributed, or transmitted in any form or by any means, including photocopying, recording, or other electronic or mechanical methods, without the prior written permission of the publisher, except in the case of noncommercial uses permitted by copyright law. Dispute and jurisdiction: In case of any dispute between DAH and a bidder that cannot be resolved, then the parties agree to the following rules, regulations and procedures of the dispute resolution described herein and agree to the following procedures for resolution of the dispute: If either party alleges that the other party is in default under this agreement, then the dispute or allegation shall be submitted to binding arbitration in the State of California. DAH shall select a neutral arbitrator. The arbitration process shall be initiated by either party requesting arbitration which must be served upon the other party by certified mail. Failure to participate in the arbitration is a default. In the event that an arbitration procedure is initiated by request of a bidder, the bidder shall bear the financial burden of fees to be paid to an arbitrator to that maximum amount available by law. Each party shall simply present their case to the arbitrator. By bidding on any lot, the bidder hereby agrees and acknowledges that it is completely waiving its rights to have the dispute heard in a court of law. The bidder agrees that the arbitrator shall have complete jurisdiction over the dispute and can issue an award to the prevailing party. Bidder specifically agrees that bidder will not file a dispute of any kind with an online venue, a credit card, or any other third-parties. Bidder specifically waives the right to initiating a credit card chargeback dispute on any basis of claim and agrees that bidder will pay DAH a minimum of $440 plus hourly charges and costs for any such chargeback dispute opened, due to the severe administrative burden of such disputes and their direct violation of the dispute provisions above. In the event that Bidder violates this dispute resolution provisions, in consideration of DAH?s approval of the application of the bidder to bid in DAH?s auction, bidder confesses judgment to fraud having been committed by bidder against DAH and further agrees that bidder is liable to DAH for all damages, losses and costs, including time charges, resulting.
Discover Items You'll Love

Bid Anywhere, Anytime. Download the LiveAuctioneers App.
Available on the App Store
Android App on Google Play