Thomas Hart Benton "Roasting Ears" egg tempera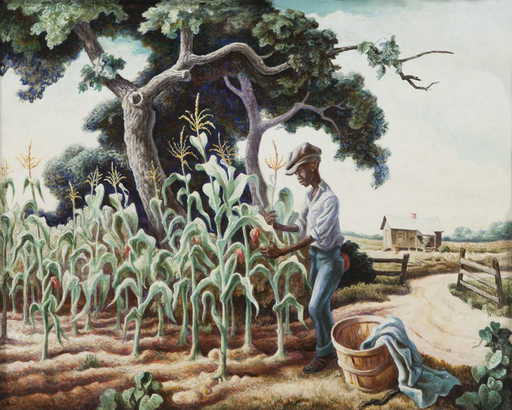 See Sold Price
Don't Miss Your Next Treasure.
Set up a search alert to hear when Thomas Hart Benton Militaria & War Memorabilia items arrive.
Auction ended on October 5th, 2016 UTC
Thomas Hart Benton "Roasting Ears" egg tempera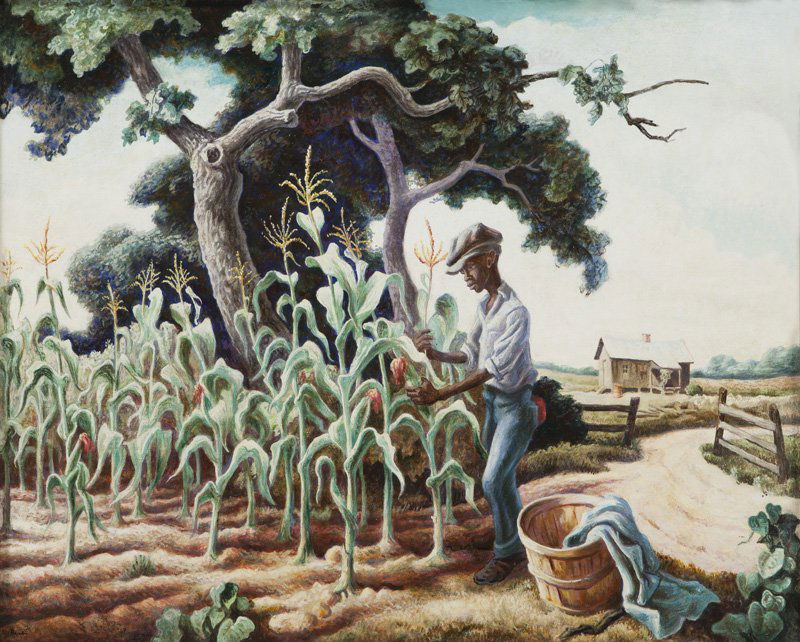 Thomas Hart Benton "Roasting Ears" egg tempera and oil on canvas laid on board, 1938. Signed lower left, "Benton". Board: 32"H x 39.5"W; Frame: 40.75"H x 48.125"W. PROVENANCE: Associated American Artists, New York. The Metropolitan Museum of Art, New York. Sotheby's New York: December 1, 1999 (Lot 80). From the Collection of Sam Wyly, Dallas, Texas. EXHIBITED: Kansas City, Missouri, Nelson-Atkins Museum of Art. New York, Associated American Artists, "T.H. Benton Exhibition," April-July 1939, no. 26. "Thomas Hart Benton: Paintings and Works on Paper," Hammer Galleries, New York. March 15 - April 19, 2004. LITERATURE: Thomas Craven, "Thomas Hart Benton: A Descriptive Catalogue of the Works of Thomas Hart Benton, Spotlighting the Important Periods of the Artist's Thirty-Two Years of Painting," New York, 1939, no. 23. "Missouri's Premier Artist Paints His State," The Kansas City Star, March 19, 1939, illus. E.A. Jewel, "Benton Canvases Open New Gallery," The New York Times, April 18, 1939, p. 23, illus. "The Metropolitan Buys a Benton," The Kansas City Star, July 9, 1939, illus. New York Tribune, July 1939. Art Digest, August 1, 1939. Matthew Baigell, "Thomas Hart Benton," New York, 1973, no. 119, p. 163, illus. Henry Adams, "Thomas Hart Benton: An American Original," New York, 1989, p. 295, illus. Henry Adams, "Thomas Hart Benton: Drawings from Life," Seattle, Washington, 1990, p. 177. Dr. Henry Adams, "Thomas Hart Benton: Paintings and Works on Paper, March 15-April 19th, 2004," Hammer Galleries, New York, pp. 18-19 (illustrated in color, p. 19). NOTE: In the early summer of 1938, while his wife and son were in Italy, Benton set out on a sketching excursion in an old Ford with James Fitzgerald, a burly, hard-drinking, Irishman who also taught at the Kansas City Art Institute. The two started their trip in New Orleans, then went west to the boom-town of Disney, Oklahoma, cut back through southern Missouri, and then through Tennessee and North Carolina. Benton made the sketch for "Roasting Ears" during the southwest Missouri leg of the trip. Benton produced the painting, "Roasting Ears," that fall, basing it on the sketch he had made in Missouri with some alterations. Benton himself said he was "fairly obsessed with America- the Mississippi region, the Ozarks, and the places where I can see lonely plowmen, Cotton pickers, river Boatmen, and ramshackle houses that never were much good to begin with. I like to get out in my car and drive. Just drive anywhere so long as I go through the Ozarks and down around Oklahoma and that territory." "Roasting Ears," was prominently featured in an exhibition of Benton's work in the spring of 1939, which opened first at the Nelson-Atkins Museum of Art, where it attracted record-breaking crowds. It then moved on to the Associated American Artist in New York, where it was in the inaugural show of a newly expanded gallery. For once, the New York critics lavishly praised Benton's work. The artist also sold a third of the paintings in the show- the first major commercial success of his career. The most publicized sale of that show was that of "Roasting Ears," to the Metropolitan Museum of Art, then as now the ultimate mark of success for an American artist. Upon hearing the price of three thousand dollars the Museum paid for the picture, Benton's wife Rita winked and mused, "Whew, they must have put a beautiful frame around it." In 1939 Thomas Craven published "A Treasury of Arts Masterpieces," one of the first lavish coffee-table art books, which featured masterpieces by illustrious European and American Artists such as Leonardo da Vinci, Michelangelo, Titian, Rubens, Rembrandt, Cezanne, Van Gogh and Picasso. Benton's "Persephone" was featured in early editions of this tome, but was later replaced by "Roasting Ears," most likely because it was feared that the nudity of Persephone would put off many potential buyers of the book. The choice of "Roasting Ears" as a substitute indicates that Craven considered it one of Benton's finest paintings--one of the masterworks of his career. Representation of African-American subject matter has always been a sensitive business. Because Benton expressed himself through caricature, and because he was willing to show the appalling poverty in which southern African-Americans lived, he has sometimes been accused of racial bias, a charge he always vehemently insisted was untrue. The controversy about this issue has obscured a central fact- that Benton was the first American artist to provide a record if the life of poor African-Americans in the South, based on first-hand experience and free from plantation stereotypes. One could also argue that this image, the lean farmer harvesting his meager corn crop, is representative not only of the plight of African-Americans, but of rural area depression life at large. The artist himself stated, "I believe I have wanted, more than anything else, to make pictures, the imagery of which would carry an unmistakably American meaning for Americans and for as many of them as possible" (Thomas Hart Benton, quoted in M. Baigell, "Thomas Hart Benton," New York, 1971). "Roasting Ears," is one of three major paintings of the period in which Benton portrayed the hard life of African Americans in the South in an unsentimental fashion, without nostalgically evoking the days before the Civil War. The other paintings are, "Instruction," (private collection), and "Aaron," (Pennsylvania Academy of Fine Arts,) a portrait of Ben Reese, who had been born a slave. His Journeys throughout the South opened up a whole new genre of subject matter in American art, which was quickly taken up by other painters, and was eventually also explored by the photographers of the Farm Security Administration, such as Walker Evans and Ben Shahn. During the early 1930's Benton had many African-American students, since he was one of the few American artist who portrayed African-Americans in his work. In short, Benton's representations of African American subjects mark an artistic and social turning point, a moment that changed how American viewed their country and themselves. One might even argue that Benton opened up the social issues of the South to national attention for the first time. "Roasting Ears," provides an outstanding example of this immensely significant aspect of Benton's achievement. We would like to thank Dr. Henry Adams, the Ruth Coulter Heede Professor of Art History at Case Western Reserve University, for his assistance in authenticating and cataloguing this lot. Thomas Hart Benton (American, 1889-1975). Please note: We will not be accepting bids on this lot via internet bidding. Please contact the gallery to register for bidding.
Buyer's Premium
25% up to

$100,000.00

20% up to

$1,000,000.00

12% above

$1,000,000.00
Discover Items You'll Love