John H. McPherson 74 OVI Civil War Diary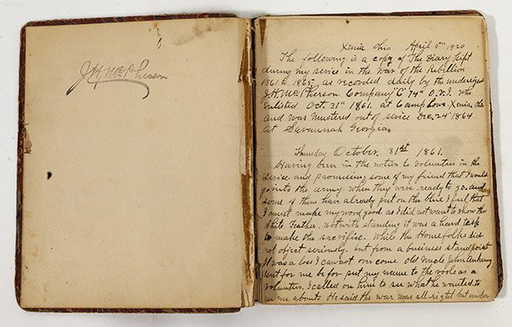 See Sold Price
Don't Miss Your Next Treasure.
Set up a search alert to hear when Books, Magazines & Papers items arrive.
Auction ended on October 13th, 2016 UTC
John H. McPherson 74 OVI Civil War Diary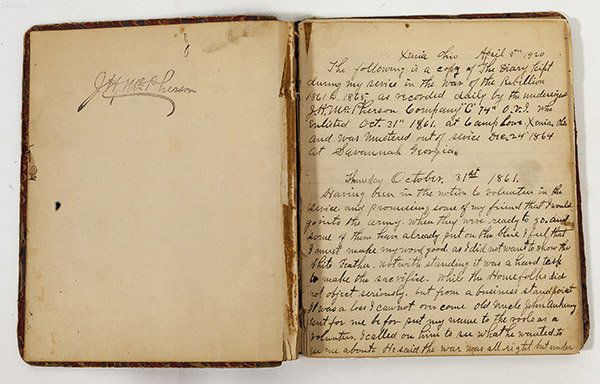 A 1920 copy of an inked manuscript diary in 6 x 8 inch ledger with marbled boards and circa 80 pages to inked text. Virtually every day from his enlistment to Oct. 7 th , 1862 has an entry. John H. McPherson enlisted as a private on Oct. 31, 1861 in Company C, 74 th Ohio Volunteer Infantry Regiment and began his training at Camp Lowe in Xenia, his hometown. This diary has very detailed information about this soldiers daily life from his 1 st day in camp to the end of the diary, with details about training, soldiers not being used to taking orders and the resulting troubles. On Jan 18, 1862 he writes, Number 4 mess found a woman in the kitchen drunk. They did not know how she got there. I suppose somebody knows. After training in camp near Xenia, the boarded a train and moved to camp Chase and from there to Cincinnati, where the regiment went aboard two steamers and wrote on April 21, 62, Last night was the hardest night I experienced, wet cloths and no place but the floor to sleep, but this is soldering. About one fifth of the boys celebrated our departure by getting drunk. About a dozen fell overboard and several of them drowned. On the way to Nashville the were shot at from Kentucky for the first time, below Louisville. Once in Nashville he writes of each Union victory, rarely of it's losses. Writes of capture of 200 of CSA General J.H. Morgan's cavalry near Nashville. Writes of Snooky Row in Nashville. Each day has an entry, often giving fascinating details of camp life in the occupied south. While doing provost duty in Nashville he visited the residence of a CSA Col. Achimes who is said to own a plantation in Alabama with 900 slaves. Was sent on guard duty for a wagon train to Franklin on June 3rd. Regiment sent to Murfeesboro on June 7. June 18 on guard duty at fairgrounds guarding Confederates and writes, The prisoners are a tough looking lot. They have seen pretty hard times. They were almost starved to death. They took the oath not to take up arms against the U. States unless otherwise released or exchanged. There were many wounded and all kinds of wounds. I noticed one man that had been shot in the back part of the neck coming out below the eye. What is great about this diary is the wealth of detail he writes about the soldiers life in the occupied south and how that effected the civilian population of the area, most of whom were strongly pro confederacy. Writes often of being sent on foraging trips and their reception by the natives. Writes of capturing spies and encounters with bushwackers or local guerillas and the capture of some of them. Writes in highly descriptive detail about patrol duty in the city, guard duty at various roads and bridges leading into the city and excursions to nearby towns such as Franklin. Visits to local African American churches, and much more. During CSA General Bragg's invasion of Kentucky much of the army in and around Nashville and western Tenn. Were sent north and he describes huge numbers of troops and supplies passing through the city. His and a small number of other regiments were left behind to act as rear guard and keep control of the area. They were cut off from there usual supplies. They were forced to travel further and further from the city to forage for supplies for the regiment, in the end needing to go as much as 20 miles from town. Writes of southern civilian being forced to sign the oath of allegiance and those that refused being transported to the front lines and forced to enter Confederate held territory. During one scouting trip from Franklin on Aug 19, 62 he wrote, We were rigged out in full cavalry outfit and a good horse to ride…we stopped at a plantation home and fed our horses. There were no men about except Darkies both men and women who seemed glad to see us but the white women looked daggers at us. Especially when they saw their Negroes bring biscuits and corn bread and frying the Yankees good country ham. That was the first time the soldiers had been near them and the darkies had never seen a Yankee. A truly fascinating Ohio Civil War diary, which this brief description only covers a few of the details. The 74th went into its first major battle at Stone River with 380 effective men and where in the thick of it with heavy casualties, with 109 men killed or wounded and 46 captured. From then on they were in many of the major battles of Sherman's campaign in the south including Hoovers Gap, Dug Gap, Chickamauga, Lookout Mountain, & Missionary Ridge. After most of the regiment reenlisted they were engaged at Resaca Kennesaw Mountain, Peachtree Creek, Atlanta, Jonesboro and moved with Sherman's Army on the march to the sea and were engaged at the last battle of the Army at Bentonville.
Condition
Spine repaired, minor wear, very clear hand, Very Good.
Discover Items You'll Love