lots of lots
Welcome to the world's largest marketplace for fine art, antiques & collectibles.
1860's Ash Ridge, Ohio General Store Ledger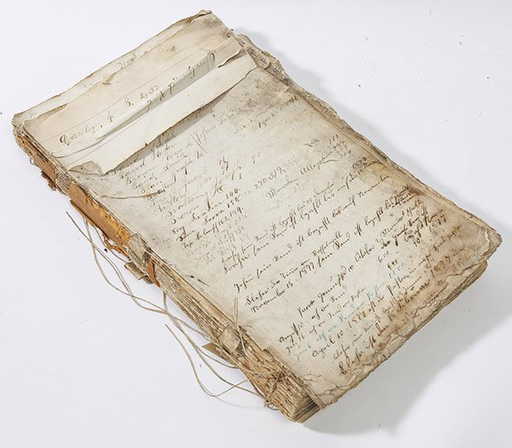 See Sold Price
Don't Miss Your Next Treasure.
Set up a search alert to hear when Forsythes' Auctions, LLC lists new auctions.
Discover Related Items Available Now
Auction ended on October 13th, 2016 UTC
1860's Ash Ridge, Ohio General Store Ledger
An inked and penciled manuscript ledger owned by John Seip with earliest date being 1866 and extending into the early 1880's. 8 x 13 inches with over 400pp of entries. Seip sold a general line of items, cloth clothing, household goods of all types, meats, chickens, tools and much, much more. Literally hundreds of names and their purchases on these lists. Some of the names include Carline Henry, Geo. Work, John Horselman, Thomas Parry, Leroy Kindle, G.W. Cox, John Baird, Night McGregor, John Henry, Wilson Bawl, James Baird Jacob Schnallie, Goshaway Mefford, Johnson Miller, Wm Blain, Moses Moore, Frederick Hanselman, P.W. Kirkpatrick, Wilford Evans, Luther Reed, Thomas Parsy, America Schinn, Lawrence Ramey, Sara Wood, Joseph Henry, Wilson Snadaker, Fountain Inskeep, Razel Glazze, Mrs. Downing, Wm Myers, Alexander Rishforth, John Liggett, Isabell Liggett, Alfred Monroe, Alfred Moore, J.W. Howland, John Knot, Henry Sarah, T.W. Kirkpatrick, Calip Wachelfresh, S.N. Shaw, Samuel Shreves, Edward West, Wm Peters, Jacob Borher, James Smith, Mr. Briton, W.W. Ellsberry to name only some of those in the first 100 pages.
Condition
missing board and edge wear, still most is quite legible.
Shipping
Buyer Pays Shipping Cost
Payment
Contact For Payment Details
Accepted payment methods
 
ÂÂÂÂÂ
 
ÂÂÂÂÂ
 
ÂÂÂÂÂ
 
ÂÂÂÂÂ
ÃÆâ€Ã
ÃÆÃâÃâÃââÃÆÃâÂÃÂÃâšÂÃâÂÃÆÃâÃÂÃâšÂÃÂÃÆÃÂÃÂÃâÅÃÂÃÂÃâÅÃÂÃÆÃâÃâÃââÃÆÃÂÃÂÃâÅÃÂÃâšÃÂÃÆÃâÃâšÃÂÃÆÃÂÃÂÃâšÂÃÂÃâšÃÂÃÆÃÂÃÂÃâšÂÃÂÃâšÃÂÃÆÃâÃâÃââÃÆÃâÂÃÂÃâšÂÃâÂÃÆÃâÃâšÃÂÃÆÃÂÃÂÃâšÂÃÂÃâšÃÂÃÆÃâÅÃâšÃÂÃÆÃâÃâÃââÃÆÃâÅÃâšÃÂÃÆÃÆââ'
Terms
All bidders are responsible for reading and understanding these Terms of Sale as well as any supplemental notices. By bidding in this auction, prospective bidders (whether present in person, or by agent, by written, telephone, FAX, email) agree to be bound by these TERMS AND CONDITIONS. These are the complete and only terms and conditions on which all property is offered for sale. TERMS AND CONDITIONS REGISTRATION. All bidders must register their name, permanent street address, and phone number prior to the auction. All registrants are required to present identification. Bidders unknown to us will be required to present a valid Visa, MasterCard or credit card. ACCEPTANCE OF TERMS. Bidding on any item, whether in person, by phone, by absentee bid or via a live internet auction indicates the bidder's agreement to be bound by these Terms and Conditions for Bidders. Any right of bidder under this agreement shall not be assignable and shall only be enforceable by the original buyer. The rights and obligations of the parties shall be governed by the laws of the state of Ohio. All bidders submit to the personal jurisdiction of the state and federal courts of Ohio. TERMS OF SALE. Announcements made the day of auction take precedence over any previous communication. The auctioneer reserves the right to withdraw any lot at any time before its final sale and to reject any bid for any reason. The highest bidder for each lot acknowledged by the auctioneer shall be the "buyer". The auctioneer may reject any bids if, in his judgment, such a bid shall be likely to affect the sale injuriously. BUYER'S PREMIUM. A premium of 21% will be applied to all property sold, to be paid by purchaser as part of the purchase price. RESERVES. Most lots offered are without reserve. In the case of reserved items, the seller has authorized the auctioneer to bid on their behalf until the reserve price is reached. LIMITED WARRANTY. EVERY LOT IS SOLD "AS IS", without any representations or warranties by Forsythes' Auctions, LLC or the seller as to merchantability, fitness for a particular purpose, condition or value of the property, or the correctness or completeness of the catalog or other description of the property, and no statement, whether written or oral shall be deemed such a representation, warranty or assumption of liability. Dimensions given in our descriptions may be approximate. The furniture is old and over the years has undoubtedly acquired a few assorted flaws. We will only mention those that we feel are objectionable. When we use the word "attribution" it means we believe it to be made by the maker by whom we attribute it. We do not guarantee it to be so, it's purely our opinion. While condition reports for most items are stated in the descriptions, prospective bidders are urged to contact Forsythes' Auctions, LLC directly for detailed information regarding any lot. ESTIMATES. Pre-sale estimates are intended to be guides and may or may not reflect the ultimate hammer price of a lot. Forsythes' Auctions, LLC retains the right to change estimates on any lot up to time of sale. ABSENTEE AND PHONE BIDDING. Absentee and telephone bidding is offered as a service to our customers, and prospective bidders shall not hold Forsythes' Auctions, LLC or a staff member responsible for any errors or failures in executing bids. Absentee bids are accepted via mail, phone, FAX or email. Absentee bidders unknown to us may be required to submit a bank letter of credit prior to the auction, or using a credit card, deposit with Forsythes' Auctions, LLC a fee equaling 30% of their absentee bid. The issuance of a credit card number is to serve as a deposit on bids and to guarantee payment for any successful bids. All absentee bids are executed competitively by a member of the auction staff. We will bid up to the amount you have left only if necessary. In the event of a tie bid between a floor an absentee bidders, the floor bid will be honored. Bidding "live" via the telephone is available on a first come, first served basis. We strongly advise you to also leave and absentee insurance bid for the lots you wish to be called on. This insures that if we cannot contact you, your insurance bid will be executed as an absentee bid. INTERNET BIDDING. Internet bidding via Live Auctioneers.com may be available for certain auctions. There may be terms which apply to internet bids that should be reviewed on line at the time of sale. Forsythes' Auctions, LLC will not be held responsible for any failure to execute any internet bid. Forsythes' reserves the right to modify bidding increments at anytime during the auction. BUYER'S RESPONSIBILITY. Upon the fall of the hammer, title to the offered lot shall pass to the buyer and the buyer immediately assumes full risk and responsibility for the lot, including liability for loss or damage. PURCHASE PRICE AND PAYMENT. The purchase price for each lot shall equal the hammer price, buyer's premium, sales tax and, if applicable, all packing, handling, insurance, and shipping costs. Payment may be made with cash(In House Only), personal or traveler's checks, Visa, MasterCard or American Express. Buyers who are present at the auction must pay the full purchase price at the time of the sale. Buyers who bid by telephone or who are absentee bidders will be invoiced within 5 days after the close of the auction and must pay the full purchase price for each purchased lot within 7 days after the date of the auction. By signing the absentee bid form or placing an absentee bid by telephone, an absentee bidder authorizes Forsythes' Auctions, LLC to charge the purchase price (hammer price, plus buyer's premium) for each lot for which such bidder is the successful bidder to the credit card number provided by telephone or on the absentee bid form, unless payment in full or alternative payment instruction is received within 7 days after the date of the auction. No property will be released by Forsythes' Auctions, LLC unless the purchase price has been paid in full. SALES TAX. Buyers are required to pay any applicable state and local sales tax. SHIPPING. As a convenience to the purchasers, we will, if requested, have items packed and shipped, or arrange shipment, for you almost anywhere in the United States and international, fully insured, for a fee.Unless absolutely necessary, we will not ship to a P.O. Box. For this reason, please provide a street address for our shipper. It will expedite your receipt of your purchase. If you have a shipping preference for any reason, please make sure your shipper carries insurance. We are not responsible for any damage or loss that occurs while your items are in another's care. SHIPPING CHARGES. Buyers are required to pay for all packing, shipping and insurance charges. We do most of our shipping in-house and we try to be very reasonable in our shipping charges though you as a purchaser must realize that for larger and/or valuable items, shipping charges can be costly. Items must be paid in full as quickly as possible. Shipping will be added as we determine the amount. There is a minimum shipping charge of $15.
Discover Items You'll Love

Bid Anywhere, Anytime. Download the LiveAuctioneers App.
Available on the App Store
Android App on Google Play