lots of lots
Welcome to the world's largest marketplace for fine art, antiques & collectibles.
Pierre CARDIN Montre bracelet unisexe en acier avec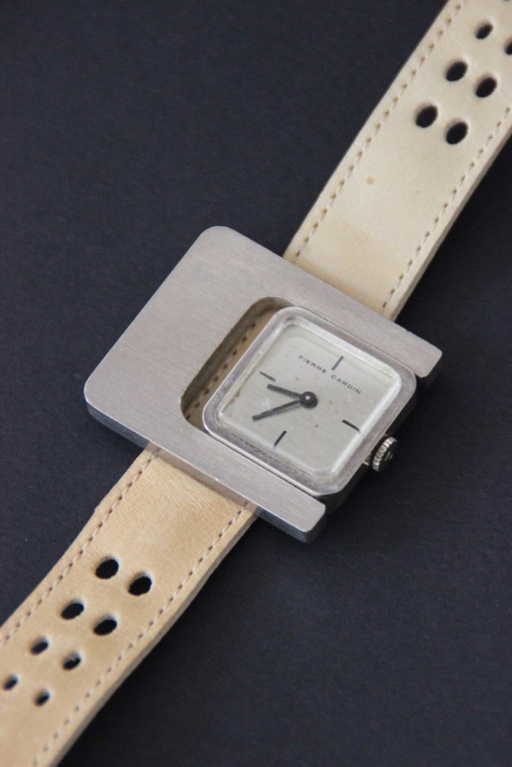 See Sold Price
Don't Miss Your Next Treasure.
Set up a search alert to hear when Pierre Cardin Bracelets items arrive.
Auction ended on October 22nd, 2016 UTC
Pierre CARDIN Montre bracelet unisexe en acier avec
Pierre CARDIN
Montre bracelet unisexe en acier avec bracelet en cuir crème
Buyer's Premium
28% up to

€500,000.00

28% above

€500,000.00
Shipping
Buyer Pays Shipping Cost - We use the MBE service
Payment
Payment by bank transfer for foreign buyers (Be careful : the wire transfer must be done without any charge for the auction house) Paypal is accepted + 5% Contact us For Payment Details (Be careful : for american customers, please do a transfer without any fees for the auction house, we must receive the perfetc total amount on our account)
Accepted payment methods
Terms
Buyers Premium: 28 % TTC For Foreign Buyers : Payment by Wire Transfer (without any fees for th Auction House CARVAJAL) CONDITIONS DE LA VENTE CARVAJAL SVV est une société de ventes volontaires de meubles aux enchères publiques régie par la loi du 10 juillet 2000. CARVAJAL SVV agit comme mandataire du vendeur. Le commissaire-priseur n'est pas partie au contrat de vente qui unit exclusivement le vendeur et l?adjudicataire. Les dispositions des présentes conditions générales sont indépendantes les unes des autres. La vente se fera expressément au comptant et les prix s'expriment en euros. Une exposition préalable permettant aux acquéreurs de se rendre compte de l'état des objets mis en vente, il ne sera admis aucune réclamation, une fois l'adjudication prononcée, les lots étant vendus dans l'état où ils se trouvent au moment de l'adjudication. La description des lots résultant du catalogue, des rapports, des étiquettes et des indications ou annonces verbales ne sont que l?expression CARVAJAL SVV de sa perception du lot, mais ne sauraient constituer la preuve d?un fait. L?absence d?indication d?une restauration et/ou d?un accident dans le catalogue, les rapports, les étiquettes ou les annonces verbales, n?implique nullement qu?un bien soit exempt de tout défaut présent, passé ou réparé. Les dimensions, les poids et les estimations ne sont donnés qu?à titre indicatif. Le commissaire-priseur est seul maître des enchères et est libre de fixer l?ordre de progression des enchères et les enchérisseurs sont tenus de s?y conformer. Il se réserve le droit de refuser une enchère portée qui serait trop faible par rapport aux précédents paliers. Il assure également la police dans ses ventes pour le bon déroulement de la vacation. Dans l?hypothèse où un prix de réserve aurait été stipulé par le vendeur, la société CARVAJAL SVV se réserve le droit de porter des enchères pour le compte du vendeur jusqu?à ce que ce prix de réserve soit atteint. L'ordre du catalogue sera suivi. Néanmoins, le commissaire-priseur se réserve le droit de réunir ou de diviser des lots. L'adjudicataire sera le plus offrant et dernier enchérisseur, et aura pour obligation de remettre son nom et adresse. Merci de consulter les frais spécifiques de chaque vente. Toute personne qui se porte enchérisseur s?engage à régler personnellement et immédiatement le prix d?adjudication augmenté des frais à la charge de l?acquéreur et de tous impôts ou taxes qui pourraient être exigibles. Tout enchérisseur est censé agir pour son propre compte sauf dénonciation préalable de sa qualité de mandataire pour le compte d?un tiers, acceptée la société CARVAJAL SVV. Dès l?adjudication prononcée, les achats sont sous l?entière responsabilité de l?adjudicataire. Le stockage et le transport de l?objet n?engagent pas la responsabilité de la SVV CARVAJAL. Il appartiendra à l?adjudicataire de faire assurer le lot dès l?adjudication. L?adjudicataire ne devient propriétaire du lot adjugé qu?à compter du règlement intégral et effectif à CARVAJAL SVV du prix, des commissions et des frais afférents. Le paiement doit être effectué immédiatement après la vente, et ce par les moyens suivants : - Par virement bancaire en ? - En espèces en ? jusqu?à un montant de 3 000 ? frais et taxes compris par vente pour les particuliers, et jusqu?à un montant de 750 ? frais et taxes compris par vente pour les commerçants. - Par chèque de banque certifié en ? avec présentation obligatoire d?une pièce d?identité en cours de validité Les chèques tirés sur une banque étrangère ne seront pas acceptés. Aucun achat ne sera remis aux acquéreurs avant versement de l?intégralité des sommes dues. En cas de paiement par chèque par l?adjudicataire, le transfert de propriété de l?objet n?aura lieu qu?après encaissement du chèque. Le paiement par chèque sans provision ou le défaut de paiement n?entraîne pas la responsabilité de la Société de Vente et en conséquence la délivre de l?obligation de paiement au vendeur. En cas de paiement par chèque non certifié, le retrait des objets pourra être différé jusqu?à encaissement. A défaut de paiement par chèque ou en espèces, l?objet pourra être remis en adjudication sur folle enchère, immédiatement ou à la première opportunité. En cas de contestation, au moment de l?adjudication, c?est-à-dire s?il est établi que deux ou plusieurs enchérisseurs ont simultanément porté une enchère équivalente, soit à haute voix, soit par signe, et réclament en même temps cet objet après le prononcé du mot "adjugé", le dit objet sera immédiatement remis en adjudication au prix proposé par les enchérisseurs et tout le public sera admis à enchérir à nouveau. Les achats qui n?auront pas été retirés dans les sept jours de la vente (samedi, dimanche et jours fériés compris), pourront être transportés dans un lieu de conservation aux frais de l?adjudicataire défaillant qui devra régler le coût correspondant pour pouvoir retirer le lot, en sus du prix, des frais et des taxes. Conseils aux Acheteurs La vente sera conduite en euros. Le règlement des objets, ainsi que celui des taxes s?y appliquant, sera effectué dans la même monnaie. Les chèques tirés sur une banque étrangère ne seront autorisés qu?après accord préalable de la Société de Vente. Pour cela il est conseillé aux acheteurs d?obtenir, avant la vente, une lettre accréditive de leur banque pour une valeur avoisinant leur intention d?achat, qu?ils transmettront à la Société de Vente. Ordres d'Achat La Société de Vente et les éventuels experts peuvent exécuter tout ordre d?achat ou demande de ligne téléphonique pendant la vente sans aucun frais supplémentaire. Il convient d?en faire la demande par écrit, au moins 24 heures avant le début de la vente, à l?aide du formulaire inclus dans le présent catalogue, dûment complété et accompagné d?un chèque, relevé d?identité bancaire ou coordonnées bancaires, ainsi que d?une copie de pièce d?identité. En cas d?élément manquant, la société CARVAJAL SVV se réserve le droit de ne pas prendre en compte l?ordre d?achat ou la demande d?enchère téléphonique concerné. La Société de Vente agira pour le compte de l?enchérisseur, selon les instructions contenues dans le formulaire d?ordre d?achat, ceci afin d?essayer d?acheter le ou les lots au prix le plus bas possible et ne dépassant, en aucun cas, le montant maximum indiqué par l ?enchérisseur. Enchères par téléphone : l?acheteur désireux de se faire appeler pendant la vente utilisera le formulaire selon les conditions énoncées ci-dessus. Les ordres d?achat sont une facilité pour les clients. La Société de Vente n?est pas responsable pour avoir manqué d?exécuter un ordre par erreur, ou pour toute autre cause.
Discover Items You'll Love

Bid Anywhere, Anytime. Download the LiveAuctioneers App.
Available on the App Store
Android App on Google Play