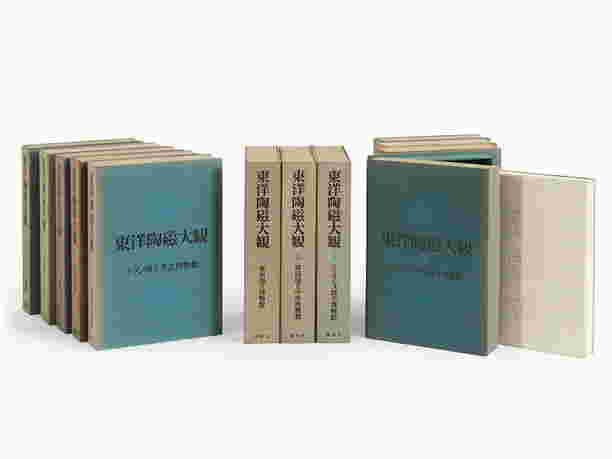 Sold
Oriental Ceramics, 12-Volume Complete Edition, Tokyo,
See Sold Price
Estimate €2,560 - €3,200
3 bids
Oriental Ceramics: the World's Great Collections, 12 volumesTokyo, 1974-1978Published by Kodansha International, LimitedVery rare deluxe and limited edition of 2000 copiesText in English and Japanese with numerous color plates Each in a blue silk slipcaseDimensions: 37 x 27 cmTotal dimensions: 39.5 x 28.5 cmVolume 1: Tokyo National Museum, Tokyo, 1976Volume 2: National Museum of Korea, Seoul, 1976Volume 3: Museum Pusat, Jakarta, 1977Volume 4: Iran Bastan Museum, Teheran, 1978,Volume 5: The British Museum, London, 1974Volume 6: Victoria & Albert Museum, 1975Volume 7: Percival David Foundation of Chinese Art, London, 1975Volume 8: Musee Guimet, Paris, 1975Volume 9: Museum of Far Eastern Antiquities, Stockholm, 1976Volume 10: The Freer Gallery of Art, Washington D.C., 1975Volume 11: Museum of Fine Arts: Boston, 1978Volume 12: The Metropolitan Museum of Art, New York, 1977Condition:The volumes are in very good condition with usual, slight signs of age and wear. The color of the slipcase partly faded. Shipping costs excl. statutory VAT and plus 2,5% (+VAT) shipping insurance.
Asian art: Treasures of China & Japan