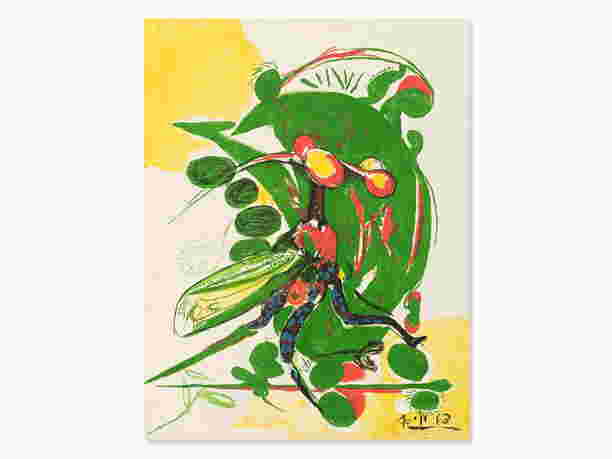 Sold
Graham Sutherland, Insect, Lithograph in Colors,
See Sold Price
Estimate €400 - €500
7 bids
Lithograph in colors on wove paper 'Arches' (watermark)England, 1963Graham Sutherland (1903-1980) – British painter, illustrator, watercolor painter and graphic artistSigned 'Graham Sutherland' and inscribed 'H.C.' in pencilDated on the stone '4. IV 63' Plate 9 from the portfolio 'Europäische Graphik I (Englische Künstler)'Published by Edition Galerie Wolfgang Ketterer, Munich (with blindstamp)Catalogue raisonné: Tassi 69; Ketterer Editionsverzeichnis 196Image dimensions: 65.7 x 50 cm, sheet-sizedGood conditionCondition:The lithograph is in good, age-related condition with minimal signs of age and wear. The sheet occasionally with handling creases, in places slightly discolored. The full sheet image dimensions measure 65.7 x 50 cm.Graham Sutherland (1903-1980)Born in Eynsteat (Kent), the artist graduated at the Goldsmith's College School of Art in London, where he was among others taught by Malcolm Osborne and Stanley Anderson. In 1926 Sutherland became a member of the Royal Society of Engravers and Etchers. For three years (1927-29) he was a teacher at the Chelsea School of Art and in the mid-30s again taught book illustration there. Along with John Piper, Sutherland is one of the extreme representatives of a modern art movement in England, which combines a fantastic Romanticism with surrealistic elements. In his paintings and etchings an extraordinary inventiveness finds its expression, which almost completely abolishes the boundaries between organic and inorganic. He was particularly influenced by British landscape painter and etcher Samuel Palmer. Major retrospectives of Sutherland's works were e.g. in 1982 at the Tate Gallery in London, in 1998 in France and in 2005 at the Dulwich Picture Gallery, also in London. Shipping costs excl. statutory VAT and plus 2,5% (+VAT) shipping insurance. Auctionata charges the resale rights tax pursuant to Section 26 of the German Copyright Act (UrhG) towards the buyer in case of the sale of an original work of art or photography prior to 70 years having lapsed since the death of their creator. Therefore, Auctionata charges when purchasing a good – if a protection as an original work of art or photography is given – starting from a hammer price of EUR 400 an additional amount, which is calculated according to Section 26 (2) German Copyright Act (UrhG) and which does not exceed the amount of EUR 12,500. You can find more information about resale rights tax in Auctionata´s table of fees and T&C.
From Beuys to Moore: Prints and Editions