lots of lots
Welcome to the world's largest marketplace for fine art, antiques & collectibles.
525: LOUIS WOLCHONOK (American) Etching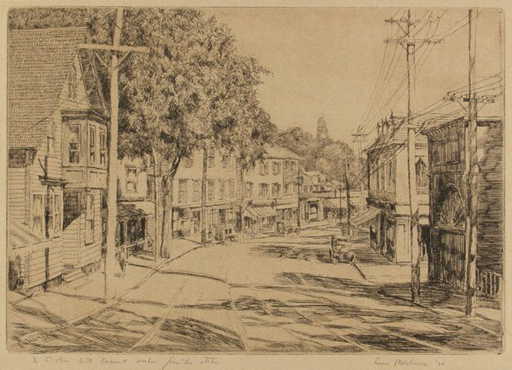 See Sold Price
Don't Miss Your Next Treasure.
Set up a search alert to hear when Martin Gordon Auctions, LLC lists new auctions.
Auction ended on March 15th, 2008 UTC
525: LOUIS WOLCHONOK (American) Etching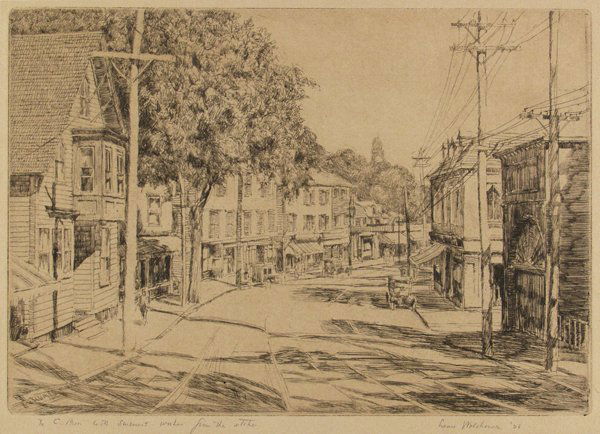 Louis Wolchonok (American, 1898 - 1973)
Untitled [Curving Street].
Etching. 1926. Signed and dated in pencil, lower right; dedicated in pencil, lower left. 7 x 10 in. (178 x 254 mm). Sheet Size: 9 1/4 x 11 1/4 in. (235 x 286 mm).
Payment
Accepted payment methods
Terms
CONDITIONS OF SALE AND LIMITED WARRANTY Each lot in this catalogue is subject to the following Terms and Conditions of Sale, as supplemented in writing or otherwise by Martin Gordon Auctions (MGA) prior to the sale. By registering to bid at the auction, or by placing a bid by any means, you agree to these Terms and Conditions of Sale. "We," "us," "our," "Martin Gordon," "MGA," and all other similar terms refer to Martin Gordon Auctions and its agents; "you," "your," "buyer," or similar terms refer to a person bidding on or buying property. Terms and Conditions of Sale MGA conducts business as an auctioneer commission-agent in its own name on behalf of its voluntary consignors and from time to time on its own behalf. Description and Condition of Lots All objects put up for auction can be viewed and examined prior to the sale at the times listed in the catalogue. Catalogue descriptions are made with as much care as possible, but the descriptions do not fall under the statutory paragraph for guaranteed legal characteristics. Solely as a convenience, MGA may provide condition reports. Many items are of an age or nature that precludes their being in perfect condition. Some descriptions in the catalogue are given by way of a condition report (made either orally or in writing), which makes reference to damage and/or restoration. We provide this information for guidance only and the absence of such a reference does not imply that an item is free from defects or restoration, nor does a reference to particular defects imply the absence of any others. MGA is not liable for any defects. In the case of a justified claim, however, we will accept the responsibility to make a claim for restitution on behalf of the buyer against the consignor within a period of 12 months, running from the fall of the hammer. In the event of a successful claim, MGA will refund the hammer price plus premium. Any representation or statement by MGA in any catalogue, brochure or advertisement of forthcoming sales as to authorship, attribution, genuineness, origin, date, age, provenance, condition or estimated selling price is a statement of opinion only. Every person interested should exercise his own judgment as to such matters, and neither MGA nor any of its agents are responsible for the correctness of such opinions. Except as stated under "Limited Warranty" in the paragraph below, all property is sold "as is," with no representation or warranty of any kind from MGA or the consignor. Buyers are advised to personally examine any property on which they intend to bid prior to the auction. All dimensions are approximate. The condition of frames is not guaranteed. Except as noted in this paragraph, all lots in the sale are offered for the account of a third party, without any interest (direct or indirect) of the auctioneer or MGA. Where MGA or an affiliate of MGA is the sole or partial owner of the property, there is no symbol next to the lot description. Where the lot is offered for the account of a third party, it is noted by the symbol next to the description of that lot. Under no circumstance will the Consignor receive any rebate commission. Under no circumstance may the Consignor bid upon or buy back his property. Bidding at Auction All prospective bidders are required to register with MGA in advance of the sale. We may require photo identification and bank references for registration. By bidding at the auction, a buyer assumes personal responsibility to pay the purchase price bid, plus the buyer's premium and any additional charges that become due and payable in connection with the purchase of property. On the fall of the auctioneer's hammer, title to the offered lot will pass to the acknowledged bidder. At that time, the buyer assumes all risk of loss and damage to the property, in addition any obligations, costs and expenses relating to the handling, shipping, insurance, tax, and export of property. The highest bidder acknowledged by the auctioneer shall be deemed the buyer. The successful buyer is obliged to accept and pay for the lot. Ownership only passes to the buyer when full payment has been received. The buyer, however, immediately assumes all risks when the goods are knocked down to him. In case of identical bids, determination of the winning bidder shall be left to the sole discretion of MGA. MGA has the right, in its absolute discretion, to determine the conduct of the sale as it sees fit. It reserves the right to advance bidding, to reject bids, to combine lots, to split lots, to re-offer and resell lots, and to withdraw lots before the actual final sale. In any such case, the judgment of MGA is final, and shall be binding upon all participants. In the case of a written bid, the bidder commissions MGA to place bids on his behalf during the auction. In cases where there is a discrepancy between number and title in a written bid, the number shall prevail. We assume no responsibility for failure to execute any such bid, or for errors or omissions made in connection with the execution of any such bid. If requested prior to the sale, we will use reasonable efforts to contact the buyer by telephone to conduct a phone bid on the day of the sale, but we assume no responsibility for errors or omissions made in connection with any such arrangement. As a convenience to buyers who cannot be present on the day of the sale, we will use reasonable efforts to execute, on a competitive basis, bids left with us via the Internet, whether by absentee or a live bidding program. We assume no responsibility for failure to execute any such bid, or for errors or omissions made in connection with the execution of any such bid. All lots may be offered subject to reserve, which is the confidential minimum price below which the lot will not be sold. MGA may open the bidding on any lot below the reserve by placing a bid on behalf of the seller. MGA may continue to bid on behalf of the seller up to the amount of the reserve, either by placing consecutive bids or by placing bids in response to other bidders. The estimates provided are intended as a guide to bidding. The figures are educated guesses, based on recent values. A bid between the listed figures would, in our opinion, have a chance of success (at the time that the catalogue was prepared). The estimates are exclusive of the buyer's premium, and may be revised at any time prior to the auction. Buyers are advised that there may be additional terms and conditions governing the use of Internet bidding services including, but not limited to, those providing for additional charges and fees relating to the execution of such bids. Buyers are therefore advised to familiarize themselves with any such terms and conditions prior to utilizing any Internet bidding service. The sale generally will be conducted in the following increments: To $50 $5 increment $50-100 $10 increment $100-500 $25 increment $500-1,000 $50 increment $1,000-2,500 $100 increment $2,500-5,000 $250 increment $5,000-10,000 $500 increment $10,000+ $1,000 increment or auctioneer's discretion Payment Upon the fall of the auctioneer's hammer, the buyer assumes all risk of loss and damage to the property, in addition any obligations, costs, and expenses relating to the handling, shipping, insurance, tax, export, and storage of property. A buyer's premium of 20% on the hammer price and 22 1/2% on purchases made via the Internet will be paid by the purchaser. All purchases will be subject to state sales tax unless the buyer has provided us with a valid certificate of exemption from such tax. Buyers are required to pay for purchases immediately following the auction unless other arrangements have been made in advance of the auction. All payments must be made in US Dollars, in any of the following acceptable forms of payment: -Cash (In House Only) -Personal(In House Only) or corporate checks with acceptable identification -Visa, MasterCard, American Express or Discover credit cards -Money Orders or Cashier's Checks -Wire(Bank) Transfer No surcharge will be charged to the buyer for payments made via credit card. We reserve the right to delay delivery of any property until clearance or collection of funds in connection with any payment and, in any event, title to the property shall not pass to the buyer until collection of funds has occurred. If after fourteen (14) days we have not received payment for lots purchased at auction, we will promptly file an Unpaid Item Dispute in the case of all delinquent Internet bids, and report all outstanding balances to the credit bureau. Auction lots, without exception, will only be handed over after payment has been made. Storage and dispatch are at the expense and risk of the buyer. Charges for dispatch, packing and insurance are billed separately. All property must be removed from MGA by the purchaser, at his expense, no later than fourteen (14) days following its sale, and if not so removed will accrue storage fees and/or interest at the seller's discretion. The purchaser shall be liable for all actual expenses incurred plus a storage charge of 5% of the purchase price. All items purchased are subject to payment of the city of Phoenix and state of Arizona sales tax of 8.1% on the total purchase price (final bid plus the Buyer's Premium) unless the purchaser presents proof of exemption. Purchases will not be released until all sales tax requirements are satisfied. Purchases shipped outside of Arizona are not subject to sales tax. The buyer is liable for acceptance of goods and for payment. In case of delayed payment the purchaser will be held responsible for all resultant damages, in particular interest and exchange losses. In such an event, MGA reserves the right to annul the purchase contract without further notice, and to claim damages from the buyer for non-fulfillment. Accordingly, MGA may re-auction the goods at the buyer's expense. In which case, the buyer is liable for any loss incurred; the buyer shall have no claim if a higher price has been achieved. He will not be permitted to bid on the re-offered lot. The place of fulfillment and jurisdiction is Phoenix. Seller's Commission MGA generally charges a flat 10% commission on the hammer price of an item sold at its auctions. There is no additional charge to the seller for insurance, photography, color printing in the catalogue, buy-in fee, etc. The seller is liable only for shipping the item to MGA, and in the event it goes unsold, the shipping, handling, and packing costs of sending the item back to the seller. Limited Warranty We warrant the authenticity and condition of each lot catalogued herein in the terms and conditions set forth below. Unless otherwise indicated in the respective catalogue descriptions (which are subject to amendment by oral or written notices or announcements made by MGA prior to the sale): (a) With respect to autographed material (letters, historic documents, literary and musical manuscripts, inscribed books, and signed photographs), we warrant without time limit the authenticity of each lot catalogued herein; (b) With respect to books, maps and atlases, and any other works not included in (a) above, unless physical inspection would reveal self-evident lack of authenticity, we warrant for a period of three (3) years from the date of the sale the authenticity of each lot catalogued herein. Except noted above, or unless otherwise indicated in the respective catalogue description, we warrant for a period of thirty (30) days from the date of sale to the original buyer of record, that each book or manuscript is complete in text and illustration and generally is in physical condition as may be reasonably expected considering the age and provenance. This warranty does not cover damages to binding, stains or foxing, wormholes, short leaves of text or plates or any defect not affecting the completeness of the text. Moreover, this warranty does not cover the lack of inserted advertisements, blank leaves, cancels, or subsequently published volumes. Serial publications, books in original parts, extra-illustrated books, made up "albums" and lots described as sold "as is," "sold not subject to return," "not collated," "collection of" or "group of," and any lot containing more than three (3) items, are sold "as is" and therefore not covered by these warranties. Books, manuscripts, prints, drawings, photographs, signatures, or any other property offered in a lot comprising more than three (3) items, whether or not such items are individually named, constitute "Grouped Lots." Such "Grouped Lots" are not subject to return for any reason. The benefits of these warranties are not assignable, are applicable only to the original buyer of the lot, and are conditioned on the buyer returning the work in the same condition in which it was received at time of sale and in the time period specified. The buyer's sole remedy under these warranties shall be the rescission of the sale and refund of the original purchase price paid for the item, and this remedy shall be exclusive and in lieu of any other remedy which might otherwise be available to the buyer as a matter of law. With respect to autographed material or any print, drawing, or watercolor, in the event that a buyer claims that an item is not authentic, MGA shall have no obligation to rescind the sale unless the buyer has obtained, at the buyer's expense, the opinion of two recognized experts in the field, who are mutually agreeable to MGA and the buyer, that a lot or portion thereof is not authentic. Recession of Sale by Martin Gordon If we become aware of an adverse claim by a third party relating to property purchased by the buyer, we may, in our discretion, rescind the sale. The buyer will promptly return the property to us, at which time we will refund the hammer price and the buyer's premium with respect to the property. This refund will represent the buyer's sole remedy against us and/or the consignor in case of a rescission of sale under this paragraph. Private Sales These Terms and Conditions of Sale shall govern, to the extent applicable, any private sale of property by us not made through auction. Shipping It is the full responsibility of the winning bidder to arrange and pay for all pick-up, packing, and shipping services related to the transport of lots purchased at auction. Any such services provided or arranged by us are at the buyer's sole risk and expense; we assume no responsibility for any errors or omissions in connection with any such service or reference. In-house shipping is available for qualified items at a cost of $19.50 (within the United States). Items in excess of 24 x 18 inches do not qualify for in-house shipping. Lots may be combined at no additional charge, unless the actual cost of shipping is affected by the increase in weight. Additional fees may apply in the case of oversize and/or overweight objects, and if insurance is required. Please call to arrange for your items to be shipped. Due to the high volume of lots sold and requests for in-house shipping services, it may take four to six weeks before your order is processed. If you prefer to receive your auction items on a more timely basis, or to organize shipping for lots that do not qualify for in-house shipping, please consult the list of local shipping agents. Copyright Notice All images and text contained in this catalogue or in any other publication by us in whatever form, shall remain the property of their respective owners, and the buyer shall have no right of ownership, use or reproduction of any such material by virtue of any purchase of property or otherwise. Governing Law By making a bid, either verbally in the auction, or by telephone, or written by letter, or fax, or via the Internet, the bidder confirms that he has taken notice of these terms of sale by auction and accepts them. Agents who act on behalf of a third party are jointly and separately liable for the fulfillment of contract on behalf of their principals. These conditions of sale will also apply to all purchases made out of this catalogue after the regular sale. The rights and obligations of the parties shall be governed by the laws of the State of Arizona. All bidders and the purchaser submit to the personal jurisdiction of the Arizona State courts and their rules and procedures in case of any dispute. Should one or the other of the above terms of sale become wholly or partly ineffective, the validity of the remainder is not affected.
Discover Items You'll Love

Bid Anywhere, Anytime. Download the LiveAuctioneers App.
Available on the App Store
Android App on Google Play