lots of lots
Welcome to the world's largest marketplace for fine art, antiques & collectibles.
1069: Lionel Train Set 11762 Cotter True Value Hardware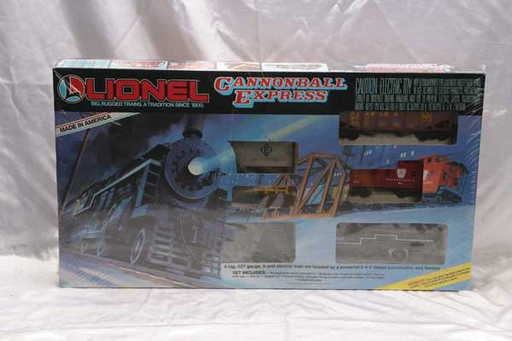 See Sold Price
Don't Miss Your Next Treasure.
Set up a search alert to hear when Collectibles items arrive.
Discover Related Items Available Now
Auction ended on September 26th, 2004 UTC
1069: Lionel Train Set 11762 Cotter True Value Hardware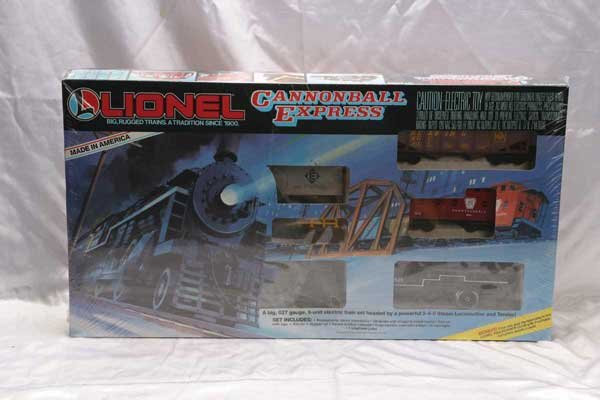 11762 Cotter True Value Hardware Cannonball Express set. Gauge: O-270 Item Quality: Q1 Box Quality: B1-B3
Shipping
Pakmail will be available onsite for shipping purposes. Upon request, RM will facilitate the shipping of purchases to out-of-town buyers at an additional charge for packing, shipping and insurance, but will not be responsible for any loss, damage or delay resulting from the packing, handling and shipping thereof. Unless specific instructions are received, RM is the sole judge of the method to be used for shipment. Packing and shipping costs are extra and payable to Pakmail (877-230-7737 / pakmail@sbcglobal.net) and are based on the actual costs involved. Goods will be released to Pakmail and shipment will be sent when goods are paid in full. Please allow 2-4 weeks for delivery unless specified. Be advised that a full commercial invoice must accompany any purchase shipped outside the US. For more information on shipping please call 877-230-7737 or email pakmail@sbcglobal.net between September 24-26, 2004.
Payment
PayPal; bank wire transfer
Accepted payment methods
ITEM CONDITION
Q1 - New. Complete.
Q2 - Like-new condition. Complete
Q3 - Good condition. May show some wear.
Q4 - Fair condition. Well used. May be missing parts.
Q5 - Poor condition. Damaged or incomplete. Usable for parts.
Q? - Condition unknown.
BOX CONDITION
B1 - New with seals intact.
B2 - Correct and good condition. May not be sealed.
B3 - Correct but shows wear or minor flaws.
B4 - Damaged, torn or incomplete packaging.
B5 - Missing or wrong box.
B? - May or may not include box.
TRAIN LINE ABBREVIATIONS
ACL - Atlantic Coast Line
ACY - Akron, Canton and Youngstown
ALASK - Alaska Railroad
ATSF - Atchison, Topeka and Santa Fe
B&A - Boston and Albany
B&LE - Bessemer and Lake Erie
B&M - Boston and Maine
B&O - Baltimore and Ohio
BAR - Bangor and Aroostook
BN - Burlington Northern
C&A - Chicago and Alton
C&IM - Chicago and Illinois Midland
C&NW - Chicago and North Western
C&O - Chesapeake and Ohio
CB&Q - Chicago, Burlington and Quincy
CCC&StL - Cleveland, Chicago, Cincinnati and St Louis
CIRR - Chattahoochie Industrial Railroad
CLRC - Chicagoland Lionel Railroad Club
CN&L - Columbia, Newberry and Laurens
CN - Canadian National
CNJ - Central of New Jersey
CP - Canadian Pacific
CStPM&O - Chicago, St Paul, Minneapolis and Omaha
CV - Central of Vermont
D&H - Delaware and Hudson
D&RGW - Denver and Rio Grande Western
D&TS - Detroit and Toledo Shore Line
DM&IR - Duluth, Missabe and Iron Range
DT&I - Detroit, Toledo and Ironton
EJ&E - Elgin, Joliet and Eastern
EL - Erie-Lackawanna
EMD - Electro-Motive Division of GM
FARR - Famous American Railroads
FEC - Florida East Coast
FF - Fallen Flags
FGE - Fruit Growers Express
GM&O - Gulf, Mobile and Ohio
GN - Great Northern
GTW - Grand Trunk Western
HARR - Historic American Railroads
IC - Illinois Central
ICG - Illinois Central Gulf
L&C - Lancaster and Chester
L&N - Louisville and Nashville
LCCA - Lionel Collectors Club of America
LL - Lionel Lines
LNAC - Louisville, New Albany and Corydon
LOTS - Lionel Operating Train Society
LRRC - Lionel Railroader Club
LV - Lehigh Valley
M&StL - Minneapolis and St Louis
MD&W - Minnesotta, Dakota and Western
MEC - Maine Central
MKT - Missouri, Kansas and Texas
MP - Missouri Pacific
MU - Multiple Unit (Commuter Car)
N&W - Norfolk and Western
NH - New Haven
NLOE - Nassau Lionel Operating Engineers
NP - Northern Pacific
NPR - Nickel Plate Road
NYC - New York Central
NYNH&H - New York, New Haven and Hartford
ON - Ontario Northland
P&E - Peoria and Eastern
P&LE -Pittsburgh and Lake Erie
PC - Penn Central
PCS - Postwar Commemorative Series
PFE - Pacific Fruit Express
PHD - Port Huron and Detroit
PRR - Pennsylvania Railroad
RDC - Rail Diesel Car
REA - Railway Express Agency
RI - Rock Island
RI&P - Rock Island and Peoria
Rte 66 - Route 66
SCL - Seaboard Coast Line
SP - Southern Pacific
SP&S - Spokane, Portland and Seattle
SSS - Service Station Special
T&P - Texas and Pacific
TA&G - Tennessee, Alabama and Georgia
TCA - Train Collectors Association
TMCC - TrainMaster Command Control
TP&W - Toledo, Peoria and Western
TTM - Toy Train Museum
TTOM - Toy Train Operating Museum
TTOS - Toy Train Operating Society
UP - Union Pacific
V&TRR - Virginia and Truckee Railroad
W&ARR - Western and Atlantic Railroad
WM - Western Maryland
WP - Western Pacific
Taxes
Unless exempted by law, the purchaser will be required to pay the Michigan State tax on the total purchase price. The tax rate is 6% in Michigan.
Terms
Please ensure that you have read and understood these terms and conditions prior to bidding at this or any other RM sale. 1. All sales are final. No bidder may retract a bid made during the sale for any reason. 2. Final bid price does not include buyer's premium or applicable taxes on each lot purchased. Buyer's premium is 20% and Michigan sales tax is 6%. Proof of tax exemption is buyer's responsibility. 3. All payments must be in the form of PayPal, cash or certified funds unless other arrangements have been approved in advance. Cash payments will be reported according to U.S. Federal government requirements. 4. All sales are "as is" and "where is". Bidder is responsible for inspections and verification of condition, authenticity, and completeness of any item purchased. No warranties or representations of any type whatsoever are made by RM. Condition codes refer primarily to the cosmetic condition, including paint, markings, wear and tear, and other minor visible damage. The items being sold at this auction contain contents from Madison Hardware. Some of the items are returned factory defects. Many were fixed while others were not. Although many of the functional items (locomotives, accessories, etc.) may be in good working order, RM has been unable to verify the operational abilities of these products. Buyers are strongly encouraged to conduct their own evaluation and inspection. Any announcements made at the time of sale supercede any earlier printed information. 5. All terms of sale posted on the auction premises, printed in sale brochures or forms, publicly announced, communicated via the eBay bidding applet or otherwise published are incorporated herein by reference.
Discover Items You'll Love

Bid Anywhere, Anytime. Download the LiveAuctioneers App.
Available on the App Store
Android App on Google Play