lots of lots
Welcome to the world's largest marketplace for fine art, antiques & collectibles.
Flugzeug Junkers Ju 52 (tarnlackiert)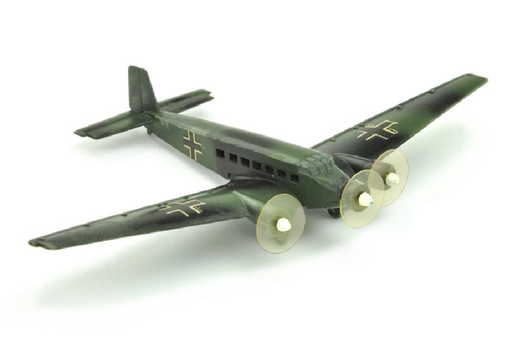 See Sold Price
Don't Miss Your Next Treasure.
Set up a search alert to hear when Auktionshaus Saure lists new auctions.
Discover Related Items Available Now
Auction ended on March 12th, 2017 UTC
Flugzeug Junkers Ju 52 (tarnlackiert)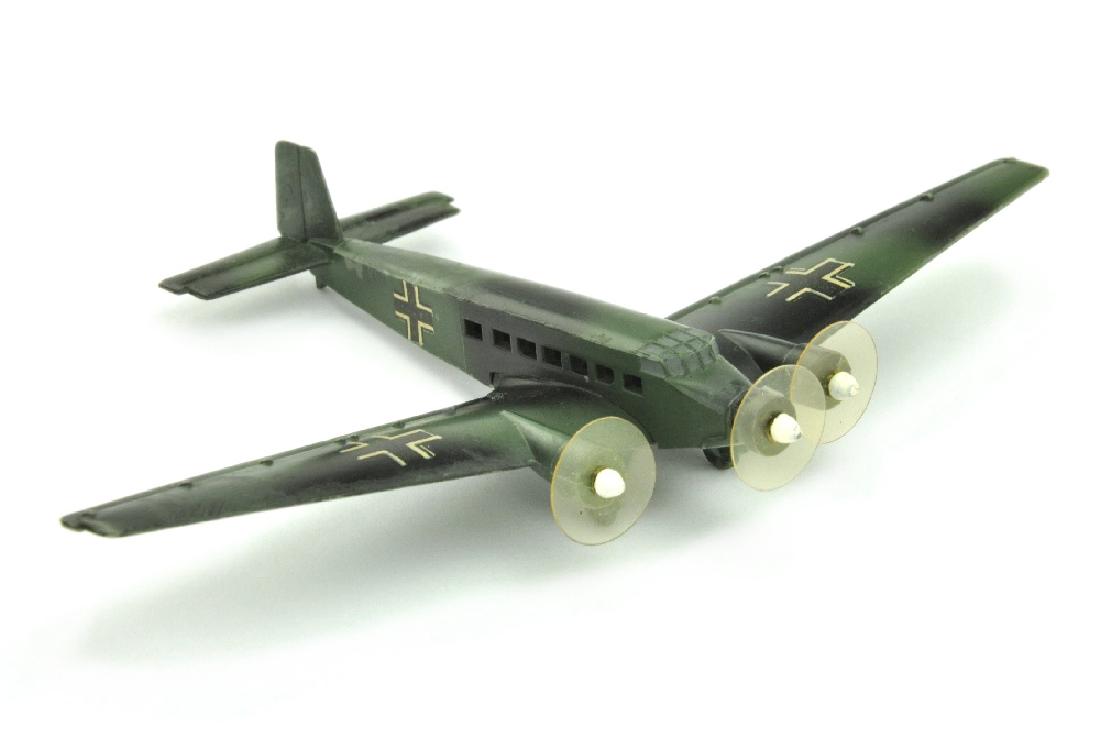 in den 1940er Jahren zu Wiking-eigenen Zwecken lackierte Version auf Basis eines Gruenlings, unbespielt, aber mehrere groessere Lackfehler ausgebessert (Wiking Flugzeug)
Shipping
Der Versand erfolgt ausschliesslich per versichertem Versand. Die Pauschale fuer Bearbeitung, Verpackung und Porto betraegt 10 EUR (innerhalb Deutschlands) bzw. 20 EUR (europaeisches Ausland). Die Kosten nach Uebersee teilen wir Ihnen gerne auf Anfrage mit. Falls Sie ersteigerte Modelle persoenlich abholen moechten, besteht hierzu die Gelegenheit am Abholtag (Freitag, 17.Maerz 2017, 8.30 bis 17 Uhr, nach vorheriger Anmeldung).
Payment
Sie erhalten Ihre Bieterrechnung am Tag nach der Versteigerung per E-Mail zugeschickt. Der Kaufpreis setzt sich zusammen aus dem Zuschlagpreis und dem Aufgeld von 17% zuzueglich der gesetzlichen Mehrwertsteuer von 19% nur auf das Aufgeld (total 20,23%). Der Betrag ist innerhalb von 10 Tagen nach Rechnungsdatum durch Ueberweisung auf unser Bankkonto zu begleichen.
Accepted payment methods
Terms
Bei Abgabe eines Gebots zur Versteigerung gelten folgende Bedingungen:1.Katalogbeschreibungen erfolgen mit groesster Sorgfalt und nach bestem Wissen und Gewissen des Versteigerers. Sie stellen unverbindliche Meinungsaeusserungen dar und sind keine zugesicherten Eigenschaften im Sinne der Paragrafen 459ff BGB. Katalognummern beziehen sich auf das Standardwerk Wiking-Handbuch der alten Modelle (2016). Die Zustandsbewertungen neuwertig (urspruenglicher Verkaufszustand ohne Makel), sehr gut (mit geringen Gebrauchsspuren oder unauffaelligen produktionsbedingten Schoenheitsfehlern), gut (mit deutlichen Gebrauchsspuren oder auffaelligen produktionsbedingten Schoenheitsfehlern) und maessig (erheblich bespielt, aber komplett und ohne Bruchstellen) geben Informationen zur Erhaltung. Korrosion an Metallteilen, produktionsbedingte Auffaelligkeiten und Gebrauchsspuren an Kartons werden in der Regel nicht gesondert erwaehnt. Prozentangaben bezeichnen den Erhaltungsgrad von Abziehbildern und Drucken. Die Rubrik 2.Wahl erlaubt eine klare Abgrenzung nicht original bemalter, beschaedigter oder restaurierter Modelle. Hierzu zaehlen auch Fahrzeuge mit nicht standardmaessig vorkommenden Rissen im Kunststoff oder fehlenden Bauteilen. Im Einzelfall koennen Konvolute auch Modelle mit geringen Maengeln, die bei der Beschreibung nicht bemerkt wurden, enthalten.2. Gebote koennen sowohl als Vorgebote (ueber LiveAuctioneers oder globallot) als auch durch Klicken des Bietbuttons der Live-Bietkonsole abgegeben werden. Der Zuschlag erfolgt an denjenigen, der das Hoechstgebot abgegeben hat. Bei mehreren gleich hohen Hoechstgeboten gewinnt das zuerst abgegeben Gebot. Mit dem Zuschlag kommt ein Kaufvertrag zwischen dem Einlieferer, vertreten durch den Versteigerer, und dem Ersteigerer zustande. Nach Abschluss der Versteigerung darf der Kaeufer die Adresse des Einlieferers und der Einlieferer die Adresse des Kaeufers erfahren.3.Der Versteigerer uebernimmt keine Verantwortung fuer eventuelle technische Probleme bei der Verwendung der Live-Bietkonsole und empfiehlt daher die (sicherere) Abgabe von Vorgeboten.4.Der Zuschlag verpflichtet zur Bezahlung des Kaufpreises an den Versteigerer. Dieser Kaufpreis setzt sich zusammen aus dem Zuschlagpreis und dem Aufgeld von 17% zuzueglich der gesetzlichen Mehrwertsteuer von 19% nur auf das Aufgeld (total 20,23%). Der Betrag ist innerhalb von 10 Tagen nach Rechnungsdatum zu begleichen. 5.Geraet der Kaeufer mit der Zahlung des Kaufpreises in Verzug, so kann er seine Rechte aus dem Zuschlag verlieren. Die Positionen koennen dann ohne weitere Benachrichtigung auf seine Kosten auf einer der naechsten Versteigerungen versteigert werden. In diesem Falle haftet der saeumige Kaeufer fuer einen Mindererloes und fuer die Kosten der wiederholten Versteigerung einschliesslich der Versteigerungsgebuehren. Auf einen eventuellen Mehrerloes hat er keinen Anspruch. Der Versteigerer ist dazu berechtigt, Kaufgelder, Kaufgeldrueckstaende und/oder Nebenleistungen in Namen der Einlieferer einzuziehen oder einzuklagen.6.Ruecknahmen sind nur bei Reklamationen aufgrund offensichtlicher Falschbeschreibungen moeglich. Sie muessen dem Versteigerer spaetestens 14 Tage nach der Versteigerung vorliegen. Bei anerkannten Reklamationen hat der Ersteigerer Anspruch auf Rueckerstattung des vollen Kaufpreises. Weitere Ansprueche sind ausgeschlossen. Positionen, die mit Maengeln beschrieben sind, koennen wegen eines anderen Mangels nicht reklamiert werden. Besteht eine Position aus mehreren Modellen, so kann diese wegen geringer Maengel einzelner Modelle nicht reklamiert werden. 7.Vorgebote werden interessenwahrend beruecksichtigt, d.h. hoechste Ferngebote werden nur soweit ausgeschoepft, um das zweithoechste Gebot um eine Steigerungsstufe zu ueberbieten. 8.Die Verpackungs- und Versandkosten werden als Pauschale fuer alle in einer mehrtaegigen Auktion ersteigerten Positionen in Rechnung gestellt. Fuer Sendungen innerhalb Deutschlands betragen die Kosten 10 Euro, innerhalb Europas 20 Euro, nach Uebersee auf Anfrage. Der Versand erfolgt per versichertem Postpaket auf Gefahr des Kaeufers. Eine Abholung ersteigerter Ware ist nur an dem von uns veroeffentlichten Abholtag moeglich.9.Gerichtsstand und Erfuellungsort ist fuer alle Beteiligten Koeln.10.Durch Gebotsabgabe erkennt der Ersteigerer die Versteigerungsbedingungen ausdruecklich an.11.Sollte eine der vorstehenden Bedingungen ganz oder teilweise unwirksam sein, so bleiben alle anderen davon unberuehrt.
Discover Items You'll Love

Bid Anywhere, Anytime. Download the LiveAuctioneers App.
Available on the App Store
Android App on Google Play