Rare 1919 Man-O-War Horseshoe in Belmont Futurity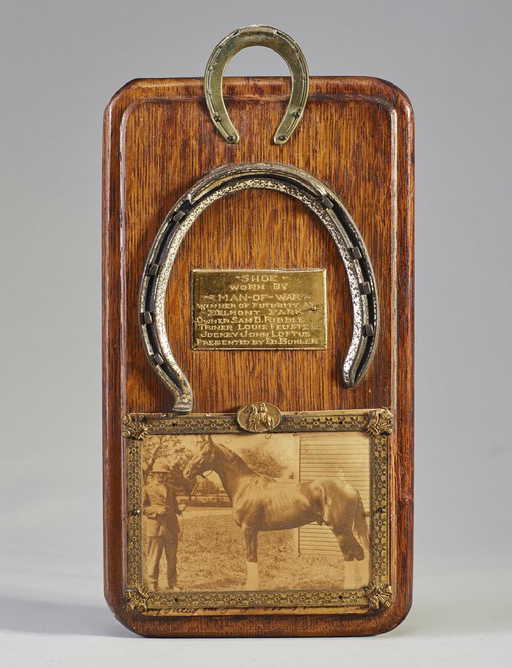 See Sold Price
Don't Miss Your Next Treasure.
Set up a search alert to hear when Toys, Dolls & Games items arrive.
Auction ended on February 5th, 2017 UTC
Rare 1919 Man-O-War Horseshoe in Belmont Futurity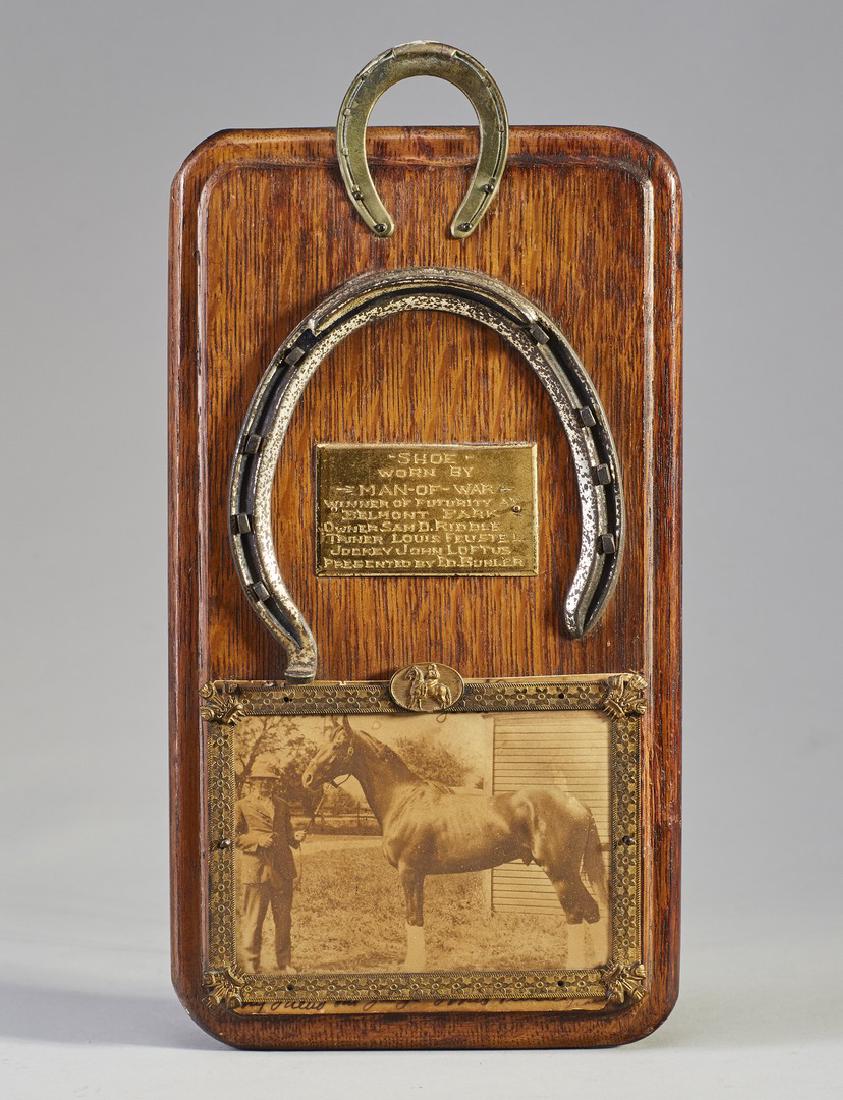 Rare 1919 Man-O-War Horseshoe - Winner of Futurity. The Man o' War horseshoe was worn by the greatest race horse of all time in the Belmont Futurity Stakes on September 23, 1919. Man o' War won the major race with a winning time of 1:11.60. The shoe was presented to Edward Buhler by trainer Louis Feustel in 1920. In August of 1918, Ed Buhler placed the winning bid of $5,000 for his friend Samuel Doyle Riddle at the Saratoga Sale and won Major August Belmont's - Man o' War yearling. Additional information on Ed Buhler and Man o' War below. The horseshoe is mounted on the original oak beveled plaque and affixed to the plaque is a gilt metal inscription plate engraved as follows: -- Shoe Worn by Man-of-War - Winner of Futurity, Belmont Park, Owner Sam D. Riddle, Trainer Louis Feustel, Jockey John Loftus presented by Ed. Buhler. Below the engraved plate is an original 1920 black and white sepia tone photograph of Man-of-War with trainer Louis Feustel. Inscribed in black ink along the top edge of the photograph is: -- Man-O-War 1920 as a three-year-old. Inscribed in black ink along the bottom edge of the photograph is: -- to my Friend the Judge Louis Feustel trainer. The photograph is housed within an ornate decorative embossed brass frame with an applied oval medallion depicting a jockey on horseback in relief. Above the mounted Man o' War horseshoe at the top of the oak plaque, is a small two inch decorative stamped brass horseshoe for hanging the plaque. The plaque was acquired from the estate of Edward Buhler and includes three engraved silver napkin rings with monograms of various Buhler family members. The plaque and horseshoe are in good condition, there is light edge wear on the photograph and the horseshoe is tarnished. Measures 11.6 inches high and 5.9 inches wide. Nearly 100 years have passed since Man O' War's prime winning streak. Leading collectors of thoroughbred racing memorabilia have largely abandoned any hope of owning a relic from the top-ranked equine athlete of all time.

From Spiletta.com: The legendary Man o' War, informally christened Big Red by racing fans, was foaled at the Nursery Stud in Lexington, Kentucky, shortly before midnight on March 29, 1917. His dam was Mahubah, a bay daughter of the English Triple Crown winner Rock Sand. Bred in England, Rock Sand won that country's most coveted trio of races, the Epsom Derby, the 2,000 Guineas, and the St. Leger Stakes, in 1903, and then made headlines again in 1906 with his $125,000 pricetag when purchased by August Belmont II, who imported him into the United States. Man o' War's sire was the leading sire Fair Play, a golden chestnut sired by Hastings, the infamously bad tempered Belmont Stakes winner of 1896, and out of Fairy Gold. Winner of England's Woodcote Stakes for two-year-old fillies, Fairy Gold was a daughter of the 1880 Epsom Derby winner Bend Or. Foaled in 1905, Fair Play was owned and bred by Major August Belmont II, and during his racing career he was trained by Andrew Joyner. He was best known for his rivalry with Colin, to whom Fair PlayFair Play finished second in many game efforts, including the 1908 Belmont Stakes. Colin was the last American champion to retire undefeated until Ogden Phipps' Personal Ensign duplicated the accomplishment in 1988, and Fair Play was the only horse to ever challenge him. When the two retired to stud, it was Colin who found himself to be overshadowed, for his stud record paled in comparison to that of his old rival. In addition to Man o' War, Fair Play sired the accomplished horses Display, Mad Play, Chance Shot, Chance Play, Mad Hatter, My Play, Ladkin, Chatterton, Stromboli, Masda, Sands of Pleasure, and countless others, leading the American Sires List in 1920, 1924, and 1927. Man o' War was so dubbed by Mrs. Eleanor Robson Belmont, who traditionally named all of her husband's horses, including Mahubah, whose name is Arabic for 'good tidings'. Mrs. Belmont originally wanted to call Mahubah's colt "My Man o' War" in honor of her husband's participation in World War I. When she sent the registration to New York, the first word was dropped and he was officially named Man o' War. Major Belmont had planned on racing the colt in his own colors, as he usually raced the horses he bred, but in 1918 Belmont decided to sell his yearlings, feeling that his involvement in the war in Europe would prevent him from racing them. Therefore, after an attempt to sell them as a package failed, Man o' War and the other Nursery Stud youngsters were sent to Saratoga's sale in August of 1918. The highest priced yearling at Saratoga that summer was a blaze faced chestnut colt named Golden Broom, purchased by Mrs. Walter M. Jeffords for $15,600. Her cousin, Samuel Doyle Riddle, a textile manufacturer and former rider on the northeastern hunt circuit, paid a moderate $5,000 for Man o' War. The reasons for Riddle's purchase have been greatly debated, with numerous individuals claiming to have influenced the decision. What is known is that trainer Louis Feustel wanted a Fair Play colt, and also admired Man o' War's dam, Mahubah, having trained her for Belmont. It was said, probably with at least some truth, that Riddle felt that Man o' War would surely make an excellent hunter, if he was not a successful racehorse. It was also said that Sam Riddle liked the way the colt's coat shone "like gold in the afternoon sunlight," although this poetic legend seems at odds with claims that Man o' War was not prepared for the sale as carefully as his stablemates. Belmont had considered holding Man o' War back from the sale, but had decided that keeping the best colt for himself might make a bad impression on potential buyers. The actual bid was made by Riddle's friend Ed Buhler, the uncle of the great artist Richard Stone Reeves.

Notes: Thank you for your bid! Please keep in mind that bidding in this auction will move at about 85 lots per hour due to Super Bowl Sunday. Be prepared to bid quickly or bid in advance, to make sure your bid is executed. We encourage you to leave absentee bids!
Discover Items You'll Love