18th Century Waistcoat, by all accounts and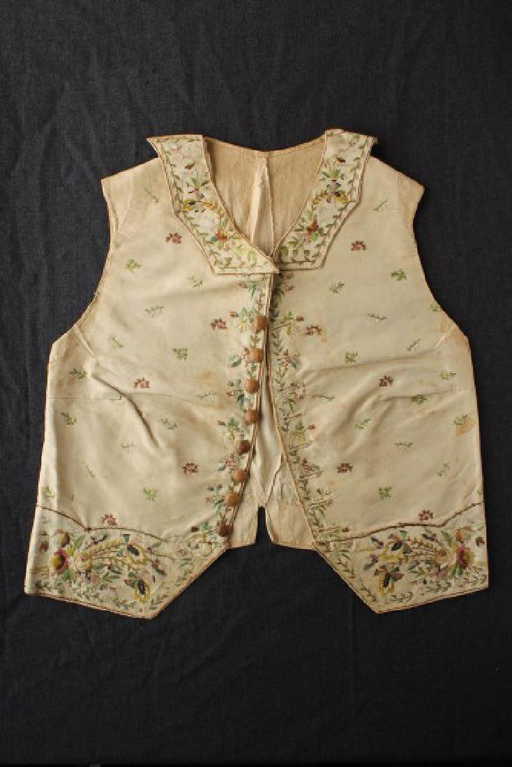 See Sold Price
Don't Miss Your Next Treasure.
Set up a search alert to hear when Collectibles items arrive.
Auction ended on March 25th, 2017 UTC
18th Century Waistcoat, by all accounts and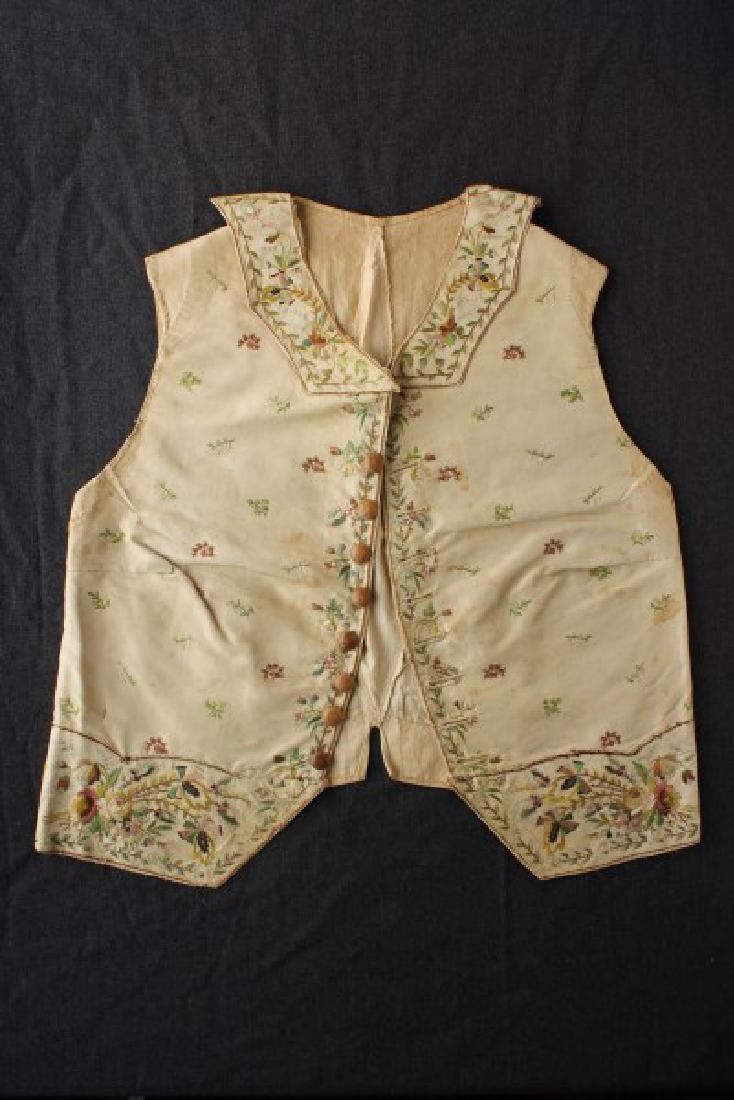 with extensive forensic examination to have been Worn By Captain James Cook, c.1770, London
Provenance: Owned by the Cook Family 1770-1835, 1835-1880 unknown, 1880-1910 Helen and Isabel Woollan Antique Dealers, 28 Brooke Street London, prior to 1912 purchased by Viscount Leverhulme then presented to Dr. Ruby Rich of Sydney, 1981 Charles Rich (Dr. Rich's nephew) sold the waistcoat by Private Treaty to present owner.
Listed with The Australian Dress Register (ID # 160) by Lindie Ward, Curator of Design, History and Society, Power House Museum, Sydney
CONSTRUCTION:
The twilled silk waistcoat front is embroidered with an overall floral sprig design with concentrations of more complex flowers along the front edges, pocket flaps and across the front hem. The fine floss silk is embroidered in a range of natural colours in symmetrical floral patterns. Two shaped embroidered pocket flaps have at some time been relocated as a collar at the neck. The waistcoat fastens at the front with nine brown leather shanked buttons (not typical of this style) and hand-worked button-holes. Darts have been stitched into the front body, one at each armhole which has been removed and one at each side from side seam to accommodate a female bust-line, which remain. The lower front edges have been re-cut shorter than the original waistcoat by lifting the embroidered hem bands and machine stitching them to the body along a curved seam-line at a different angle to the grain of the main waistcoat. The armholes are neatly hand hemmed and the buttonholes hand stitched.
The back is made from cream linen and has also been altered to fit a woman. The centre back is made wider by an inserted machine stitched panel of cotton fabric. Two vertical machine sewn darts have been unpicked and a narrow band along the hem has gaps where those darts were previously stitched.
There is a combination of original hand stitching, more recent, rougher hand stitching and machine stitching on this garment.
IN DEPTH RESEARCH BY ARTHUR PALMER ON BOTANTICAL VARIETIES OF FLORA EMBROIDERY DESIGN ELEMENTS. Arthur Palmer is appointed as an Expert Examiner under the Protection of Moveable Cultural Act 1986 and an Approved Valuer for the Australian Government's Cultural Gifts Programme.
The Endeavour spent eight weeks in Cape York, far North Queensland, and only six days in Botany Bay. With this in mind senior traditional Cape York Aboriginal Landowners were engaged to consider the floral embroidery on this waistcoat. The comprehensive and ancient botanical knowledge of Cape York Aborigines is well documented and is reflected in their extraordinary linguistic scope of botanical description. Having been shown detailed images of the floral design on this vest, senior weavers from the area identified budding hibiscus. Banks and Cook were on Australian soil from May to early August 1770. It is also worth mentioning that this plant is endemic to many of the Pacific Islands and was used as lashing, rope fibre for canoes and dugong ropes. The aboriginals noted that the vine like image crocheted along each side of the buttoning looks like a vine growing on the east coast and the bud looks like hibiscus. The bottom panels also appear to have what looks like Banksia seed cases and the unusual serrated leaf. Equally, a small star shaped flower that is similar to that on the vest is found on the eastern seaboard amongst the Boronia, Midjim and slightly higher areas of Wallum country. This would then place Cook and Banks in the right area while repairs where being made to the Endeavour in Cape York.
Mr Philip M Cameron, Senior Botanical Officer at Brisbane Botanic Gardens and world expert, was also engaged to provide independent comment. He, too, suggested that the small pink flowers were modelled on the Boronia species, that the large notched flowers are possibly epilobium species and the green solitary foliage is probably the sprig of cedar. Other embroidery elements were more difficult to identify with any certainty "as the embroidery patterns are very stylised and not made with botanical accuracy in mind". He did conclude, however, that "the boronias correspond with images A and C and the cedar corresponds with the image B".
Given the age and geographical origin of the waistcoat it seems that the one very possible conclusion is that the waistcoat took inspiration from one of three men Captain James Cook, Sir Joseph Banks or Sydney Parkinson. To temper this irresistible conclusion, it should be acknowledged that it is unknown whether these botanical designs appeared on any embroidered garments in England Pre-dating Cooks voyages. However presuming that the imagery postdates the Cooks voyages, Banjs Florilegium may hold some interesting answers for determining whether the designs owe anything to Cooks 1st and 2nd Pacific voyages.
It is also noted that Banks was a great admirer of botanical embroidery as a form of documentation, stating that the embroideries of Mary Delany (1700-1788) were the only imitations of nature that he had ever seen, from which he could venture to describe botanically any plant without the least fear of committing an error. The colour and hues of the waistcoat also suggest Oceanic inspiration.
IN DEPTH PROVENANCE AND ORAL HISTORY AS RESEARCHED BY ARTHUR PALMER ON ACCEPTED ORAL HISTORY. Arthur Palmer is appointed as an Expert Examiner under the Protection of Moveable Cultural Act 1986 and an Approved Valuer for the Australian Government's Cultural Gifts Programme.
Helen & Isabel Woollan Antique dealers London C 1880-1910. Purchased prior to 1912 by Viscount Leverhulme. In 1912 the Viscount presented this Cook vest in London to Dr. Ruby Rich of Sydney. Hence by descent to her nephew Charles Rich Esq. of Sydney.
In 1981 Mr. Mitchell Frost antique dealer of Sydney was commissioned by Charles Rich to negotiate within strict caveats the sale of this vest. The vest was acquired through private treaty by the current owner via Mr. Frost's agency.
HELEN AND ISABEL WOLLAN ANTIQUE DEALERS, LONDON
The Woollan sisters were seminal, well known & socially well connected antique dealers in London C 1880s -1910. They are recorded as having traded in Art needle-work, a category within which this embroidered silk waistcoat falls. They were pedantic in a manner extinct after the Victorian era closed. Witness not selling the tea service until the last original piece was included. They also were most likely to be very particular about provenance. The Woollans overlap with Leverhulme in time and place. As Leverhulme was one of the largest collectors of antiques the English speaking world has seen it is most unlikely the Viscount was not a regular client of the Woollan antique shop.
WILLIAM HESKETH LEVER, 1st VISCOUNT LEVERHULME (1851-1925)
The 1st Viscount was an English Industrialist, philanthropist and colonialist. He was created Baron Leverhulme on 21 June 1917, and Viscount Leverhulme on 27 November 1922 - the Hulme section of the title being in honour of his wife, Elizabeth Hulme. Upon his death, of pneumonia, in 1925, the Leverhulme's Viscountcy passed to his son William Hulme Lever. It became extinct on the death of the third viscount, Philip William Bryce Lever, in 2000.
Lever, the first Viscount Leverhulme, filled several homes with paintings, furniture and objects d'art. The collections were later merged in Thornton Manor, the family home in the village of Thornton Hough, Wirral. Viscount Leverhulme died in 1925 and was succeeded by a son and a grandson, Philip Lever, who left three daughters when he died last July. His death prompted the sale of Thornton Manor and all of its contents. Sotheby's set the UK record for a house contents sale in 2001 when they raised £8.3m from an auction at Benacre Hall, Suffolk. It is important to also note that Leverhulme had an interest in textiles as seen with the sale of his objects, but also had an interest in Captain Cook, as a number of Cook related objects from his collection can be found in the Liverpool Museum, UK.
Dr. RUBY RICH (1888-1987)
Once pronounced in her youth (when she was 23) by musical critics as the most accomplished pianist that ever visited the Commonwealth (San Francisco Post August 1911), was born in Walgett, in 1888, the fourth of six children. Ever a diminutive figure, she had a clear ringing voice, even in her nineties. She died one month before her one hundredth birthday. An active campaigner for the rights of women, she was one of the founders of the New South Wales Council of Action for Equal Pay, which was established in 1937. Ruby's first interest in life was music. A talented performer, she gave her first concert performance on the piano in 1899, at the age of eleven at the Sydney Town Hall. Although she had wanted to play professionally, her father, who owned a considerable fortune, had refused. However, he permitted her to study music under the best teachers in Sydney and abroad. In Sydney she studied under Joseph Kretchman and furthered her studies in Berlin with Arthur Schnabel and in Paris under Raoul Pugno. During the First World War, she was a volunteer nurse. After a number of years attending suffragette meetings in London, she returned to Sydney and joined the International Alliance of Women. Papers pertaining to these activities are kept in the National Library, Canberra and at some other locations. Ruby played an active role in the Jewish community, and attended many overseas conferences. Her husband, Dr Maurice Schalit, whom she married when she was in her fifties, died in 1961. He founded the Friends of the Hebrew University in Australia. In 1971 a scholarship for students to study at the Hebrew University in Jerusalem was launched in Mrs Rich-Schalit's name. She was also a founder of the Friends of the Israel Philharmonic Orchestra and the first federal President of W.I.Z.O (Women's International Zionist Organisation). She was awarded an MBE for her work for the advancement of women in culture, the Anzac Memorial Peace Prize and the Torch of Learning by the Hebrew University of Jerusalem.
In 2008 Mr. Frost provided the following signed provenance post sale:
To whom it may concern,
In approximately 1981, Mr Charles Rich of Darling Point, offered our company a heavily embroidered vest to be sold on behalf of his family. We were told by Mr. Rich that this vest had always been known, in the Rich Family, as the "Captain Cook Vest". Mr Rich was given the vest by his late Aunt, Dr. Ruby Rich. We were advised that Dr. Ruby Rich was presented the vest in 1912, by her long time friend, Lord Leverhulme. We were informed the vest was originally purchased by the Leverhulme family from the West London antique dealers, Helen and Isabel Woollan. The Leverhulme family were told by the afore mentioned firm that that the vest was acquired from the Cook family. It was sold to them as an historical Australian piece, as it had previously been owned by Captain James Cook. The above information to our knowledge is true and correct.
In February 2009 I interviewed Mr Frost at his premises in Sydney. He is a well known and respected long term Australian antique dealer with a wealth of knowledge in the profession and a clear & demonstrated commitment to historically important material. He does not have a background which allows hopeful articles of faith to cloud his judgment on matters deciding probability, provenance & value. His firm acceptance of the Rich family provenance & associated oral history is based on the simple fact that neither the Rich family nor Viscount Leverhulme were likely candidates to have invented or embellished this background or any other item in their collections. At no time did either family seek any gain from the possession the Capt. Cook vest; indeed quite the contrary. Leverhulme presented the Cook waistcoat as a gift, sans any known consideration, presumably as a fitting token of admiration to Rich, a colonial emancipationist & musical genius he admired. Dr. Ruby Rich at some stage had the waistcoat altered for her figure and apparently regularly wore it to society gatherings & Sydney parties, hence the wine stains. This has to be also seen in the wider context that she also slept in Napoleon's bed in her Sydney house & presumably did what most healthy adults do in bed when the occasion is right.
OTHER RELATED OBJECTS:
Tahitian Tapa Cloth Waistcoat by Elizabeth Cook, c.1775, Mitchell Library, Sydney.
Embroidery Depicting Cooks Voyages by Elizabeth Cook, c.1800, Australian National Maritime Museum.
Waistcoat c.1785, Museum of New Zealand, Te Papa Tongarewa, Wellington.
Waistcoat, c.1779, State Library of Victoria
# this item maybe affected by the Moveable Cultural Heritage Act.
Discover Items You'll Love