RARE SET OF 8 LAPIS LAZULI PLAQUES GILT 16 LUOHAN TABLE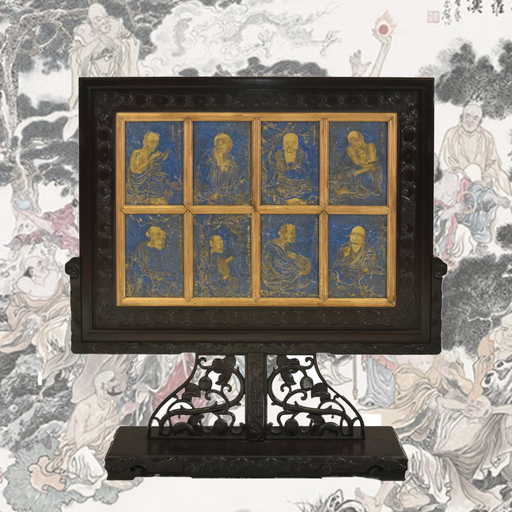 See Sold Price
Don't Miss Your Next Treasure.
Set up a search alert to hear when Chinese Lapis Lazuli items arrive.
Auction ended on April 14th, 2017 UTC
RARE SET OF 8 LAPIS LAZULI PLAQUES GILT 16 LUOHAN TABLE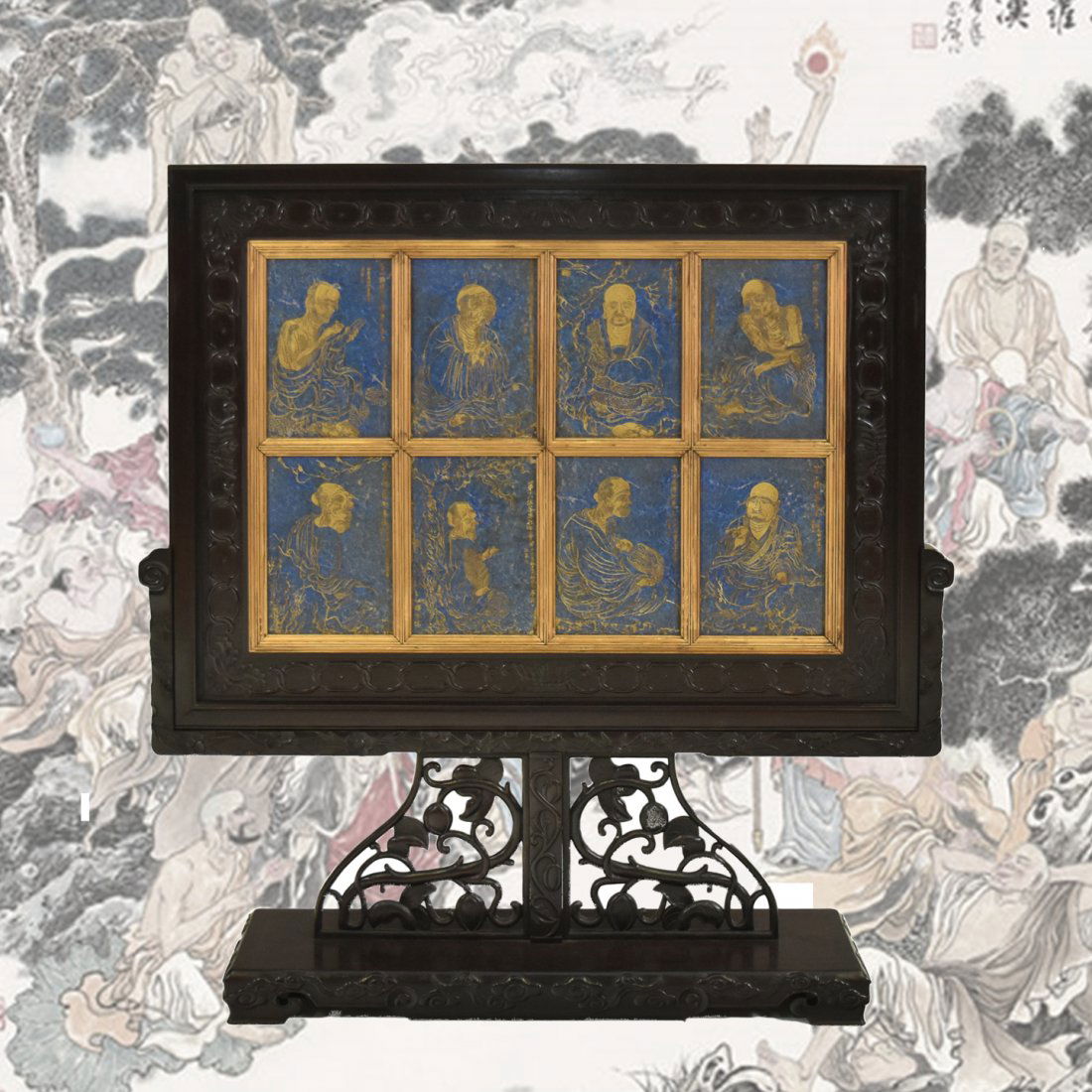 A rare set of eight lapis lazuli plaques, engraved on both sides with the Sixteen LuoHan and mounted as a table screen.
China, Qing dynasty, late 18th/19th century.
In light engraving painted with gold and silver paint, Buddha's sixteen disciples are depicted while sitting in a rocky landscape, as emaciated ascetics of foreign origin. This mode of representation, which expresses the Luohans' hard struggle for spiritual ripeness and redemption, is modelled after stone engravings from the 18th century, which are in turn thought to have been inspired by the no longer preserved portraits of the Sixteen LuoHan executed by the painter Guanxiu (832–912 A.D.). Each portrait is accompanied by an engraved title inscription in regular script (KaiShu), indicating the name and number of the depicted LuoHan in the series of the Sixteen, and by an engraved encomium illustrating his character. The LuoHan figures portrayed are 1. Angaja, 2. Ajita, 3. Vanavasin, 4. Kalika, 5. Vajriputra, 6. Bhadra, 7. Kanakavatsa, 8. Kanaka Bharadvaja, 9. Bakkula, 10. Rahula, 11. Chuda Panthaka, 12. Pindola Bharadvaja, 13. Panthaka, 14. Nagasena, 15. Gopaka and 16. Abheda.
The lapis lazuli plaques are encased in a wooden frame. The frame is inserted in a carved stand made of hard wood. It is very likely that the lapis lazuli plaques were executed between the late 18th and the early 19th century and that they were not originally intended to be used as a table screen but rather as a book. A collection of fifteen jade books from the time of the Qing Dynasty currently preserved at the Chester Beatty Library in Dublin, consisting of engraved or painted jade plaques, most of which dating from the QianLong period, also contains a book with depictions of the Sixteen LuoHan, dated to the late 18th century. It consists of two volumes with overall twelve plaques, eight of which are mounted on brocade and depict the LuoHan, whilst the remaining four are set in bronze and serve as bindings. The names, order and iconography of the LuoHan figures match those on the lapis lazuli plaques exactly, although they are painted rather than engraved. The encomiastic poems are also the same, whereas the title inscriptions differ slightly in their wording (see William Watson: Chinese Jade Books in the Chester Beatty Library, Dublin 1963, p. 32–34 and ill. 7 and 8).
During the Qing dynasty, lapis lazuli was always regarded as precious material which was used in the palace workshops, for instance for the decoration of Buddhist ritual objects or as pearls for court chains. More rare are so-called "scholar's objects" made of lapis lazuli, such as miniature rocks (see Gems of Chinese Art, Asian Art Museum, San Francisco 1983, no. 58).
In early Buddhism Arhat (LuoHan in Chinese) denotes a person who achieves enlightenment by being taught by a Buddha as well as by additional individual efforts and who after his death can leave the cycle of birth and rebirth. The Mahayana Buddhist tradition adopted the Arhat as guardians and apostles of the Buddhist doctrine, dharma, endowed with supernatural powers. Objects of worship in China were individual LuoHan figures, but also groups of ten, sixteen, eighteen or five-hundred LuoHan. The most popular were the Sixteen LuoHan, the cult of which goes back to the apocryphal Sutra Da LuoHan Nandimiduoluo Suo shuofazhuji (T. 2030), which was translated into Chinese in the mid-7th century. According to it, the moribund Buddha Shakyamuni entrusted them with the task of preserving and spreading the dharma and endowed them with supernatural powers that would allow them to live longer and hence preserve the dharma until the coming of Buddha Maitreya, after which they would finally enter nirvana (cf. "Depictions of the Guardians of the Law: LuoHan Painting in China", in: M. Weidner (ed.): Latter Days of the Law, Images of Chinese Buddhism 850–1850, Lawrence, KS/Hawaii 1994, p. 183–213).
The depiction of the Sixteen LuoHan, as is also visible in the present lapis lazuli plaques, is closely linked to the Qianlong Emperor (reg. 1736–1795). In 1757, during a visit of the Shengying monastery in Hangzhou, he saw the paintings of the Sixteen LuoHan, then attributed to Guanxiu, and was so enthusiastic that he commissioned a copy of them. He corrected the Chinese transcription of their Sanskrit names, changed their order according to the recommendations of his spiritual advisor Rolpai Dorje (1717–1786) and wrote encomiastic poems inspired by them. In 1764, the abbot of the monastery had Guanxiu's paintings engraved on a marble stupa along with the emperor's encomia and corrections. In 1770, the latter ordered the construction of a replica of the stupa in Beijing. Both stupas are still preserved today. Copies of their engravings were considered sought-after collectibles already at that time. In 1782 the Qianlong Emperor was presented with a large screen made of zitan wood by a court official, depicting the Sixteen LuoHan after Guanxiu in the form of jade inlays with the emperor's encomiastic poems and inscriptions, very probably executed after copies of the marble stupa in Hangzhou. (see Luo Wenhua: "Screen Paintings of Guanxiu's Sixteen Arhats in the Collection of the Palace Museum", in Orientations, Sept. 2010, p. 104–110).
Similar lapis lazuli 16 Luhan table screen exhibited at Palais Dorotheum Vienna, March 2014, sold at 268,700 EURO

Provenance: San Antonio - Texas private collector

Dimension: 36" H x 31" W
Condition
Over all in EXCELLENT condition.

Please Note: EDEN Fine Antiques Galleries provides condition reports as a courtesy to our clients and assumes no liability for any error or omission. Any condition statement is given as a courtesy to a client, and is only an opinion and should not be treated as a statement of fact. Descriptions are our opinions and should in no way be construed as a guarantee of any kind as to age, condition, mater. The bidder assumes responsibility for ensuring that the condition of the item(s) meets with their satisfaction prior to bidding. The absence of a condition statement does not imply that the lot is in perfect condition or completely free from wear and tear, imperfections or the effects of aging.
Buyer's Premium
24% up to

$50,000.00

21% up to

$1,000,000.00

18% above

$1,000,000.00
Discover Items You'll Love