2034: FIRST LADIES GARFIELD, CLEVELAND, EISENHOWER &c
Don't Miss Your Next Treasure.
Set up a search alert to hear when Early American History Auctions lists new auctions.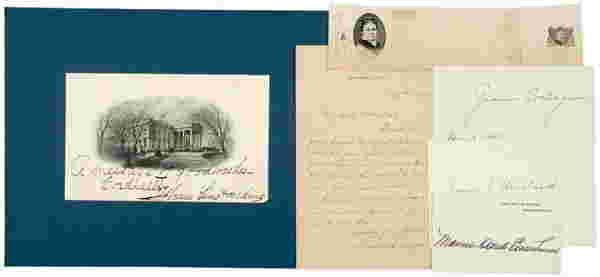 Lot 2034 Details
Description
AutographsNice Lot of Six First Lady Signatures

(FIRST LADIES), MRS. GARFIELD, CLEVELAND, COOLIDGE, EISENHOWER, & HARDING, Lot of Six Signatures.
1. 1.75" x 4" piece of paper signed "Lucretia R. Garfield / Mentor O. / May 1888" in pencil, mounted to larger paper with small vignettes of Mrs. Garfield on each side. Some soiling; ink notation on larger paper.
2. 3.5" x 5" card signed "Frances F. Cleveland" in black ink.
3. White House Card Signed, "Mamie Doud Eisenhower" boldly in black ink. All pieces are Fine or better.
Ex: EAHA Auction, October 11, 2003, Lot 85, which sold for $345.

4. LUCRETIA GARFIELD, First Lady; the wife of President James Garfield, her tenure in the White House was brief. Autograph Letter Signed, as First Lady-Elect, 1 page, 4.25" x 6.25", on her "Mentor, Ohio" letterhead, November 18, 1880. To Mrs. Neal, very likely the wife of Ohio Congressman Henry S. Neal. Choice very fine. Writing two weeks after Garfield's election as President - and Congressman Neal's re-election - a jubilant Mrs. Garfield is still two feet off the ground. In full: Thanks for your kind congratulations and for rejoicing over our great Republican victory! And we return the same to you over Mr. Neal's success. General Garfield joins me in sincere regard to you and to Mr. Neal." Victorian ladies, much less First Ladies, knew the drill: hat on, mouth shut, and no political opinions. Which is why this Lucretia Garfield letter, cheering a partisan victory is, for its time, unusual.
Ex: EAHA Auction, June 7, 2003, Lot 110, which sold for $258.

5. FLORENCE KLING HARDING. Typed Letter Signed, as First Lady, 2 pages - the 1st and 4th page of an integral sheet - 5" x 8", the White House, on gold-embossed letterhead , November 19, 1921. To "Aunt Nellie," Mrs. Ellen Kling. With an Autograph Sentiment Signed, on a White House vignette Card, 6" x 4" but fixed to a10" x 8" blue board, boldly inscribed "A message of good wishes - Cordially, Florence Kling Harding." Both Choice Extremely Fine. In part: "It was a treat to have a letter from you... Charlie, as you perhaps know, sent me 'Queen Alexandria' too, and it is delightful to have his well chosen books to tempt me now and then into a quiet hour of reading in bed... The first big state function we have had was Saturday night, and I feel that it went off with success. I doubt it there will ever be a more notable collection of people around the table here and the White House was brilliant with flowers, and every other man present gorgeous to behold in gold lace. And the women were all in their best gowns and jewels. My own gown was set off wonderfully by your lovely black ostrich fan... Charlie must tell you about the opening day of the Conference. It has been a wonderful experience to live in these exciting times..." The conference referred to here was the Conference for Limitation of Armaments , which began November 12, 1921, with nine nations - France, England, Holland, Italy, Portugal, India, Australia, Japan and China - represented. Warren Harding's wife was a formidable and ambitious woman: nicknamed "the Duchess," she preferred to call herself "The President Maker." Here is a letter of White House date to her aunt, accompanied by an Autograph White House vignette card.
Ex: EAHA Auction, October 11, 2003, Lot 64, which sold for $517.

6. GRACE COOLIDGE, First Lady. Courtesy Autograph, "Grace Coolidge" on a small slip of paper, May 5, 1947, no place, 2.5" x 5," Extremely Fine or better. A nice, 4" long signature from this popular First Lady.
Ex: EAHA Auction, October 11, 2003, Lot 26, which sold for $115.




2034: FIRST LADIES GARFIELD, CLEVELAND, EISENHOWER &c
Estimate $300 - $1,200
May 18, 2008
Shipping, Payment & Auction Policies