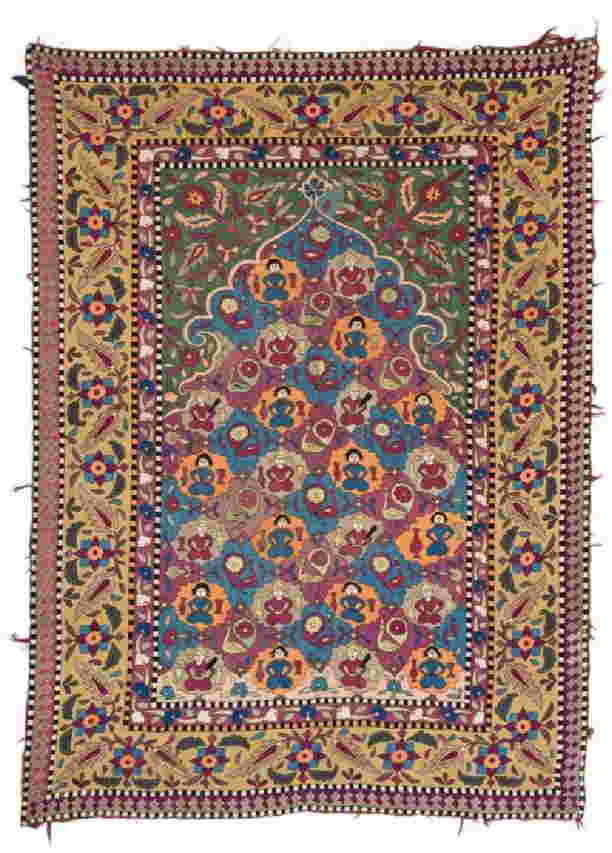 Sold
AZERBAIJAN EMBROIDERY 175 x 127 cm (5ft. 9in. x 4ft.
See Sold Price
Estimate €8,000 - €12,000
22 bids
AZERBAIJAN EMBROIDERY 175 x 127 cm (5ft. 9in. x 4ft. 2in.) Persia, 18th century Condition: excellent Silk on cotton. Silk embroideries from the southern Caucasus/Azerbaijan fall into two principle groups. The first, often related to rug designs like Dragon carpets, usually relatively abstract in style and done in cross stich and the second more floral, naturalistic and often depicting people and animals sewn using darning stitch. This example uses darning stitch and shows seated figures and peacocks meaning that it belongs to the second group which is in general more closely related to Iranian art. There seem to be fewer examples of this group published, many of which have designs containing mihrabs drawn in a distinct style. The design of the inner part of the mihrab in this piece is relatively unusual, since most examples with prayer arches show tree of life designs or flowers in vases. Other examples show medallions like in Lot 63 Christies 24.4.12, which has main and minor borders nearly identical to this example. Every flower in the main border has the same floral motif as the appears in the tail of the peacocks that surround the seated figures in the field. The black and white/yellow blocks in the outer and inner frame seem to be a feature of almost all examples of the darning stitch group.
FINE ANTIQUE ORIENTAL RUGS VII