46316: Amethyst, Diamond, Cultured Pearl, Necklace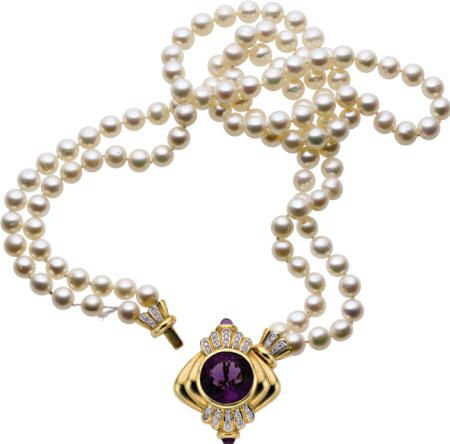 See Sold Price
Don't Miss Your Next Treasure.
Set up a search alert to hear when Brooches & Pins items arrive.
Auction ended on May 20th, 2008 UTC
46316: Amethyst, Diamond, Cultured Pearl, Necklace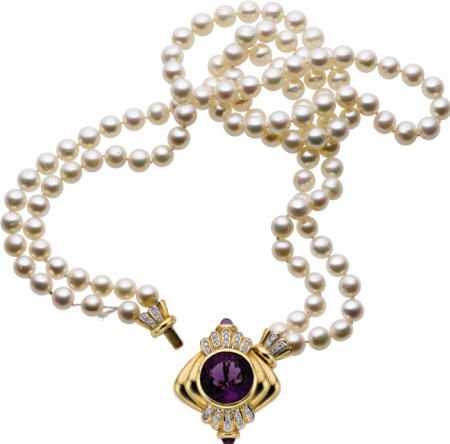 Amethyst, Diamond, Cultured Pearl, Gold, Convertible Necklace
The necklace features two components: one convertible brooch, featuring a round-shaped amethyst measuring 14.50 x 14.50 x 9.90 mm and weighing approximately 11.50 carats, enhanced by full-cut diamonds weighing a total of approximately 0.60 carat, accented by amethyst cabochons, bezel set in 18k yellow gold, completed by a pinstem and catch on the reverse; together with a necklace composed of cultured pearls measuring 7.00 - 6.50 mm, forming two knotted strands, completed by 18k yellow gold clasps accented by full-cut diamonds at either end. Total amethyst weight is approximately 12.00 carats. Total diamond weight for the convertible necklace is approximately 0.75 carat.
Brooch Dimensions: 1-3/8 inches x 1-3/16 inches
Necklace Length: 16 inches

Condition Report: Diamond Average Color: J-K-L
Diamond Average Clarity: SI - I
Diamond Count: 26 - 50
Gem Type: Amethyst
Gem Average Clarity: Good
Gem Shape: Round, Cabochon
Gem Count: 1 - 25
Overall Condition: Very Good
Pearl Type: Akoya
Pearl Surface: Slightly Blemished
Pearl Shape: Near Round
Pearl Color: White
Pearl Overtone: Rose
Pearl Luster: Good
Pearl Count: 115
Pearl Size: 7.00 - 6.50 mm


Shipping: Miscellaneous Collectibles, Smal (
view shipping information
)
Important notice:
Heritage usually auctions material at the rate of 100-110 lots per hour. On some occasions eBay Live bid software or the Internet may not be able to keep up with the pace of the auction. We recommend placing a realistic absentee bid now as insurance to avoid disappointment. Occasionally the auctioneer may eliminate or reject an eBay Live bid, and the auctioneer may also reopen a lot after the close of the eBay live bidding (usually because we missed an audience bid), and may reject your bid even if it shows you as the winning bidder. By bidding via eBay Live, you agree that Heritage may award the lot to another bidder at its sole discretion under the circumstances described above or any other reasonable circumstances. Since eBay bids are not shown to us until we open the lot on the floor, we treat those bids just like floor bids. In most cases the floor responds before the eBay bid is presented to us, due to Internet lag time, so for consistency we have made it a policy that floor bids are always considered first over tie eBay live bids. Also please note that all Heritage lots purchased through eBay Live carry a 22.50% Buyer's Premium with a $9 minimum Buyer's Premium. Please make sure you read the Terms and Conditions before you bid. This lot is being auctioned in conjunction with a live floor auction by Heritage Auctions. All final auction and invoice information will be supplied by Heritage Auctions, and all other information should be considered preliminary. Lot:46316
Winning Notification and Billing:
After the FINAL session in this auction is complete, Heritage will send e-mail and snail mail invoices. This process normally takes several days. All final auction and invoice information will be supplied by Heritage Auctions, and all other information should be considered preliminary.
Second Chance Offers:
Heritage does not make Second Chance Offers. Once our auction ends, if you receive a Second Chance Offer to buy this item DO NOT accept the offer. Please forward any Second Chance offer emails received on one of our auctions to eBay's Safe Harbor Department.
This auction will be conducted on a live auction floor and over the Internet through eBay Live. If you choose to place an absentee bid, please take a moment to
learn how eBay Live absentee bidding works
Auction House Info [removed] Heritage Auctions
3500 Maple Avenue 17th Floor
Dallas, Texas
75219-3941, United States
Tel: 214-528-3500
Fax: 214-443-8425
EMail:
EbayLive@HeritageAuctions.com
[removed] CLICK TO Ask a Question ABOUT THE LOT OR AUCTION
FOR TECHNICAL SUPPORT
CONTACT EBAY LIVE AUCTIONS
Terms & Conditions Please view our complete Terms & Conditions at the following web address:
http://www.heritageauctions.com/common/images/TermsAndConditions.pdf
Buyer's Premium
22.5% up to

$999.00

22.5% above

$999.00
Discover Items You'll Love