475: Hand Colored Hubert Robert Etchings of Notre Dame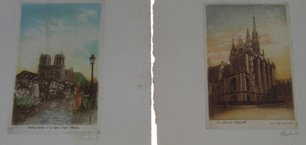 See Sold Price
Don't Miss Your Next Treasure.
Set up a search alert to hear when Hubert Robert Drawings items arrive.
Auction ended on July 26th, 2008 UTC
475: Hand Colored Hubert Robert Etchings of Notre Dame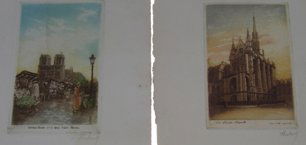 Hand Colored Hubert Robert Etchings of Notre Dame & Le Sante-Chapelle (matted to 6.5 x 8") "Notre-Dame et Le Quai Saint-Michel" and "La Sainte Chappelle." Each are "Eau Forte Originale" which translates to "original etching.". Pencil signed by the artist. Ex folio, minor faults with toning and slight staining on the Notre Dame etching, but otherwise very good condition. Excellent for framing. (1733-1808) French painter, draughtsman, etcher and landscape designer. He was one of the most prolific and engaging landscape painters in 18th-century France. He specialized in architectural scenes in which topographical elements derived from the buildings and monuments of ancient and modern Italy and of France are combined in often fantastic settings or fictitious juxtapositions. The fluid touch and rich impasto employed in his paintings, also shared by his friend Jean-Honor? Fragonard, are matched by the freedom of his numerous red chalk drawings and the few etchings that he is known to have produced. French landscape painter sometimes called "Robert des Ruines" because of his many romantic representations of Roman ruins set in idealized surroundings. Robert went to Rome (1754), was elected to the French Academy there, and became a friend and associate of the renowned etcher of architectural subjects Giambattista Piranesi. In 1759 he joined Abbé de Sainte-Non and the French painter Jean-Honoré Fragonard in travels through southern Italy and Sicily. Each man influenced the other's style but not the other's choice of subjects. At the Villa d'Este, Tivoli, Robert produced a quantity of red chalk drawings of ancient buildings in ruined parks, animated with small figures. Returning to Paris (1765), Robert became a member of the French Royal Academy in 1766. A gifted decorative artist, he based his paintings on his Italian drawings, and his popularity was enhanced by exhibitions at the Salons from 1767 on. In addition to Italian landscapes, he painted scenes of Ermenonville, Marly-le-Roi, and Versailles, near Paris, and of the south of France, with its ruined Roman monuments. He also directed the design of the English garden at Versailles. Although imprisoned during the French Revolution, he continued to work. He collaborated with Fragonard on a commission for the Musée Francais in the Louvre during the 1790s, but at the time of his death he was forgotten. His work is now on display at all major art museums, including the Louvre, the Hermitage, the Metropolitan Museum of Art and the J. Paul Getty, to name a few. His father, Nicolas Robert, was in the service of François-Joseph de Choiseul, marquis de Stainville. Young Robert finished his studies with the Jesuits at the Collège de Navarre in 1751 and entered the atelier of the sculptor Michel-Ange Slodtz who taught him design and perspective but encouraged him to turn to painting. In 1754 he left for Rome in the train of Étienne-François de Choiseul, son of his father's employer, who had been named French ambassador and would become a Secretary of State for Foreign Affairs to Louis XV in 1758. He spent fully eleven years in Rome, a remarkable length of time; after the young artist's official residence at the French Academy in Rome ran out, he supported himself by works he produced for visiting connoisseurs like the abbé de Saint-Non, who took Robert to Naples in April 1760 to visit the ruins of Pompeii. The marquis de Marigny, director of the Bâtiments du Roi kept abreast of his development in correspondence with Natoire, director of the French Academy, who urged the pensionnaires to sketch out-of-doors, from nature: Ronert needed no urging; drawings from his sketchbooks document his travels: Villa d'Este, Caprarola. Robert spent his time in the company of young artists in the circle of Piranesi, whose capricci of romantically overgrown ruins influenced him so greatly that he gained the nickname Robert des ruines.[1] The albums of sketches and drawings he assembled in Rome supplied him with motifs that he worked into paintings throughout his career. His success on his return to Paris in 1765 was rapid: the following year he was received by the Académie royale de peinture et de sculpture, with a Roman capriccio, The Port of Rome, ornamented with different Monuments of Architecture, Ancient and Modern.[3] Robert's first exhibition at the Salon of 1767 was greeted in print by Denis Diderot, "The ideas which the ruins awake in me are grand." He was successively appointed "Designer of the King's Gardens", Keeper of the King's Pictures" and "Keeper of the Museum and Councilor to the Academy. During the Revolution, he was arrested in October 1793.[5] He survived his detentions at Sainte-Pélagie and Saint-Lazare, by painting vignettes of prison life on plates, before he was freed at the fall of Robespierre.[6] Robert narrowly escaped the guillotine when through error another prisoner died in his place. Subsequently he was placed on the committee of five in charge of the new national museum at the Palais du Louvre. He deserves to be remembered not so much for his skill as a painter, but as for the liveliness and point with which he treated the subjects he painted. The contrast between the ruins of ancient Rome and the life of his time excited his keenest interest. The reputation he acquired in Rome, working for a time in the studio of Pannini, whose influence can be seen in the Vue imaginaire de la galerie du Louvre en ruine (illustration). Along with this incessant activity as an artist, his daring character and many adventures attracted general admiration and sympathy. In the fourth canto of his L'Imagination Jacques Delille celebrated Robert's miraculous escape when lost in the catacombs. The quantity of his work is immense; the Louvre alone contains nine paintings by his hand and specimens are frequently to be met with in provincial museums and private collections. Robert's work has more or less of that scenic character which justified his selection by Voltaire to paint the decorations of his theatre at Ferney. Robert died of a stroke on 15 April 1808. His work was much engraved by the abbé de Saint-Non, with whom he had visited Naples in the company of Fragonard during his early days; in Italy his work has also been frequently reproduced by Chatelain, Linard, Le Veau, and others.
Discover Items You'll Love