lots of lots
Welcome to the world's largest marketplace for fine art, antiques & collectibles.
Warhol, Andy, American 1928-1987,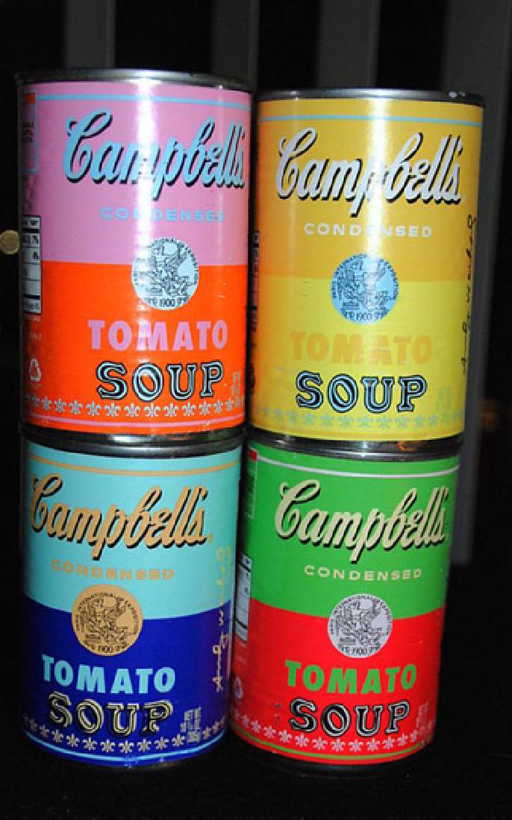 See Sold Price
Don't Miss Your Next Treasure.
Set up a search alert to hear when Movie & TV Memorabilia items arrive.
Auction ended on September 20th, 2017 UTC
Warhol, Andy, American 1928-1987,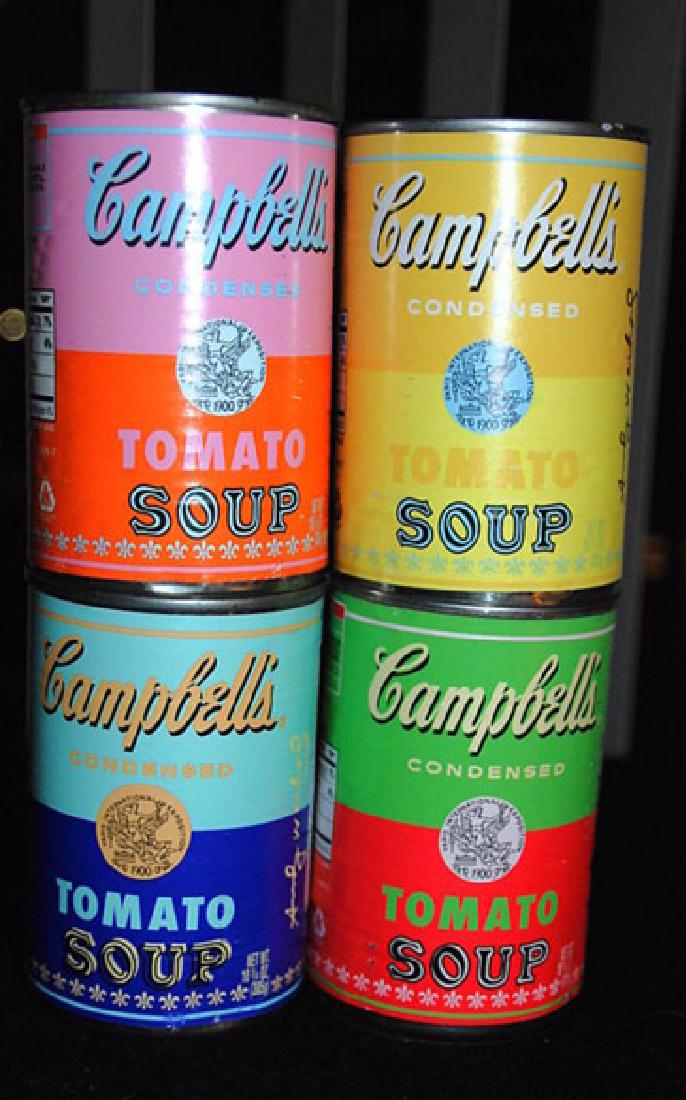 Title: (Soup Cans), a complete set of the 2004 release by Campbell's Soup Co. utilizing designs by Warhol,,
silkscreens labels wrapped on standard soup, 2004, , , , ,
Size info: 4 1/2 by 2 1/2 by 2 1/2 in. (11 x 6.4 x 6.4 cm.), , ,
Framing: ,
,
Comments: In 2004, the Andy Warhol Foundation paired with Campbell's Soup Company to release a limited edition set of four cans featuring Andy Warhol's artwork. These cans were only distributed in Warhol's home town supermarkets. , , ,
Condition
In very fine condition, no dents, labels intact and colors strong.,
Shipping
Buyer Pays Shipping Cost. Shipping is the responsibility and obligation of the successful bidder. Prompt attention to resolving shipping arrangements is expected after notification of the invoice due. We frequently receive requests to discard the frame for shipping. This may require the attention of a qualified framer or restorer and will incur extra charges. In many cases Creighton-Davis will be able to handle all shipping arrangements in house, however shipping is the responsibility of the buyer. Our minimum fee for fine art items is $25 plus carriage costs. We cannot guarantee a specific delivery time as shipments are handled on a first in, first out basis. We do not ship on any credit arrangement with another shipping account and all shipping fees must be paid in advance before release of purchases. You are free to arrange your own shipping. We cannot guarantee to be able to handle every shipping requirement. Our standard procedure is to ship with an insured and traceable shipping service such as UPS or DHL for overseas shipments. Local post office shipping, particularly overseas, can be unreliable and incur delays. For shipments out of North America, you should expect a minimum charge of $90. Requests for shipping quotes will be answered as time permits and within a certain range of prices as actual shipping price will be dependent on a variety of factors including final price paid due to variable insurance fee.
Payment
Payment arrangements along with a link to your invoice are detailed in an email which you will receive within two business days after the auction from an email from Creighton-Davis Gallery at john.rareart@gmail.com or from the liveauctioneers platform. For additional information on the payment options, please go to our website. Creighton-Davis Gallery does not accept Paypal or American Express. However Visa, Discover and Mastercard accepted up to a limit of $500 per invoice. Please go to our website if you need further information about payment details.
Accepted payment methods
This special auction has no buyers premium o
Terms
An auction is a recognized legal contract between buyer and seller. The bidder, by his bid, extends a legally binding offer to buy the item offered. The auction, as seller, if the buyer's bid is acceptable, enters into a contract to sell. All normal provisions of contract law apply to enforce these arrangements. Please read the descriptions of each auction lot carefully as well as the Terms and Conditions detailed below before bidding. Know what you are bidding on! BUYER'S PREMIUM: Please Note: No buyer's premium for this sale. 1. GUARANTEE OF AUTHENTICITY: This is not a "buyer beware" auction. All works are guaranteed authentic as follows: a. Author: Each work offered and sold is guaranteed to be that of the author identified in the BOLD TYPE introduction at the beginning of each lot number description. Authorship means creator of the artwork or originator of the art or concept portrayed and may refer to a period, culture or other source or origin. "Attributed" authorship means that in the best judgment of the auction house the work is by the artist named, but authorship is not known for certain. Thus attributed works are specifically exempted from the guarantee of authorship. "After" means that the work was created by another hand after another work by the author identified in the BOLD TYPE introduction and is covered by the guarantee. Ancient artifacts and related items are covered by a specific guarantee provision noted on each lot. b. Signature: Each individually written signature is guaranteed to be the authentic hand written signature of the person whose name appears in the signature, i.e. not a counterfeit or forgery, unless specifically exempted or qualified. c. Descriptions: Other descriptive material is presented for information only and while prepared with the intention to be as complete and accurate as possible is explicitly not covered by the guarantee. Notification concerning a breach of warranty must be made within 30 days of auction and returned within 14 days of notification. In case of dispute, the auction may request collaborating statement of fact concerning the breach of guarantee from a knowledgeable art professional. Works returned must be in the same condition as sold and should be shipped with appropriate insurance. All communications should refer to the registration code number which is at the end of each description in the auction catalog. Special note regarding warranty provision: warranty may not apply in cases where items purchased from us are removed by Ebay from their listings for copyright violations as this is a automatic response, without recourse, by Ebay to anyone holding a proper copyright who alleges copyright violations. 2. REFERENCE: The term "reference" used in conjunction with lot descriptions refers to standard texts which list and describe and often illustrate the known works of an artist and usually define whether the works are original or reproductive. Unfortunately not all artists are so cataloged, and others incompletely so. In addition, such reference works do not list works which have been produced since the catalog was written. 3. FRAMING AND CONDITION: Works sold are sold as is where is. Works before 1900 are in good condition for their age and any important damage is described. Such works should be carefully inspected before bidding. Most works can be inspected through the internet images in fairly minute detail. If you need further condition information contact us directly by e-mail, phone or fax. If the lot description does not mention condition, then the condition of the work is very fine. "Conservation Framed", when found in a lot description, means that the work is framed with accepted conservation standards including acid free mounts and removable hinges. Auction staff can advise on the framing technique for a particular work as well as any other condition reports requested, time permitting. Many works were photographed with transparent plastic corners which appear as Grey triangles in internet photos. These are not defects. You may assume what you see under the grey/transparent corners is the condition of the actual work. 4. ESTIMATES: Auction estimates refer to a fair auction price. All estimates, however, represent auction staff opinions. While many works will be sold under estimates, many also will be sold over the estimates. Bidders should keep in mind that through the internet bidding process, you will purchase at the lowest possible price subject to the interest of other bidders (see section 6 below). 5. BIDDING AND RESERVES: Bidding will be in reasonable increments as befits the price of the work offered. The auctioneer reserves the right to reject any or all bids and is the final judge in case of dispute. Works may be offered subject to a reserve. However in a "no reserve" auction the starting price is sufficient to win the lot and there will be no reserve price above the starting price. 6. INTERNET AND OTHER ABSENTEE BIDS: Bidding may be by advance bidding at liveauctioneeers.com or during the actual live portion of the auction. One bid is sufficient to win the lot. 7. PAYMENT: Prompt payment is expected after notification of a successful bid. Payment will be made through the liveauctioneers payment system which will notify you with your invoice on how to arrange payment with electronic payment services (credit cards, etc.). You can also pay direct to us with a check or cash if you wish to pick up the work at the gallery. 8. SHIPPING: Shipping is the responsibility and obligation of the buyer. Creighton-Davis will be happy to assist you with your shipping arrangements and may be able to handle some smaller shipments in-house. However we cannot guarantee a specific delivery time as shipments are handled on a first in, first out basis. We do not ship on any credit arrangement with another shipping account and all shipping fees must be paid in advance before release of purchases. You are free to arrange your own shipping. Smaller objects may be shipped economically by USPS pre-paid boxes (domestic only). Lots may be combined to save shipping fees. We will typically notify you of several shipping options relevant to your winning bids in your email notice of invoice. Complete details regarding payment are found at our website. 9. Works may be withdrawn from the original listings at any time and for any reason, and if not delivered to the buyer after payment, may be exempt from the contract terms of the auction. 10. The auction company reserves the right to refuse bids or registrations from any individual or other interest for any reason. Creighton-Davis Gallery 1440-A Grand Ave. San Marcos, California 202-489-4300
Discover Items You'll Love

Bid Anywhere, Anytime. Download the LiveAuctioneers App.
Available on the App Store
Android App on Google Play