50010: Kurt Cobain's Personally Owned Wrist Watch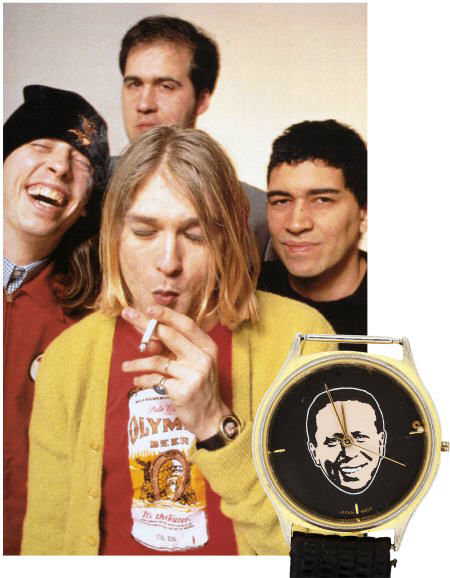 See Sold Price
Don't Miss Your Next Treasure.
Set up a search alert to hear when Wristwatches items arrive.
Auction ended on October 5th, 2008 UTC
50010: Kurt Cobain's Personally Owned Wrist Watch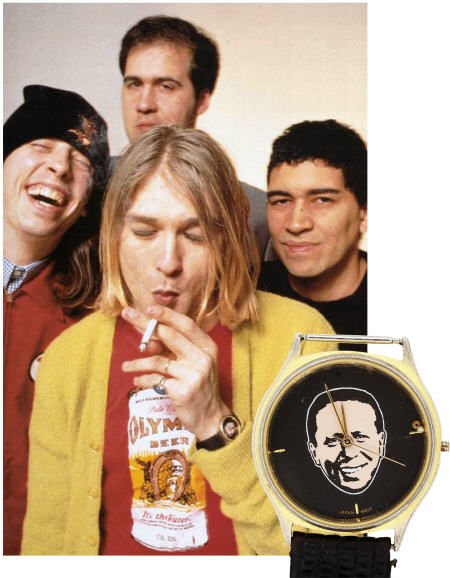 Kurt Cobain's Personally Owned, Stage and Screen-Worn Wrist Watch. It was the only watch he wore, according to good friend and legendary Babes in Toyland singer Kat Bjelland. Kurt Cobain's wrist watch, like most pieces in his wardrobe, was staple. Worn until his last days, the watch was everywhere: during the taping of the 1993 Nirvana Unplugged album and video, in Nirvana's "Heart Shaped Box" music video, in multiple press photos with his bandmates, even in random candid shots, the watch is ever-present. No stylist required by the anti-fashon icon... individuality is funny that way.
That original watch -- Kurt's odd little black timepiece -- is offered here for the first time at auction, with a touching and fascinating provenance. The aforementioned Kat Bjelland was given the watch within days of Cobain's funeral as a memento of her longtime friend (as a gift from his wife Courtney). According to Bjelland, it stopped ticking one week after Kurt's death. She chose to leave the watch unrepaired.
The story behind the image on the timepiece -- the face on the face -- is also quite unique, and emblematic of Cobain's unpretentious character: the watch is a Hong Kong-manufactured promotional item for a Seattle-area car dealer, Tom Peterson, and only a handful were produced.
Although it's missing part of the wrist band, the watch is in good shape considering how often Cobain wore it. A typical result of sweat, greenish oxidation is present on the back, and a tiny rhinestone (which once sat at the 12 hour) has been shaken loose within the frame of the face.
The watch comes with a notarized letter from Kat Bjelland and is in overall Fine condition. In the end, an entire generation was touched by Cobain's music and persona, both of which are emulated to this day -- fans young and old simply want to feel a connection to the iconic musician. And if anything represents Kurt Cobain's iconic style, this is it.

Shipping: Clothing, Costumes & Jerseys (
view shipping information
)
Important notice:
Heritage usually auctions material at the rate of 100-110 lots per hour. On some occasions eBay Live bid software or the Internet may not be able to keep up with the pace of the auction. We recommend placing a realistic absentee bid now as insurance to avoid disappointment. Occasionally the auctioneer may eliminate or reject an eBay Live bid, and the auctioneer may also reopen a lot after the close of the eBay live bidding (usually because we missed an audience bid), and may reject your bid even if it shows you as the winning bidder. By bidding via eBay Live, you agree that Heritage may award the lot to another bidder at its sole discretion under the circumstances described above or any other reasonable circumstances. Since eBay bids are not shown to us until we open the lot on the floor, we treat those bids just like floor bids. In most cases the floor responds before the eBay bid is presented to us, due to Internet lag time, so for consistency we have made it a policy that floor bids are always considered first over tie eBay live bids. Also please note that all Heritage lots purchased through eBay Live carry a 22.50% Buyer's Premium with a $9 minimum Buyer's Premium. Please make sure you read the Terms and Conditions before you bid. This lot is being auctioned in conjunction with a live floor auction by Heritage Auctions. All final auction and invoice information will be supplied by Heritage Auctions, and all other information should be considered preliminary. Lot:50010
Winning Notification and Billing:
After the FINAL session in this auction is complete, Heritage will send e-mail and snail mail invoices. This process normally takes several days. All final auction and invoice information will be supplied by Heritage Auctions, and all other information should be considered preliminary.
Second Chance Offers:
Heritage does not make Second Chance Offers. Once our auction ends, if you receive a Second Chance Offer to buy this item DO NOT accept the offer. Please forward any Second Chance offer emails received on one of our auctions to eBay's Safe Harbor Department.
This auction will be conducted on a live auction floor and over the Internet through eBay Live. If you choose to place an absentee bid, please take a moment to
learn how eBay Live absentee bidding works
Auction House Info [removed] Heritage Auctions
3500 Maple Avenue 17th Floor
Dallas, Texas
75219-3941, United States
Tel: 214-528-3500
Fax: 214-443-8425
EMail:
EbayLive@HeritageAuctions.com
[removed] CLICK TO Ask a Question ABOUT THE LOT OR AUCTION
FOR TECHNICAL SUPPORT
CONTACT EBAY LIVE AUCTIONS
Terms & Conditions Please view our complete Terms & Conditions at the following web address:
http://www.heritageauctions.com/common/images/TermsAndConditions.pdf
Buyer's Premium
22.5% up to

$999.00

22.5% above

$999.00
Discover Items You'll Love