Jimi Hendrix's 1963 Fender Stratocaster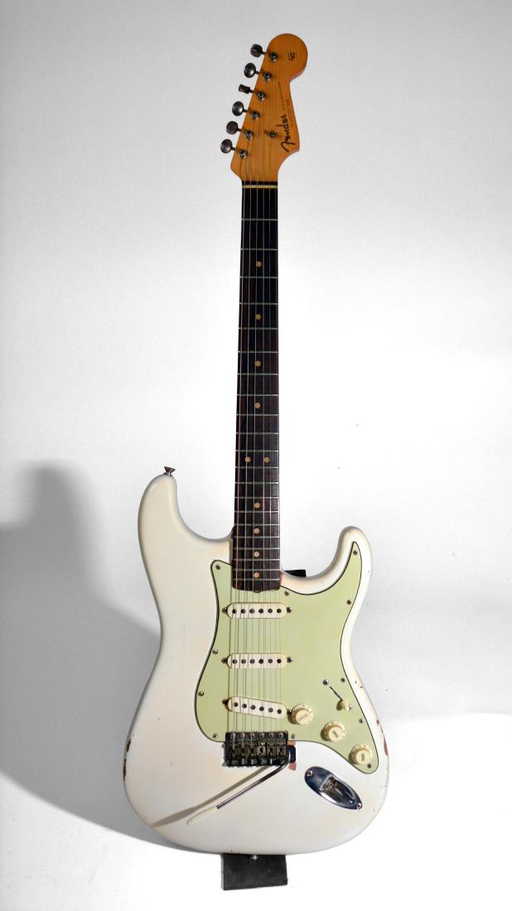 See Sold Price
Don't Miss Your Next Treasure.
Set up a search alert to hear when Musical Instruments & Music Stands items arrive.
Auction ended on December 2nd, 2017 UTC
Jimi Hendrix's 1963 Fender Stratocaster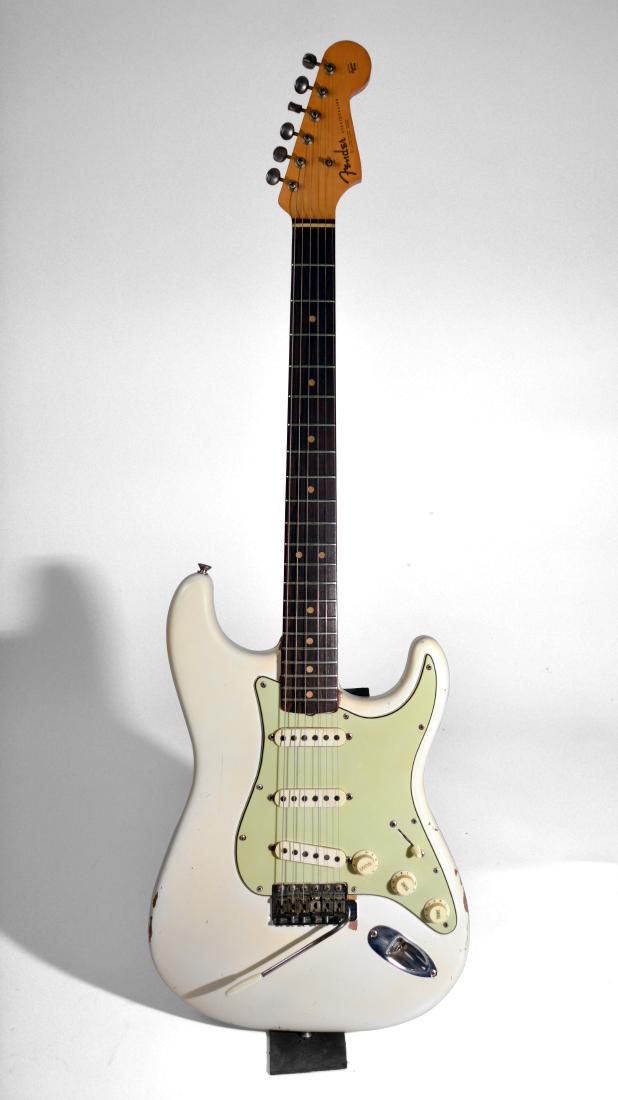 A 1963 White Fender Stratocaster that was owned and played by Jimi Hendrix in the 1960's, serial #L14985. The guitar features an Olympic White finish, Fender's period correct "small" headstock, a maple neck carved to the company's B contour, and a Brazilian rosewood fretboard.The guitar still has the original pickguard which has developed the often seen patina that via Polymer/UV reaction converted the white pickguard to the very desirable shade of Mint Green, this is a process that would have occurred naturally quite quickly after having been released from Fender plant, the guitar weighs 7.6 lbs.

One of Hendrix's earliest owned Strats, he typically played this guitar whenever he went to Juggy Sound, in New York City, one of his preferred recording studios because - according to a feature story written on this guitar in March 2013 in Vintage Guitar Magazine by editor Ward Meeker - the studio was "smaller, more laid-back, and less high-tech." The story of this guitar begins in mid-1965, when Jimi began to work as a session player, moving away from his previous gig backing Little Richard. During this time he formed the band Blue Flame, and stayed in contact with various studios, particularly Juggy Sound, where he worked in 1965. The Strat had previously belonged to the studio's head, Henry "Juggy" Murray, with whom Jimi signed his first ever recording contract. The guitar generally stayed at the studio, where Hendrix employed it during early sessions there, but Jimi would also bring the guitar along with him to various other recording and jam sessions, and even to his father's house in Seattle. As Richard Bienstock writes in the March/April 2011 issue of Guitar Aficionado, "For any guitar enthusiast, a well-preserved 1963 Fender Stratocaster in Olympic White would be a discovery worth plunking down some hard-earned change for. When you consider that the '63 Strat here reportedly once belonged to an up-and-comer named Jimi Hendrix, you have an instrument that is a collector's dream."

Leon Hendrix, Jimi's brother, remembers seeing the guitar in 1968 when the two lived together - seeing it both at Jimi's house in Benedict Canyon, as well as "at the house in Seattle." Leon remembered the guitar because he and Jimi discussed how odd the lime green pickguard was, and how Jimi thought the guitar looked strange under lights onstage. He also recalls seeing his brother work on this guitar, and recalls how Jimi often worked on his own guitars, and could do whatever was needed to make them work for him, particularly since Jimi was left-handed, and so would often have to make some of his own changes to his right-handed guitars. Consequently Jimi had dug a hole in the guitar to allow room for the placement of the vibrato block and springs. Leon Hendrix also specifically recalls seeing, as described by Michael G. Still, MGSO L.P. in a letter of authentication from 2009, "a black mark...made on the inside of the trem block on this guitar." The mark can be seen under the vibrato springs. This black mark is specific to this guitar, and "is not seen on any other Stratocasters of this period," Phil Winfield, President of Artistic Music Products LLC writes. A signed letter of provenance from Leon Hendrix is included with this guitar, where he attests to seeing it, mentions the black mark, and states that this was "one of Jimi's earliest owned Stratocasters in New York City." A picture of Leon playing this Strat at Electric Ladyland Studios NCY c.2005 can be seen above.

Another aspect that makes this guitar specifically "Jimi" is the shortened vibrato bar. "Hendrix was known to do this to guitars because, being left-handed, he had to flip them upside-down, and the shorter bar offered less interference," Meeker writes in Vintage Guitar Magazine. Shortening the bar meant that it wouldn't get in his way while he was playing.

The construction of this Fender is standard for a guitar of its period, with the smaller pre-1965 headstock, "nitrate" plastic green pickguard, Kluson tuners, and "clay dot" off-white position markers on a Brazilian rosewood fingerboard. The white paint finish of the guitar appears to have been redone some time ago, and does not appear to be factory. This could have been done anytime after the guitar left the factory in 1963, but "does appear to be decades old," according to Greg Dorsett of Rock Star Guitars.

Richard Bienstock writes, "though nobody can say who did it, experts who have inspected it first-hand agree the finish – still in Fender's Olympic White or something very close - was applied some time ago and either covered or replaced the guitar's original sunburst." Hendrix did have a preference for white guitars (as Ward Meeker writes, "it's broadly accepted that he favored white Fender Stratocasters made prior to 1966"). Dave Hinson of Killer Vintage also agrees that it has been refinished in white, but adds that he "saw no parts changed or mods beyond what Jimi is said to have done." The electronics are all 1963 Fender and there is wear to the bottom edge of the guitar body, consistent with arm wear if the guitar was worn and played "upside-down," as it would be by a left-handed player.

A picture of Jimi playing possibly this Strat can be seen above. Although the image is blurry and it is difficult to confirm with absolute certainty that he is playing this guitar, what is interesting to note is that the guitar that Hendrix holds here has a small headstock. In other images that can be located of Jimi playing an Olympic White Strat, every single one - besides this - shows him playing a guitar with a large headstock (1965 onwards production).

Seymour Duncan, a guitar pickup specialist and inventor based out of Santa Barbara CA, was in the 1960s in high demand for pickup repairs and customization by such luminaries as David Gilmour, Billy Gibbons, Jeff Beck, Eric Clapton, Jimmy Page and, of course, Jimi Hendrix. When this guitar was shown to Seymour (he can be seen holding it in the pictures), he clearly remembered the guitar and he confirmed that the internal pickup repairs, rebuilds, and rewinds were indeed his work. A 1963 Stratocaster boasting his work is rare. Seymour was inducted into the Rock & Roll Hall of Fame in 2011 in the "Innovator" category in recognition of his services and contributions to the music industry, and to this day Seymour continues to innovate and create pickups at the Seymour Duncan facility in Santa Barbara CA.

The one aspect of this guitar that was not changed to suit a left handed player was the button where the strap would attach. It was not switched so that the strap would be normal for a left-handed player. However, since Jimi would have been playing this guitar during studio sessions, he would have quite probably been seated, so it would not have mattered. Additionally, there were multiple reported times that Hendrix simply played with the strap in its original position. One such instance can be seen in the photograph where Hendrix is playing with Wilson Pickett in September of 1966. The strap of the guitar is running to the bottom of the guitar; Hendrix didn't bother to change it. Ward Meeker certainly did not find it strange: "Though it bears no hole on its upper treble bout that would hint at the installation of a strap button for use by a lefty, and its nut is very much that of a righty instrument, neither factor reduces the probability that it was a Hendrix guitar...Certainly, it may have hindered his playing when it came time to get fancy, but he tolerated it."

Upon completing the Band of Gypsys album at Juggy Sound in February/March 1970, Jimi gave this Strat to Skip Juried, chief engineer of Juggy Sound, for his help and friendship throughout the years and as a show of appreciation for making Juggy Sound (which by 1970 was known as Sound Center) so readily available to him. Juried kept it until his death in the 1980's at this point the guitar was bequeathed to a family member.

Eventually, this guitar ended up in the hands of Jesse Amoroso, owner of Cowtown Guitars. He discovered it when a collector asked Jesse if he could sell some guitars, vaguely calling them collectibles. What Jesse found was much better than he had imagined: a collection of historical documents, TV and movie props, and somewhere around 200 guitars. The crowning glory was this 63' Strat. As Amoroso says, in an article on the guitar in Las Vegas City Life, "anything Hendrix is rare, but his earlier Strats...no one knows where the hell they went...He smashed stuff." This guitar, intact and in quite good condition, is a collector's dream indeed.

Stories about this legendary guitar can be found in Vintage Guitar Magazine (March 2013), "Jimi Jazz: 1963 Fender Stratocaster," by Ward Meeker, editor, p. 34-35, and in Guitar Aficionado (March/April, 2011), "Legendary Connection: The Unique Story of a '63 Fender Strat," by Richard Bienstock, p. 26. The Strat has also been featured in Las Vegas City Life.

The guitar is accompanied by written authentication documentation by Leon Hendrix, brother of Jimi; Jesse Amoroso of Cowtown Guitars, NV; Dave Hinson, President of Killer Vintage, MO; Phil Winfield, President of Artistic Music Products LLC, NC; Greg Dorsett of Rock Star Guitars, CA; and Michael G. Still, MGSO L.P.

More detail shots of guitar available upon request.
Discover Items You'll Love