57215: Civil War Officer's Folding Wooden Camp Cot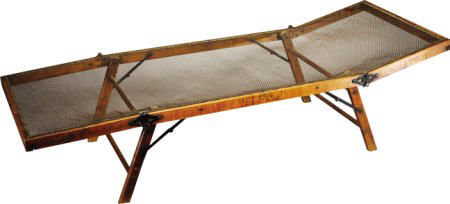 See Sold Price
Don't Miss Your Next Treasure.
Set up a search alert to hear when Militaria & War Memorabilia items arrive.
Auction ended on November 20th, 2008 UTC
57215: Civil War Officer's Folding Wooden Camp Cot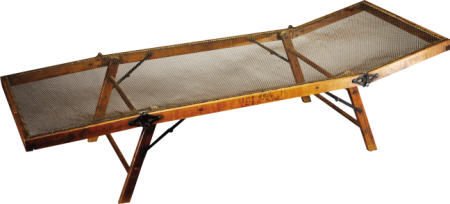 Civil War Officer's Folding Wooden Camp Cot with Wonderful Period ID to Lieutenant Isaiah Conley of the 101st Pennsylvania Infantry. Folds into three sections, 94" long when opened, 29" wide. The head portion opens to and approximately 45 degree angle. Folding legs 17" high. The entire cot is covered with an iron wire mesh which, in essence, served as the "box spring" and apparently used with a mattress. Appears to be made of maple with cast iron brackets at the hinged points where it folds. Neatly painted in black on one side "1st Lt. I. Conley/ Co. G 101st Pa. Inft.", showing consistent and absolutely authentic and of the period. Perfect condition overall.

Conley enrolled in the 101st Pa. as a 2d lieutenant on February 20, 1862 and was promoted to first lieutenant on January 21, 1863, logically the point at which he acquired this cot the ID includes his rank as 1st lieutenant. Conley served with the regiment until his capture, along with most of the regiment, at Plymouth North Carolina on April 20, 1864. He remained a prisoner until November of 1864 when, according to his records he "Escaped from rebel prison and reached Union lines November 13, 1864." The 101st was heavily engaged during the period prior to Conley's capture including actions at Chantilly, Fredericksburg, Chancellorsville and Gettysburg. He was promoted to captain May 17, 1865 and mustered out June 25, 1865. A very rare piece of Civil War officer's equipment with wonderful ID to an officers who served gallantly through most of the major battles of the Army of the Potomac. One of only a few examples known with integral period ID.

Shipping: Miscellaneous Collectibles, Larg (
view shipping information
)
Important notice:
Heritage usually auctions material at the rate of 100-110 lots per hour. On some occasions eBay Live bid software or the Internet may not be able to keep up with the pace of the auction. We recommend placing a realistic absentee bid now as insurance to avoid disappointment. Occasionally the auctioneer may eliminate or reject an eBay Live bid, and the auctioneer may also reopen a lot after the close of the eBay live bidding (usually because we missed an audience bid), and may reject your bid even if it shows you as the winning bidder. By bidding via eBay Live, you agree that Heritage may award the lot to another bidder at its sole discretion under the circumstances described above or any other reasonable circumstances. Since eBay bids are not shown to us until we open the lot on the floor, we treat those bids just like floor bids. In most cases the floor responds before the eBay bid is presented to us, due to Internet lag time, so for consistency we have made it a policy that floor bids are always considered first over tie eBay live bids. Also please note that all Heritage lots purchased through eBay Live carry a 22.50% Buyer's Premium with a $9 minimum Buyer's Premium. Please make sure you read the Terms and Conditions before you bid. This lot is being auctioned in conjunction with a live floor auction by Heritage Auctions. All final auction and invoice information will be supplied by Heritage Auctions, and all other information should be considered preliminary. Lot:57215
Winning Notification and Billing:
After the FINAL session in this auction is complete, Heritage will send e-mail and snail mail invoices. This process normally takes several days. All final auction and invoice information will be supplied by Heritage Auctions, and all other information should be considered preliminary.
Second Chance Offers:
Heritage does not make Second Chance Offers. Once our auction ends, if you receive a Second Chance Offer to buy this item DO NOT accept the offer. Please forward any Second Chance offer emails received on one of our auctions to eBay's Safe Harbor Department.
This auction will be conducted on a live auction floor and over the Internet through eBay Live. If you choose to place an absentee bid, please take a moment to
learn how eBay Live absentee bidding works
Auction House Info [removed] Heritage Auctions
3500 Maple Avenue 17th Floor
Dallas, Texas
75219-3941, United States
Tel: 214-528-3500
Fax: 214-443-8425
EMail:
EbayLive@HeritageAuctions.com
[removed] CLICK TO Ask a Question ABOUT THE LOT OR AUCTION
FOR TECHNICAL SUPPORT
CONTACT EBAY LIVE AUCTIONS
Terms & Conditions Please view our complete Terms & Conditions at the following web address:
http://www.heritageauctions.com/common/images/TermsAndConditions.pdf
Buyer's Premium
22.5% up to

$999.00

22.5% above

$999.00
Discover Items You'll Love