lots of lots
Welcome to the world's largest marketplace for fine art, antiques & collectibles.
Eastlake Victorian walnut tete-de-tete with carved owl.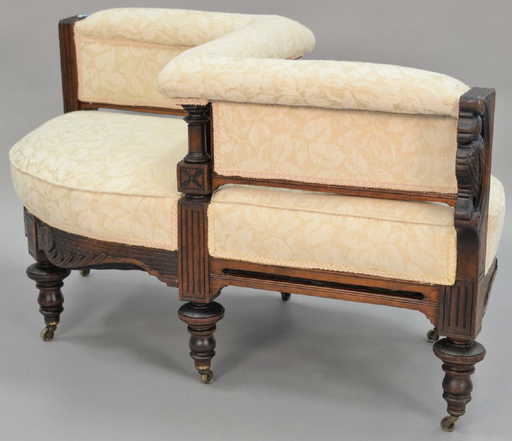 See Sold Price
Don't Miss Your Next Treasure.
Set up a search alert to hear when Nadeau's Auction Gallery lists new auctions.
Auction ended on January 20th, 2018 UTC
Eastlake Victorian walnut tete-de-tete with carved owl.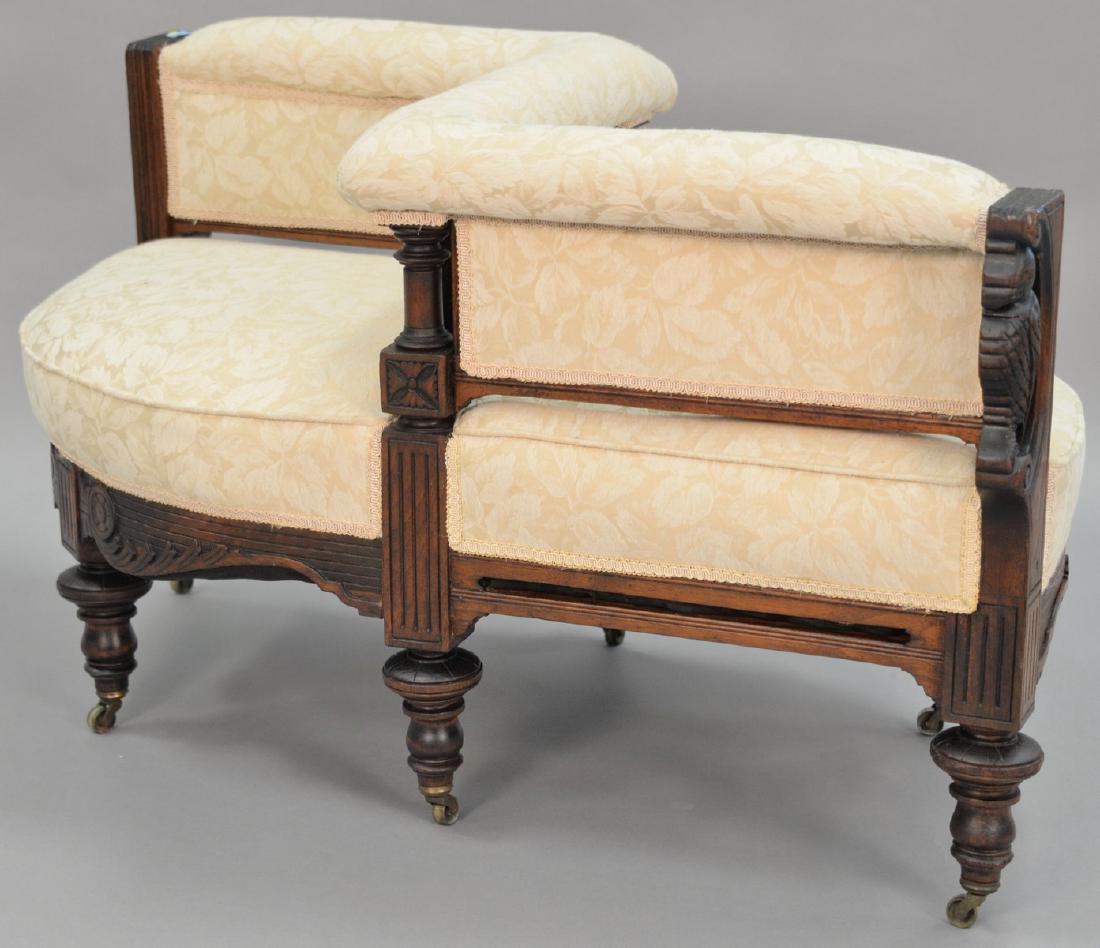 Eastlake Victorian walnut tete-de-tete with carved owl. ht. 25in., wd. 42 1/2in. Provenance: Property from the Estate of Frank Perrotti Jr. of Hamden, Connecticut
Shipping
While we do not pack or ship any items, we have provided the list of shippers below as a courtesy. Please understand, you may use any shipper or third party you choose and that Nadeau's Auction Gallery takes no responsibility for any acts or omissions of any of the vendors on this list. SMALL PACKAGES Company Phone Email The UPS Store 860-643-6264 store0921@theupsstore.com We Pack 860-803-3935 wepackship@snet.net Pack Mail (Hartford) 860-561-1369 info@pakmailct.com LOCAL SHIPPING Company Phone Email Nadeau Auction 860-246-2444 info@nadeausauction.com LARGE FURNITURE Company Phone Email Vintage Transport 678-904-1282 info@vintagetransport.com Plycon Transportation Group 631-269-7000 kingspark@plycongroup.com Transport Consultants Int. 800-752-7002 Brie@shippingmadesimple.com Bush Dependable Delivery 941-951-2447 bushdelivery@gmail.com HIGH VALUE FINE ART Company Phone Email Artex 866-407-9660 artexma@artexfas.com North South Art Transfer 978-491-9353 scottcousins22@aol.com (Scott Cousins) U.S. Art 800-472-5784 JPierce@usart.com AirSea 718-937-6800 aspny@airseapacking.com Please notify us when your arrangements have been made. If you are the successful bidder you can notify your shipper, be sure to let them know that they will need to package the items themselves. Provide your shipper with your first and last name and either the lot numbers you purchased or your invoice number (located at the top right hand corner of your invoice).
Payment
Accepted payment methods
Terms
Terms and Conditions & Privacy Policy By submitting your bid, you agree that: You have read and agree with the Auctioneer Terms and Conditions. You agree to pay a buyer's premium of up to 25% and any applicable taxes and shipping. Nadeau's Auction Gallery - Conditions of sale Quick points to keep in mind. Detailed terms are below: 1. We do not handle any packing or shipping. We recommend Craig at the UPS Store 860-643-6264 or store0921@theupsstore.com. 2. Please ask questions about items before you bid, all items are sold as is/ where is. 3. Please pay within 72 hours (if this is not possible PLEASE do not bid). If payment is not made within 72 hours, Nadeau's reserves the right to cancel the sale and immediately re-offer the property for sale. 4. Our terms are very clearly listed and are non negotiable please take the time to read them as they are legally binding. Shippers: SMALL PACKAGES Company Phone Email The UPS Store 860-643-6264 store0921@theupsstore.com We Pack 860-803-3935 wepackship@snet.net LOCAL SHIPPING Company Phone Email Nadeau?s Auction 860-246-2444 info@nadeausauction.com LARGE FURNITURE Company Phone Email Vintage Transport 678-904-1282 info@vintagetransport.com Plycon Transportation Group 631-269-7000 kingspark@plycongroup.com Transport Consultants Int. 800-752-7002 Brie@shippingmadesimple.com Bush Dependable Delivery 941-951-2447 bushdelivery@gmail.com Ace Exchange 646-546-1075 ace1exchange@gmail.com HIGH VALUE FINE ART Company Phone Email Artex 866-407-9660 artexma@artexfas.com North South Art Transfer 978-491-9353 scottcousins22@aol.com (Scott Cousins) U.S. Art 800-472-5784 JPierce@usart.com AirSea 718-937-6800 aspny@airseapacking.com Nadeau's Auction Gallery will not be held responsible for any bids that were placed in error. Most of these errors can be easily prevented by taking the time to clearly read our terms. If, before you bid, you have any questions or concerns regarding our terms we encourage you to contact us PRIOR to bidding. We ask that you PLEASE take the time to make sure your questions weren't already answered below as we have made every effort possible to answer all questions before hand in order to save you time. Your bid is a contract. Place a bid only if you're serious about buying the item. If you are the successful and winning bidder, you have entered into a legally binding contract to purchase the property bid on from the seller. You should contact the seller to resolve any questions before bidding. ALL QUESTIONS MUST BE ASKED A MINIMUM OF 72 HOURS PRIOR TO THE SALE There are absolutely no returns on any items for any reason **PLEASE NOTE** Any condition statement is given as a courtesy to a client, is only an opinion and should not be treated as a statement of fact. Nadeau's shall have no responsibility for any error or omission. The absence of a condition statement does not imply that the lot is in perfect condition or completely free from wear and tear, imperfections or the effects of aging. Any item that has multiple pieces in the lot will not have a detailed condition report given, you may send a representative in for you · By bidding you are entering into a legal contract, please take this seriously. · All items must be paid for within 72 hours of the sale, if you are unable to do this, please do not bid with us. Invoices not paid within 72 hours will be treated as "non-paying bidders" and be immediately reported. No exceptions. · We accept cash, check, money order, bank check, bank wire, Mastercard and Visa payment only if you pay by check we will wait 10 business days before releasing the item, we will not make any exceptions. Please do not call and ask us to call our bank to check to see if your check has been cleared, you may fax us a letter from your bank if you wish. · We accept us dollars only · We do not ship items. Shipping of items will be arranged by the buyer, above you are provided with the phone numbers of shippers we recommend, they will pick up at our location. Please note that you are free to use ANY shipper in the world that you would like, there are 100's of them listed in the phone book. · The winning bidder is determined by the auctioneer only · All items must be removed from our premises within 1 week or storage charges will apply of $50.00 per item per week (we will take into account the ten day waiting period for your check to clear) there are not any exceptions for this and you will be charged before being able to pick up your items. · Please ask all questions before bidding not after you have won an item. By bidding we assume you know what you are bidding on and that you know what you are interested in, if there is any doubt or question on the item please do not bid. · We are providing you with a service, we are not responsible for missed bids or misexecuted bids, the only guarantee is to be in the audience bidding yourself. · All items are described briefly, for detailed descriptions please ask. We are not responsible for any omissions in descriptions or in any condition reports, your only guarantee is to preview the items yourself, or have an agent preview for you. All mechanical items- such as clocks, watches and music boxes are sold as-is, please assume that they are not working. · We move very fast, if you are interested in an item do not hesitate as you will loose the item. This is a live auction, we accept bids from the floor, by left bid, by phone bid and online. You may place an absentee bid online and still not prevail when the selling price is the same or, in some cases, lower than the winning bid. The reason for this is that the auctioneer takes bids from where he/she sees them first. A person(live in the room) relays internet bids to the auctioneer and sometimes the auctioneer will see one of the other bids (gallery, phone or gallery absentee) first. If the online record of an auction shows the online bidder at the top of the bids, but has a floor bidder at the same price THE FLOOR BIDDER BOUGHT IT. This occurs at every live auction where internet bids are handled-usually several times every auction. THE FACT THAT IT SAYS ONLINE THAT THE EARLIER BID TAKES PRECEDENCE IS ONLY TRUE FOR BIDS PLACED ONLINE NOT FOR BIDS IN THE ROOM. The auctioneer in a live auction DOES NOT KNOW YOUR TOP BID and, in fact, doesn't know whether your bid is absentee or in real time. SOME BIDS MAY BE DELAYED DUE TO DATA TRANSMISSION (AND HUMAN TRANSMISSION) SO THAT THE AUCTIONEER NEVER RECOGNIZES A BID FROM THE INTERNET. The auctioneer is the final determination on who is the winning bidder- NOT THE INTERNET CLERK or ONLINE RECORD OF BIDS. MORE DETAILS 1. A BUYER'S PREMIUM WILL BE ADDED TO THE HAMMER PRICE OF EACH LOT: The buyer's premium on property purchased on online LIVE AUCTIONS WILL BE IN THE AMOUNT OF 25% OF THE FINAL BID PRICE. There is sometimes a different buyer's premium for specialty auctions. Please ask us if you have any question as to the buyer's premium. 2. All property is sold AS IS/WHERE IS and all sales are final. The Auction house will, to the best of their ability describe the items for sale, there are no warranties expressed or implied. The auction house is NOT responsible for the correctness, nor has the auction house deemed to have made any representation or warranty on the description, quality, size, importance, genuineness, authorship, attribution, provenance, period, culture, source, origin, or condition of the property and no statement made at the sale, or in the bill of sale, or elsewhere shall be deemed such a warranty or representation or assumption of liability. Nadeau's Auction Gallery Inc. does not guarantee authorship or signatures of paintings. The bidder is solely responsible for inspection of the property before bidding in order to determine its condition, size and whether it has been professionally restored or repaired. 3. The Auctioneer, at his sole discretion, reserves the right to reject any opening bid, which he feels is unacceptable or too low. The auctioneer also reserves the right to withdraw any property before the sale. 4. Once the Auctioneer announces "Sold," title to the property will immediately pass to the highest bidder acknowledged by the Auctioneer. Once title to the property has passed to the highest bidder, such bidder (a) assumes all risks and responsibilities (b) will pay the full purchase price. 5. Each lot in the catalog is given a low and high estimate representing that range which, in the opinion of Nadeau's Auction Gallery, represents a fair and probable auction value. When possible, the estimate is based on previous auction records of comparable property, condition, rarity, quality and provenances. The estimates are often determined several months before a sale and are therefore subject to change upon further research of the property, or to reflect market conditions or currency fluctuations. Estimates are subject to revision. Actual prices realized for items can fall below or above this range. An estimate of the selling price should not be relied on as a statement that this is the price at which the item will sell or its value for any other purpose. Estimates do not include the buyer's premium. 6. BIDDING Nadeau's Auction Gallery reserves the right, at our complete discretion, to refuse admission to the premises or participation in any auction and to reject any bid, as well as the right to refuse to acknowledge any bidder. The highest bidder acknowledged by the auctioneer will be the purchaser. The auctioneer has the right at his absolute and sole discretion to advance the bidding in such a manner as he may decide, to withdraw or divide any lot, and to combine any two or more lots. In the event of error or dispute between bidders, or in the event of doubt on our part as to the validity of any bid, whether during or after the sale, the auctioneer has final discretion to determine the successful bidder, to continue the bidding, to cancel the sale, or to reoffer and resell the lot in dispute. If any dispute arises after the sale, the Nadeau's Auction Gallery sale record shall be conclusive. 7. Payment: All items purchased in person must be paid for on the day of the sale. All items purchased via absentee, phone or Internet bidding must be paid for within 72 hours after the auction. For items purchased through online at live auctions, Nadeau's Auction Gallery Inc. will send an invoice to all winning bidders via email, or will call within 72 hours of completion of said auction. Payment must be made within the 72 hours following the auction or a NPB (non-paying bidder) will be placed on your online account. Personal checks will be acceptable only if credit has been established with Nadeau's Auction Gallery Inc., or if a bank authorization has been received guaranteeing a personal check. Nadeau's Auction Gallery Inc. reserves the right to hold items paid by check until the check clears. There is a handling charge of $25.00 for dishonored checks. Any nonpayment or bounced checks will be prosecuted to the fullest extent of the law. 8. All purchases are subject to 6.35% CT sales tax unless purchaser has CT sales tax exemption number. Exemption numbers from other states are accepted in CT when accompanied by the proper documentation. Items shipped or mailed out of the State of Connecticut by an independent Carrier are also exempt from CT sales tax. 9. As a service to the purchaser, Nadeau's Auction Gallery Inc. will provide the names of local shippers with whom the purchaser may deal directly. Regardless of shipping method, payment must have been received and checks must have cleared prior to release of property. 10. Live Internet bidding is available during the auction, however, Nadeau's Auction Gallery Inc. cannot be held responsible for live internet bids that are not sent, received, or executed by the administrator. 11. Bidding on any items indicates your acceptance of these terms and conditions of sale. Contract You are entering into a legally binding contract by agreeing to these terms. please make sure you have read ALL of them first. Condition Satement ALL ITEMS ARE DESCRIBED BRIEFLY, FOR DETAILED DESCRIPTIONS PLEASE ASK. WE ARE NOT RESPONSIBLE FOR ANY OMISSIONS IN DESCRIPTIONS OR IN ANY CONDITION REPORTS, YOUR ONLY GUARANTEE IS TO PREVIEW THE ITEMS YOURSELF. If you have not asked for a condition report please bid on the item as not in good condition and being sold as is. All property is sold AS IS/WHERE IS and all sales are final. The Auction house will, to the best of their ability describe the items for sale, there are no warranties expressed or implied. The auction house is NOT responsible for the correctness, nor has the auction house deemed to have made any representation or warranty on the description, quality, size, importance, genuineness, authorship, attribution, provenance, period, culture, source, origin, or condition of the property and no statement made at the sale, or in the bill of sale, or elsewhere shall be deemed such a warranty or representation or assumption of liability. Nadeau's Auction Gallery Inc. does not guarantee authorship or signatures of paintings. The bidder is solely responsible for inspection of the property before bidding in order to determine its condition, size and whether it has been professionally restored or repaired. Payment Payment is due within 72 hours. Please do not bid if this is not possible for you. NPBs will be filed on the 4th day after the auction. Shipping We do not handle any shipping. We recommend Craig at the UPS Store 860-643-6264 or store0921@theupsstore.com Vintage Transport 1-888-882-4442 AC Delivers 1-866-506-5477 Top Delivery 860-379-3424 Local (tri-state) delivery 860-246-2444 Buyers Premium There is a 25% buyers premium for any items purchased on online. There may be a different buyer's premium for specialty auctions. Taxes on your purchase There is a 6.35% state sales tax for any items purchased unless you have a valid tax id number and you have filled out the correct paperwork which we can provide or you have a certified independent carrier (such as the UPS Store) pick up your item. Please note: Your brother, sister, mother, father, uncle or friend does not qualify as an independent carrier unless they are licensed by the state.
Discover Items You'll Love

Bid Anywhere, Anytime. Download the LiveAuctioneers App.
Available on the App Store
Android App on Google Play