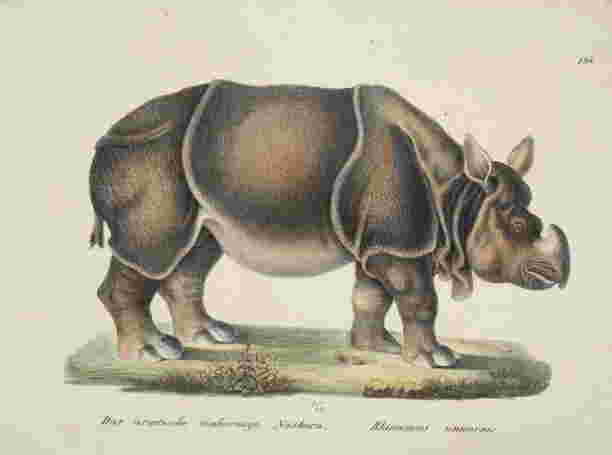 Sold
Heinrich Schinz & Bernard Direxit. Exotic Animals.
See Sold Price
Estimate $200 - $300
3 bids
Three hand-colored engravings featuring exotic animals. ++ Heinrich Rudolf Schinz. 'Das asiatische einhornige Nashorn. Rhinoceros unicornis.' From 'Naturhistoriche Abbildungen der Saegethiere,' Zurich 1824. Lithographs by Joseph Brodtman, hand-colored. 13" x 9.5" ++ Direxit, Berard. 2 Plates, 'Histoire Naturelle, Quadrupeds.' Paris: c.1780-1790. Hand-colored copper-plate engravings. Sheet: 8" x 10.75" Plate 92: Fig. 1: Le Tigre Royal. Fig. 2: La Panthere. Fig. 3: l'Once. Plate 93: Fig. 1: Le Leopard. Fig. 2: L'Ocelot. Fig. 3: Le Guepart. ++ Four 19th century German hand-colored lithographs of exotic animals. Published and lithographed by B. Kehse & Sohn. Plate xxiiii: Der braune europe. Bar. Plate xxiii: Der Eisbar (Polar Bear). Plate vi: Die wiedische Katze. Plate xliv: Die gestreifte Tigrin (Tiger).Provenance: A Virginia Collector.Condition: Very good condition. Scattered toning. Little to no foxing.
Waverly: Natural World Fine Prints Auction