Egyptian Late / Ptolemaic Painted Wood Sarcophagus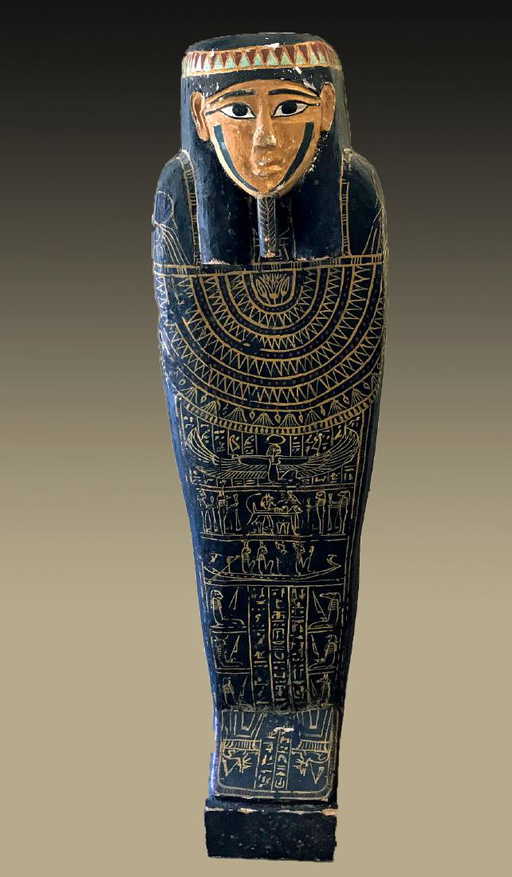 See Sold Price
Don't Miss Your Next Treasure.
Set up a search alert to hear when Jewelry items arrive.
Auction ended on February 15th, 2018 UTC
Egyptian Late / Ptolemaic Painted Wood Sarcophagus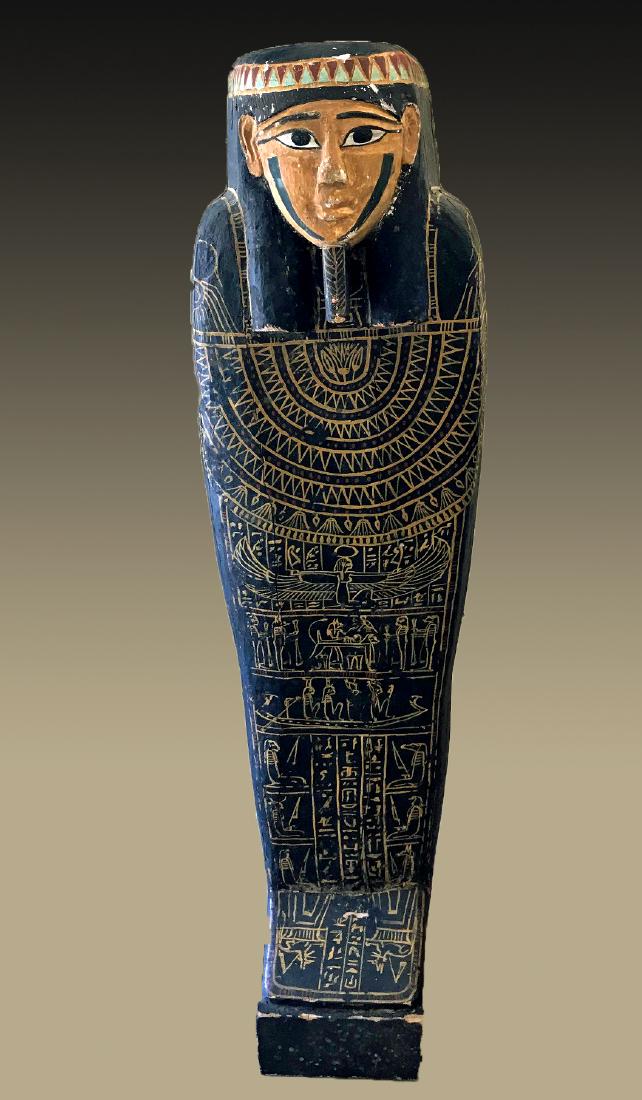 Egypt, Late Period to Ptolemaic, ca. 664 to 30 BCE. A life-size, complete, wooden coffin covered with gesso over linen, with an overall black ground having a golden-brown complexion with finely painted and modeled features including wide open eyes gazing steadfastly ahead, framed by elegant brows that lead to a straight nose, and gently smiling lips above a pointy chin and a pharaoic false, plaited beard, the visage further adorned by a tripartite wig, a multi-colored headband comprised of nested triangular motifs (alternating in red and aqua blue-green outlined in golden brown) and a wide, intricate aegis collar, with falcon headed terminals. The body is painted with an extensive iconographic program of funerary subjects, and a large vertical glyph band further embellishes the front. See extended description below for translation and a more about the iconography. Size: 73" H (185.4 cm)

Starting from the middle below the broad collar with falcon terminals: the winged sky Goddess Nut with a sun disk on her head and feathers in her hands; a mummification scene with canopic jars, a ba-ba bird, and the four children of Horus; a solar boat used by the son to travel through the underworld with gods Maat, Ra, Isis, and Nephthys (right to left); depicted on both sides of the vertical texts are guarding deities, each holding a knife, with animal heads; and on the feet, Anubis on his shrine, with a flail behind his back.

The following is a general translation of the hieroglyphs contained in the vertical bands. From right to left, the upper columns generally translate as follows: The first row discusses an offering that the king gives to Osiris, the foremost of the West, the great god, the lord of Abydos. The second row states, "and to Anubis, the foremost of the divine booth, the lord of the sacred land, so that they may give an invocation offering consisting of bread." This is followed by the third row which states, "beer, oxen and fowl, to Paher" justified, followed by another name, one of his parents, though difficult to decipher (perhaps Padi-something, or Hekenu?) justified. Then, the lower two rows (left to right): "Words to be spoken by Anubis, the foremost" and "of the divine booth, the lord of the sacred land, that he(?) may give …" The glyphs above and below the winged goddess are more difficult to decipher; however, they seem to state (reading right to left): "Words to be spoken by the Osiris Paher (or?)" justified, followed by the same name of the parent, justified," that he may give (?)" [followed by a series of small, cursive signs that are difficult to decipher].

Anthropoid coffins like this example first appeared by the Middle Kingdom - skillfully carved so as to outline the mummy's body and decorated with the visage and wig of the deceased individual. Such coffins not only served to copy the mummy's form kept within, but also served as actual substitutes for the bodies in the event that the mummy's body was lost or destroyed. As time progressed, these coffins were decorated with more extensive iconographic programs, presenting a greater number of inscriptions and scenes as we see in this example.

A similar though actually somewhat less impressive example sold at Christie's New York in Sale 2755 (December 13, 2013 - Lot 17) for $50,000. Follow this link - http://www.christies.com/lotfinder/Lot/an-egyptian-wood-coffin-for-ka-dit-iwn-5747478-details.aspx - to compare.

Provenance: private California, USA collection acquired prior to 1972; import documents show it was in Switzerland before 1970

All items legal to buy/sell under U.S. Statute covering cultural patrimony Code 2600, CHAPTER 14, and are guaranteed to be as described or your money back.

A Certificate of Authenticity will accompany all winning bids.

We ship worldwide to most countries and handle all shipping in-house for your convenience.

#131031
Condition
Expected surface wear commensurate with age. Some pigment/gesso losses as shown, but much of the imagery and hieroglyphs remain. Otherwise generally intact and excellent.
Discover Items You'll Love